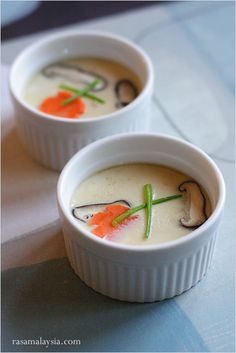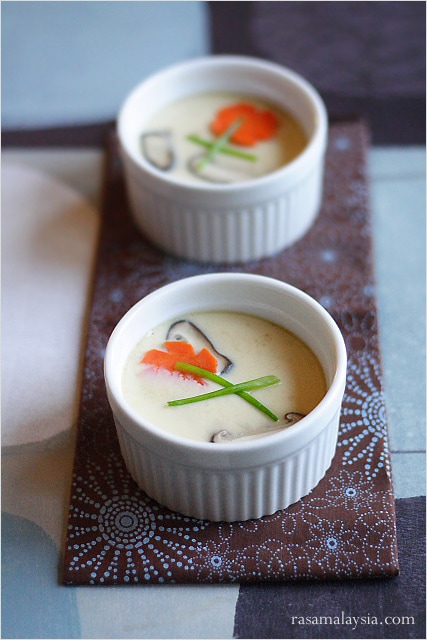 This is a special post to my readers who have requested for a chawanmushi recipe. Chawanmushi or steamed egg custard (茶碗蒸し) is a popular Japanese dish, one that is mostly ordered as an appetizer at Japanese restaurants.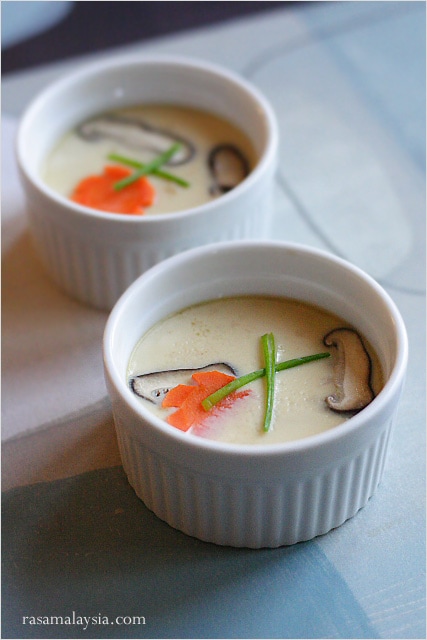 From the name of this dish in Kanji 茶碗蒸, I believe chawanmushi is originally a Chinese dish, but has since been perfected by Japanese chefs.
The Chinese version of steamed egg custard or 蒸水蛋 is a lot simpler, but not as tasty as chawanmushi, in my honest opinion. The reason is very simple: chawanmushi is loaded with treasures that are buried at the bottom of the steamed egg custard while the Chinese version is usually plain! Plus, the use of dashi stock and sake are great seasonings for an otherwise plain steamed egg taste.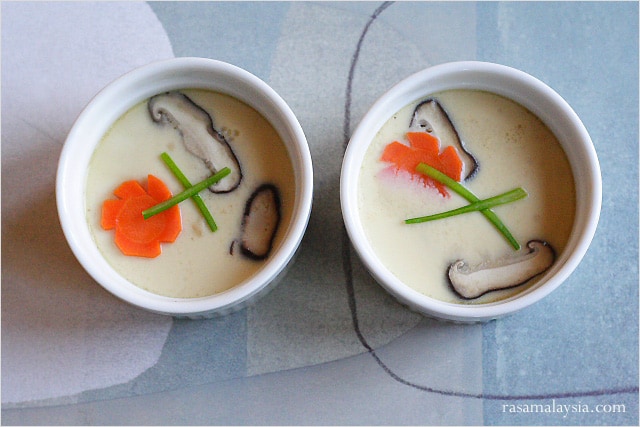 For my recipe, I used shrimp and chicken–two common ingredients for chawanmushi. Inspired by my favorite Japanese restaurant in Beverly Hills, I also added a bay scallop in each serving. I did it without gingko nuts but traditional chawanmushi recipe calls for them.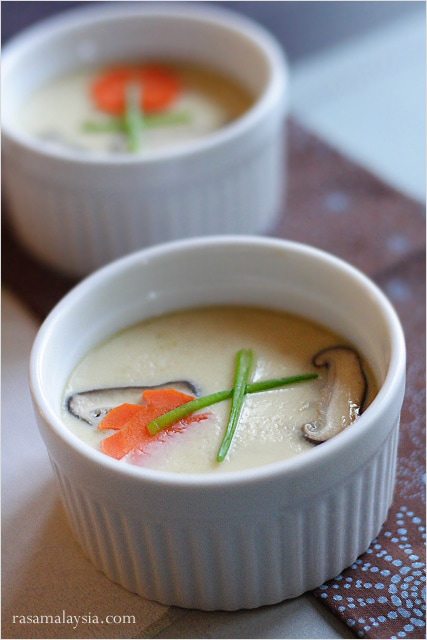 All in all though, I love chawanmushi and made them two days in a row! It does take some techniques to make them picture perfect and silky smooth (which I am still learning), but am very pleased with the results.
Other popular Japanese recipes on Rasa Malaysia:

1. Chicken Karaage (Sesame fried chicken)
2. Tamagoyaki (Japanese Rolled Omelet)
3. Steamed Asari (Manila) Clams
4. Spicy Miso Ramen
5. And more….
How Many Calories Per Serving?
This recipe is only 93 calories per serving.
What Dishes To Serve with this Recipe?
For a wholesome meal and easy weeknight dinner, I recommend the following recipes.
5 Secrets to 20 Min Dinners
Get tricks for quick & easy meals!
Yield: 4 people
Chawanmushi (Japanese Steamed Egg Custard)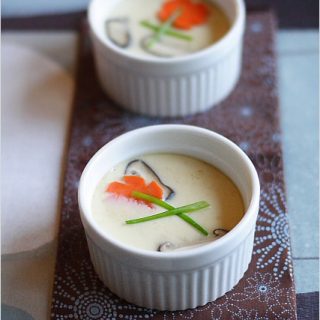 Chawanmushi or steamed egg custard (茶碗蒸し) is a popular Japanese dish, one that is mostly ordered as an appetizer at Japanese restaurants.
Ingredients
4 medium shrimp
4 gingko nuts, optional
2 inch (5 cm) carrot
3 oz. (85 g) chicken breast
1 teaspoon sake
1 teaspoon soy sauce
2 fresh shiitake mushrooms, thinly sliced, stalks discarded
For the custard:
Instructions
Blanch prawns and set aside. Cut the carrot slices into maple leaf shapes. Blanch in salt water and drain. Cut the chicken into small cubes and marinate in sake and soy sauce for 15 minutes.
Put all egg custard ingredients in a bowl and mix with chopsticks and strain into a bowl. Bring a steamer to boil and then set the heat to very low.
Divide the chicken, shiitake, prawns and carrots among four ramekins. Divide the egg mixture among the ramekins. Put the scallion on top and cover each ramekin with aluminum foil. Steam on low heat for 15 minutes. Insert a tooth pick into the egg and if it comes out clear, it's done.
Nutrition Information
Yield
4
Serving Size
4 people
Amount Per Serving
Calories

93
Total Fat

3g
Saturated Fat

1g
Unsaturated Fat

0g
Cholesterol

145mg
Sodium

746mg
Carbohydrates

2g
Protein

10g