Chocolate Cupcakes - everybody loves this moist and decadent chocolate cupcake recipe featuring delicious ganache filling, frosting & sprinkles.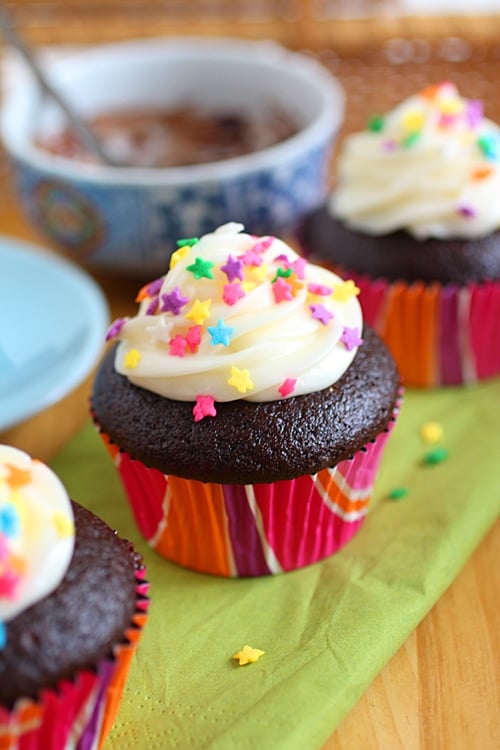 The Best Chocolate Cupcake Recipe
Everyone loves a good chocolate cupcake recipe. There is something so decadent and tasty about them, that you always want more.
This recipe is absolutely perfect for chocolate lovers, as it doubles up with a delicious, creamy ganache filling.
Once you try one, you will beg for another.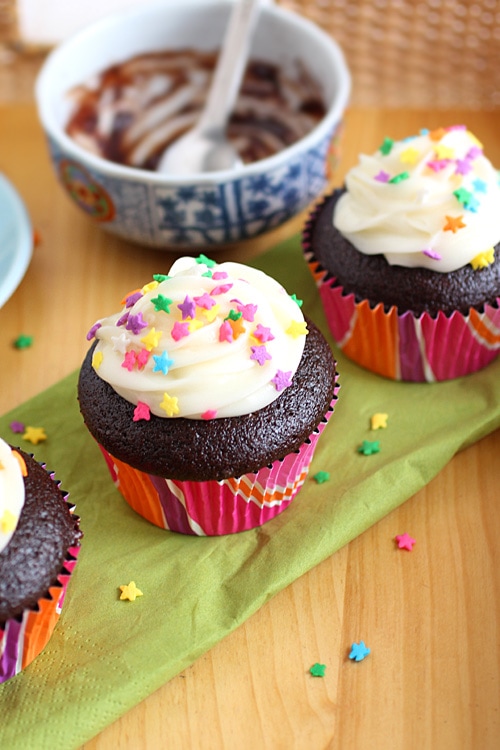 Ingredients for Chocolate Cupcakes
Bittersweet chocolate
Heavy cream
Confectioner's sugar
Cocoa powder
Coffee powder
Bread flour
Baking soda
Eggs
Vanilla extract
Unsalted butter
Milk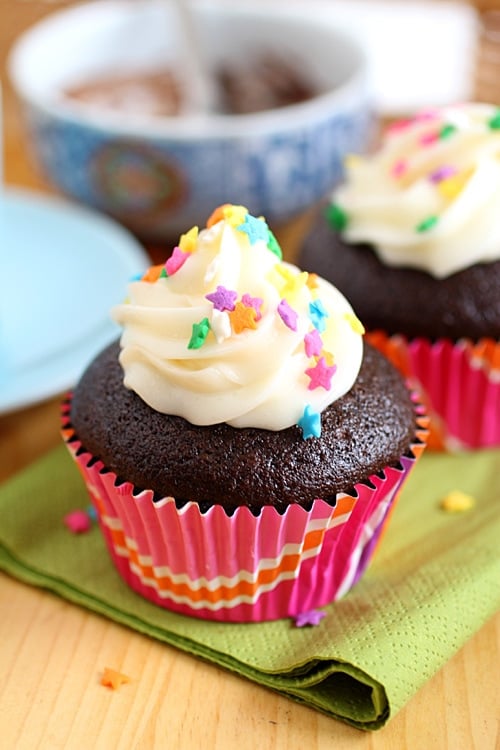 Frequently Asked Questions
How do I bake the perfect cupcake?
To bake the perfect cupcake, make sure the ingredients are at room temperature and don't overmix the batter. For the best and most even looking cupcakes, use a scoop to fill the cupcake liners rather than guessing. Make sure to preheat the oven, and bake at the center of the oven. Additionally, check to store them correctly and frost them completely to prevent moisture from escaping.
How many calories?
This recipe has 505 calories per serving.
What Dishes to Serve with this Recipe?
This dish is best served as dessert. For a delicious arrangement of desserts, I recommend the following recipes.
5 Secrets to 20 Min Dinners
Get tricks for quick & easy meals!
Yield: 12 people
Chocolate Cupcakes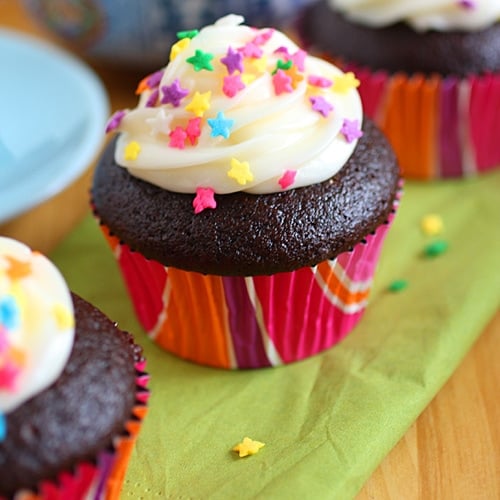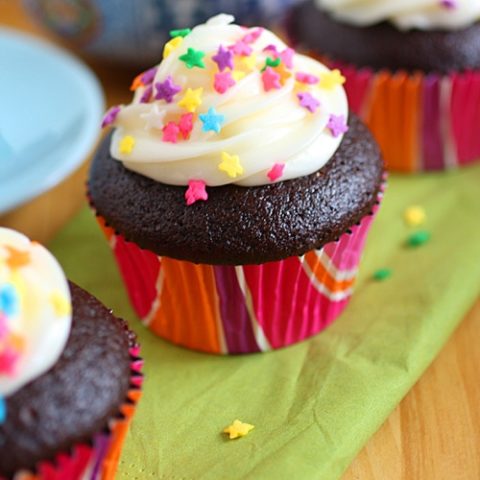 Chocolate Cupcakes and chocolate cupcakes reicpe. All kids love these chocolate cupcakes, especially with the ganache filling, frosting & sprinkles.
Ingredients
Ganache Filling
3 ounces bittersweet chocolate, finely chopped (85 g)
1/4 cup heavy cream (60 ml)
1 tablespoon confectioners' sugar
Chocolate Cupcakes
3 ounces bittersweet chocolate, finely chopped (85 g)
1/3 cup cocoa powder (28 g)
3/4 cup hot water (180 ml)
2 teaspoons instant coffee powder
3/4 cup bread flour (115 g)
3/4 cup baking sugar (147 g)
1/2 teaspoon salt
1/2 teaspoon baking soda
6 tablespoons vegetable oil
2 large eggs
2 teaspoons white vinegar
1 teaspoon vanilla extract
Vanilla Buttercream Frosting
1 cup unsalted butter, room temperature (226.5 g)
3-4 cups confectioners' sugar, sifted (375g - 500 g)
2 teaspoons vanilla extract
1-2 tablespoons milk
sprinkles for decoration
Instructions
Ganache Filling
Combine all three ingredients for the Ganache Filling in a bowl. Double boil the chocolate mixture. Whisk the mixture until smooth. Remove from the double boiler and chill in the refrigerator for not more than 25 minutes.
Chocolate Cupcakes
Mix the bittersweet chocolate with the cocoa powder in a bowl. In a cup, pour 3/4 cup of hot water into the instant coffee powder. Slowly add the coffee into the chocolate mixture and whisk until smooth. Chill in the refrigerator for 20 minutes.
Pre-heat the oven to 350°F. Sift the bread flour, sugar, salt and baking soda in a bowl. Set aside.
Use a new bowl and beat the oil, eggs, white vinegar and vanilla extract together. Slowly add in the chocolate-coffee mixture. Whisk well.
Next, add in the sifted ingredients 2-3 tablespoons each time and whisk until smooth. Divide the batter evenly among the cupcake liners. Drop in a rounded teaspoon of the Ganache Filling into the center of each cupcake batter. Bake the cupcakes for 15-18 minutes until firm to touch.
Vanilla Buttercream Frosting
Use a mixer with a paddle attachment and beat the butter until soft and fluffy at medium speed. Slowly pour in 3 cups of confectioners' sugar, 1 cup at a time and mix well. Then add the vanilla extract and 1 tablespoon heavy cream while mixing for another 2-3 minutes.
Adjust the icing stiffness accordingly. Add additional 1 tablespoon of heavy cream if the icing consistency is too stiff or 1/2 cup of confectioners' sugar if the icing is too thin.
Notes
Alternate method to melt the Ganache Filling is to use the microwave. Combine all ingredients in a microwave-safe bowl and heat on high for 20-30 seconds. Whisk until smooth. Chill in the refrigerator for no longer than 25 minutes.
Nutrition Information
Serving Size
12 people
Amount Per Serving
Calories

505
Total Fat

32g
Saturated Fat

21g
Cholesterol

68mg
Sodium

163mg
Carbohydrates

52g
Fiber

2g
Sugar

36g
Protein

3g