Crustacean-inspired Garlic Noodles and Roasted Crab - They are as close as the real ones from their "secret kitchen". Delicious for your next meal!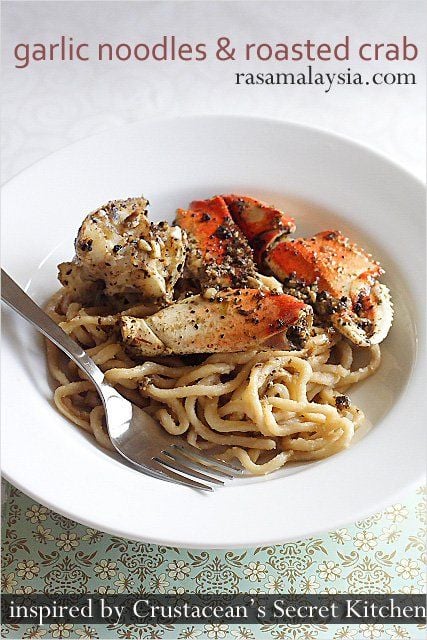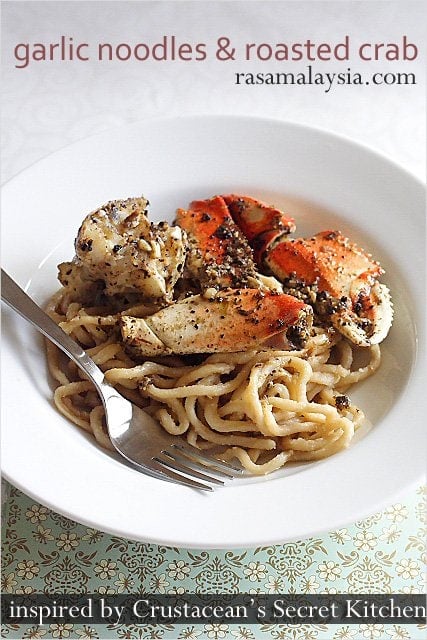 Crustacean Garlic Noodles
If you live in the Bay Area or the Greater Los Angeles Area, I am sure you have heard of–and most likely dined in–the famed Thanh Long Restaurant and its better known sister property Crustacean.
Their signature garlic noodles and roasted crab not only won over food critics, foodies, and aficionados alike, they also help launched a multi-million restaurant empire (counting 3 and growing!) for the An's family who hailed from Vietnam.
The legacy lies in the "Secret Kitchen"–a completely enclosed kitchen within the main kitchen, off limits to all employees, where the family members churn out the legendary garlic noodles and roasted crab, using secret recipes that were passed down for three generations.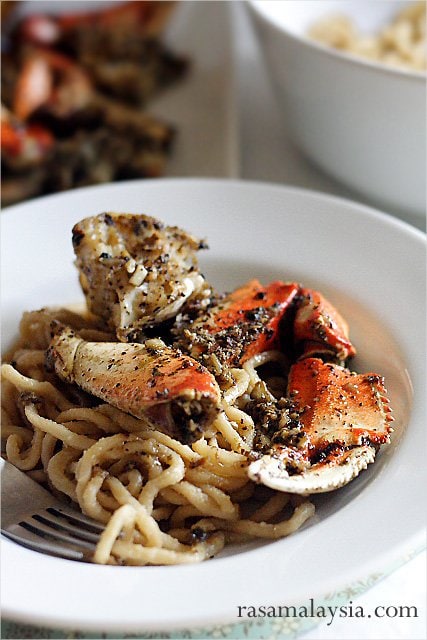 I had dined at Thanh Long in San Francisco many years ago and really enjoyed the garlic noodles and roasted crab, but it's not until this week that I reacquainted myself with them.
This time, the location was Crustacean Beverly Hills; the dishes ordered were roasted crab, grilled tiger prawns with garlic noodles, and Maine lobster with garlic noodles.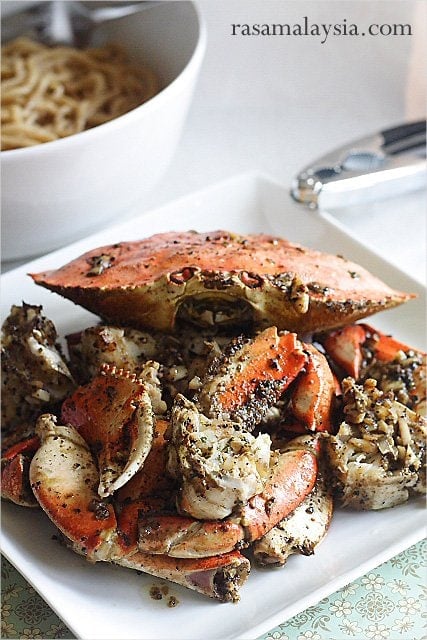 The taste of the garlic noodles was exactly what I remember. In my honest opinion, their roasted crab was too dry for my taste (I think the crab was boiled and then roasted in the oven hence it lost all its juicyness).
The lobster garlic noodles was good, but not spectacular. The best dish was definitely grilled tiger prawns with garlic noodles. The sweetness of the grilled prawns complemented the garlic noodles perfectly.
Everything ordered that night was also a tad too salty. Anyway, I was still smitten by their foods, and most importantly, intrigued by their "Secret Kitchen" and secret family recipes.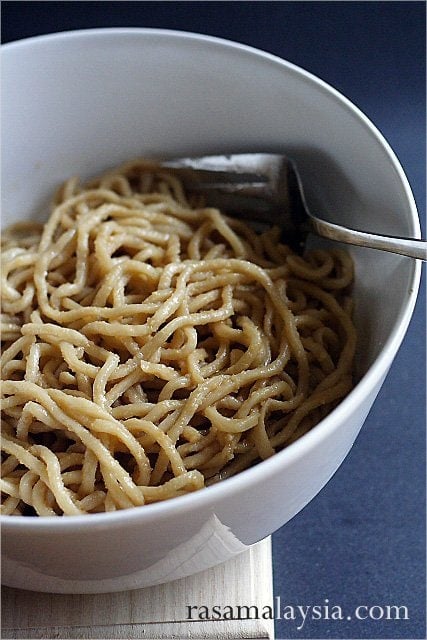 I resolved to figure out the secret recipes, using none other than my taste buds and keen eyes. I examined the remains of the roasted crab dish–cracked black peppers, check; coarsely chopped garlic, check; butter, check; exotic spices, maybe but I couldn't find any evidence.
I also packed a box of garlic noodles to go, for further examination at home.
I think I've got most things figured out.
So, I spent hours in the kitchen yesterday, perfecting my version of Crustacean's garlic noodles and roasted crab. I added the seasonings little by little, trying to get as close to the original taste as possible.
I have no doubt that my recipes and techniques are somewhat different from the secret recipes, but there are really not that many "secret" ways to prepare garlic noodles and roasted crab.
I think my garlic noodles and roasted crab are as good as they get compared to the originals at Crustacean, at a fraction of the cost/price! (One order of garlic noodles cost US$11.50 and the roasted crab is US$41.95.)
As to the myth of "Secret Kitchen," I will say that it's more for smart marketing than its practicality.
How Many Calories per Serving?
This recipe is only 567 calories per serving.
What Dishes to Serve with This Recipe?
For a wholesome meal and easy weeknight dinner, I recommend the following recipes.
5 Secrets to 20 Min Dinners
Get tricks for quick & easy meals!
Yield: 4 people
Crustacean-inspired Garlic Noodles and Roasted Crab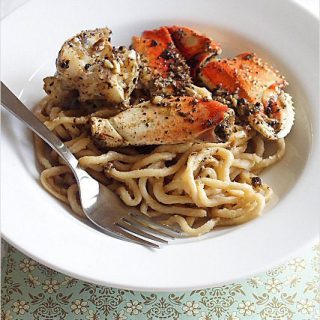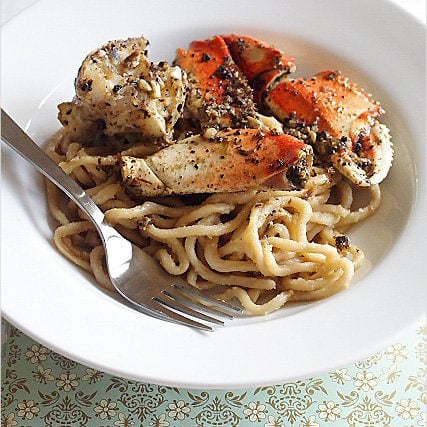 Crustacean garlic noodles and roasted crab secret recipes. They are as close as the real ones from their 'secret kitchen'.
Ingredients
20 oz. (566 g) yellow noodles
1 tablespoon grated Parmesan cheese
water, for boiling the noodles
Garlic Sauce:
1 stick (4 oz. /110 g/ 1/2 cup) unsalted butter
2 tablespoons minced garlic or more to taste
1 tablespoon Maggie seasoning sauce
1 tablespoon oyster sauce
1 tablespoon fish sauce
1 tablespoon sugar
Crustacean-inspired Roasted Crab Recipe:
1 Dungeness Crab, about 2 lbs. (800 g)
1 stick unsalted butter, 8 tablespoons
3-4 cloves garlic (chopped coarsely)
2 teaspoons chicken bouillon powder
2 teaspoons black pepper (cracked using a mortar and pestle)
1/4 teaspoon sugar
Instructions
Rinse the yellow noodles with running water to discard the oil from the noodles. Drain and set aside.
Heat up a pot of water until boiling. Add the noodles into the boiling water and cook the noodles. Do not overcook as the noodles will turn soggy. Transfer the noodles out and drain dry.
Prepare the garlic sauce using a saute pan on medium to low heat. Add the butter into the pan and when it melts, add the garlic and saute until aromatic but not browned. Add all the seasonings into the pan, stir to combine well. Transfer the garlic sauce into a small bowl.
To serve, just toss all the noodles with the garlic sauce. Add the cheese, toss to combine well. Serve immediately.
Crustacean-inspired Roasted Crab Recipe
Clean and chop the crab into small pieces. Heat up the butter in a wok (between medium to low heat) and saute the garlic until aromatic, but not brown. Add in the black peppers, chicken bouillon powder, and then add in the crab and stir well. Add in the sugar and cook the crab until half done.
Dish out and bake it in the oven at 350°F (175°C) for 25-30 minutes. Serve hot with garlic noodles.
Notes
For individual serving of the garlic noodles, take some noodles to a bowl and add some garlic sauce to taste. Drizzle some grated Parmesan cheese, stir to combine well before serving.
Nutrition Information
Yield
4
Serving Size
4 people
Amount Per Serving
Calories

567
Total Fat

49g
Saturated Fat

29g
Unsaturated Fat

0g
Cholesterol

147mg
Sodium

1293mg
Carbohydrates

111g
Fiber

4g
Sugar

4g
Protein

22g