Easy Donut Holes - the easiest homemade donut holes that takes only 20 mins to make. There is no yeast in the recipe. Mix the batter, deep-fry, roll with sugar and eat!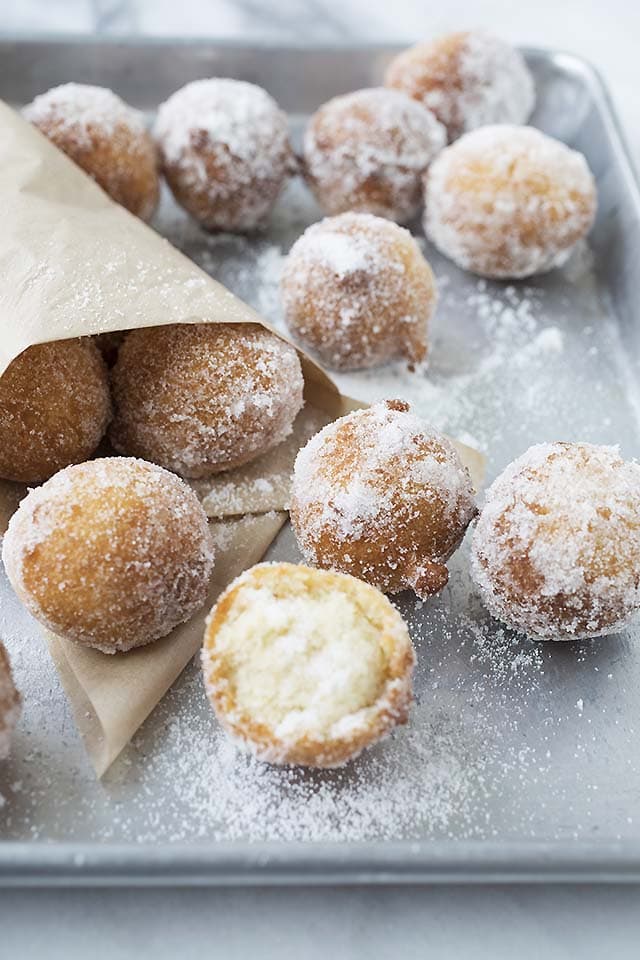 What Are Donut Holes?
Donut holes (spelled as doughnut in England and Commonwealth countries) are small, bite-sized donuts that were traditionally made from the dough taken from the center of ring donuts.
The "holes" are deep-fried just like regular donuts. They are then glazed with sugar, or dusted with fine sugar or powdered sugar.
These donut holes are round in shape but much smaller than regular donuts, making these dainty fried dough balls such a delight to the palate.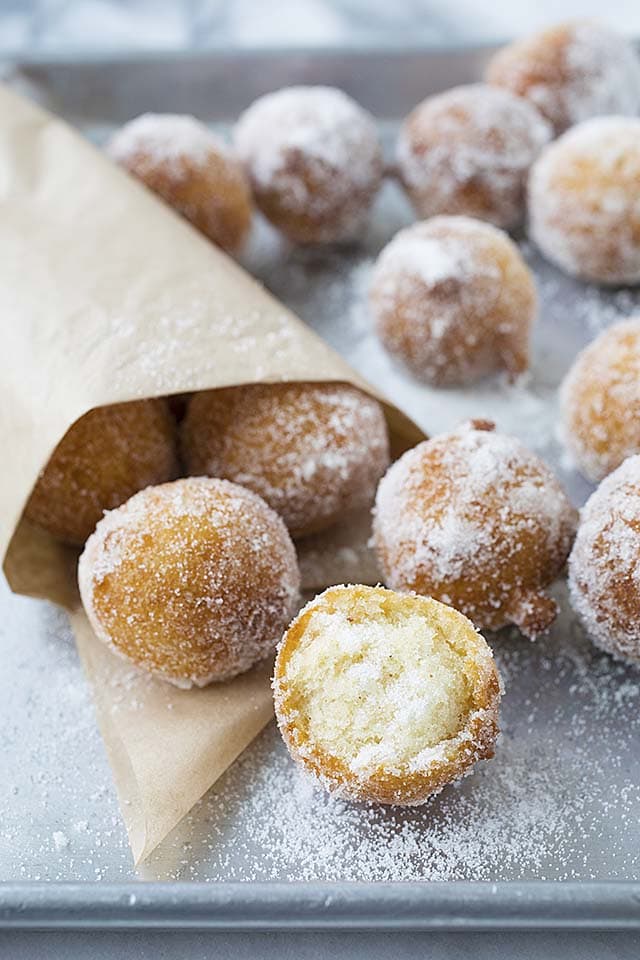 Other Recipes You Might Like
How Do You Make Donut Holes?
Homemade donut holes are made by dropping a small ball of dough into hot oil. The round shape can be achieved through the use of a small ice cream scoop or a spoon.
For this easy donut holes recipe, I used the former, which yields beautiful, round and spherical shape of these bite-sized sweet treats.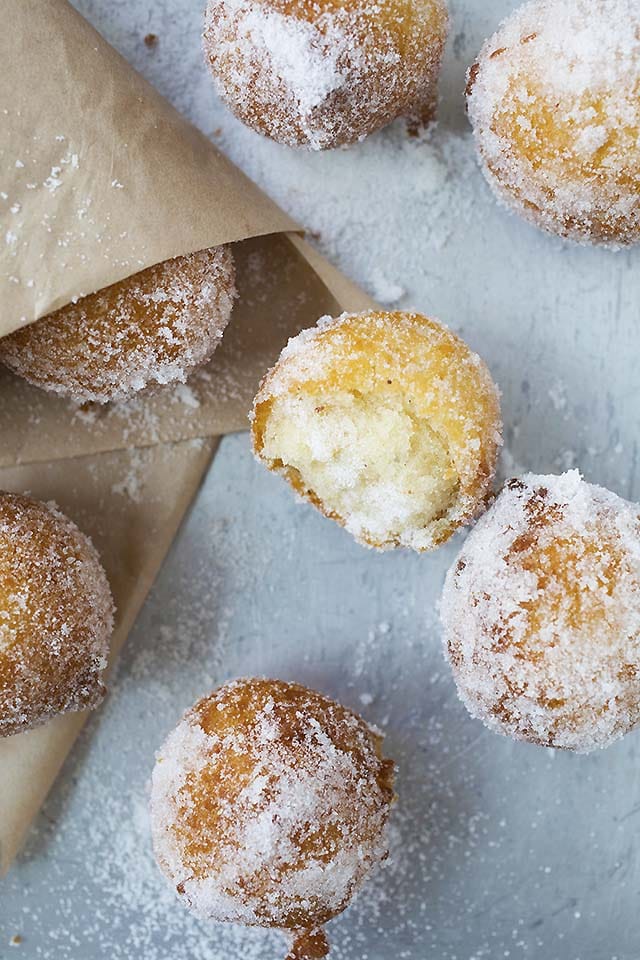 Yeast or No Yeast?
There are two versions of recipe for donut holes, one with yeast, and one without yeast. This recipe is without yeast, making it the easiest recipe ever, with the following basic ingredients:
All-purpose flour
Egg
Whole Milk
Baking Powder
Butter
Sugar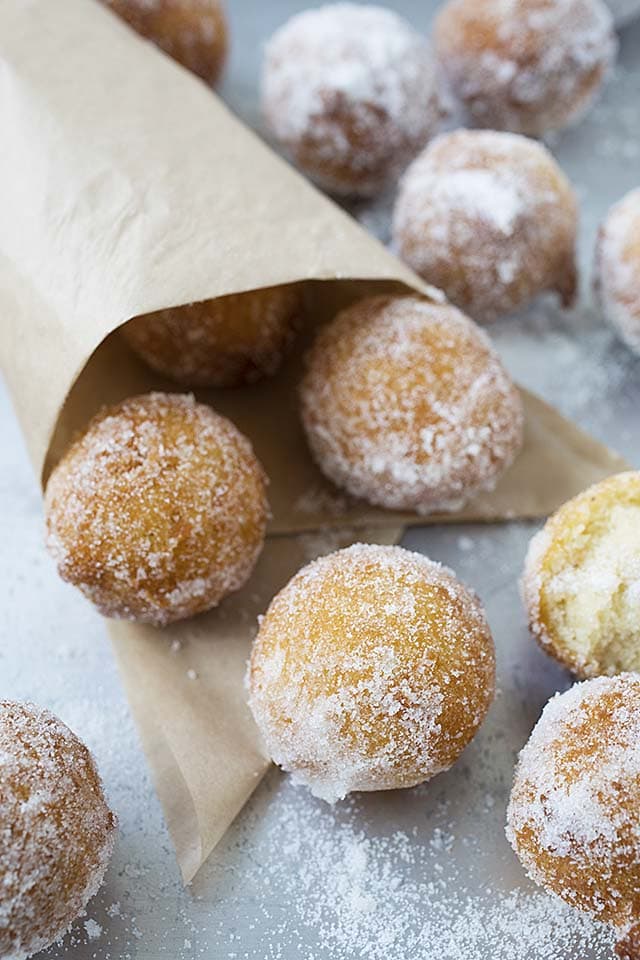 Tips for Frying Donut Holes
The perfect oil temperature for frying is 375F.
Fry the donut holes for about 1-2 minutes on both sides, turning only once.
Fry them in batches of about 5-6 at a time.
After frying, drain them on paper towels.
For the toppings, you can dust with powdered sugar, regular fine sugar, or with a sugar glaze. I personally love regular sugar as there is a bit of texture to the surface, plus you can control the sweetness by adding or reducing the amount of sugar. Other ideas include:
Strawberry Jam
Chocolate Sauce
Sprinkles
Sweet Coconut Flakes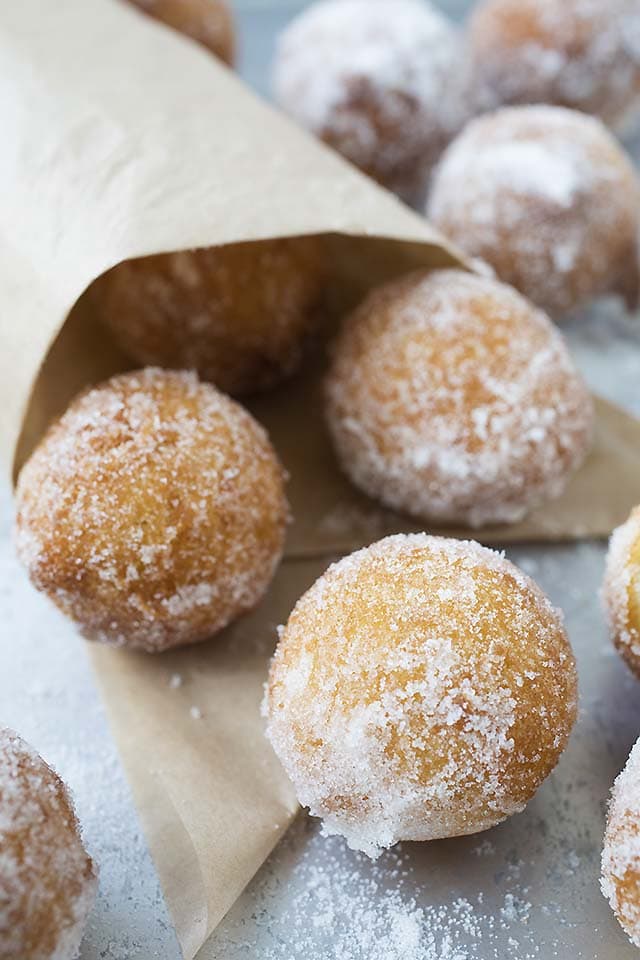 This recipe is adapted from Taste of Home. It's easy and fail-proof. If you love fried dough balls, for examples: beignets or malasadas, you are going to love them. Enjoy!
5 Secrets to 20 Min Dinners
Get tricks for quick & easy meals!
Donut Holes Recipe
Ingredients
1 1/2

cups

all-purpose flour

1/3

cup

sugar

2

teaspoons

baking powder

1/2

teaspoon

salt

1/2

teaspoon

ground nutmeg

1

large egg

1/2

cup

whole milk

2

tablespoons

unsalted butter, melted

oil, for deep-frying

1/4

cup

sugar, for rolling
Click Here for Conversion Tool
Directions
In a large bowl, combine the flour, sugar, baking powder, salt and ground nutmeg. In a small bowl, combine the egg, milk and butter. Add to dry ingredients and mix well.

In an pot or deep skillet, heat oil to 375°. Drop the dough by using a small round ice cream scoop, five or six at a time, into oil. Fry until browned, about 1-2 minutes, turning once.

Drain on paper towels. Roll warm doughnut holes in sugar. Serve immediately.
Reader Interactions