Garlic Herb Parmesan Croutons - amazing and super crispy croutons at home with this easy recipe that takes only 25 mins from prep to dinner table.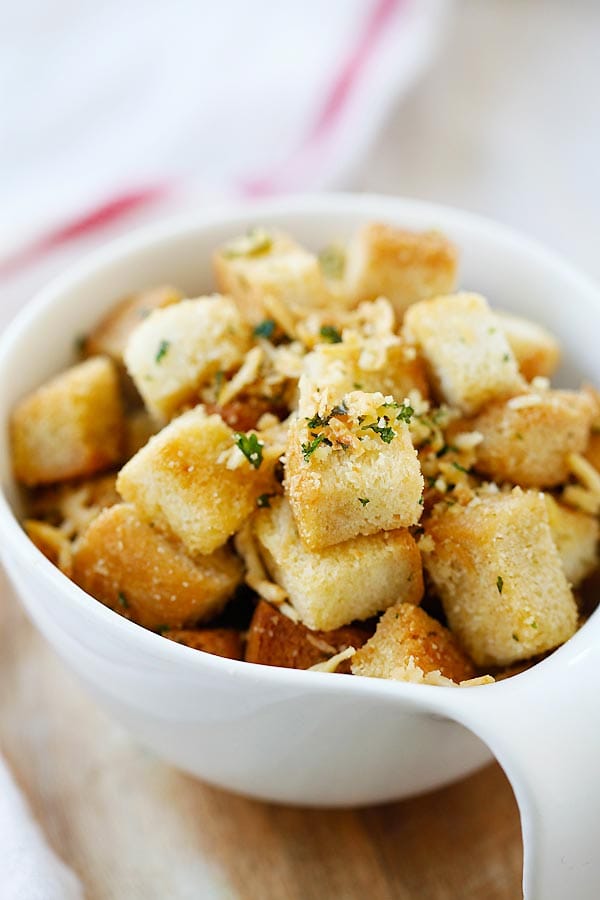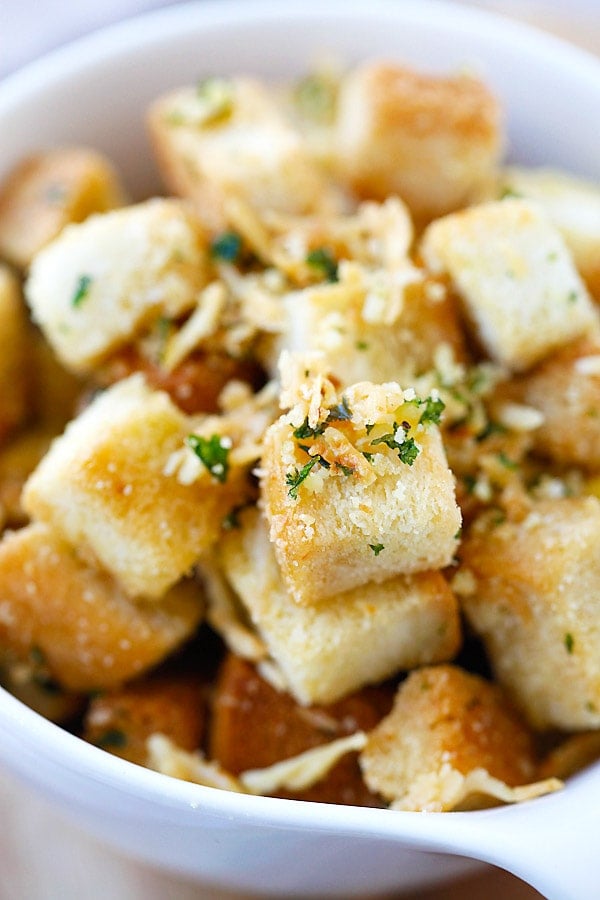 Recently, my 4-year old has stopped eating the grilled cheese sandwich I pack for his school lunch.
All of a sudden, he just won't eat it anymore. Every day he comes home with a barely eaten sandwich in his lunch box.
I guess he got fed up of the same old lunch that he would ask for every single day, for about 1 month, prior to winter break. 
That creates a problem for me as I usually buy one big loaf of bread to make his grilled cheese sandwich and now I have some much bread sitting on the counter top, turning bad and getting tossed away.
What a waste!
I don't like wasting food so I used the leftover bread I had and made them into garlic herb parmesan croutons, one of little G's favorite snack.
Whenever we go eat at Soupplantation, he would ask for croutons (just not salad).
He is such a picker eater, but he would happily eat croutons any time of the day.
So this crouton recipe took care of my extra bread problem.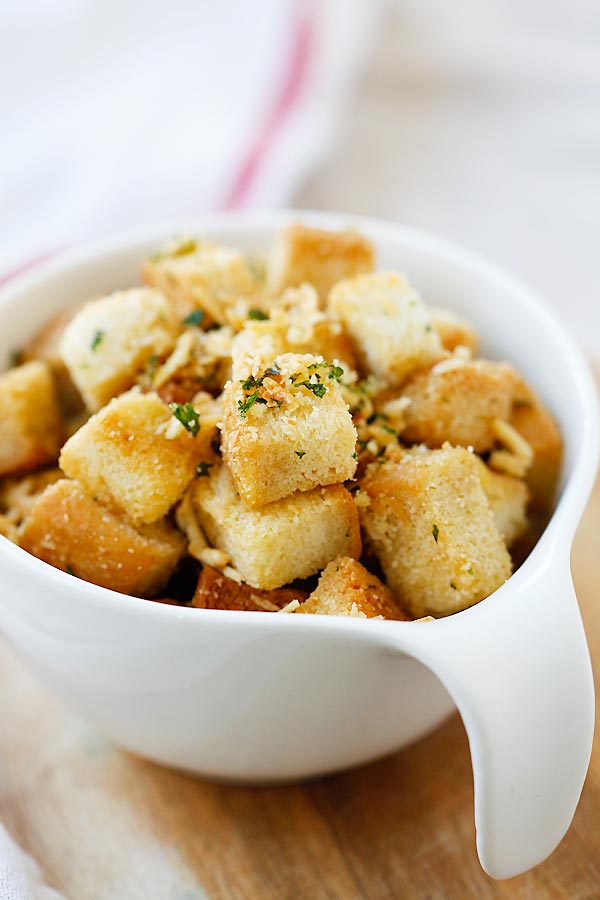 I adapted the recipe from Epicurious, and changed it a little bit to fit what little G likes to eat.
For the herb, I used fresh parsley leaves as I have some fresh ones at home.
Instead of Italian bread, I used regular bread and they turned out great.
What I love about this recipe is that these croutons taste so fresh, unlike the store-bought croutons that taste "old" and "stale."
They are also very crispy, airy, and every bite is a shattering crunch.
What's more, it took me less than 25 minutes from prep to out of the oven, easy peasy!
They can be stored in an air-tight container for up to a week without losing the flavor and texture.
We all love the garlic herb parmesan croutons and who knows, with these homemade croutons, maybe little G will start eating his salad?
If you have leftover bread at home, this is an excellent recipe to use up all the extra bread, try the recipe and I think you will like them.
This Recipe Goes Well with:
SUBSCRIBE AND GET NEW RECIPES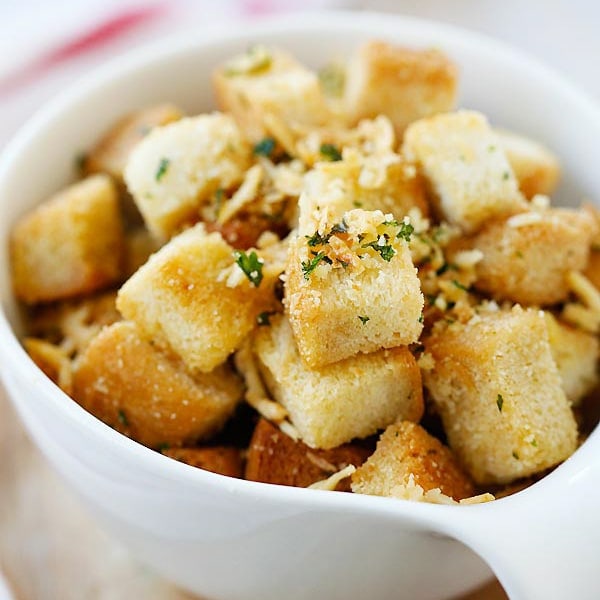 Garlic Herb Parmesan Croutons Recipe
Garlic Herb Parmesan Croutons – amazing and super crispy croutons at home with this easy recipe that takes only 25 mins from prep to dinner table.
Ingredients
5

cloves

garlic, peeled and lightly pounded

1

tablespoon

finely chopped parsley leaves

1/2

teaspoon

salt or to taste

1/4

cup

olive oil

4

pieces

bread, cut into 3/4-inch cubes (about 6 cups)

1/4

cup

finely grated fresh Parmesan
Instructions
Preheat the oven to 350 F.

In a small saucepan combine the garlic, parsley, salt, and the oil and simmer the mixture for 3 minutes. Discard the garlic. In a bowl toss the bread cubes with the oil mixture, spread them in a single layer on a cookie sheet lined with parchment paper.

Bake in the middle of oven for 8 minutes. Sprinkle the croutons with the Parmesan and bake them for 5 minutes more, or until they are golden. Sprinkle the croutons with the additional salt and let them cool. The croutons keep in an airtight container for 1 week. Serve the croutons as a topping for tossed green salad.
Nutrition Facts
Garlic Herb Parmesan Croutons Recipe
Amount Per Serving (6 people)
Calories 101
Calories from Fat 90
% Daily Value*
Total Fat 10g 15%
Cholesterol 2mg 1%
Sodium 264mg 11%
Potassium 10mg 0%
Total Carbohydrates 1g 0%
Protein 1g 2%
* Percent Daily Values are based on a 2000 calorie diet.
Click Here to Pin This Recipe

If you try my recipe, please use hashtag #rasamalaysia on social media so I can see your creations! Follow me on Facebook | Instagram | Pinterest | Twitter for new recipes, giveaways and more.