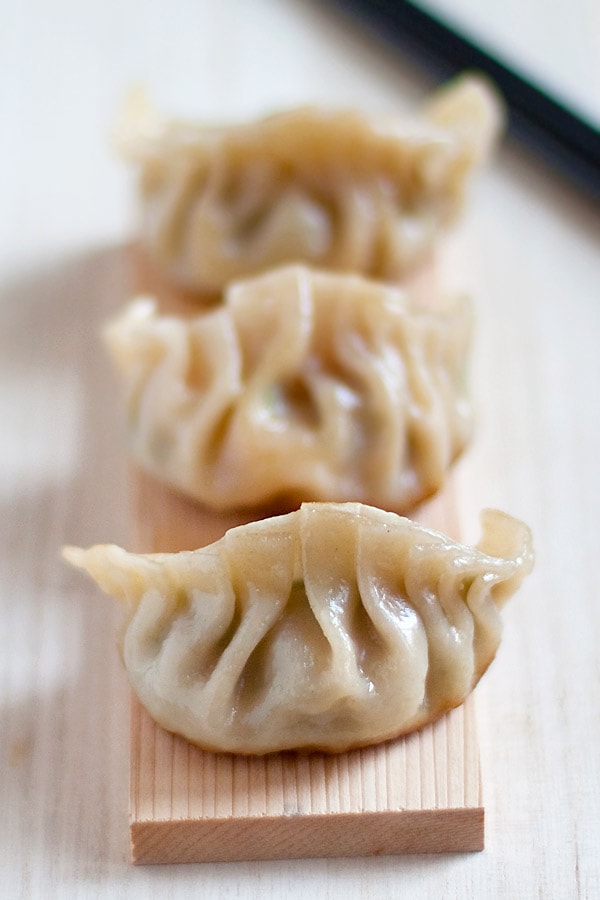 Gyoza (Japanese Dumplings)
Gyoza or Japanese pan-fried dumplings are SO delicious. EASY gyoza recipe made with store-bought ingredients, cheap & a zillion times better than takeout.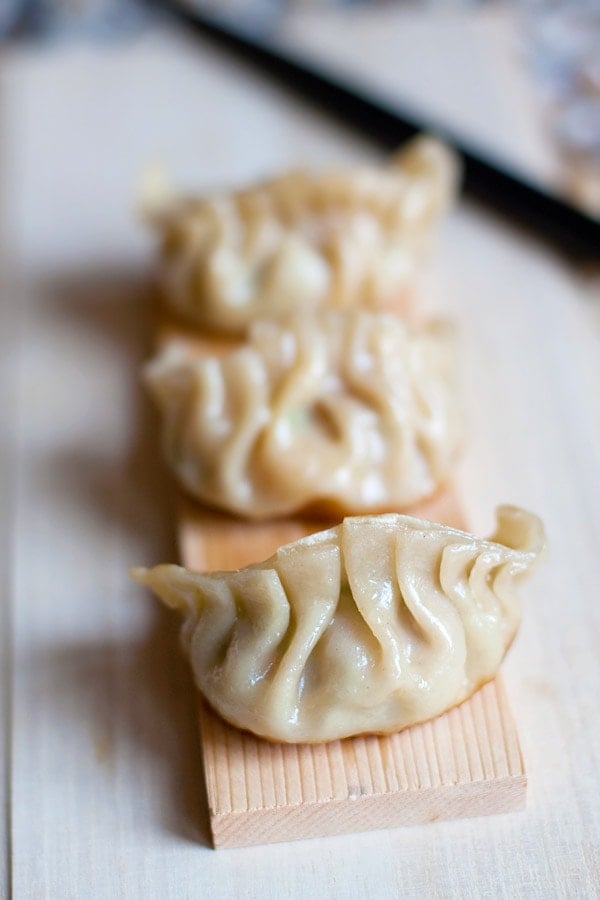 I have always liked dumplings—those little dough-wrapped morsels filled with stuffing consists of ground pork, seafood and vegetables—but my appreciation for dumplings deepens and intensifies only in the past few years due to my many trips to Beijing.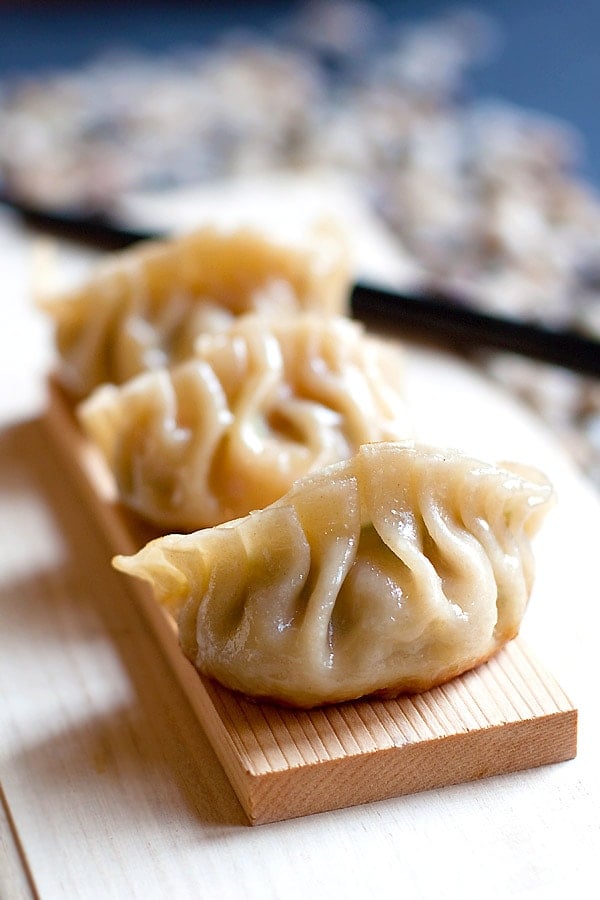 Beijing—the culinary capital of Chinese food—is the cradle of some of the best dumplings on earth. Dumplings are much celebrated, if not the building block of northern-style Chinese cooking.
In Beijing and the neighboring city of Tianjin, I savored dumplings of varied shapes, forms, with fillings so diverse, complicated, and sometimes bizarre, but never once disappoint in flavor and originality. I eventually become a dumpling buff; I cook and eat everything from the ubiquitous Cantonese dumplings such as har gow and sui mai, Chinese pot stickers and jiaozi, to Japanese gyoza.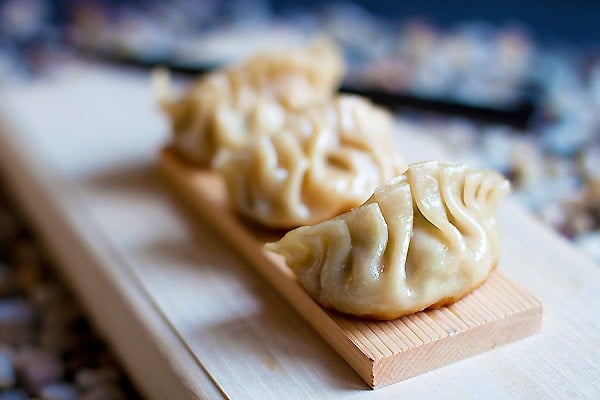 Gyoza, the Japanese equivalent of jiaozi, were introduced to Japan after World World II by Japanese soldiers returning form China, according to my friend Andrea Nguyen, who has just recently published her new cookbook "Asian Dumplings." Gyoza is an essential part of Japanese cuisine: an everyday food consumed as much as sushi or ramen by Japanese people.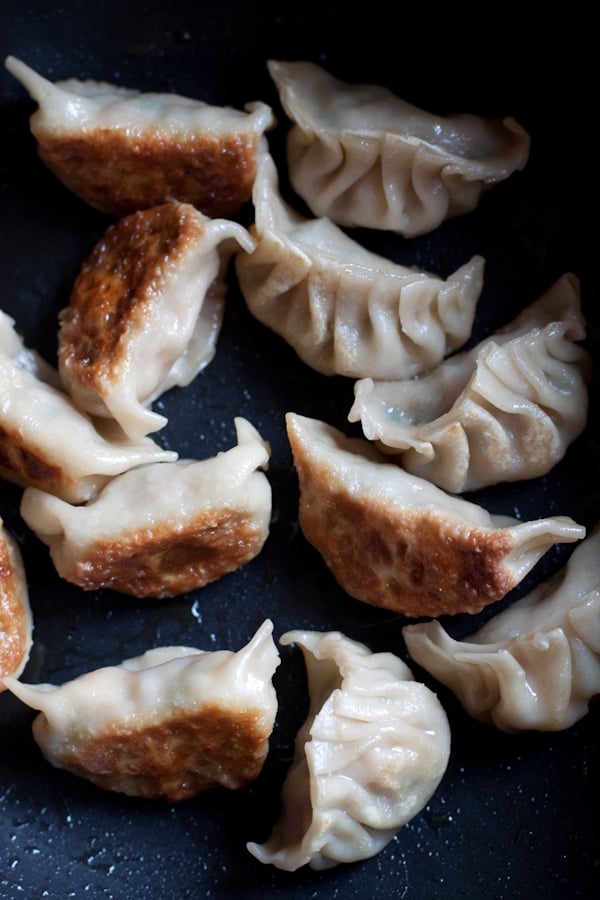 My gyoza recipe is adapted from the "Asian Dumplings" cookbook—a tastefully-done and insightful cookbook choked full of mouthwatering dumplings and gorgeous food photography.
When it comes to the word "dumplings," I have always related it to Chinese dumplings, but the cookbook defines it as "savory and sweet dishes that are made from dough balls or small parcels of food encased in pastry, dough, batter, or leaves."
The book even offers a cucur badak recipe, a Malaysian snack filled with shredded coconut and spices. If you love dumplings or wish to learn more about them, get yourself a copy of this cookbook. I salivate and get hungry every time I flip through the pages of this book.
How Many Calories Per Serving?
This recipe is only 193 calories per serving.
5 Secrets to 20 Min Dinners
Get tricks for quick & easy meals!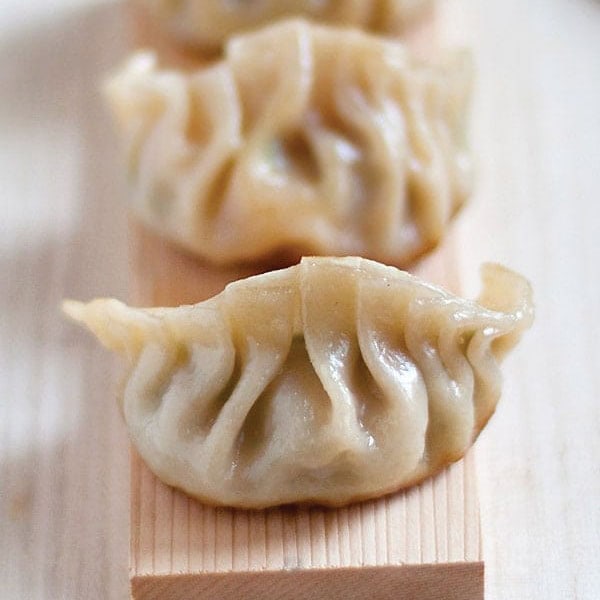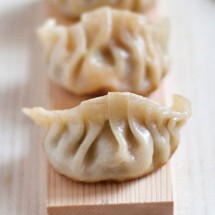 Gyoza Recipe (Japanese Pork and Shrimp Pot Stickers) Recipe
Gyoza or Japanese pan-fried dumplings are SO delicious. EASY gyoza recipe made with store-bought ingredients, cheap & a zillion times better than takeout.
Ingredients
2

cups

napa cabbage

1

teaspoon

salt

2

gloves

garlic, minced and crushed into a paste

1

teaspoon

grated ginger

2

tablespoons

chopped Chinese chives

6

ounces

ground pork

1/3

pound

medium shrimp, shelled, deveined, and chopped

1/4

teaspoon

sugar

1/2

teaspoon

black pepper

1 1/2

tablespoons

Japanese soy sauce

1

tablespoon

sake

1

teaspoon

sesame oil

1

pack

gyoza wrappers
Click Here for Conversion Tool
Directions
In a bowl, toss the cabbage with 1/2 teaspoon salt. Set a side for 15 minutes to draw excess moisture from the cabbage. Drain in a strainer and rinse with water. Squeeze the cabbage in your hands to remove more moisture.

Transfer the cabbage to a bowl and add the garlic, ginger, Chinese chives, pork, and shrimp. Stir the ingredients so they come together. Add salt, sugar, pepper, soy sauce, sake, and sesame oil and combine well.

Scoop up about 1 tablespoon of filling and put it in the center of a gyoza wrapper. Fold, pleat, and press to enclose the filling into a pleated crescent shape. Place the finished dumplings on a plate lined with parchment paper (to avoid the bottom sticking to the plate). Repeat the same until the filling is used up.

Combine some soy sauce, rice vinegar, and chili oil in a small bowl to create dipping sauce. Taste and adjust the flavor according to your liking.

Heat up a non-stick skillet over medium-high heat and add 1 1/2 tablespoons canola oil. Add the dumpling one at a time, placing the sealed edges up in a winding circle pattern. Fry the dumplings for 1-2 minutes, until they are golden or light brown at the bottom.

Add 1/4 inch depth of water into the skillet and cover it immediately with its lid and lower the heat to medium. Let the water bubble away until it's dry, for about 6-8 minutes. After the water is gone, remove the lid and fry for another 1-2 minutes until the bottoms are brown and crisp. Transfer the dumplings to a serving plate and serve immediately with the dipping sauce.
Nutrition Facts
Gyoza Recipe (Japanese Pork and Shrimp Pot Stickers) Recipe
Amount Per Serving (4 people)
Calories 193
Calories from Fat 108
% Daily Value*
Fat 12g18%
Cholesterol 88mg29%
Sodium 1843mg80%
Potassium 362mg10%
Carbohydrates 68g23%
Protein 25g50%
Vitamin A 275IU6%
Vitamin C 11.2mg14%
Calcium 108mg11%
Iron 4.5mg25%
* Percent Daily Values are based on a 2000 calorie diet.