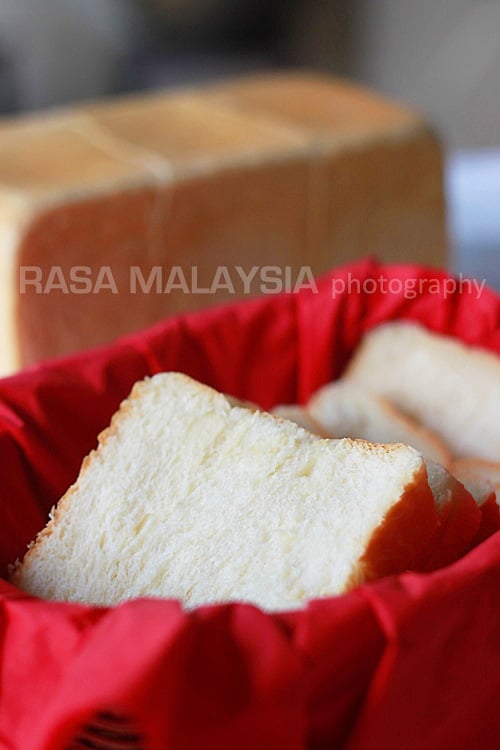 Hokkaido Milk Loaf
Hokkaido Milk Loaf – Very soft loaf bread which is very popular in Japan. It has a cottony and springy texture which can just melt in your mouth.
If you love Rasa Malaysia, it's very likely that you love Asian food, and probably love Asian-style pastry.
Call me bias but I personally think that Asian-style bread and pastry are better and have a lot more varieties than those you get from regular stores. I am a huge fan of Japanese and Taiwanese bakery shops, they are just great.
I am not a great baker so I have my contributor Siew Loon sharing some Asian-style bread and pastry with us. Check out her Hokkaido soft bread or milk loaf, inspired by her recent trip to Hokkaido.
Contributor: Ho Siew Loon
Hi everyone, I am finally back with my baking recipes. I made a trip to Hokkaido just before the earthquake and fell in love with this heavenly place—from the beautiful scenery, the polite and friendly people, to the wonderful food and desserts.
One of the things that I fell in love with is the Hokkaido bread or milk loaf, which has inspired me to find the perfect recipe for this soft and yet springy loaf of bread.
I finally found it at Angie's Recipe…thanks for the great recipe. This bread has gained praises from almost everyone who has tasted it and it's best eaten with butter.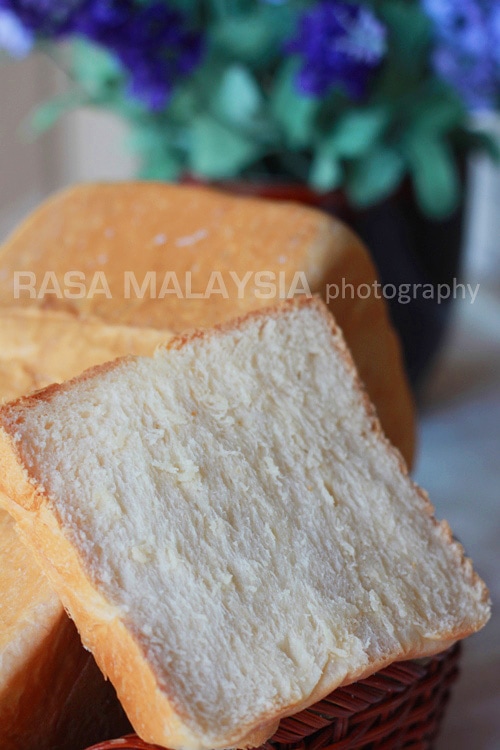 Hokkaido Milk Loaf is a soft bread which has probably gotten its name from the pristine nature of Hokkaido.  Hokkaido produces high quality milk.
You can use fresh milk to achieve a great result when baking this Hokkaido bread.  It is a bread that can be eaten on  its own or just slightly toasted, spreading a bit of butter to this bread will definitely enhance its taste….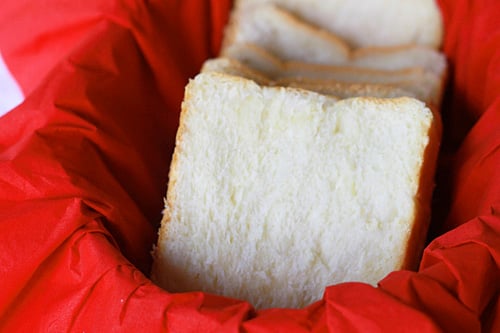 Do try out this Hokkaido milk loaf recipe and it will keep your guest coming back for more.
How Many Calories Per Serving?
This recipe is only 365 calories per serving.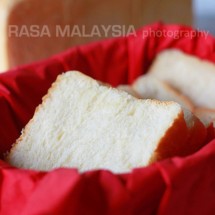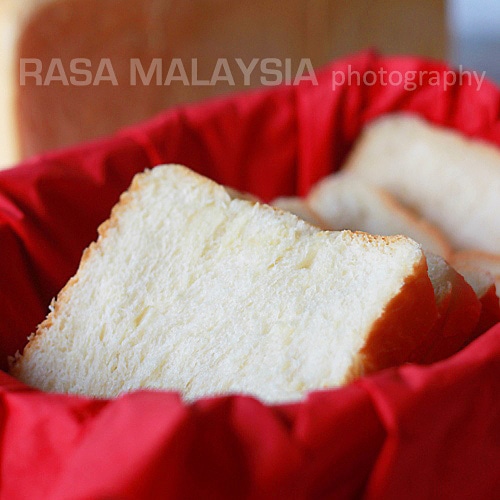 HOKKAIDO MILK LOAF (HOKKAIDO SOFT BREAD) RECIPE
Japanese sweet milk loaf or Hokkaido milk loaf. The best bread ever, cotton soft, sweet, and you don't need anything on the bread, it's THAT good!
Ingredients
4 1/2

cups

bread flour

1/2

cup

all-purpose flour

250

ml

milk

190

ml

whipping cream

1

large egg

2

tablespoons

milk powder

4

tablespoons

fine sugar

3

teaspoon

dry yeast

1/2

tablespoon

salt
Click Here for Conversion Tool
Directions
Put milk, whipping cream, egg, flour, milk powder, salt, sugar and yeast into the bread machine. Set to Dough function. After the dough has finished it's kneading cycle, let it proof inside the machine for 45-50 minutes or till it is double in size.

Remove from the pan and divide dough into 4 equal portions and shape into a ball.

On a lightly floured surface, flatten the ball and roll out in a rectangle shape. Roll it up again tightly like swiss roll.

Put it in the greased bread tin. Repeat with the second ball. ( Put 2 balls into a bread tin)

Set aside and let it proof for about 1 hr or till it rises till it fills up about 75% of the bread tin.

Bake at 190 degree Celsius for about 50-55 minutes if you cover the cake tin. If you do not cover the cake tin, 40 minutes of baking time is enough.
Recipe Notes
If you do not have a bread machine, mix the dry ingredients with wet ingredients and knead on medium speed with a stand mixer until the dough is smooth, non sticky, and elastic.
Nutrition Facts
HOKKAIDO MILK LOAF (HOKKAIDO SOFT BREAD) RECIPE
Amount Per Serving (4 people)
Calories 365
Calories from Fat 207
% Daily Value*
Fat 23g35%
Cholesterol 113mg38%
Sodium 955mg42%
Potassium 438mg13%
Carbohydrates 136g45%
Protein 28g56%
Vitamin A 915IU18%
Vitamin C 0.6mg1%
Calcium 173mg17%
Iron 2.4mg13%
* Percent Daily Values are based on a 2000 calorie diet.