Bake chicken breasts with Parmesan cheese is so easy to make in the oven. These juicy and moist chicken breasts are marinated with olive oil and garlic-lemon seasonings. So delicious!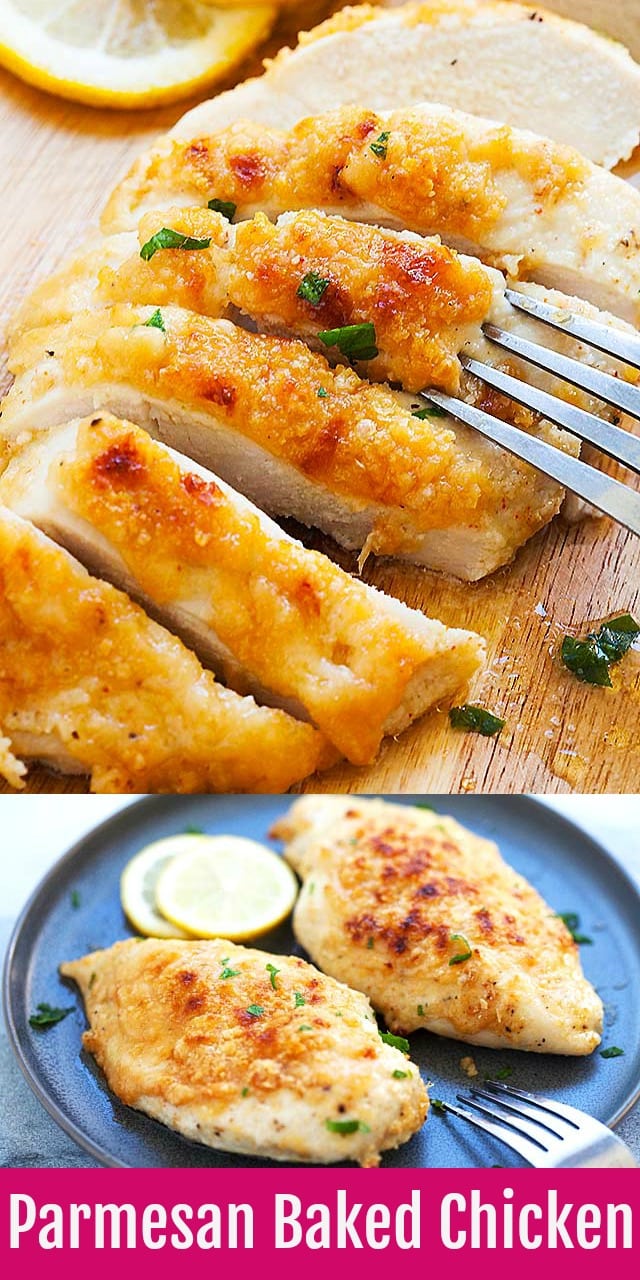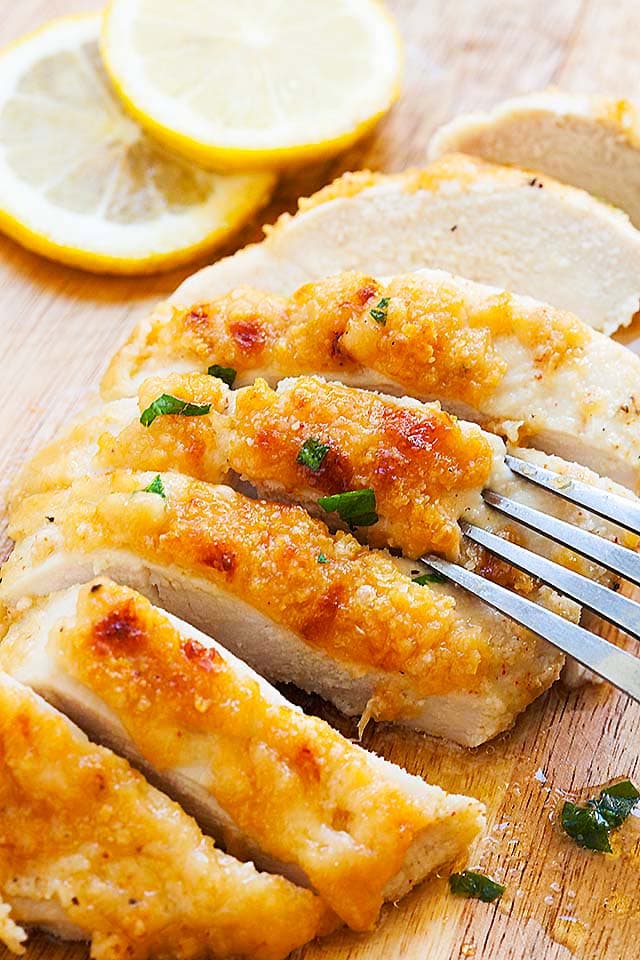 Baked chicken breasts is one of the most popular chicken recipes, for lunch or dinner.
The reason is very simple: everyone loves chicken breasts and always have frozen chicken breasts in the refrigerator.
Secondly, baking chicken breasts in the oven is so easy and quick, with very short active time.
However, not all baked chicken breasts turn out the same way.
Many people under-season the chicken, and/or baking the breasts for too long, resulting in dry, tough, rubbery and tasteless meat.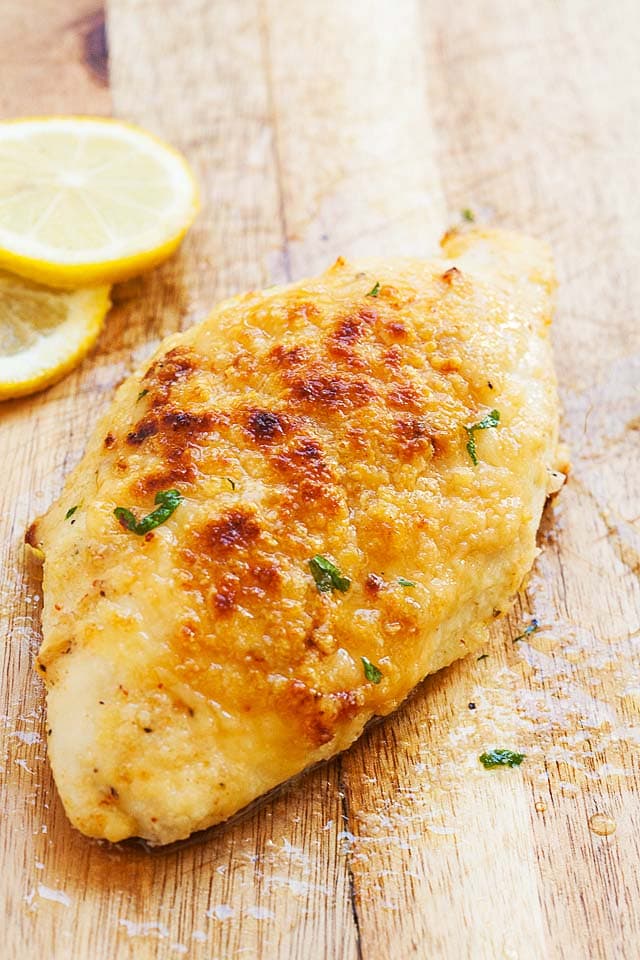 What Temperature for Oven Baked Chicken Breasts?
To seal in the juice and ensure moist, juicy and tender chicken breasts, you want to bake the chicken in a pre-heated oven at 400 degrees.
How Long Does It Take to Bake Chicken Breasts?
Not all chicken breasts are the same size or thickness. Some are thicker and some are leaner.
As a general rule of thumb, the baking time is about 30-40 minutes, depending on how big and thick the breasts are.
The internal temperature for properly cooked chicken (regardless of the parts of the chicken) is 165° Fahrenheit or 75° Celsius. To test the temperature, use a meat thermometer.
Insert it into the thicken part of the chicken breasts. If it reaches 165°F, it's done.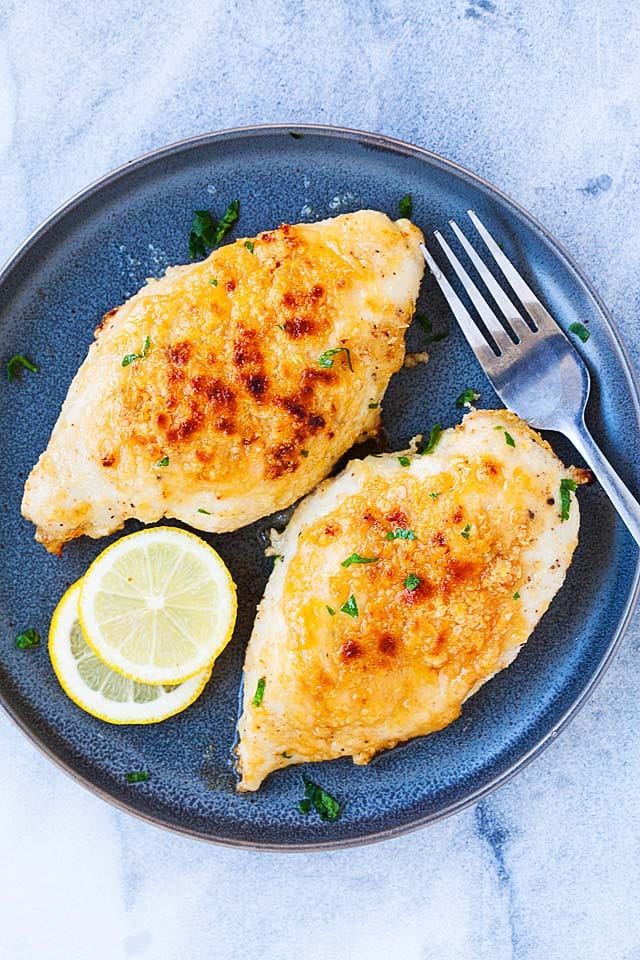 Secrets for Juicy Oven Baked Chicken Breasts
As you can see from my pictures, my Parmesan baked chicken breasts are juicy, with the juice seeping out from the meat. Here are my tips and tricks for juicy baked chicken breasts:
Marinate the chicken with olive oil. Olive oil seals in the juice of the chicken, making the surface moist and the inside extremely juicy.
Use lemon juice as part of the marinade. If you marinate the chicken breasts with all dry ingredients, they will turn out dryer. Use lemon juice to marinate and your chicken will be moist and bursting with amazing flavors.
Remove the chicken immediately from the oven as soon as they are done. Do not leave them inside as the remaining heat in the oven will continue to cook the chicken. This is the number 1 reason for dry, tough, rubbery and over-cooked oven baked chicken breasts.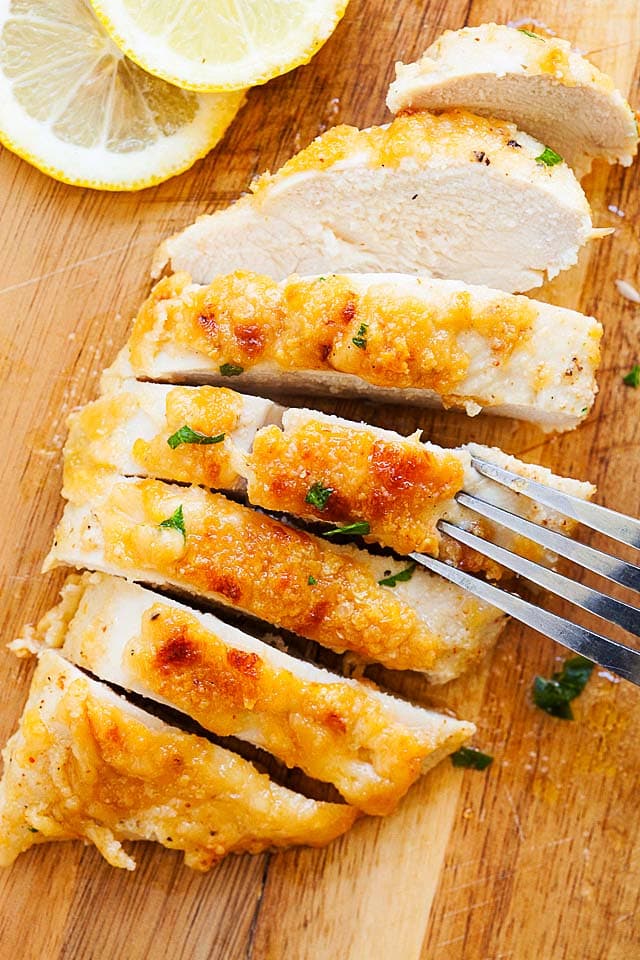 Serve Parmesan Baked Chicken Breasts with:
For a wholesome dinner, make the following:

Complete Meal Plan
Other Recipes You Might Like
Click Here to Pin This Recipe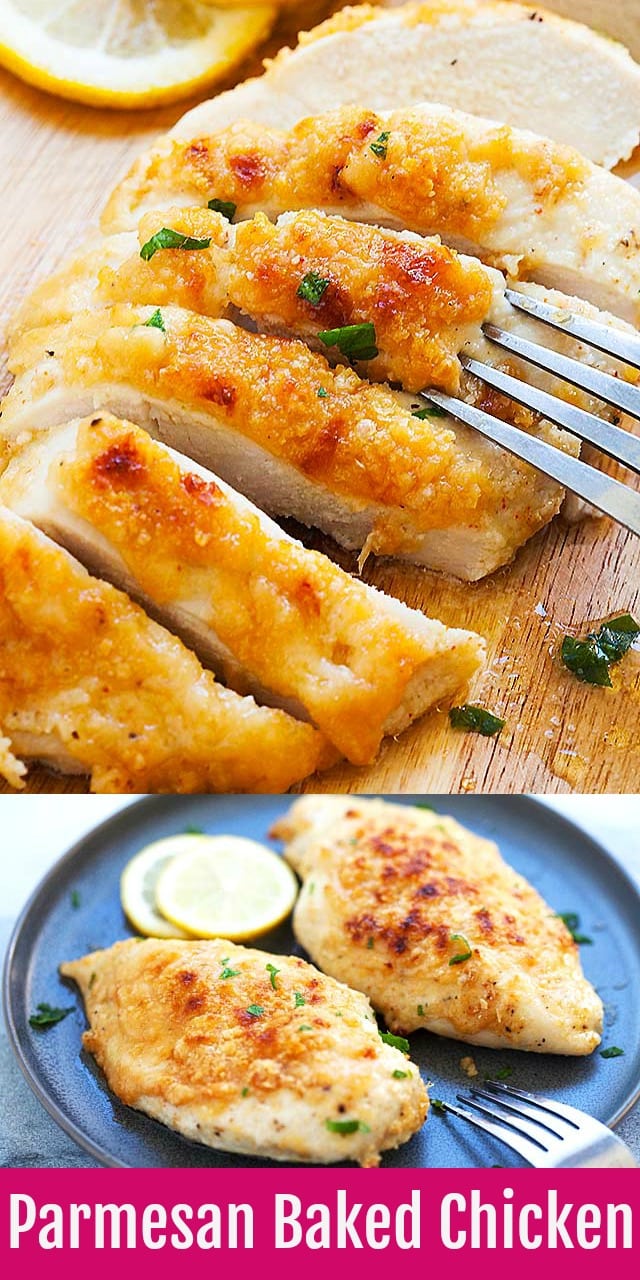 SUBSCRIBE AND NEVER MISS A RECIPE
If you try my recipe, please use hashtag #rasamalaysia on social media so I can see your creations! Follow me on Facebook | Instagram | Pinterest | Twitter for new recipes, giveaways and more.