One of the best chicken breast recipes in oven is bake chicken breast with Parmesan cheese. These juicy and tender chicken breasts are marinated with olive oil and garlic-lemon seasonings. So delicious!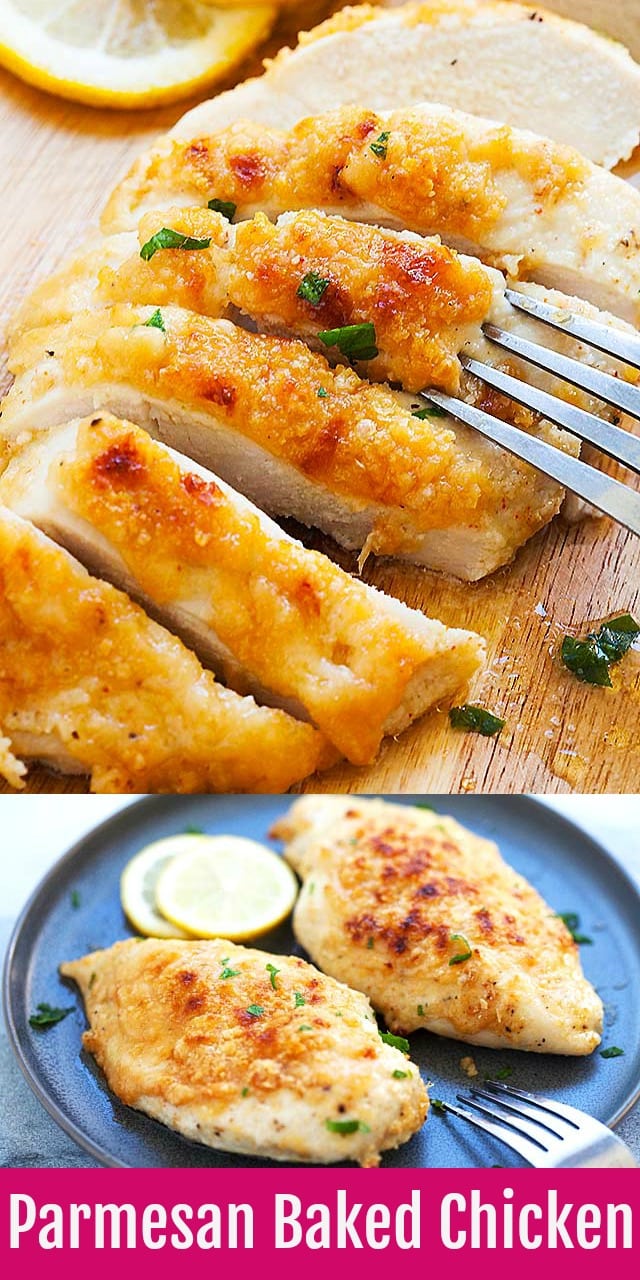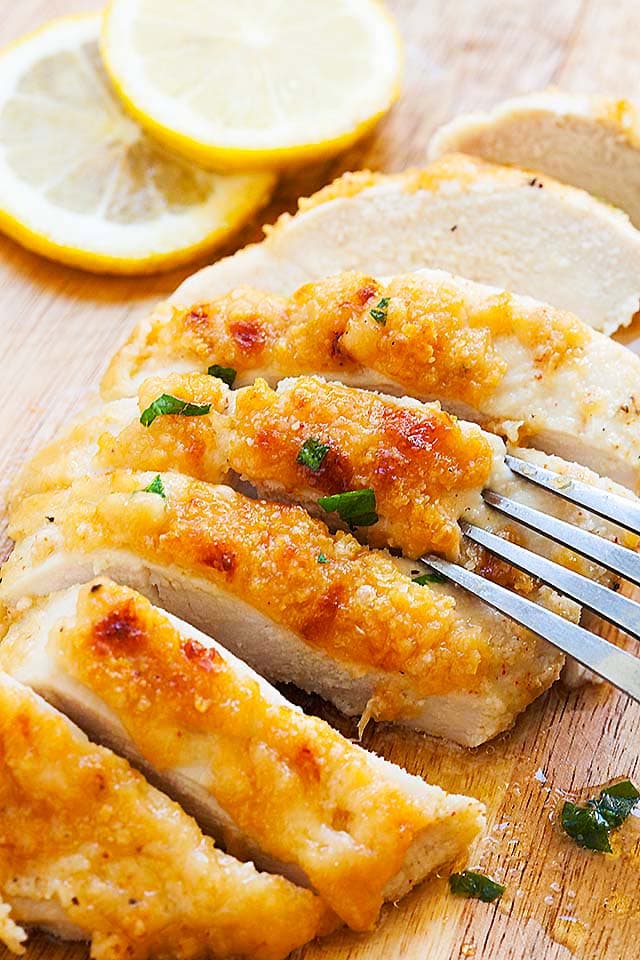 Chicken Breast Recipes
Everyone loves chicken breast and I am always developing delicious, easy chicken breast recipes for quick and healthy weeknight dinner.
Nothing screams winner winner chicken dinner more than juicy, moist and tender chicken breast recipes.
This Parmesan baked chicken needs to be on your dinner rotation.
Other Recipes You Might Like
Baked Chicken Breast
Chicken is one of the most popular chicken recipes, for lunch or dinner.
Everyone loves chicken breasts and always have them in the refrigerator.
Secondly, baking chicken breast in the oven is so easy and quick, with very short active time.
However, not all baked chicken breast recipes turn out the same way.
Many people under-season the chicken, and/or baking the breasts for too long, resulting in dry, tough, rubbery and tasteless meat.
So how to bake them?
Here is one of the best boneless chicken breast recipes that you have to try!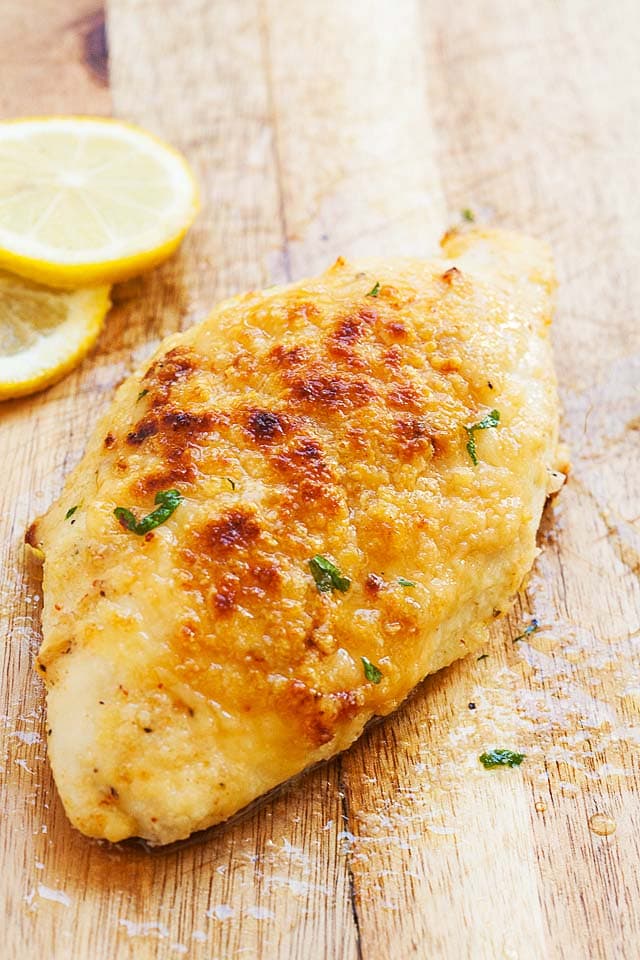 What Temperature for Oven Baked Chicken Breasts?
To seal in the juice and ensure moist, juicy and tender chicken breasts, you want to bake the chicken in a pre-heated oven at 400 degrees.
How Long Does It Take to Bake Chicken Breasts?
Not all chicken breasts are the same size or thickness. Some are thicker and some are leaner; also bone-in and boneless.
As a general rule of thumb, to bake boneless chicken breast, it takes about 20-30 minutes, depending on how big and thick the breasts are.
The internal temperature for properly cooked chicken (regardless of the parts of the chicken) is 165° Fahrenheit or 75° Celsius.
To test the temperature, use a meat thermometer.
Insert it into the thicken part of the chicken breasts. If it reaches 165°F, it's done.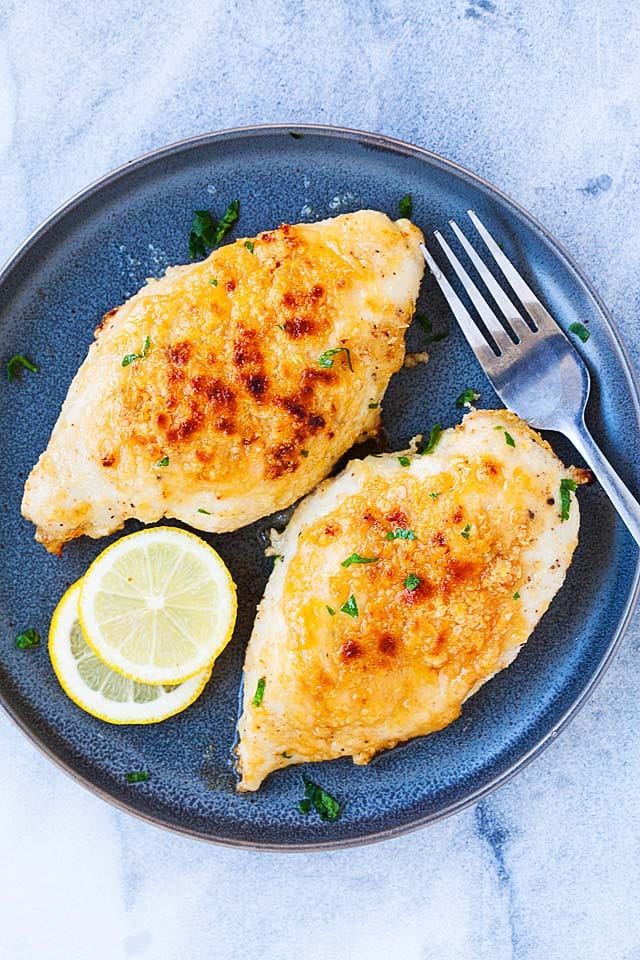 Secrets for Juicy and Tender Chicken Breast
My Parmesan baked chicken breasts are juicy, with the juice seeping out from the meat.
Here are my tips and tricks for juicy baked chicken breasts:
Marinate the chicken with olive oil. Olive oil seals in the juice of the chicken, making the surface moist and the inside extremely juicy.
Use lemon juice as part of the marinade. If you marinate the chicken breasts with all dry ingredients, they will turn out dryer. Use lemon juice to marinate and your chicken will be moist and bursting with amazing flavors.
Remove the chicken immediately from the oven as soon as they are done. Do not leave them inside as the remaining heat in the oven will continue to cook the chicken. This is the number 1 reason for dry, tough, rubbery and over-cooked oven baked chicken breasts.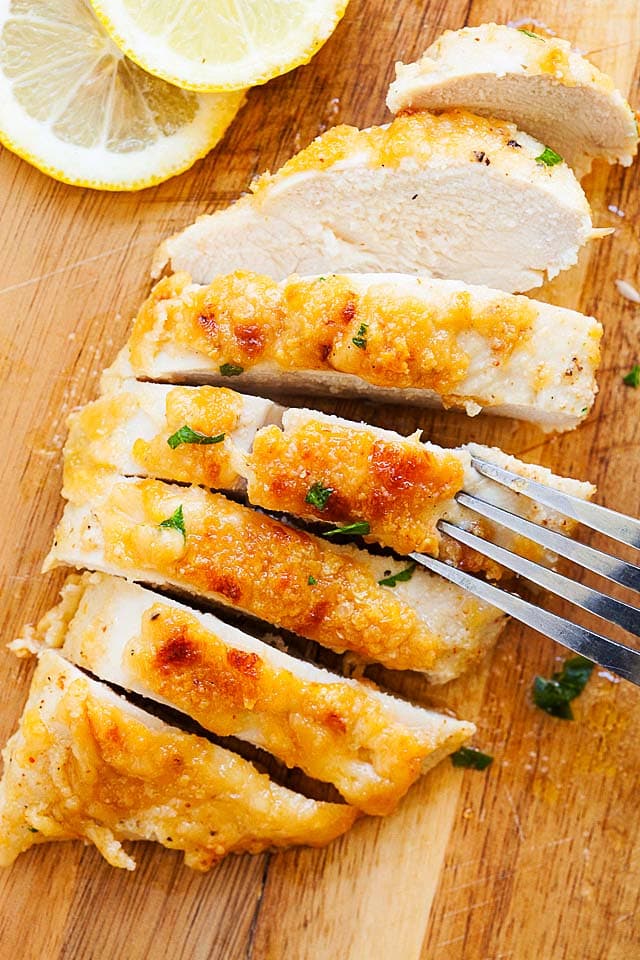 How Many Calories per Serving?
This recipe is only 498 calories per serving.
What Dishes to Serve with This Recipe?
Serve this dish as a main or with side dishes. For a wholesome meal and easy weeknight dinner, I recommend the following recipes.
How to Cook Chicken Breast?
Please refer to the recipe card below for detailed step-by-step method on chicken breast recipes and how to cook chicken breast in oven.
For more great recipes like this, sign up for our newsletter. We'll send daily recipes you'll love!
Join
Sign up for our newsletter!
Parmesan Baked Chicken Breasts
One of the best chicken breast recipes in oven is bake chicken breast with Parmesan cheese. These juicy and tender chicken breasts are marinated with olive oil and garlic-lemon seasonings. So delicious!
Ingredients
1

lb.

skinless and boneless chicken breasts

2

tablespoons

olive oil

1.5

tablespoons

garlic powder

2

tablespoons

lemon juice

ground black pepper

3

dashes

cayenne pepper

1/4

teaspoon

salt or more to taste

1/2

cup

freshly grated Parmesan cheese

lemon wedges

(for serving)
Instructions
Marinate the chicken breasts with olive oil, garlic powder, lemon juice, black pepper, cayenne pepper and salt. The marinade will be pasty and not liquidy, like the picture below.

While the chicken breasts are marinating, preheat oven to 400°F (207° C).

Top the marinated chicken breasts with the grated Parmesan cheese evenly. Bake the chicken for about 20-30 minutes, until a meat thermometer hits 165 degrees Fahrenheit when inserted into the thickest part of the breasts.

Remove the Parmesan baked chicken from the oven. Serve immediately with fresh lemon wedges, squeeze the juice on the chicken for extra flavors. You may also serve the chicken with your favorite hot sauce.
Notes
Watch the cooking video on this page for step-by-step guide.
Do not use the green can of Parmesan cheese but rather freshly grated or grate your own.
Nutrition

Nutrition Facts

Parmesan Baked Chicken Breasts

Amount Per Serving

Calories 515

Calories from Fat 243

% Daily Value*

Fat 27g42%

Cholesterol 167mg56%

Sodium 996mg43%

Potassium 1003mg29%

Carbohydrates 9g3%

Protein 57g114%

Vitamin A 909IU18%

Vitamin C 10mg12%

Calcium 241mg24%

Iron 1mg6%

* Percent Daily Values are based on a 2000 calorie diet.

Notice: Nutrition is auto-calculated, using Spoonacular, for your convenience. Where relevant, we recommend using your own nutrition calculations.