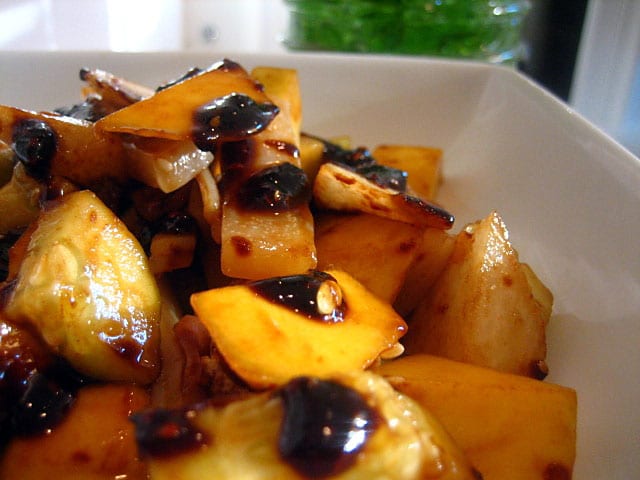 Rojak–the Penang-style salad with fresh cucumber, crunchy jicama, pineapple, jambu (water apple/rose apple), bean curd, and cuttlefish in thick, gooey, and pungent Hae Ko (dark prawn paste)–is the only salad that I would eat without being forced to.
The Hae Ko sauce is also one of the few sauces that I would dabble with my fingers (even lick with my tongue), leaving not a single drop. The taste of Rojak is something that one must experience to fully appreciate.
The secret of this homemade Rojak lies in a small plastic container of Sambal Rojak. If you are in Southern California, be on the look out for "Shrimp and Boy Brand Fruit Dressing Sambal Rojak" at Hong Kong Supermarket in Rowland Heights, West Covina, or Monterey Park.
While the taste of this homemade Penang Rojak is not as good as the real ones you get from hawkers in Penang, I have to say that it's 80% close to the real taste.
I am just very happy that I can now savor something I truly miss even though I am thousands of miles away from home.
And no, I didn't lick my plate dry this time.
How Many Calories Per Serving?
This recipe is only 180 calories per serving.
5 Secrets to 20 Min Dinners
Get tricks for quick & easy meals!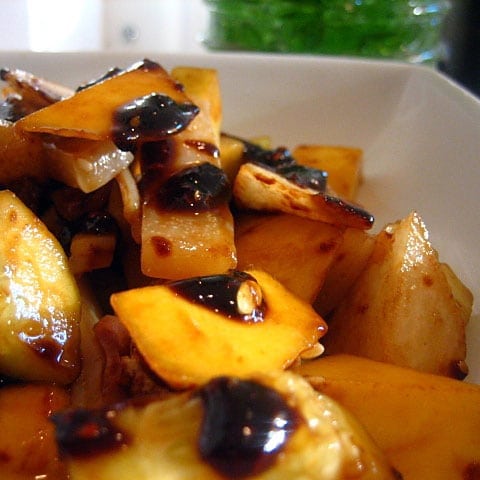 Penang Rojak Recipe
Ingredients
1

small jicama, cut into small pieces

1

cucumber, peel the skin and cut into small pieces

1

green mango, peel the skin and cut into small pieces

1

bean curd, boil for 3 minutes and cut into small pieces

Some cuttlefish, boil for 3 minutes and set aside
Click Here for Conversion Tool
Directions
In a large mixing bowl, combine all the ingredients. Add the sambal rojak dressing and toss well. Portion out onto plates.
Recipe Notes
To make your homemade Rojak even more explosive in flavor, add in some toasted belacan and sambal. Top the salad with some roasted sesame seeds and ground peanuts.
Nutrition Facts
Penang Rojak Recipe
Amount Per Serving (4 people)
Calories 180
Calories from Fat 45
% Daily Value*
Fat 5g8%
Sodium 12mg1%
Potassium 418mg12%
Carbohydrates 25g8%
Protein 11g22%
Vitamin A 535IU11%
Vitamin C 50.7mg61%
Calcium 159mg16%
Iron 2.4mg13%
* Percent Daily Values are based on a 2000 calorie diet.