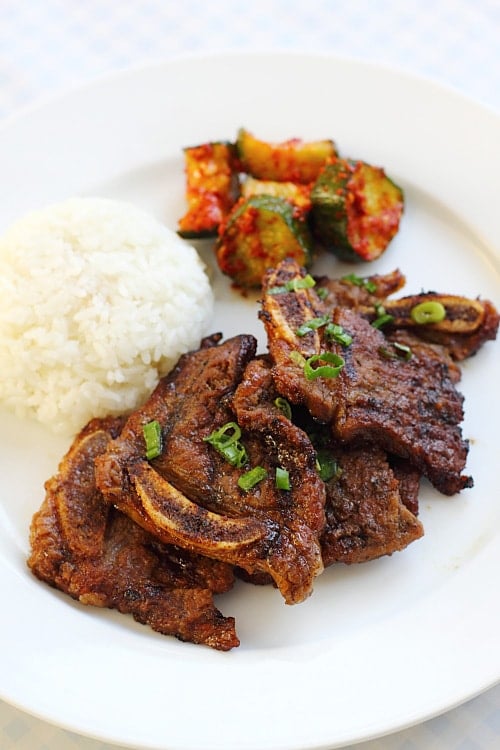 Everyone loves Korean BBQ, especially those juicy, tender, and flavorful kalbi or Korean BBQ beef short ribs. Today, Diana of Dianasaur Dishes is sharing her kalbi recipe with us.
Diana lived in Korea as a young child, then lived in Hawaii for 15 years during which she traveled all over Asia including Malaysia and Singapore as a volunteer disaster relief worker. (Now that's super amazing and impressive!)
It's no surprise that she has a huge passion for Asian cooking which she shares not only through Dianasaur Dishes, but also by teaching free cooking classes to low income families in her community of Auburn, Washington.
I have personally tested her kalbi recipe and it's awesome! Please welcome Dianasaur Dishes to Rasa Malaysia.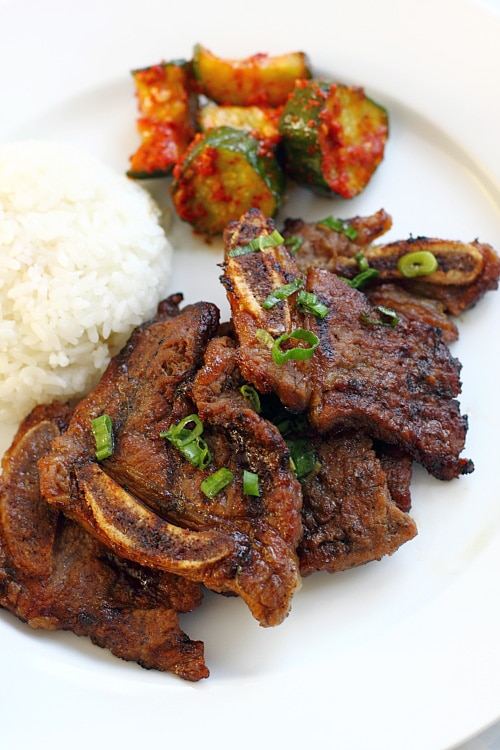 When I lived in Korea as a small child, I loved getting Galbi from the food vendors on the sidewalk.  There was something that felt so right about holding a piece of beef in my little hand and gnawing the meat off of tiny bones. 
When I moved to Hawaii, I was delighted that Galbi was still so abundant, only it was called Kalbi Ribs instead.  All the little old Korean ladies at my church loved to bring the tasty ribs to potlucks, and they were at pretty much every holiday gathering I went to.
The key to a good marinade for kalbi ribs is a balance of flavors, both sweet and savory.  Traditionally, honey or sugar was used for sweetening the marinade. 
But all the Korean women I knew agreed that the best ingredient to use now, is a citrus soda like 7-UP.  They say that not only is it sweet, but it also tenderizes the meat…(get Diana's kalbi/galbi recipe after the jump)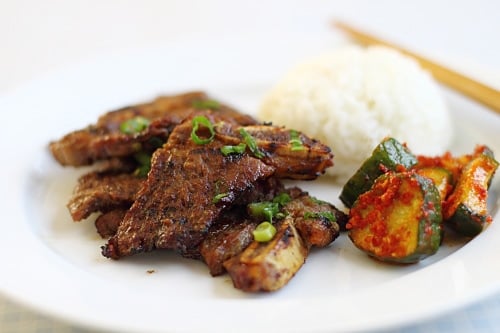 I remember watching the wives of vendors in Korea grating Asian pears, and sweetly hinting to them that I LOVE Asian pears.  They always took the hint and handed me one to which I politely said "Gamsa hamnida" (which means thank you). 
When I asked the Korean women I know about the Asian pear they agreed that you need to grate both Asian pear and onion into your marinade, this imparts more flavor than simply chopping them.  Some of the women I talked to make their Galbi very sweet with soda, Asian pear and sugar in their marinade. 
I think that has been a bit westernized because I don't remember the Galbi in Korea being nearly as sweet, so I leave the extra sugar out.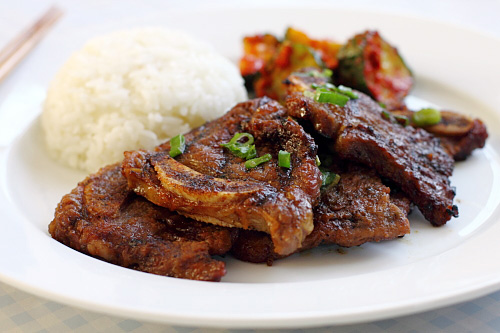 Two important keys to making kalbi ribs are to make sure you buy Korean style short ribs, and to soak them before marinating.  The Korean style ribs are cut perpindicular to the bone, so you end up with an 6-10 inch strip of meat and three small bone segments attached. 
You can definitely find them at any Asian grocery store, but they're often at local grocers and butchers as well.  Because the bones are cut during the slicing process, there is a lot of bone dust on the ribs.  Soaking them before marinating makes sure this dust is rinsed away.
Although the ribs are best on the grill, you can also cook them indoors.  Using an indoor grill press they need to cook about 6 minutes, or you can cook them in a large skillet on high heat for 3-4 minutes each side.
SUBSCRIBE AND GET NEW RECIPES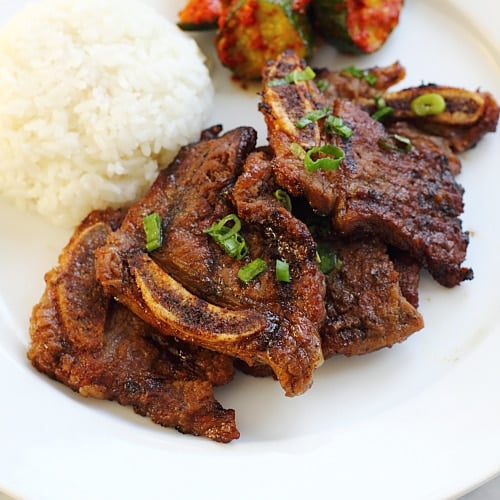 Korean Kalbi Ribs Recipe
Kalbi (Korean BBQ Beef Short Ribs).
Ingredients
3

lbs

Flanken-style short ribs, about 12 pieces

Water

1

Asian pear

1/2

white or yellow onion

1

cup

soy sauce, I use Aloha shoyu

1

cup

citrus soda, like Sierra Mist

1

tablespoon

freshly grated ginger

1/4

cup

sesame oil

3

cloves

garlic minced or pressed

2

tablespoons

sesame seeds

1/4

teaspoon

red pepper flakes

1/4

cup

minced green onion
Instructions
Place ribs in a large casserole dish and fill it with water until the ribs are covered.  Let sit in the fridge at least 30 minutes, then pour off water and rinse the ribs and dish.

Return ribs to the casserole dish.  Grate the flesh of an Asian pear and half of an onion over the ribs.  Add all remaining ingredients to the ribs and use tongs stir marinade and make sure ribs are all soaking.  Cover the dish and refrigerate at least 30 minutes (overnight is better).

Heat a grill to medium high heat.  Use tongs to place ribs on the grill and cook for 3-4 minutes each side.  Garnish with additional green onion and sesame seeds if desired.  Serve with kimchee and rice.
Nutrition Facts
Korean Kalbi Ribs Recipe
Amount Per Serving
Calories 646
Calories from Fat 369
% Daily Value*
Total Fat 41g 63%
Cholesterol 147mg 49%
Sodium 3431mg 143%
Potassium 1126mg 32%
Total Carbohydrates 14g 5%
Protein 55g 110%
* Percent Daily Values are based on a 2000 calorie diet.
If you try my recipe, please use hashtag #rasamalaysia on social media so I can see your creations! Follow me on Facebook | Instagram | Pinterest | Twitter for new recipes, giveaways and more.