Malaysian Fresh Spring Rolls - Nyonya fresh spring rolls with shredded jicama, shrimp and/or pork, plusdiced bean curd wrapped with fresh popiah skin.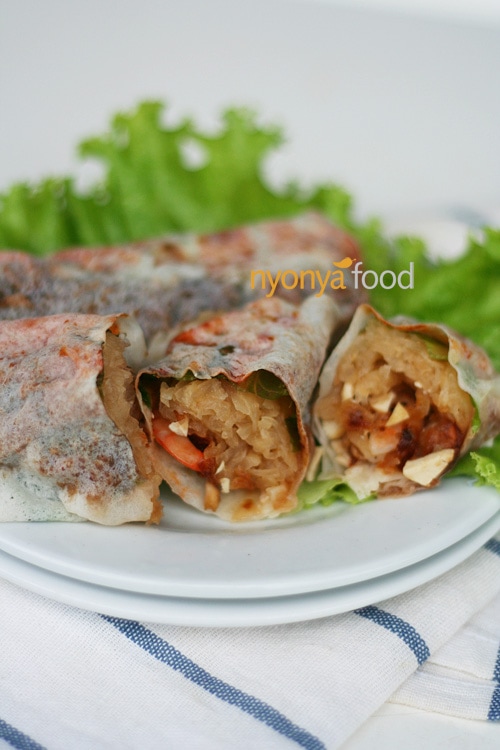 My family loves popiah—Nyonya fresh spring rolls with shredded jicama, shrimp and/or pork, plus
diced bean curd wrapped with fresh popiah skin. In many Strait Chinese or Nyonya households, making and eating popiah is a much celebrated family ritual where all family members come together, preparing, rolling, and eating this scrumptious food.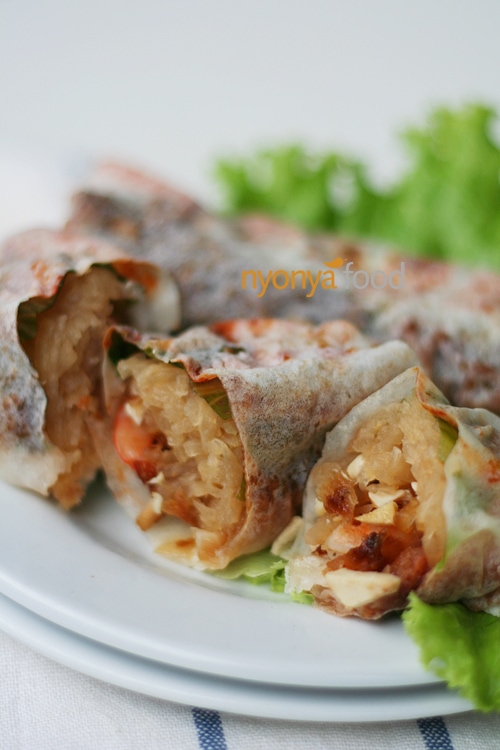 I can remember many occasions when my family had popiah feast, when the women of the household woke up early in the morning to cut and slice tons of jicama or yambean (bangkuang), and then over low heat, slowly cooked the vegetables until they became soft, juicy, and deeply flavorful.
Then, all the children would rush to the table as soon as they were ready to serve—wrapping the fresh popiah skin with the filling and topped with the many extras and savored the end product. Everyone got to play with their food a few times, wrapping rolls after rolls of popiah until we filled our stomach…
Making popiah is quite a lot of work, but it's always so rewarding. I personally love it that I can pack on loads of toppings as I wish. Check out my family's popiah recipe—a comfort food that is delicious, appetizing, and fun to eat. Enjoy!
How Many Calories per Serving?
This recipe is only 435 calories per serving.
What Dishes to Serve with This Recipe?
For a wholesome meal and easy weeknight dinner, I recommend the following recipes.
5 Secrets to 20 Min Dinners
Get tricks for quick & easy meals!
Yield: 4 people
Malaysian Fresh Spring Rolls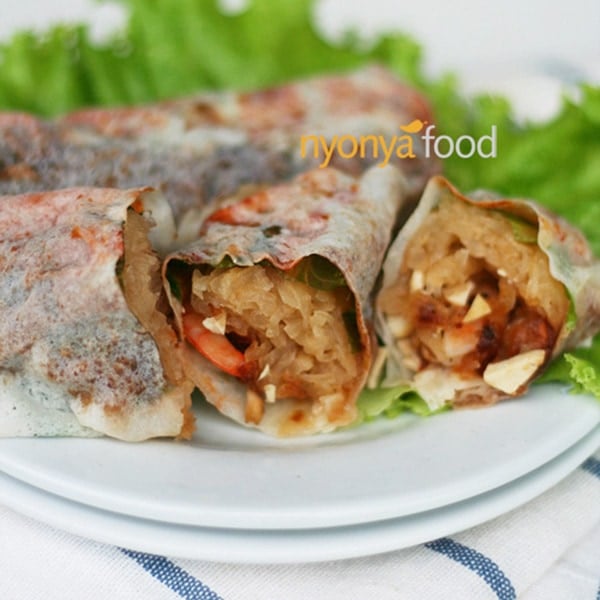 Nyonya fresh spring rolls with shredded jicama, shrimp and/or pork, plus diced bean curd wrapped with fresh popiah skin.
Ingredients
Fillings:
80 g (3 oz.) fresh lettuce leaves, wash and drained dry
1 kg (35 oz.) yam bean, grated
70 g (2.5 oz.) french beans, sliced
4 tablespoon bean curd, diced into small pieces
100 g (4 oz.) prawn, shelled, deveined and cut into small pieces
3 cloves garlic
some store-bought fried shallot crisps, optional
Seasonings:
1 teaspoon salt or to taste, optional
1/2 teaspoon white pepper powder
1/2 teaspoon sugar or to taste, optional
1 cup water
3/4 cup oil
Sauces:
1/2 cup sweet sauce, tee cheo or hoisin sauce
1/4 cup chilli sauce
Instructions
Heat up your wok with some oil, deep-fry the bean curd until lightly browned. Dish out and drain on paper tower.
In a deep pot, add in the oil until heated. Transfer the garlic into the deep pot and stir fry until aromatic, add in the prawn and stir fry until slightly cooked.
Add in the yambean, french beans, salt, pepper, sugar and water, stir well. Reduce heat and simmer until the yambean turns soft, for about 30 minutes. Taste the filling, add more salt and sugar to taste. Dish out the filling and keep aside to cool. The filling might be slightly watery.
Lay a piece of the Popiah wrapper on a flat board. Spread one teaspoon sweet sauce and 1/2 teaspoon chilli sauce on it. Place a lettuce leaf over the sauces. Spoon 3 tablespoons of filling onto the leaf. Top with the fried bean curd and fried shallot crisps. Fold up the two sides of the wrapper and roll up. If you wish, you can scoop a tablespoon of the filling juice on top of the Popiah. Serve immediately.
Nutrition Information
Yield
4
Serving Size
4 people
Amount Per Serving
Calories

435
Total Fat

44g
Saturated Fat

3g
Unsaturated Fat

0g
Cholesterol

40mg
Sodium

1968mg
Carbohydrates

115g
Fiber

14g
Sugar

34g
Protein

16g