Nyonya Kuih Pie Tee - Delicious authentic Kuih Pie Tee recipe that you can easily replicate for yourself at home. Try it for yourself!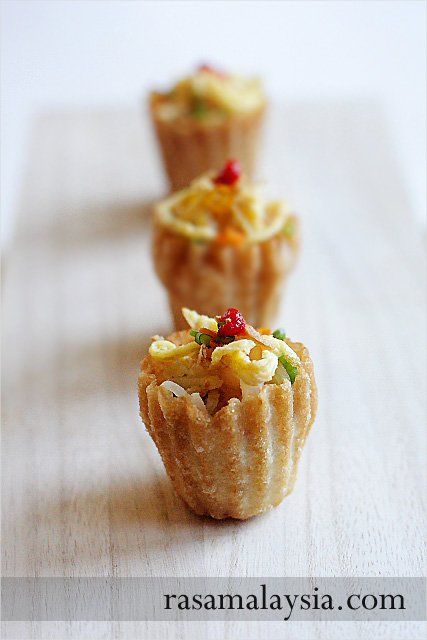 Here is the Nyonya kuih pie tee step-by-step cooking guide:
Making Nyonya Kuih Pie Tee is a two-step process:
First, the making of the cases/shells.
Secondly, the preparation of the filling and toppings.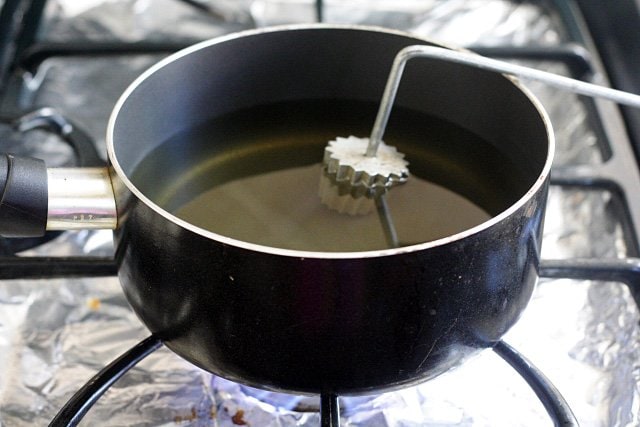 Heat up your Pie Tee mold in a pot of oil. Make sure the oil covers the top of the mold. The Pie Tee mold should be just hot enough…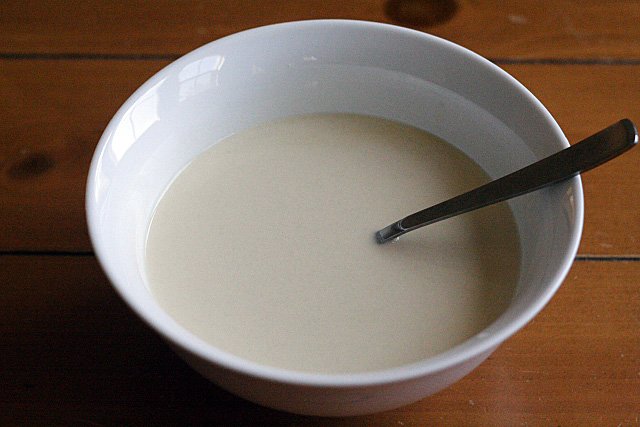 Pie Tee batter. Start by using a bigger bowl, as the batter recedes, transfer it to a smaller bowl, and then an even smaller bowl…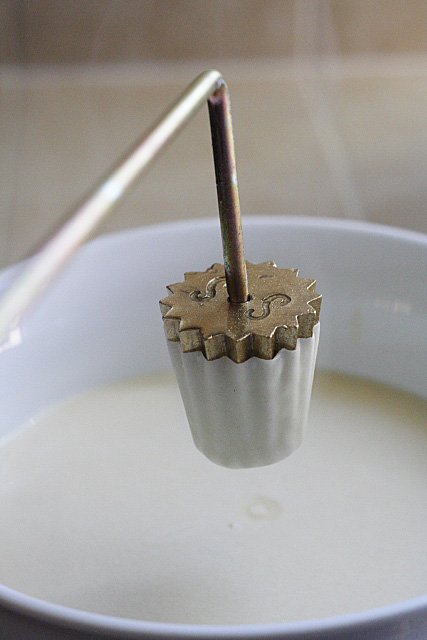 Dipping the hot Pie Tee mold into the batter, up to 90 – 95% of the mold. You can coat 1 time, or 2, 3 times if you want thicker cases. Make sure you check the bottom so it's well coated. As your batter recedes, transfer it to a smaller bowl to get up to that 90-95% level…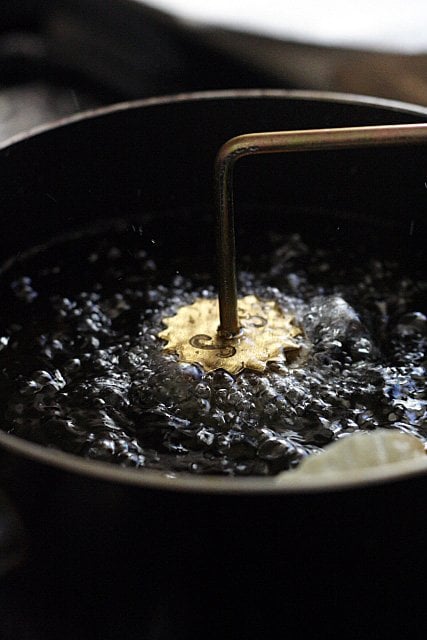 Shake the extra batter off the mold and transfer it to the oil for deep-frying…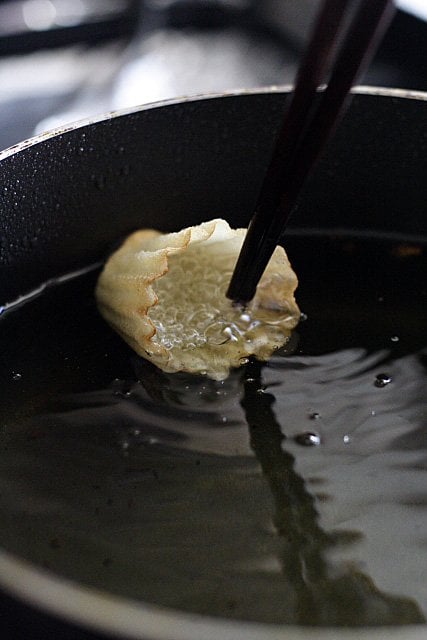 Use a pair of chopsticks to help fry the Pie Tee cases. If the case doesn't come off the mold, use the chopsticks to loosen the top edges so the case comes off easily…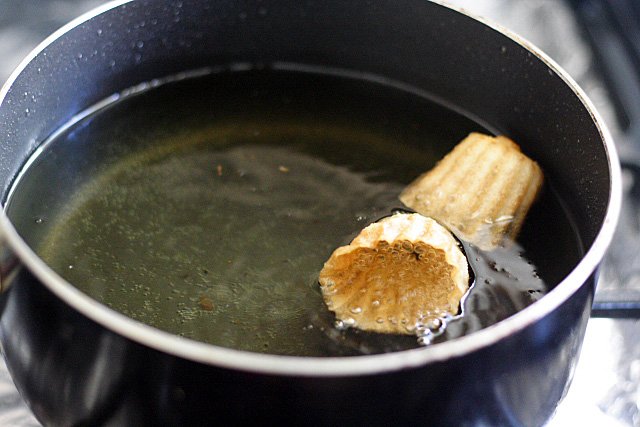 Beautiful, perfectly-shaped, and light to golden brown cases. The case shouldn't come off the mold too early, or else it will not retain the perfect shape…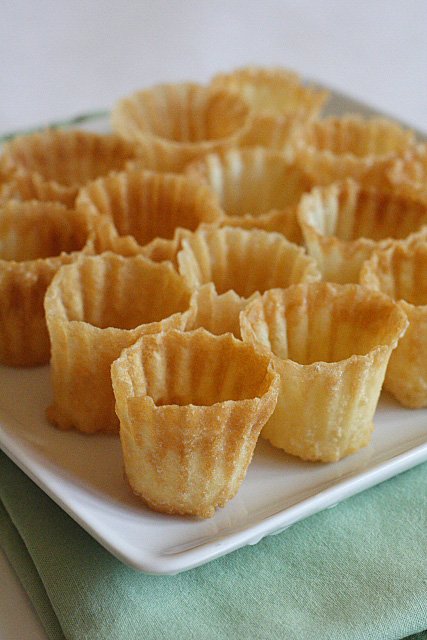 Pie Tee cases ready for the fillings. Store the cases in an airtight container to keep them crispy…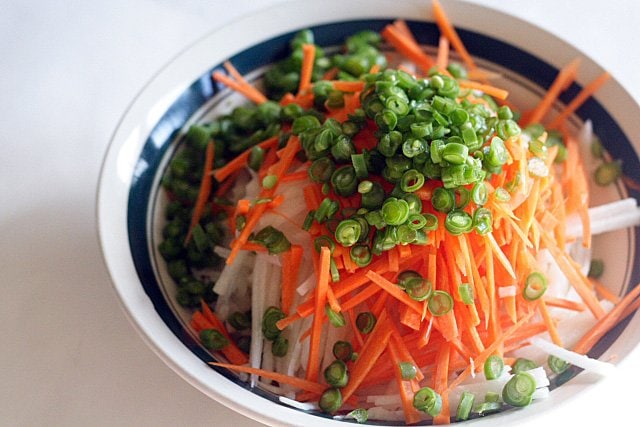 Chopped jicama (yam bean), french beans, and carrots…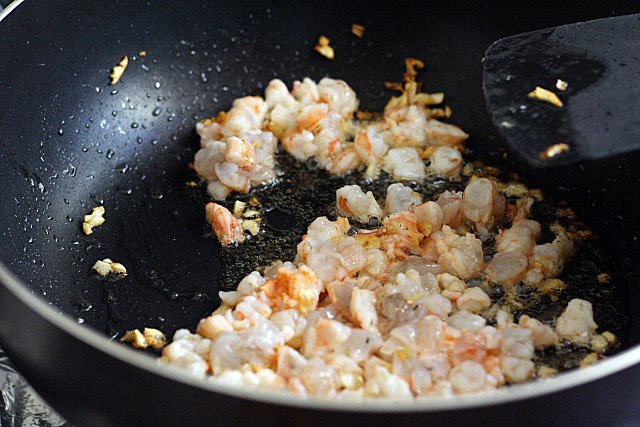 Stir-fry chopped shrimp with minced garlic until aromatic…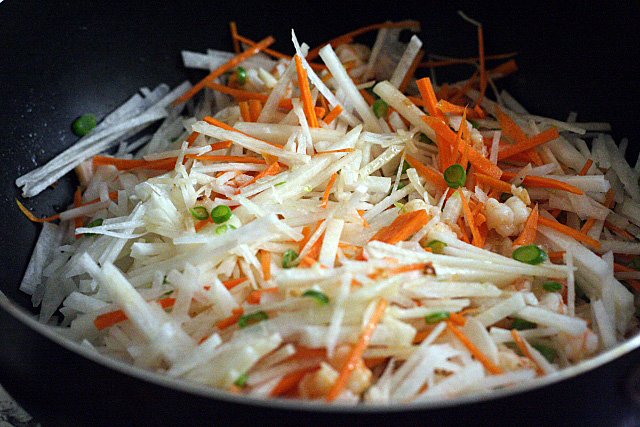 Add in all the vegetables, seasonings, and some water…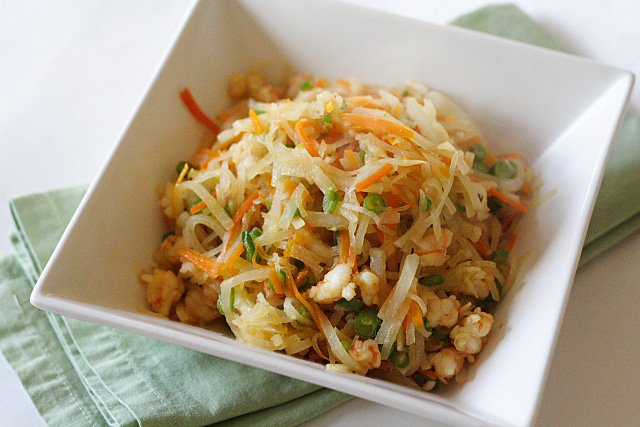 chopped scallions, red chilies, and fried crispy shallots.
I wanted to warn you that the cooking process is long (read: it will take up to 3 hours to make them); it also takes lots of patience, especially if you are a first-timer. But, when you pop one of these "top hats" or Nyonya kuih pie tee in your mouth, all your efforts will be wholly justified, I assure you.
How Many Calories per Serving?
This recipe is only 18 calories per serving.
What to Serve with This Recipe?
Serve this dish with other Malaysian dishes. For a Malaysia meal and easy weeknight dinner, I recommend the following recipes.
For more great recipes like this, sign up for our newsletter. We'll send daily recipes you'll love!
Join
Sign up for our newsletter!
Nyonya Kuih Pie Tee
Nyonya Kuih Pie Tee Recipe and Step-by-Step Guide.
Ingredients
Shell Batter
1

cup

all-purpose flour

1/4

cup

rice flour

1

egg

(beaten)

1 1/4

cups

water

oil for deep-frying
Fillings
2

tablespoons

oil

2

lbs.

jicama/yam bean, shredded

1

carrot

(shredded)

10

French beans

(chopped)

4

oz.

shrimp

(shelled, deveined, and cut into smaller pieces)

4

garlic

(finely chopped)

1/2

teaspoon

salt

1/2

teaspoon

sugar

1/2

teaspoon

chicken bouillon powder

2/3

cup

water
Toppings:
1

plain omelet

(shredded)

fried shallot crisps

scallions

(chopped)

2

red chilies

(chopped)

garlic chili sauce or sriracha

(optional)
Instructions
Combine the all purpose flour, rice flour, beaten egg, salt, and water in a mixing bowl and mix well. Strain the batter, transfer it into a big bowl and set aside.

Fill a sauce pan that is deep enough for the mold with oil enough to cover the mold.

Heat up the oil until hot. Then dip the mold into the heated oil until it's just hot (but not too hot).

Take out the mold and then dip it into the batter. Coat the mold until it's up to the 90-95% level and make sure it's well coated on the side and the bottom (the mold shouldn't be too hot, and it shouldn't sizzle when it's dipped in the batter). Let excess batter drip off, then plunge the mold into the hot oil.

To separate the batter from the mold, jiggle the mold up and down to loosen it. The case should off with slight shaking up and down. Once it's off, deep fry in the oil until it turns light to golden brown. Transfer it out onto a plate with paper towels (to soak up the excess oil) and store in an airtight container. (I use medium heat while making my cases.)

For the filling, stir fry the minced garlic and prawns until fragrant. Add jicama, carrot and french beans, and do a quick stir.

Add the seasonings and water. Cook until the vegetables are soft, about 5 minutes using medium heat. Dish out and set aside.

To serve, use chopsticks to fill the case with the filling, and then top with shredded omelet, chopped scallions, red chilies, shallots crisps, and garlic chili sauce.
Notes
If you are a first-timer, I suggest you cut down the ingredients in half and test it out first. Once you have a hang of it, you can throw a Pie Tee party. There will be some wastage of the batter, especially when it gets too hard to dip the mold up to the 90% mark with the remaining batter.
Nutrition

Nutrition Facts

Nyonya Kuih Pie Tee

Amount Per Serving (80 cases)

Calories 18

Calories from Fat 9

% Daily Value*

Fat 1g2%

Cholesterol 6mg2%

Sodium 31mg1%

Carbohydrates 3g1%

Protein 1g2%

* Percent Daily Values are based on a 2000 calorie diet.

Notice: Nutrition is auto-calculated, using Spoonacular, for your convenience. Where relevant, we recommend using your own nutrition calculations.