Nutella Banana Bread - With Nutella swirls inside the banana bread. Easy Nutella banana bread recipe with everyday ingredients: Nutella and banana.

Nutella Banana Bread Recipe. Banana bread has just gotten a lot more interesting with loads of Nutella swirls in the cake. Must-bake recipe!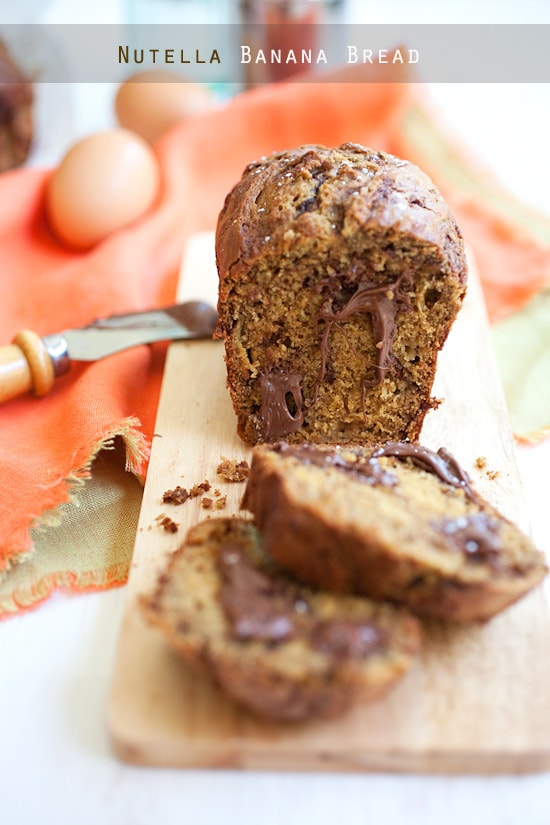 Everyone loves a good loaf of banana bread, especially when it's hot-off-the-oven with the smell of bananas, eggs, and butter lingering in the kitchen.
The thought of having a slice of banana bread with your favorite cup of coffee for breakfast, afternoon tea, or anytime of the day is enough to set many stomachs rumbling.
On Rasa Malaysia, my banana bread recipe is one of the most popular recipes on the site, and the most-pinned image on Pinterest (if you use Pinterest, please remember to follow my boards and pin my images!).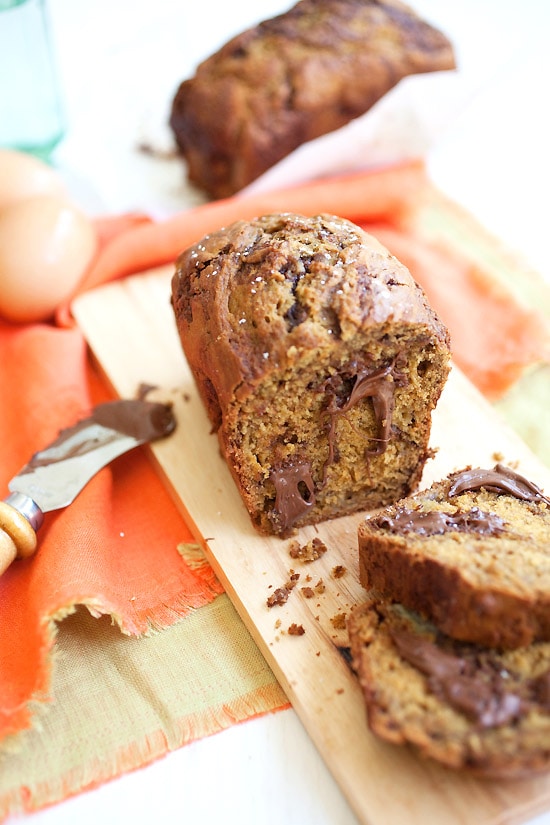 Now what could be better than the good old banana bread?
I have an idea, slap on some Nutella (check out all my Nutella recipes) and swirl it with your banana bread to make Nutella banana bread.
I know I've gotten your attention with the sheer mention of Nutella, right?
Yes, that's exactly the recipe I am sharing today: Nutella banana bread that's guaranteed to get your mouth salivating at the very thought of it.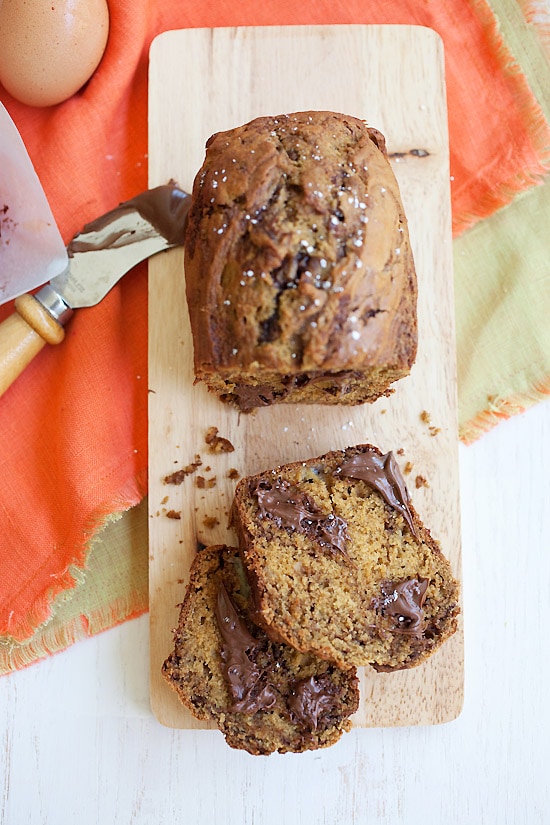 Imagine slices after slices of moist banana bread, with Nutella swirls generously integrated with each bite.
Not enough Nutella, not a problem, you can slather more Nutella on the banana bread before eating.
It's sinfully delicious and so addictive, you just can't stop eating especially when they are just out of the oven.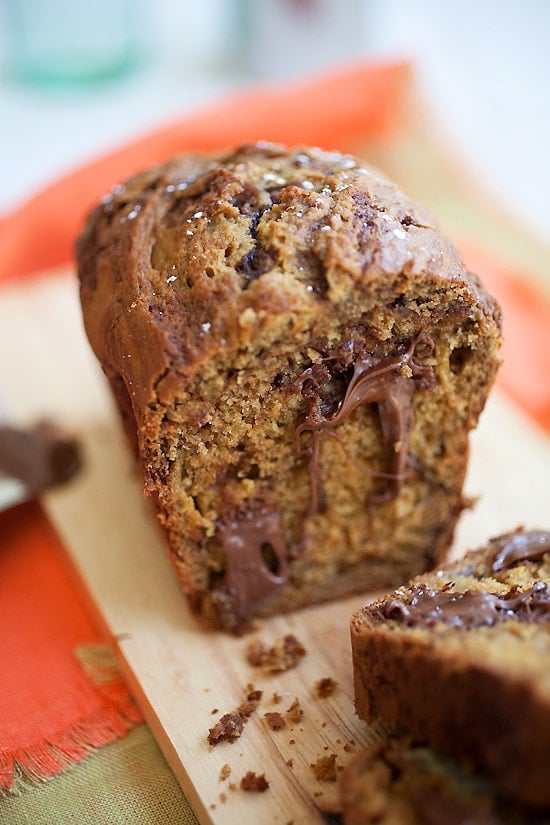 This Nutella banana bread recipe from A Cup of Jo is a keeper.
It's buttery, very moist (even after a couple of days), with deeper and richer flavor from brown sugar.
I strongly urge you to try the Nutella banana bread recipe, print it out, and start baking it pronto.
Your stomach and everyone whom you share it with will forever love you for the sweet treat!
How Many Calories per Serving?
This recipe is only 586 calories per serving.
5 Secrets to 20 Min Dinners
Get tricks for quick & easy meals!
Yield: 4 people
Nutella Banana Bread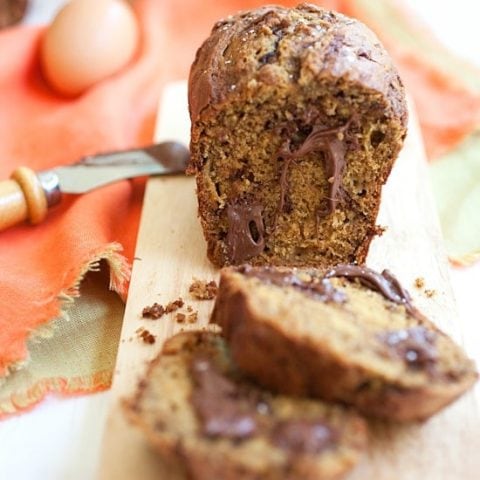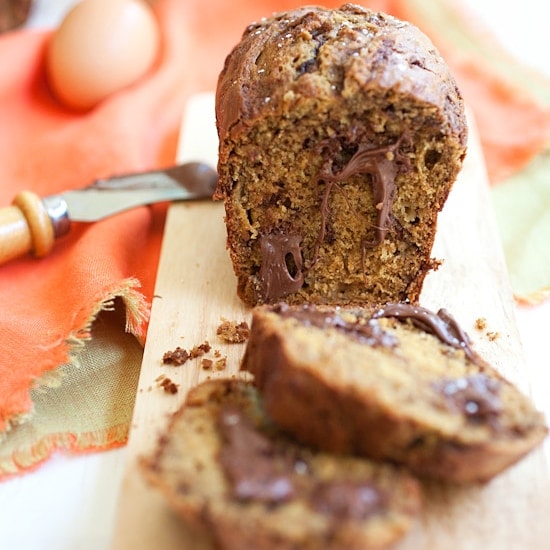 Nutella Banana Bread Recipe. Banana bread has just gotten a lot more interesting with loads of Nutella swirls in the cake. Must-bake recipe!
Ingredients
3 large ripe banana, mashed
1 cup brown sugar
1/2 cup butter, melted
1/2 cup milk
2 large eggs
2 teaspoons vanilla extract
3 cups all-purpose flour
2 teaspoons baking powder
1 1/2 teaspoons baking soda
1 teaspoon salt
1/2 cup nutella
Special Equipment:
4 mini loaf pans, lined with buttered parchment paper.
Instructions
Preheat the oven 350°F (176°C).
Put Butter, Eggs, Milk, Vanilla extract and Sugar in a bowl, whisking for 2 minutes.
Combine the Flour, Baking powder, Baking soda, Banana and Salt, mix until well combined.
Place the Nutella in a bowl and microwave for 20 seconds to soften it.
Drizzle the Nutella over the banana bread batter.
Divide batter into the paper lined loaf pans, 2/3 full. Bake for 35 minutes.
Notes
Using a rubber spatula, gently fold the Nutella into the batter, trying not to over mix, so you can see the swirls when it's baked.
Nutrition Information
Yield
4
Serving Size
4 people
Amount Per Serving
Calories

586
Total Fat

37g
Saturated Fat

26g
Unsaturated Fat

0g
Cholesterol

144mg
Sodium

1564mg
Carbohydrates

171g
Fiber

6g
Sugar

86g
Protein

16g