Orange-Lime Margarita - the easiest, best and most refreshing margarita ever with fresh orange juice, lime juice and loads of tequila.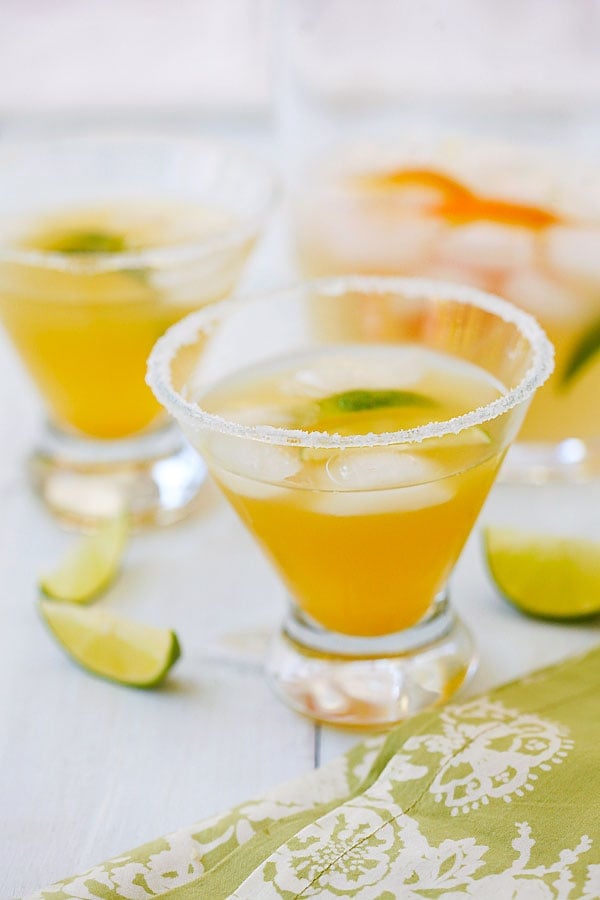 Sorry for the lack of posting this past week or so, but I have very valid reasons.
If you are a Pinterest user (follow me here or @rasamalaysia), some of you might have noticed that about 10 days ago, my entire website was blocked by Pinterest due to spam.
Now I have to clarify that Rasa Malaysia is not a spam site nor do I engage in any spamming activities on Pinterest.
My Pinterest account was hacked.
For the first 24 hours, I had absolutely no idea what happened, until I found out late at night that all my pins on Pinterest had been redirected to spammy websites and random websites.
It was one of the most stressful social media nightmares to say the least.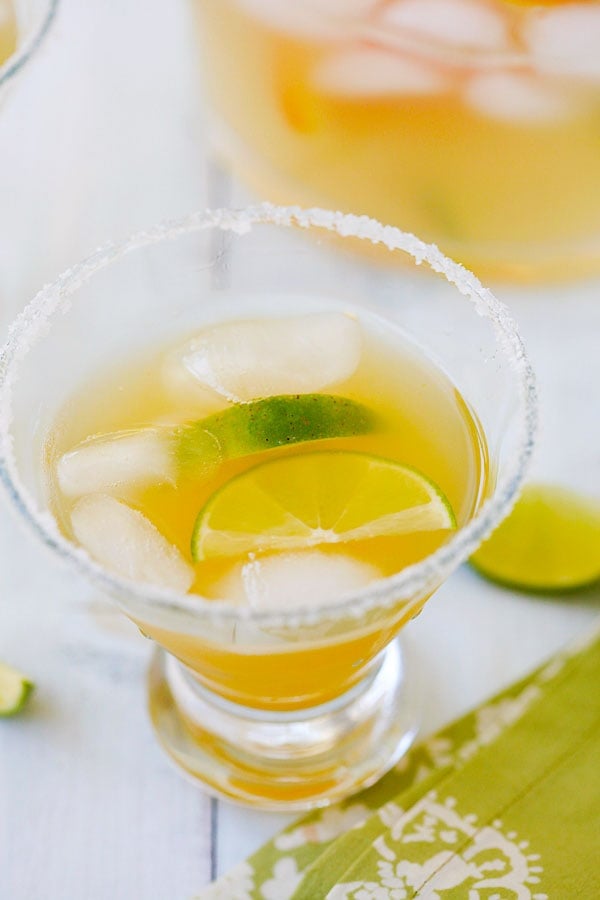 Lucky for me, I have my blogger friend Diethood to share the Pinterest ordeal with me.
Kate and I were in the exact situation and we were able to work through all the kinks in the past week to get everything back to normal.
There were a few issues that affected our accounts and the very helpful Pinterest community, customer service, spam and engineering teams fixed them all.
Phew!
Now how did I deal with the intense level of stress and panic attacks last week?
I became an alcoholic.
Plain and simple.
I had this intoxicating orange-lime margarita, lots of it.
I recently purchased a bottle of tequila when I made my tequila lime shrimp.
After that recipe, the tequila had been sitting on my kitchen countertop.
During the first few days of the Pinterest incident, I diligently searching for a great margarita recipe so I could make good use of the tequila…I could really use a drink.
After a few attempts, I have found the BEST margarita recipe (for me).
This orange-lime margarita is refreshing, with a nice citrusy note from the orange, and the perfect balance of alcohol, liquid and sugar.
It helped me go through the rough week.
The recipe is adapted from David Lebovitz. With Cinco De Mayo just a week away, you have every reason to make a big pitcher of this and cheers!
How Many Calories per Serving?
This recipe is only 191 calories per serving.
5 Secrets to 20 Min Dinners
Get tricks for quick & easy meals!
Yield: 4 glasses
Orange-Lime Margarita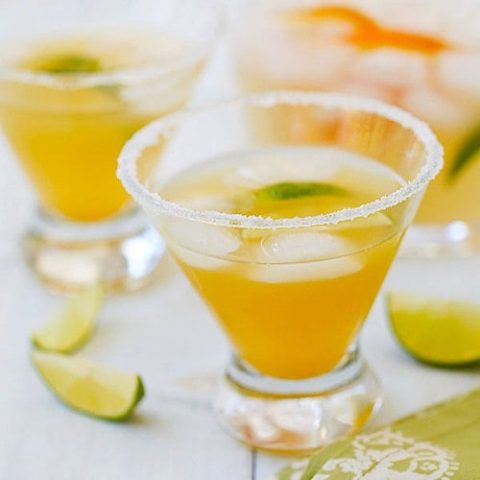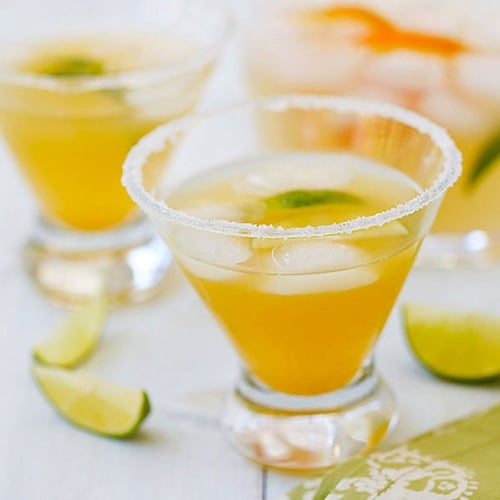 Orange-Lime Margarita - the easiest, best and most refreshing margarita ever with fresh orange juice, lime juice and loads of tequila.
Ingredients
kosher salt, for the glass rim
1 cup freshly squeeze orange juice
1/2 cup freshly squeezed lime juice
1/4 cup triple sec
6 oz. (170 g) tequila
2 tablespoons sugar
fresh lime wedges for garnishing
Ice cubes
Instructions
Add some kosher salt on a flat plate. Rub the rims of the glasses with some water to wet it. Over turn the glass and dip the rim in the salt, make sure the rim is nicely coated with salt.
Combine the orange juice, lime juice, Triple sec, tequila and sugar. Stir well until the sugar is completely dissolve. Add more orange juice, lime juice, tequila and/or sugar to get to your desired taste.
Fill the glass with some ice cubes and a couple of lime wedges. Pour the orange-lime margarita into the glasses and drink immediately.
Nutrition Information
Yield
4
Serving Size
4 people
Amount Per Serving
Calories

191
Unsaturated Fat

0g
Sodium

1mg
Carbohydrates

17g
Fiber

1g
Sugar

15g