Popovers
Popovers – American version of Yorkshire pudding.
Popovers are tender, airy, hollow rolls surrounded by burnished crust, so yummy and addictive!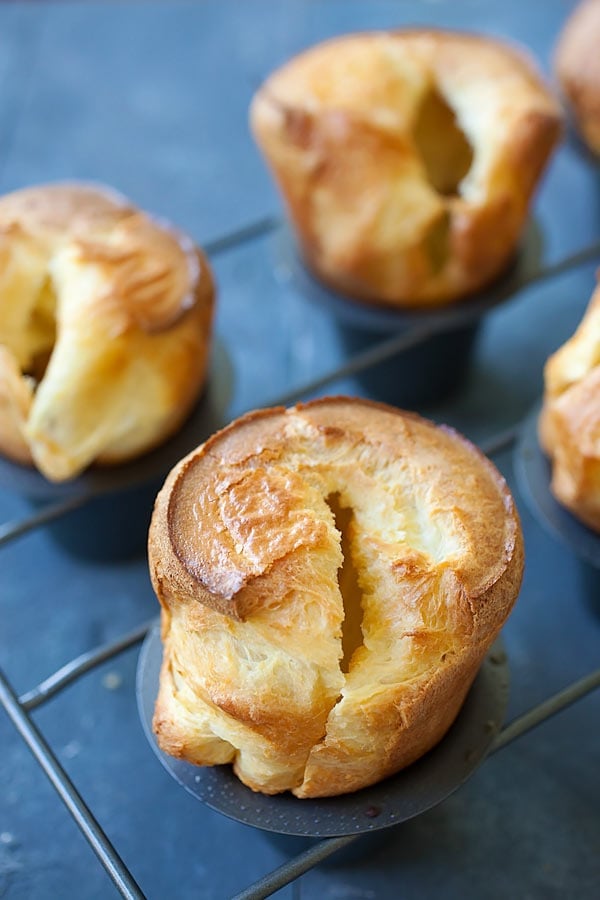 Originally published in Nov 10, 2013. Updated with new photos.
Can you believe that Thanksgiving is just two weeks+ away?
I refuse to believe that time passes by so quickly and that a year feels like six months these days.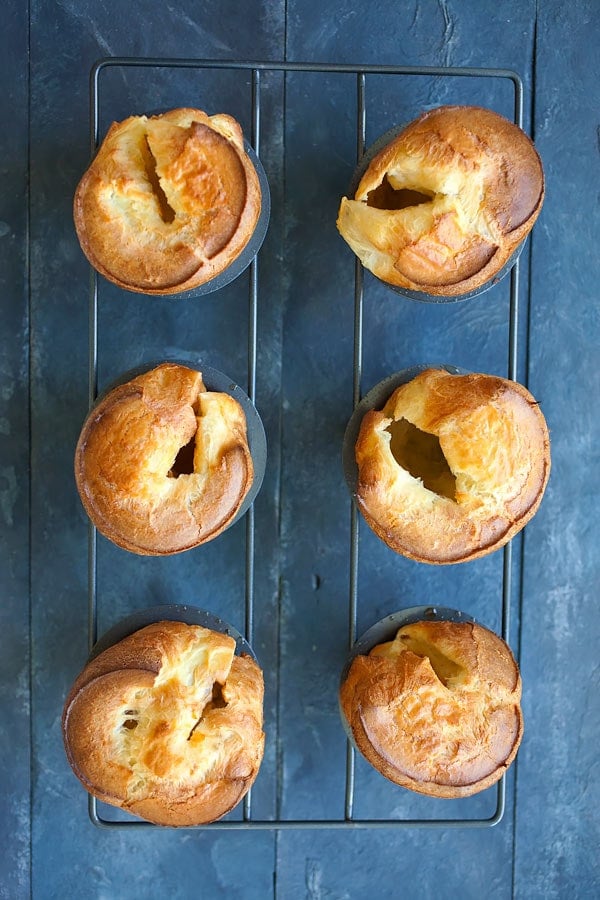 Anyway, as we inch closer to Thanksgiving, I wanted to share with you a couple of recipes from Martha Stewart Living, my favorite food magazine.
When it comes to Turkey Day, there are always the same old same old and usual suspects, but Martha Stewart Living November 2013 issue has some really interesting recipes that I can't wait to share with you.
One of them is the popovers recipe.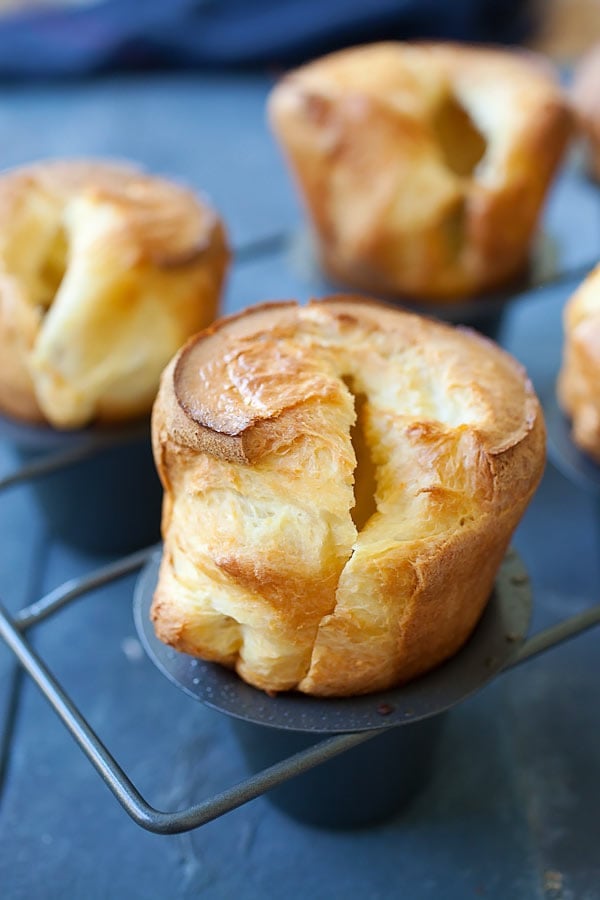 Popovers are the American version of Yorkshire pudding; they are basically egg batter baked in a tall popover pan.
The end results are tender, airy, hollow rolls surrounded by burnished crust.
They are quick and easy to make, and taste oh-so-tasty.
They are delightful with turkey and add a sense of fun to a holiday meal.
Popovers are also extremely versatile as you can make different variations, either savory or sweet, depending on your mood and also what you have in the fridge.
I always love the classic plain popovers, but certain days, I love popovers with Gruyere cheese, bacon bits, or sweet with cinnamon sugar, as pictured below.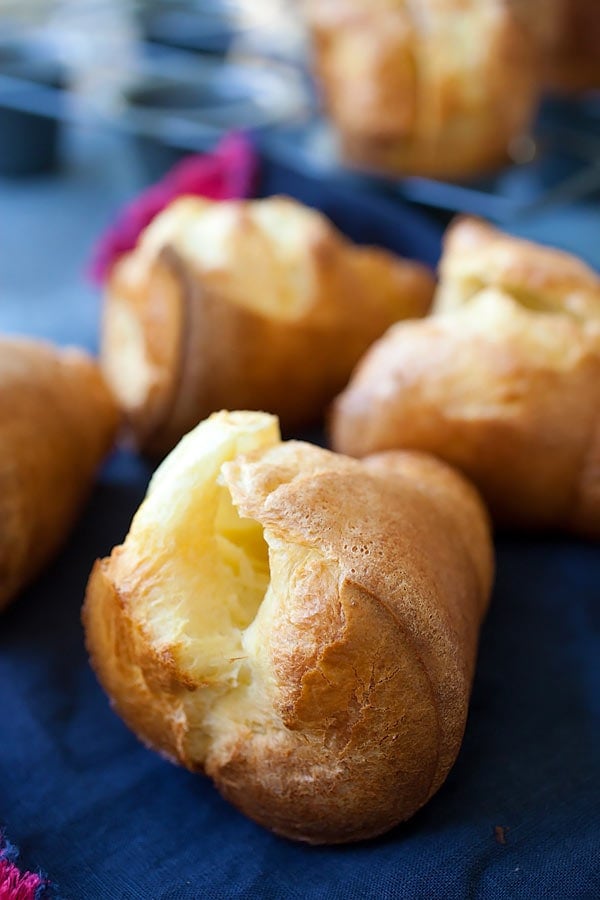 So this Thanksgiving, toss up your holiday menu and change things up a little bit.
Buy a copy of the November issue of Martha Stewart'Living, bake some popovers, which I am sure will please both adults and children alike.
Look at these fun looking pop0vers, I am sure you hope everyday's meal is as fun—and delicious—as the holidays.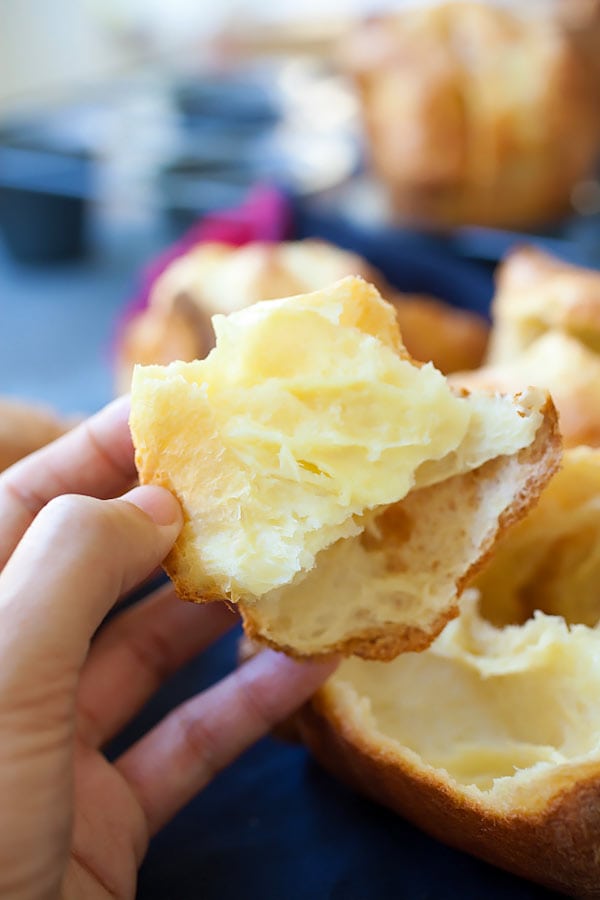 Follow my Holiday Baking & Cookies board on Pinterest.
If you like what you see, Pin your favorite images to Pinterest.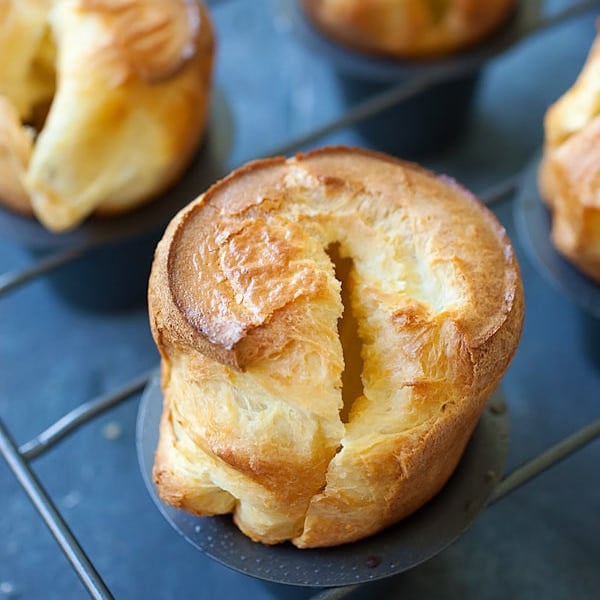 Popovers Recipe
Popovers – American version of Yorkshire pudding. Popovers are tender, airy, hollow rolls surrounded by burnished crust, so yummy and addictive.
Ingredients
3

large eggs, room temperature

1 1/2

cups

whole milk, room temperature

1 1/2

cups

all-purpose flour

1 1/4

teaspoons

salt

Vegetable-oil nonstick cooking spray
Instructions
If eggs and milk are cold, before combining, submerge whole eggs in warm water for 10 minutes and heat milk until just warm. Preheat oven to 450 degree F with a nonstick popover pan on rack in lowest position.

Combine egg and milk in a large bowl and whisk vigorously until very frothy, about 1 minute. Add flour and salt and whisk until batter is the consistency of heavy cream with some small lumps and air bubbles remaining.

Remove popover pan from oven and coast with cooking spray. Fill popover cups about three-quarters (75%) full with batter. Bake 20 minutes, then reduce temperature to 350 degree F. Bake until golden brown, about 20 minutes more.

Remove the popover pan from the oven and turn them out on a wire rack immediately and poke a small opening in the side o each with a paring knife to let the steam escape. Serve immediately.
Recipe Notes
You can beat the batter with a electric hand mixer or stand mixer. Whisking by hand will produce the most tender and airy popovers.
If you use muffin pan, reduce baking time by 5 minutes and use only the outer cups of the muffin pan for better air circulation in the oven.
Sweet Popover Variations
Modify the batter by whisking 1/2 teaspoon pure vanilla extract into egg mixture. Reduce salt to 1 teaspoon and add 1 tablespoon sugar to egg mixture along with flour and salt. Then proceed with the following variations:
Cinnamon Sugar:
Combine 1/4 cup sugar and 1/2 teaspoon ground cinnamon. Brush top of baked popovers with 2 tablespoons melted unsalted butter, then coat in cinnamon sugar.
Dark Chocolate:
Sprinkle 2 ounces chopped semi-sweet chocolate over batter-filled popover cups.
Orange:
Whisk finely grated zest of 1 orange (about 2 teaspoons) into batter.
Nutrition Facts
Popovers Recipe
Amount Per Serving (6 people)
Calories 182
Calories from Fat 36
% Daily Value*
Total Fat 4g 6%
Cholesterol 87mg 29%
Sodium 542mg 23%
Potassium 144mg 4%
Total Carbohydrates 26g 9%
Protein 7g 14%
* Percent Daily Values are based on a 2000 calorie diet.
Click Here to Pin This Recipe

If you try my recipe, please use hashtag #rasamalaysia on social media so I can see your creations! Follow me on Facebook | Instagram | Pinterest | Twitter for new recipes, giveaways and more.