Salt and Pepper Shrimp - Chinese restaurant-style crispy shrimp recipe for you to make at home. SO easy, yummy & budget friendly!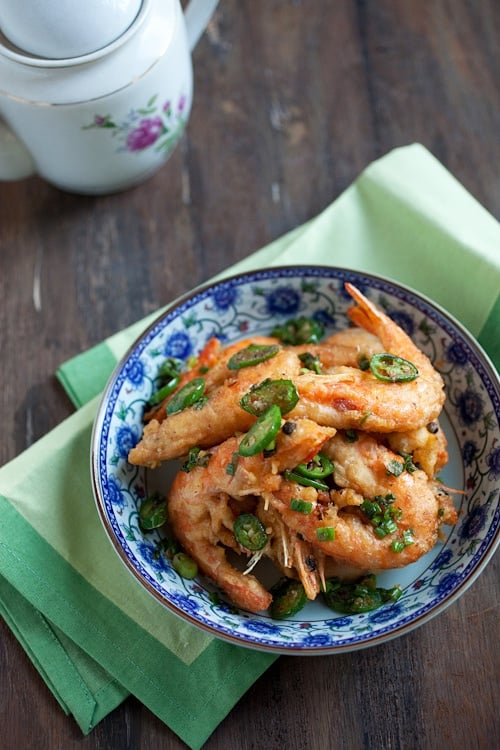 Chinese Salt and Pepper Shrimp
Salt and pepper, two of the most basic ingredients in a kitchen. They do wonders for Chinese deep-fried dishes, such as this Salt and Pepper Shrimp.
This Salt and Pepper Shrimp is one of the most requested recipes from my readers. Finally, you can have the recipe to make it at home.
Ingredients for Salt and Pepper Shrimp
For the shrimp, I recommend buying it with the shell and head on because the recipe will not be the same if it's made with peeled shrimp.
I usually get my shrimp from the seafood section of Asian supermarkets.
They are frozen and come in a rectangle paper box, but you can always buy the quantity you want from the seafood section.
Somehow, the shrimp sold in regular supermarkets usually has an ammonia taste and they are not ideal for this recipe.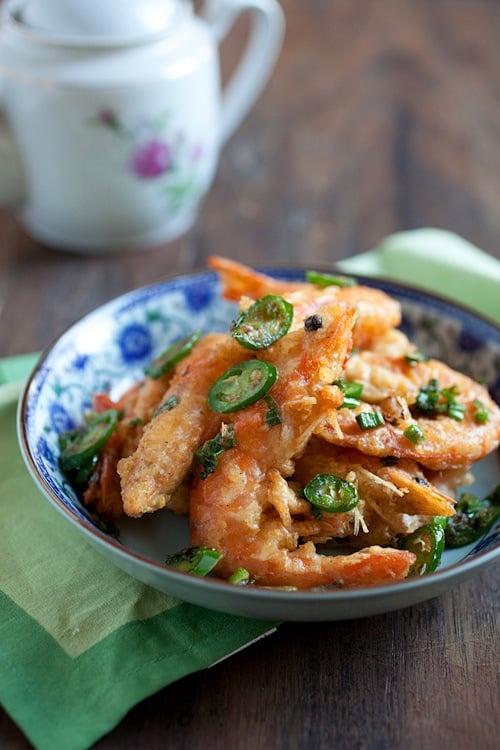 How to Make Salt and Pepper Shrimp
My recipe calls for a two-step process that promises restaurant-style Salt and Pepper Shrimp.
First, deep fry the shrimp with a light and crispy frying batter, and then lightly toss the fried shrimp in a wok with chopped green onion, red chili, salt, and pepper.
The end result is a serving that tastes like it's straight from a Chinese restaurant kitchen!
This recipe is actually adapted from the salt and pepper squid recipe in my cookbook Easy Chinese Recipes.
The cooking process is the same, which means that you can use the same recipe to make squid.
How Many Calories per Serving?
This recipe is only 210 calories per serving.
What Dishes to Serve with This Recipe?
For a wholesome meal and easy weeknight dinner, I recommend the following recipes.
5 Secrets to 20 Min Dinners
Get tricks for quick & easy meals!
Yield: 4 people
Salt and Pepper Shrimp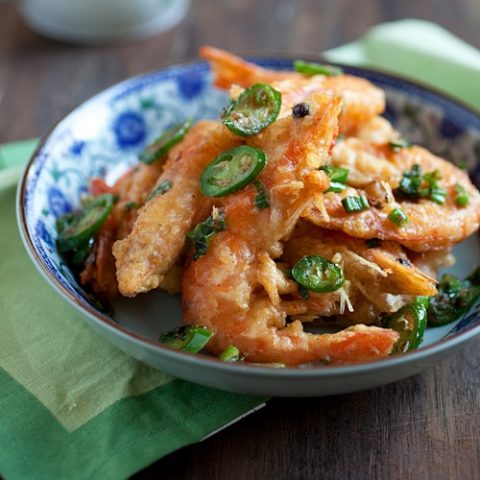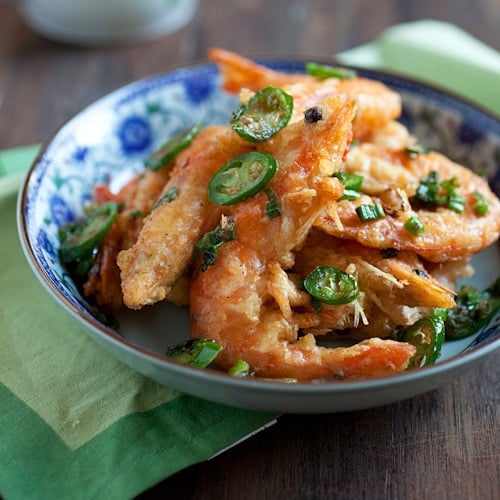 Salt & Pepper Shrimp - Chinese restaurant-style salt & pepper shrimp recipe. SO easy, yummy & budget friendly!!
Ingredients
10 oz. (330 g) head-on, shell-on shrimp
¼ teaspoon salt
¼ teaspoon white pepper
Oil for deep-frying
Frying Batter:
½ cup (65 g) all-purpose flour
¼ cup (35 g) corn starch
½ teaspoon baking powder or baking soda
1 egg white
½ cup water
1 tablespoon cooking oil
1 pinch salt
Stir-fry:
½ tablespoon oil
1 tablespoon chopped green onion, scallion
Some sliced red chili or green jalapeno
½ teaspoon salt
½ teaspoon white pepper
Instructions
Rinse the shrimp with cold running water. Pat dry with paper towels and then marinate with the salt and white pepper, about 15 minutes.
Mix all the ingredients in the Frying Batter until well combined. Add the shrimp into the Frying Batter, stir to coat evenly with the batter.
To deep fry the shrimp, heat 2 to 3 inches (5 to 7.5 cm) of the oil in a wok or stockpot to 350° F (175°C). Gently drop the shrimp into the oil and loosen them up immediately with the spatula to prevent them from clumping together.
Deep-fry the shrimp to a light golden brown or until the batter becomes crispy. Dish out with a strainer or slotted spoon, draining the excess oil by laying the shrimp on a wire rack or a dish lined with paper towels.
To stir-fry, heat the oil in a skillet over high heat. Add the chopped green onion and chili/jalapeno and stir quickly for a few times. Add the fried shrimp into the skillet and then add the salt and white pepper. Stir to combine all the ingredients well, dish out and serve immediately.
Nutrition Information
Serving Size
4 people
Amount Per Serving
Calories

210
Total Fat

6g
Saturated Fat

1g
Cholesterol

178mg
Sodium

1012mg
Carbohydrates

19g
Fiber

0g
Sugar

0g
Protein

16g