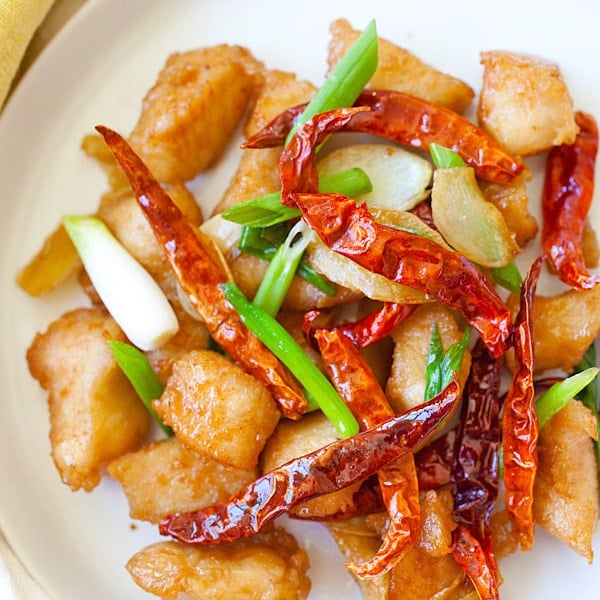 Sichuan Wok-Fried Chicken
Sichuan wok-fried chicken is a spicy fried chicken dish with ginger, scallion, dried red chilies & Sichuan peppercorn. Amazing and you'll want more.
My love affair with Sichuan food began about 2 years ago when I first visited China. Before my trip to China, the notion of trying out Sichuan food was never high on my "what-to-eat" list.
Then, when I wanted to have Chinese food, I would go for Dim Sum, Cantonese-style BBQ or seafood meals.
It all changed when I went to China and had my first real Sichuan meal in a popular restaurant called Xiao Lu Lu in Shanghai. I fell under the spell of this exquisitely flavorful Chinese regional cuisine immediately; it was indeed love at first bite.
I was marveled by the depth and the spice structure of the cooking and wished only that I'd discovered Sichuan cuisine earlier. In a way, my trip to China opened up a whole new chapter in my culinary world and gave me access to ingredients and flavors that I've never thought possible.
In my opinion (without sounding too cliché), Sichuan food is the new Thai, but more complex and much more explosive in flavor. It's the epitome of the best Chinese cooking.
The secret ingredient of Sichuan food is Sichuan pepper—the medium that gives Sichuan food the staple tingly numbing effect.
Szechuan pepper exudes rich aroma and exotic scent to dishes and together with dried chili pepper, they give the Ma La (麻辣) flavor that is signature to Sichuan food.
And believe me when I say this, once you've tried Ma La (麻辣), there is no turning back.
One of the Sichuan dishes that I absolutely love is this Sichuan wok-fried chicken and I made it this past weekend.
This chili-laden dish was alluringly tongue-numbing, explosively fiery, and pleasantly addictive. Try this this amazing Sichuan wok-fried chicken recipe and you will never see Chinese food the same way again!
How Many Calories Per Serving?
This recipe is only 423 calories per serving.
What Dishes To Serve with this Recipe?
For a wholesome meal and easy weeknight dinner, I recommend the following recipes.
5 Secrets to 20 Min Dinners
Get tricks for quick & easy meals!
Yield: 2 people
Sichuan Wok-fried Chicken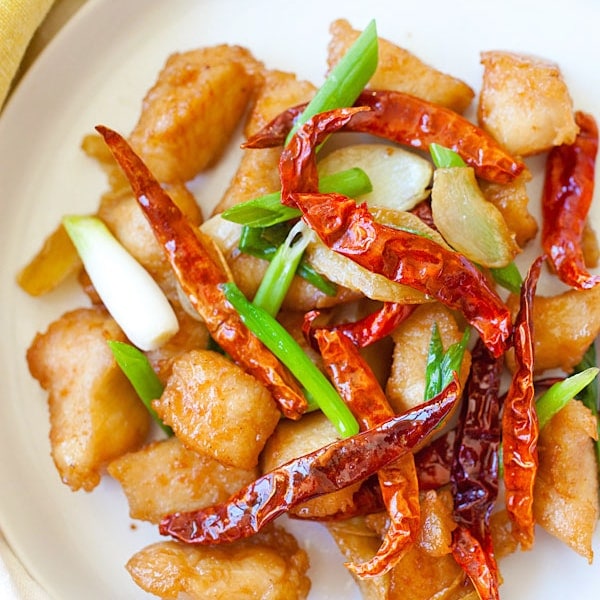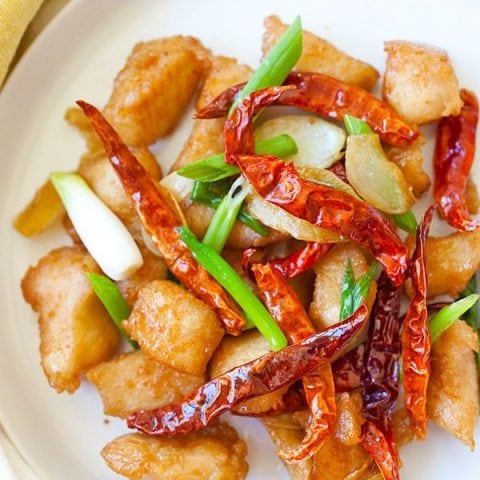 Sichuan wok-fried chicken is a spicy fried chicken dish with ginger, scallion, dried red chilies & Sichuan peppercorn. Amazing and you'll want more.
Ingredients
1 boneless and skinless chicken breast, cut into cubes
oil, for deep-frying
5 slices peeled ginger
2 cloves garlic, peeled and sliced
12 dried red chilies
1 tablespoon Sichuan peppercorn
3 tablespoons soy sauce
1 tablespoon Chinese cooking wine, rice wine or Shaoxing wine(preferred)
salt to taste
1 stalk scallion, cut into 2-inch lengths
Batter:
1 egg white
1/2 cup all-purpose flour, sifted
1/4 cup cornstarch
1/2 teaspoon baking powder
1/2 cup water, ice cold
1 tablespoon oil
1/4 teaspoon salt
Instructions
Combine all the ingredients in Batter, mix well. Heat up some oil for deep frying.
Dip the chicken into the batter, shake off the excess batter and deep fry until to golden brown. Transfer out to a plate lined with paper towels.
In a wok, heat up some oil until smoky hot. Add in the sliced ginger, garlic, and stir fry until they turn light brown. Add in the dried chilies, Sichuan peppercorns and quickly stir until you smell the spicy and fragrant aroma. Add in the chicken cubes, soy sauce, wine and do a final quick stir. Add salt to taste. Serve hot and garnish with the scallion. Serve immediately.
Nutrition Information
Yield
2
Serving Size
2 people
Amount Per Serving
Calories

423
Total Fat

10g
Saturated Fat

6g
Unsaturated Fat

0g
Cholesterol

72mg
Sodium

1974mg
Carbohydrates

46g
Fiber

2g
Protein

32g