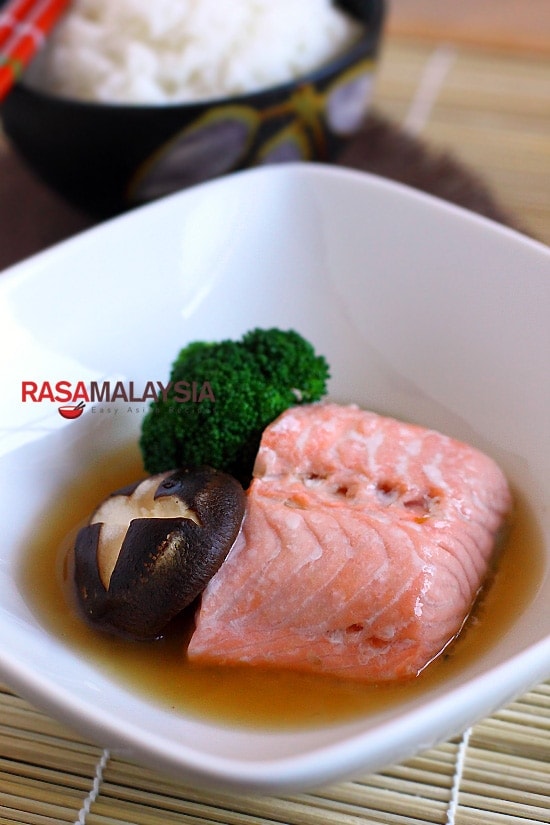 It's amazing how one's priorities change with a baby. After the arrival of Baby G, my priorities in life have certainly changed. Everything I do, and in this case, what I eat, is for the benefits of my child as I am breastfeeding my baby.
My diet has transformed into what is healthy and nutritious for him; it's no longer all about what I enjoy eating, well, at least for now.
When I started breastfeeding, I have learned that salmon is rich in omega-3 fatty acid and DHA, a very important nutrient for developing the brain of babies.
Needless to say, I started stuffing myself with lots of salmon and fish oil pills. So, when I received an email from Martha's Circle about the Norwegian Salmon campaign, I jumped at the opportunity…
Norwegian Salmon is Ocean-Farmed Atlantic salmon. Norwegian Salmon is Atlantic Salmon bred in Norway's clean, cold fjords and coastal seawaters and hence features a fresh and smooth flavor that is enjoyed in more than 100 countries worldwide.
And most importantly, Norwegian salmon is safe to eat, sustainable, and raised with care and meticulous attention by seasoned experts drawing on generations of traditions.
The Norwegian Salmon were flown in to me. I just loved the natural pinkish-red color of the salmon and it was very fresh. I made a steamed salmon dish that was simple, light, and healthy, with dashi stock as the base and garnish it with a fresh shiitake mushroom and a broccoli floret.
The delicate flavor of the Norwegian Salmon really came through and I really enjoyed eating it.
For more information about Norwegian Salmon, please check out its website. You can also find out more information about Norwegian Salmon here.
How Many Calories Per Serving?
This recipe is only 217 calories per serving.
5 Secrets to 20 Min Dinners
Get tricks for quick & easy meals!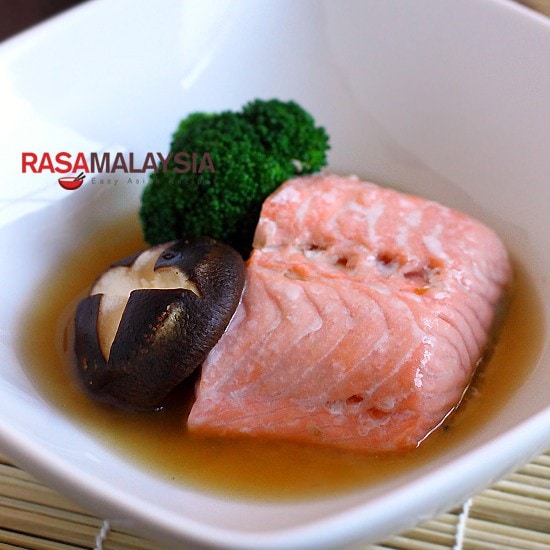 Steamed Norwegian Salmon Recipe
Steamed Norwegian Salmon: simple, light, and healthy, with dashi stock as the base and garnish it with a fresh shiitake mushroom and a broccoli floret.
Ingredients
1/2

lb

salmon, cut into 2 equal-sized pieces

1

cup

dashi

1

tablespoon

mirin

1

tablespoon

sake

1

tablespoon

soy sauce

2

broccoli florets
Click Here for Conversion Tool
Directions
Remove the scales of the salmon and clean it thoroughly. Pat dry with paper towels. Arrange the salmon, one shiitake mushroom and one broccoli floret on a deep dish.

Prepare the dashi stock by bringing to boil the dashi. Add the mirin, sake, and soy sauce. Remove from the heat and set aside.

Steam the salmon for about 3-4 minutes or until it's cooked. Discard the cloudy fish water in the dish. Pour half the dashi stock into the serving dish and serve immediately with steamed white rice.

Repeat the same for the remaining salmon and the other ingredients.
Nutrition Facts
Steamed Norwegian Salmon Recipe
Amount Per Serving (2 people)
Calories 217
Calories from Fat 72
% Daily Value*
Fat 8g12%
Cholesterol 62mg21%
Sodium 1011mg44%
Potassium 757mg22%
Carbohydrates 7g2%
Protein 27g54%
Vitamin A 115IU2%
Vitamin C 9.8mg12%
Calcium 55mg6%
Iron 1.4mg8%
* Percent Daily Values are based on a 2000 calorie diet.