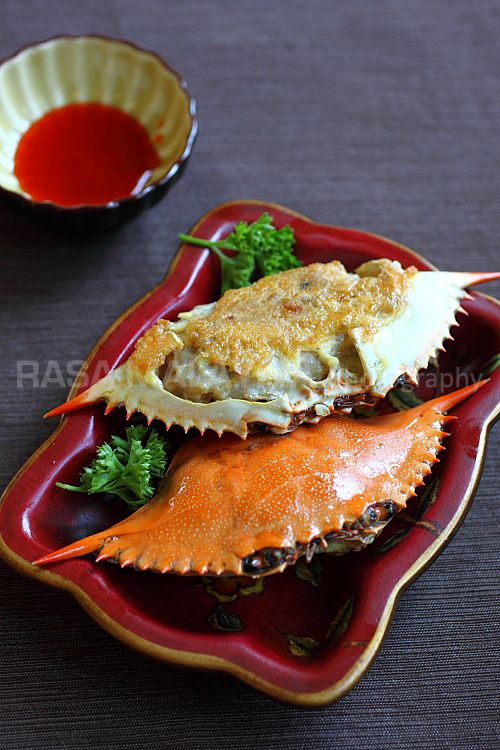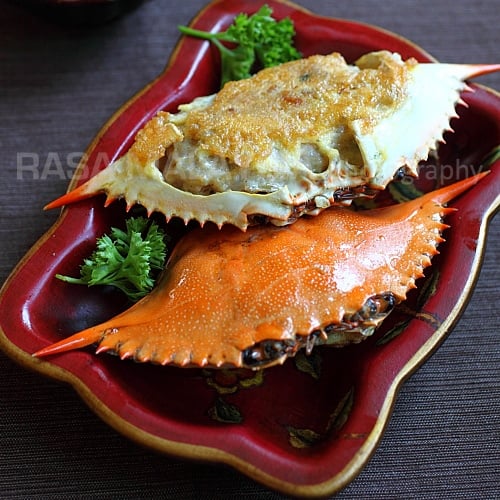 Stuffed Crab (Poo Cha)
Stuffed crab or poo cha is a delicious crab dish where the crab shell is stuffed with the filling of crab and ground pork. Stuffed crab poo cha is great!
Ingredients:
6-8 blue crab shells
Fillings:
8 oz ground pork
4 oz crab meat
2 oz peeled shrimp, minced
1 egg
3 shallots, minced
6 coriander leaves, finely chopped
1 tablespoon fish sauce
3 heavy dashes ground black pepper
Coating:
2 eggs, slightly beaten
Method:
In a bowl, mix all the ingredients in the Filling and blend well. The texture of the Filling should be
sticky.
Stuff the Filling into the empty crab shells using a spoon. Smooth out the surface with the back of the
spoon. Steam the stuffed crab for 5 minutes. Discard the water that seeps out.
Cool the stuffed crab to room temperature after steaming. Heat up a wok with some oil. When the oil is
heated, dip each crab shell into the beaten eggs.
Make sure the filling is well coated with the beaten eggs. Transfer the stuffed crabs into the wok and fry
them. As soon as the surface turns light to golden brown, dish out and serve immediately.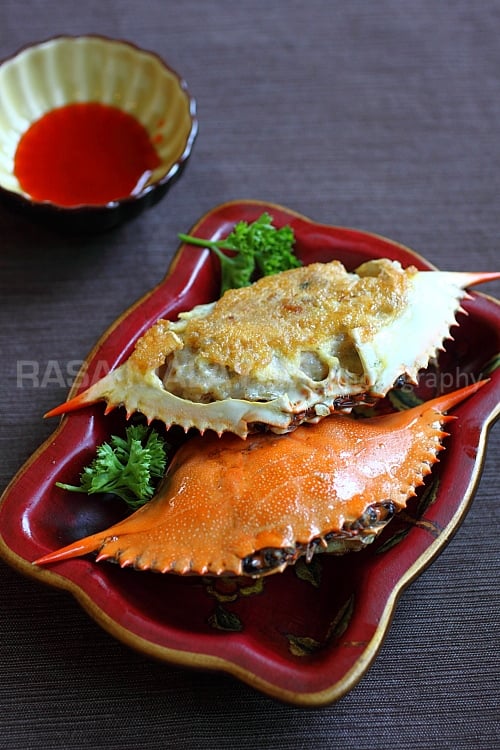 When I was growing up in Malaysia, my favorite times were the many festivities that we observed. With every
festivity, my late grandmother would prepare lots of food.
Sometimes her younger brother's wife—my grand aunt—would come and cook together, then exchange or share the dishes
they made.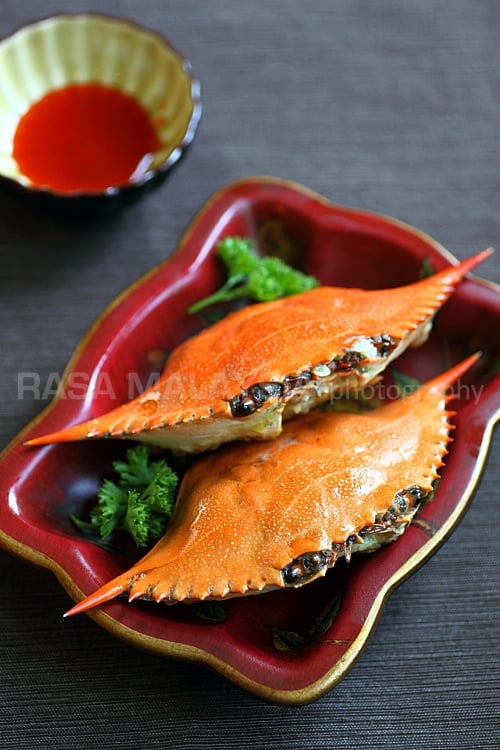 I loved the idea of exchanging food, because we got to try out new dishes, dishes that are not commonly served in
our family. Plus, grand aunt was a great cook who seemed to have endless new recipes to share.
One of the creations was stuffed crab, a profoundly delicious concoction that never appeared on our
family's dining table. I was a happy soul whenever grand aunt made stuffed crab.
I love crab and was fascinated by the presentation of the stuffed crab…but above all, I just couldn't resist the
scrumptious filling stuffed inside the beautiful crab shells…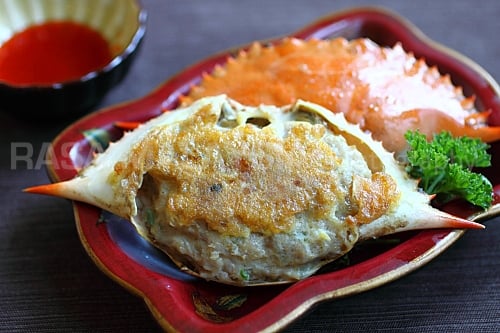 I don't really know the true origin of this dish. In Penang, I have had stuffed crab
at Chinese seafood restaurants.
In Thailand, this dish is called poo cha. In some Chinese buffet restaurants, you can find
something similar.
Never mind the source of this wonderful dish, for now, it's my favorite stuffed crab that brings back a lot of
childhood memories—my late grandmother's smiley (and contended) face after tasting the goods; my grand-aunt's
generosity in sharing her new dish; and the young and excited me when I spotted the bright red crab shells with
luscious filling, sitting pretty on the dining table.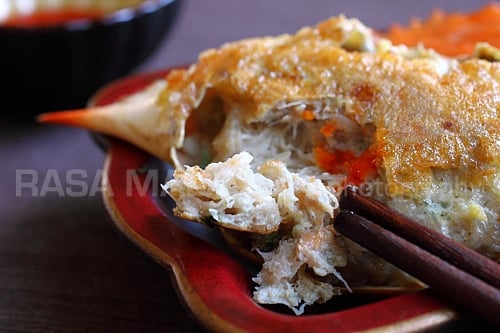 SUBSCRIBE AND NEVER MISS A RECIPE
SUBSCRIBE TO RASA MALAYSIA NEWSLETTER AND GET EASY AND DELICIOUS RECIPES DELIVERED TO
YOUR INBOX. If you try my recipe, please use hashtag
#rasamalaysia on social media so I can see your creations! Follow me on Facebook | Instagram | Pinterest | Twitter for new recipes, giveaways and more.