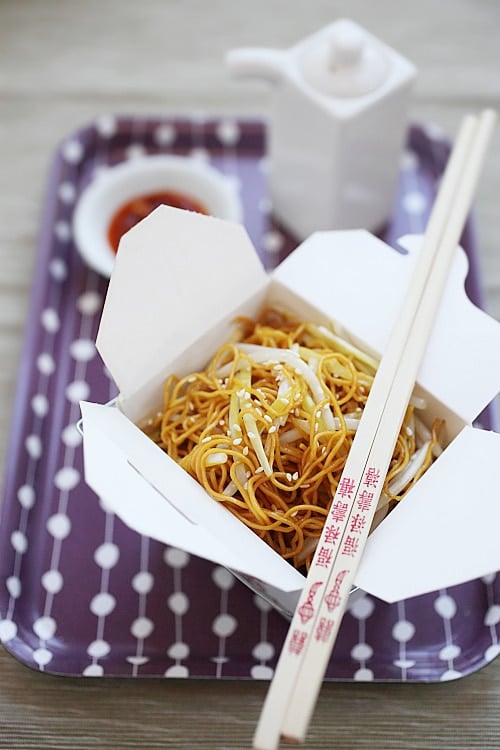 Cantonese Soy Sauce Chow Mein
I love Cantonese dim sum and every time I go dim sum, I always order a plate of supreme soy sauce chow mein, or 豉油皇炒面.
Supreme soy sauce chow mein is one of my favorite versions of chow mein. It is basically plain fried egg noodles seasoned with soy sauce.
The greasy, glistening, brown-colored fried noodle dish is the epitome of Cantonese cooking: the simplest ingredients, perfect breadth of wok or wok hei, and the timing of wok cooking.
A great supreme soy sauce chow mein can be very addictive and utterly scrumptious, no less than the flavorful and delicate dim sum.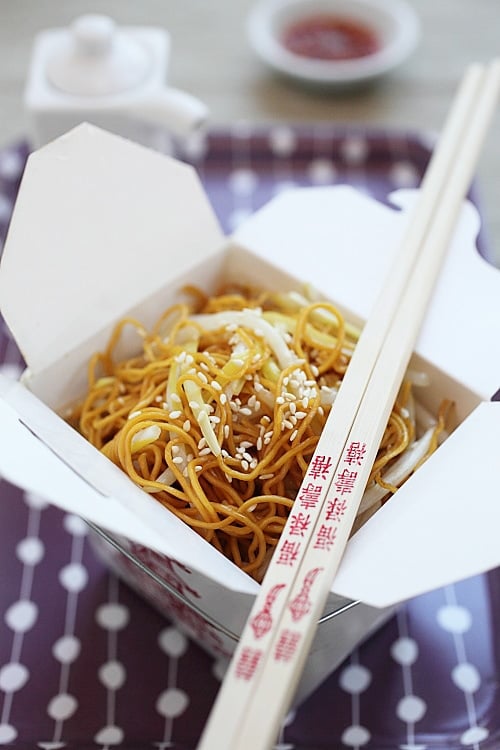 How to Make Soy Sauce Chow Mein
Since the ingredients are really simple, I decided to attempt it at home.
I fired up my well-seasoned cast iron wok, prepared all the ingredients and had them right beside the wok.
Using a pair of long wooden chopsticks, I successfully created my favorite dish at home, and the smoke alarm didn't go off while I wok hei'ed the noodles!
Cook's Tips
Having the ingredients right by the wok is essential to the success of this recipe because the high heat cooking process is so short that you have no time to turn around and find your ingredients. Just a matter of a few seconds can render your noodles overcooked and unsuccessful.
For this supreme soy sauce chow mein recipe, it's important to use a pair of long chopsticks to "stir fry" the noodles as they are more versatile than spatula; the motion of tossing the noodles with the chopsticks will loosen up the noodles so they don't clump together.
As a result, your noodles will be perfectly blended with the soy sauce seasonings, every strand of the noodle lustrously coated with the oil, and the bean sprouts and yellow chives will be perfectly cooked and remain fresh and crunchy.
So there you have it, the secret technique of making it Chinese restaurant worthy.
Last but not least, don't be afraid to use oil.
In fact, use oil generously in this chow mein recipe, because without the glistening and greasy sheen on the noodles, it isn't the classic and iconic Cantonese supreme soy sauce chow mein that we all love so much.
Dig in and enjoy!
What Dishes to Serve with this Recipe?
This meal is best served just like dim sum.
For a wholesome meal and easy weeknight dinner, I recommend the following recipes.
How Many Calories Per Serving?
This recipe is only 501 calories per serving.
Pairs well with: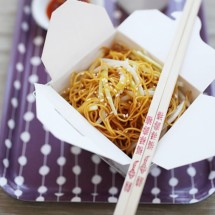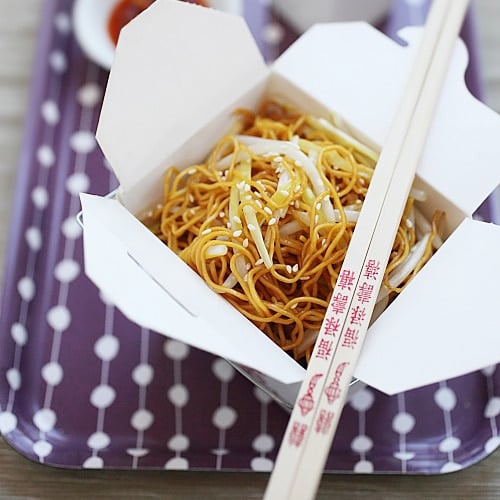 Supreme Soy Sauce Chow Mein Recipe
Soy Sauce Chow Mein - the best and easiest homemade soy sauce chow mein just like Chinese restaurants, healthier, less grease and MUCH better than takeout.
Ingredients
2 1/2 - 3

tablespoons

cooking oil

8

oz

chow mein or fresh egg noodles

4

oz

bean sprouts, roots removed

1

oz

yellow chives, cut into 2-inch lengths

white sesame seeds
Click Here for Conversion Tool
Directions
Rinse and soak the noodles in the water, per the package instructions. Drained and set aside. Mix all the ingredients in Seasonings in a small bowl. Stir to combine well.

Heat up a wok on high heat. When the wok is fully heated, add the oil into the wok. Wait for the oil to be heated.

Loosen the noodles and add them into the wok, use a pair of long chopsticks to stir and toss the noodles. Add the Seasonings into the wok, and use the chopsticks to combine well with the noodles. Continue to toss and loosen the noodles with the chopsticks. Add the bean sprouts and yellow chives into the wok, and stir to combine well. As soon as the bean sprouts and chives are cooked (but remained crunchy), turn off the heat, dish out and top the noodles with some white sesame seeds. Serve immediately.
Nutrition Facts
Supreme Soy Sauce Chow Mein Recipe
Amount Per Serving (2 people)
Calories 501
Calories from Fat 369
% Daily Value*
Fat 41g63%
Sodium 1801mg78%
Potassium 165mg5%
Carbohydrates 88g29%
Protein 21g42%
Vitamin A 615IU12%
Vitamin C 15.8mg19%
Calcium 20mg2%
Iron 5mg28%
* Percent Daily Values are based on a 2000 calorie diet.