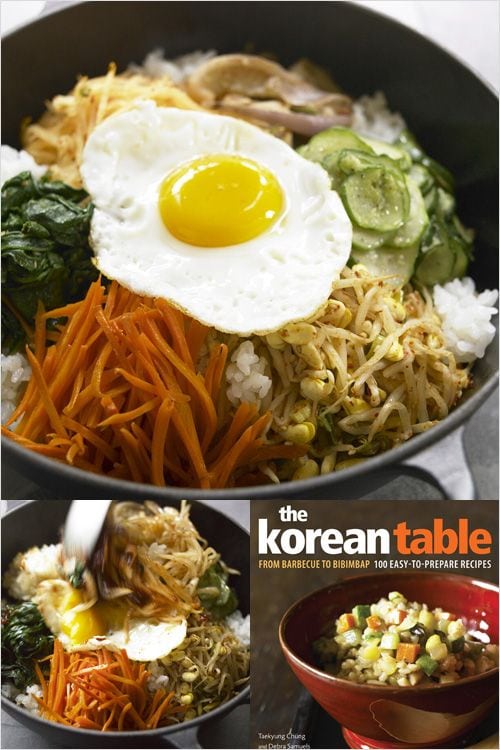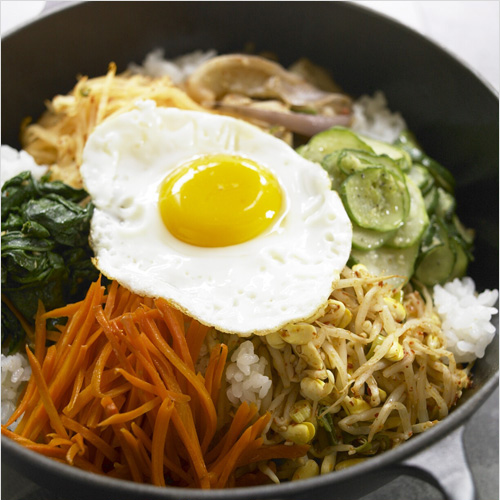 Bibimbap Recipe
Bibimbap is a Korean rice dish topped with vegetables. Bibimbap is delicious and this bibimbap recipe covers everything from making rice to the toppings.
Ingredients:
The Toppings
Use 1 cup of each of the vegetable toppings for the rice.
Seasoned Bean Sprouts
About 1 1/2 cups
1/2 cup water
1 teaspoon fine-grain sea salt
12 oz soybean sprouts
4 tablespoons minced green onion (scallions)
1 tablespoon toasted sesame seeds
1 tablespoon dark sesame oil
Seasoned Carrot Salad:
4 carrots, peeled and cut into 2-inch matchstick strips
1/2 teaspoon fine-grain sea salt
1 tablespoon dark sesame oil
Spicy Cucumber Salad:
4 Armenian or mini cucumbers or 1/2 English cucumber, sliced in 1/4 – inch rounds
1 teaspoon fine-grain sea salt
2 tablespoons Tangy Red Pepper Dressing
1 tablespoon toasted sesame seeds
Seasoned Spinach Salad:
1 pound (500 g) spinach, rinsed carefully
2 tablespoons toasted sesame seeds
2 tablespoons dark sesame oil
1 teaspoon fine-grain sea salt
Seasoned Beef:
2 oz rib eye cut into strips (or ground beef)
2 teaspoons soy sauce
1/2 teaspoon sesame oil
1 teaspoon brown sugar
3 cups cooked white rice
2 tablespoons sesame oil plus extra for drizzling
1 fried egg, sunny-side up
3 tablespoons Tangy Red Pepper Dressing
Tangy Red Pepper Dressing:
2 tablespoons Korean red pepper paste (available at Korean grocery)
1 tablespoon rice or cider vinegar
1 teaspoon honey
1 tablespoon apple juice or water
2 teaspoons sesame oil
Method:
1. In a medium-size saucepan, with a lid, combine the water, salt and soybean sprouts. Bring to a boil. Reduce to low heat, cover with a lid, and steam the sprouts for 5 minutes.
2. Strain the sprouts and transfer to a mixing bowl.
3.  Mix the sprouts with the green onion, toasted sesame seeds
and sesame oil.
Seasoned Carrot Salad:
1.  In a medium size skillet heat the sesame oil on medium heat. Add the carrots and salt.
2. Stir-fry the carrots for 2 minutes.
Spicy Cucumber Salad:
1. In a large bowl, toss the cucumbers and salt. Set aside for 5 minutes. Gently squeeze the liquid from the cucumbers. Transfer to a serving bowl.
2. Combine the Tangy Red Pepper Dressing and cucumbers. Sprinkle on the sesame seeds.
Seasoned Spinach Salad:
1. Fill a large pot with water and bring to a boil. Add the spinach and cook for 1 minute.
2.  Strain the spinach into a colander and rinse with cold water. Take one handful of spinach at a time, and squeeze the water from the spinach. Lay the spinach on a cutting board and cut into 2-inch (5 cm) pieces.
3.  Transfer the spinach to a bowl and add the sesame seeds, sesame oil, and salt. Mix well.
Seasoned Beef:
1. In a small bowl, mix together the beef, soy sauce, sesame oil and brown sugar. Let marinate for 15 minutes.
2. Heat a small skillet and stir-fry for 2 minutes.  Set aside.
Tangy Red Pepper Dressing:
1. In a medium bowl whisk the ingredients together
To Assemble:
1. Have the seasoned salads and beef prepared in individual bowls.
2. Place a cast iron skillet or pot on medium heat and add 2 tablespoons of the sesame oil.
Heat the oil for 1 minute. Add the rice and spread it around the bottom of the pot to form an even layer. Cook the rice for several minutes or until the rice begins to brown on the bottom. You will hear the rice sizzle.
3. Carefully arrange each of the seasoned salads on top of the rice grouping each one like the spoke of a wheel. Place the beef in the center. Continue heating for 2 minutes.
4. Transfer the casserole to a heatproof pad. Set one fried egg in the center on top of the beef.
5. To serve: fold together the egg, vegetables, rice and 2 tablespoons of the Tangy Red Pepper Sauce. Make sure to scrape the bottom of the pot to distribute that crunchy crust throughout the dish.
6. Serve in individual bowls with a drizzle of sesame oil and extra Tangy Red Pepper Dressing.
*You can make one fried egg per person to mix into individual servings.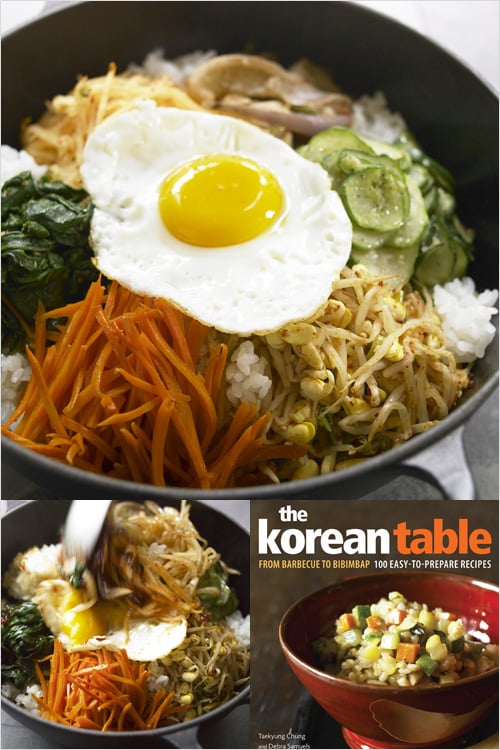 Last week, I published the first ever Korean recipe on Rasa Malaysia and confessed to the world that I am a total klutz when it comes to Korean food. Debra Samuels, coauthor of "The Korean Table" came to my rescue. She encouraged me to learn about Korean cooking and sent me her beautiful cookbook. I invited her to share her bibimbap recipe with us and she kindly accepted. Welcome Debra, it's great to have you here!
Thanks for inviting me to be a guest. I couldn't resist telling you how happy I was to see your posting on Korean seaweed salad. Finally Korean cuisine on your beautiful blog! I am the coauthor of The Korean Table, (Tuttle Publishing 2008) with my good friend Taekyung Chung.  Everyone knows how tasty and tongue-tingling Korean cuisine can be. We all love going out for delicious bbq kalbi ribs or a bowl of jap chae and dipping into the myriad of little plates of  banchan and kimchi that make up the landscape of the table. But the next step is making these dishes at home.  I thought I would start with the iconic dolsot bibimbap, a mixed vegetable and rice dish, served in a hot stone pot. A collection of those seasoned side dishes attractively arrange atop a mound of rice sizzling from the heat captured in the stone. We use what the cook might have at home—a cast iron pan, but a Teflon skillet will work as well.
This bibimbap recipe looks long but is really many recipes folded into one. The tasty toppings are arranged on the rice like the spokes of a colorful bicycle wheel, topped with a sunny-side up egg and a dollop of spicy red pepper paste (gochujang).  Mix it all together just before you eat—but not before everyone admires you culinary art project!
Learn more about Korean Food and check out these photos to see how the dish is assembled.