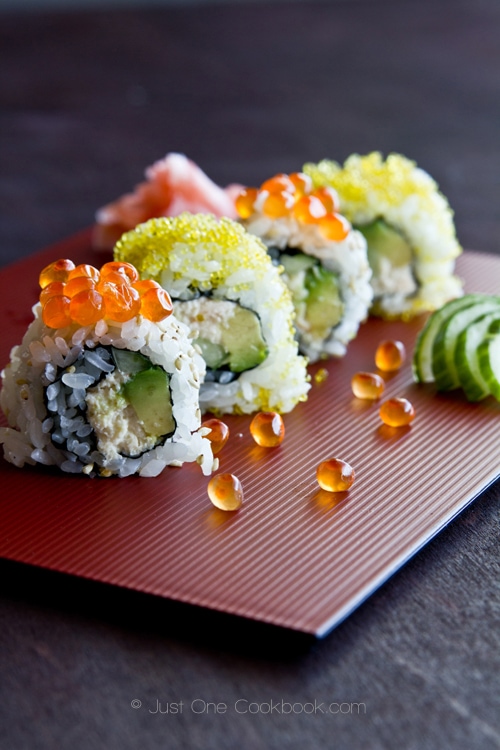 California roll was the first sushi I attempted when I got my sushi mat many years ago. Even though California roll is an Americanized-version of sushi, many people love it because of the great taste. When I thought about posting the California roll recipe here, Nami of Just One Cookbook immediately came to my mind as she has previously shared her Tonkatsu recipe with us. Please welcome Nami again with her mouthwatering and picture perfect California roll. You can also find the step-by-step picture guide on rolling sushi. Have fun!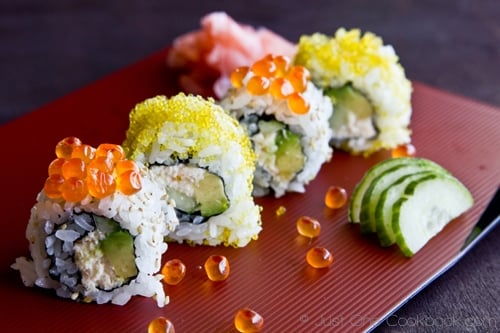 California roll is one of the most popular sushi rolls enjoyed in the US. It's suitable for both adults and kids since it uses cooked crab meat or artificial crab. Besides crab meat, the roll usually contains cucumber and avocado, and the outer layer of rice is covered with toasted sesame seeds or tobiko. California roll has become a very popular icon for sushi in the world and often served as a part of set meal for lunch in Japanese restaurants and now even offered in American supermarkets.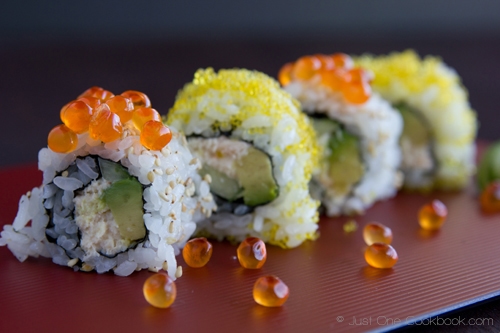 California roll was born in Los Angeles, California in the 1960s by a Japanese sushi chef who came to the US to introduce sushi. Uramaki (inside-out roll) was also created this time as Americans did not like seeing the nori on the outside of the roll. Since then, all the Americanized rolls like Rainbow roll and Dragon roll have become very popular, and now some of sushi restaurants in Japan even serve Americanized sushi rolls, such as California roll.