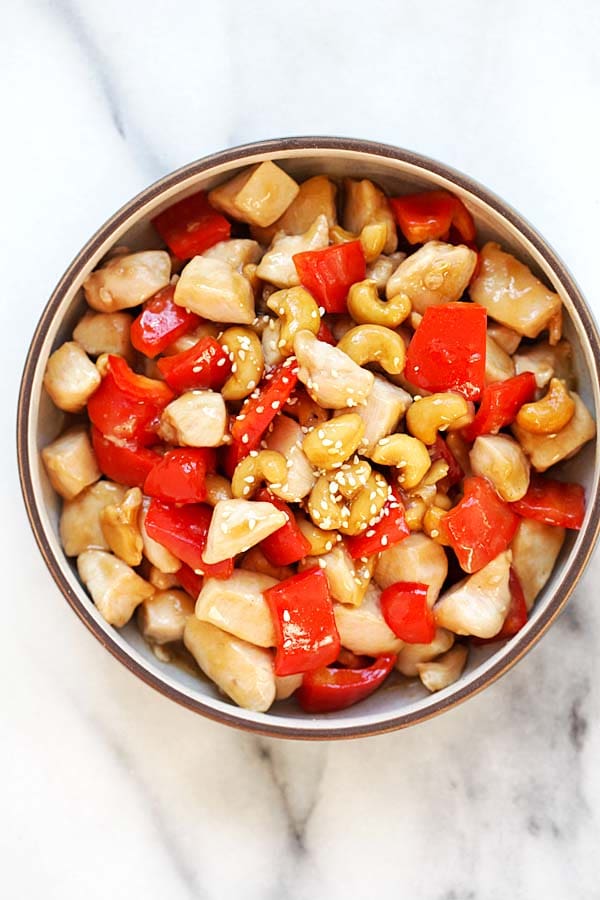 Cashew Chicken
Cashew chicken is a popular Chinese recipe. You can make this easy recipe at home with two simple ingredients: cashew nuts and chicken.
While Chinese recipes are often featured here on Rasa Malaysia, I mostly share my favorite Chinese dishes—meaning those that I enjoy eating—with my readers. A simple Google search of the most popular Chinese food in the United States returns the following results:
1. Broccoli Beef
2. Sweet and Sour Pork
3. Cashew Chicken
4. Crab Rangoon
5. Egg Drop Soup
6. Moo Goo Gai Pan
7. Chow Mein
8. Fried Rice
9. Kung Pao Chicken
10. Egg Roll
As a Chinese, I have to say that this is not the most interesting list. In fact, some of the dishes are not even real Chinese, for example: Moo Goo Gai Pan. (Most of the dishes on the list are American-Chinese food, made popular by the Chinese restaurants in the United States. They are what general Americans know as Chinese food.)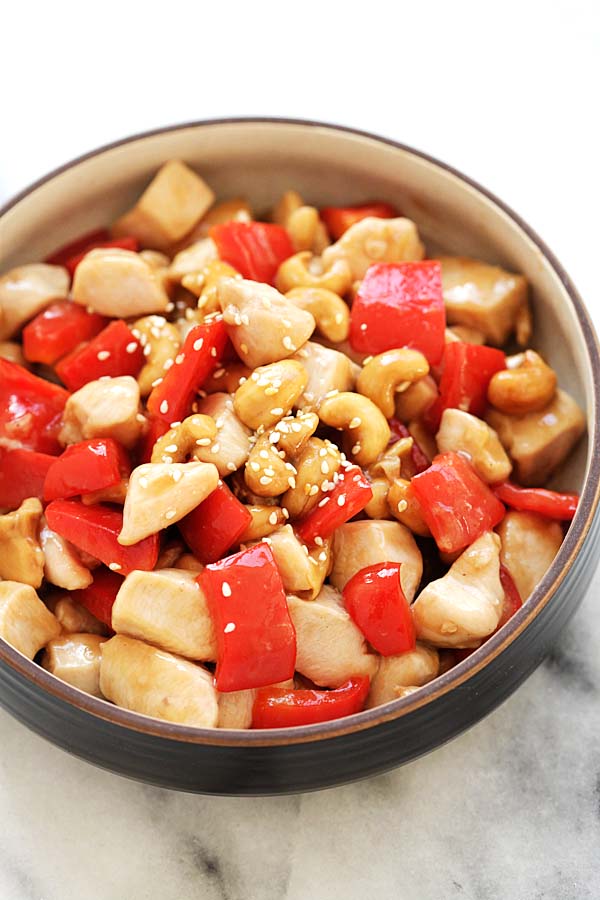 Chinese cuisine—when done right—is pleasing, subtle, delicate, satisfying, and a great treat to the taste buds. However, most Chinese restaurants in the United States have pretty much butchered Chinese food and turned one of the greatest cuisines in the world into something vaguely recognizable—gooey, starchy, sticky, greasy, and downright unappetizing—one that is certain to leave a bad taste in the mouth of many diners.
Since most of my readers are Americans, I thought I would share with you the correct way of making these popular dishes. Today, I teach you the proper way of making Cashew Chicken—a very popular eat-in and take-out dish at Chinese restaurants in the United States.
The key to a great Chinese stir-fried chicken dish is simple: smooth and tender chicken meat lightly coated with a sauce, stir-fried over HIGH heat using a wok to achieve the breath of wok. To get the breath of wok, you can buy my cookbook "Easy Chinese Recipes" and learn the techniques. To make the chicken tender, I am going to share with you a secret, one that is used by many restaurants and Chinese chefs, BAKING SODA.
Baking soda serves two purposes:
1. to rid the chicken of any potential smell (I am sure you have had bad experiences eating chicken with a foul chicken odor;
2. to tenderize the meat. Just by looking at my pictures, you can tell that those chicken breast cubes are silky and tender. For the detailed instructions, please follow my Cashew Chicken recipe here.
SECRET TECHNIQUE: BAKING SODA is the secret weapon to make any meat—chicken, beef, pork—tender.
Anyway, once you try out my Cashew Chicken recipe, I am sure you will never go back to the gooey, sticky, starchy Cashew Chicken from your neighborhood Chinese joints again, and you will again enjoy authentic Chinese recipes. If you like a slightly different flavor, you can also check out my honey cashew chicken.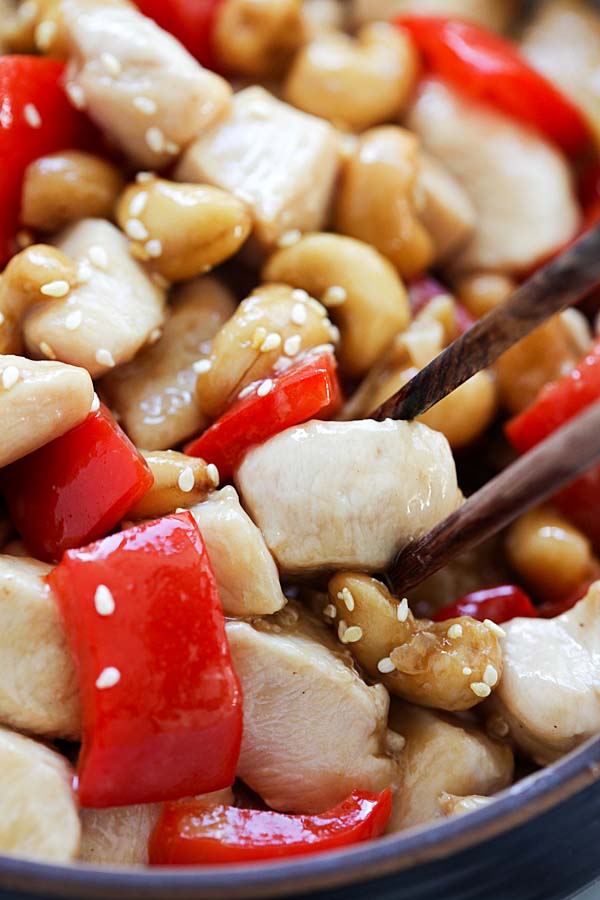 Other popular Chinese recipes: Broccoli Beef, Sweet and Sour Pork, Egg Drop Soup, Kung Pao Chicken, Chow Mein, Fried Rice, Orange Chicken, Mongolian Beef, General Tso's Chicken, Honey Walnut Shrimp, Lettuce Wraps, and more.
Rate This
Recipe Name
Preparation Time
Cook Time
Total Time
Average Rating

Based on 23 Review(s)