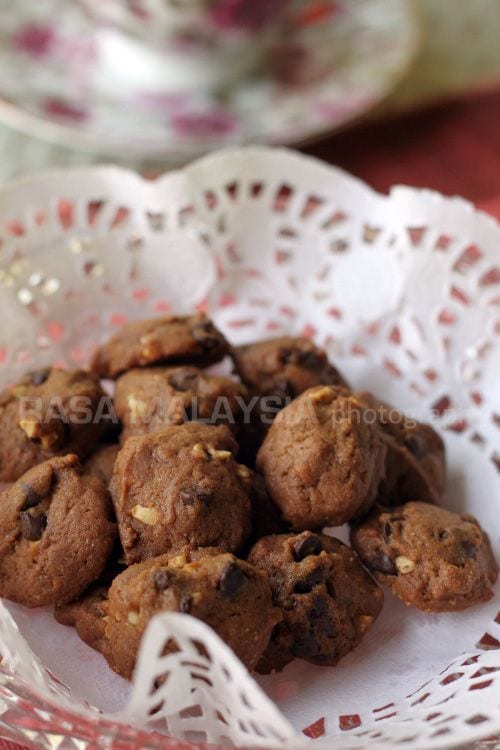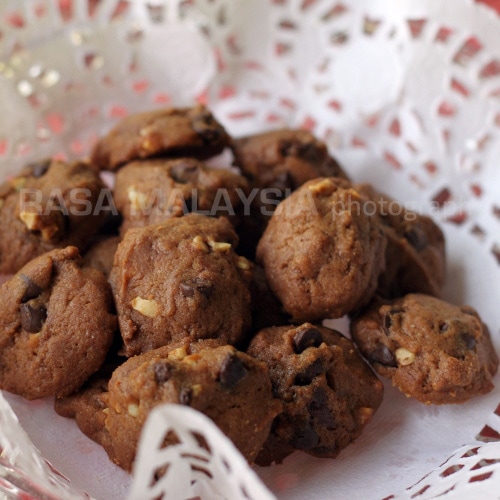 Chocolate Chip Cookies
Easy chocolate chip cookies recipe that yields buttery chocolate chip cookies. Say hello to freshly baked chocolate chip cookies from your own oven.
Ingredients:
250g butter
120g fine sugar + 100 g brown sugar
2 eggs, lightly beaten
320g all-purpose flour
80g corn flour or corn starch
1/4 tsp baking soda
2 tbsp cocoa powder – optional
100g almond nibs (chopped almonds)
250g chocolate chips
Method:
Preheat oven to 200 degree C or 375 degree F.
Combine flour, corn starch and baking soda in a small bowl. Beat butter, sugar and brown sugar until creamy. Add eggs and beat well. Gradually mix in the flour mixture. Stir in cocoa powder, chocolate chips and almond nibs. Drop by rounded tablespoon onto a baking sheet or parchment paper.
Bake for about 10 minutes or until golden brown. Let cool on wire racks before serving.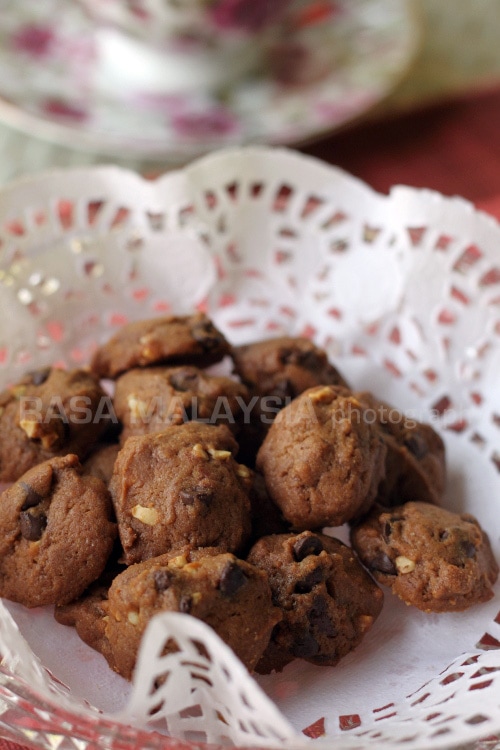 Remember I have a talented contributor who is a baking goddess?  She is back with another popular cookie recipe (previously, she shared the recipe of cornflakes cookies)—the all-time favorite chocolate chip cookies.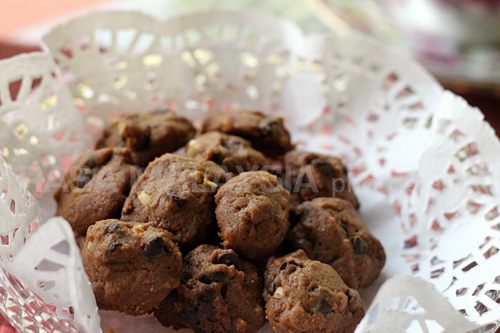 I have to admit that I am not the biggest fan of chocolate (I know!) but I love chocolate chip cookie because it has the the benefit of not being super chocolate-y, with buttery and crunchy texture of cookies. Chocolate chip cookies are oh-so-good when they are fresh out of the oven, with the tiny bits of chocolate chips melt in my mouth while the buttery aroma fills the house. Yummy.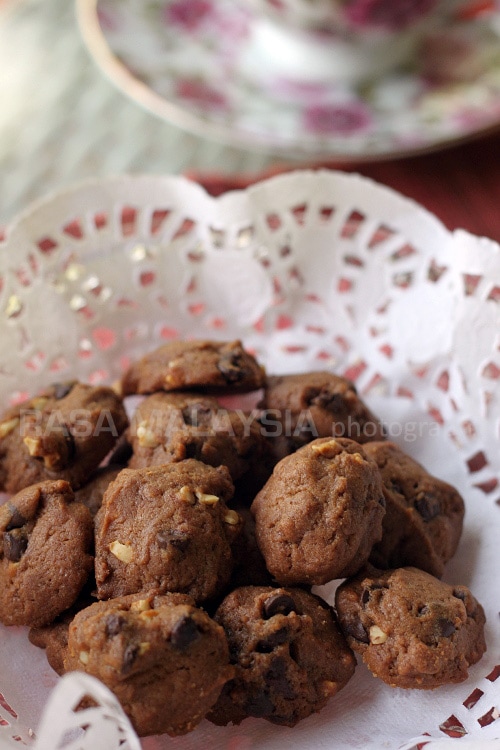 This is a super easy chocolate chip cookies recipe that yields very satisfactory results. Say goodbye to the packaged goods, and hello to fresh chocolate chip cookies from your own oven. To convert the measurement, please go here. Here is another great chocolate chip cookies and chocolate chip cookies recipe.