Pumpkin Chocolate Chip Cookies - Pumpkin chocolate chip cookies that are chewy and soft, loaded with pumpkin and chocolate chips. Easy recipe that you can bake at home with great results.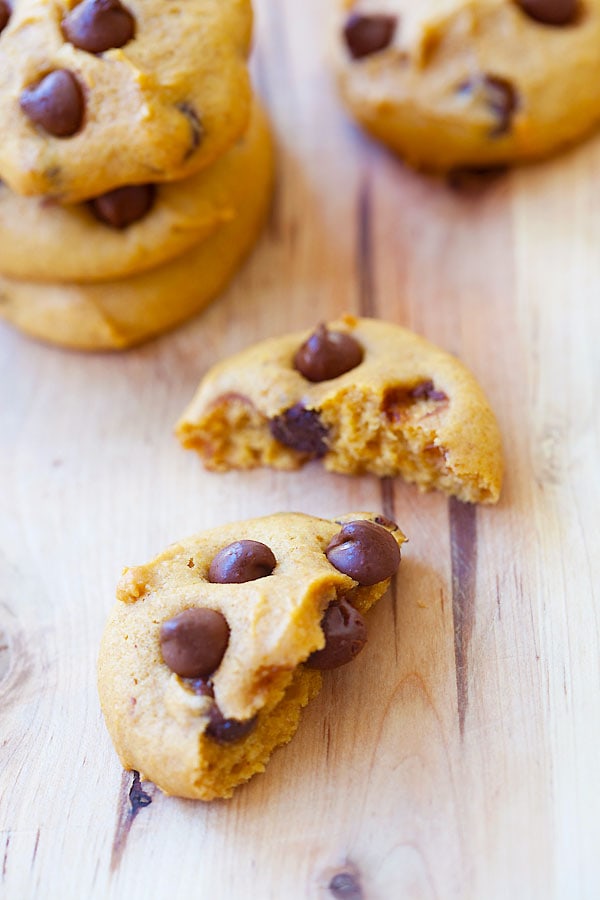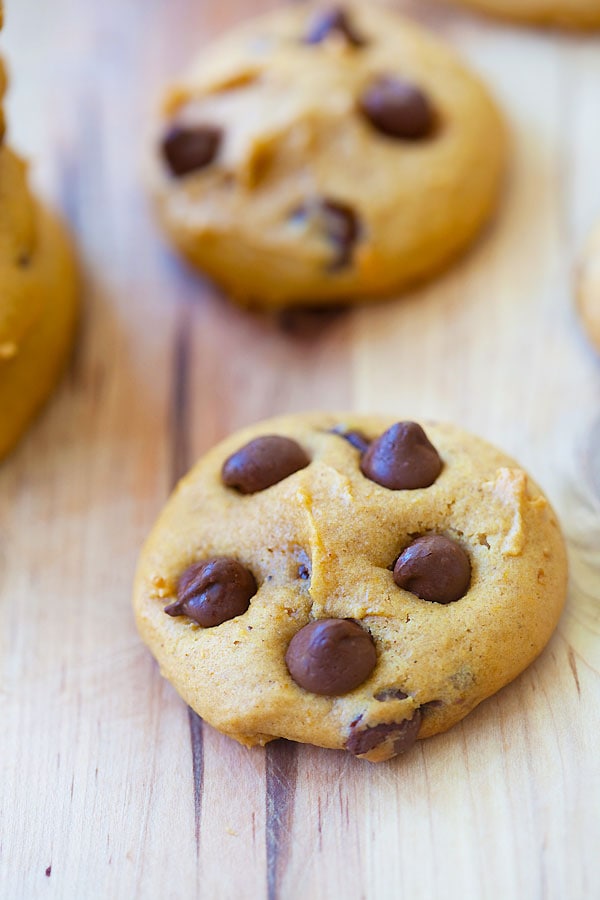 Other Recipes You Might Like
As I mentioned in my previous post, I am incorporating a new ingredient pumpkin into my cooking and baking recipes.
A few days ago I baked the Nutella swirled pumpkin bread, which my family enjoyed very much.
I still have a big can of leftover pumpkin sitting in the fridge, so I decided to try out this Pumpkin Chocolate Chip Cookies recipe by Sally's Baking Addiction.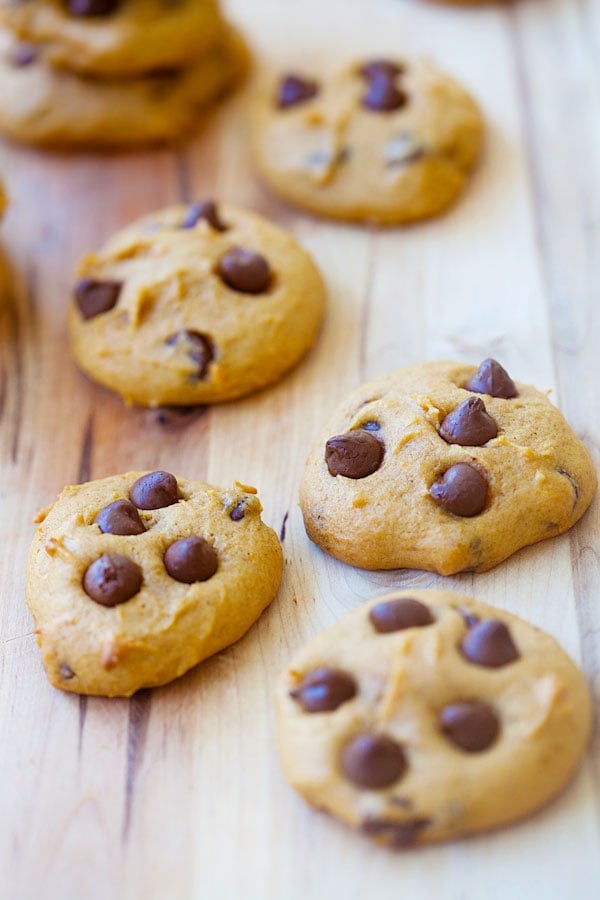 I was actually not sure about the idea before I baked these cookies because I have never used pumpkin in cookies before…but as soon as these pumpkin chocolate chip cookies were out of the oven, my son couldn't wait to try them out and I realized that I had a keeper recipe.
He loved it and ate two right away.
He just loved the soft and chewy texture, and the best thing, since these cookies were not super crispy, they were absolutely no crumbs to clean up after he ate the cookies!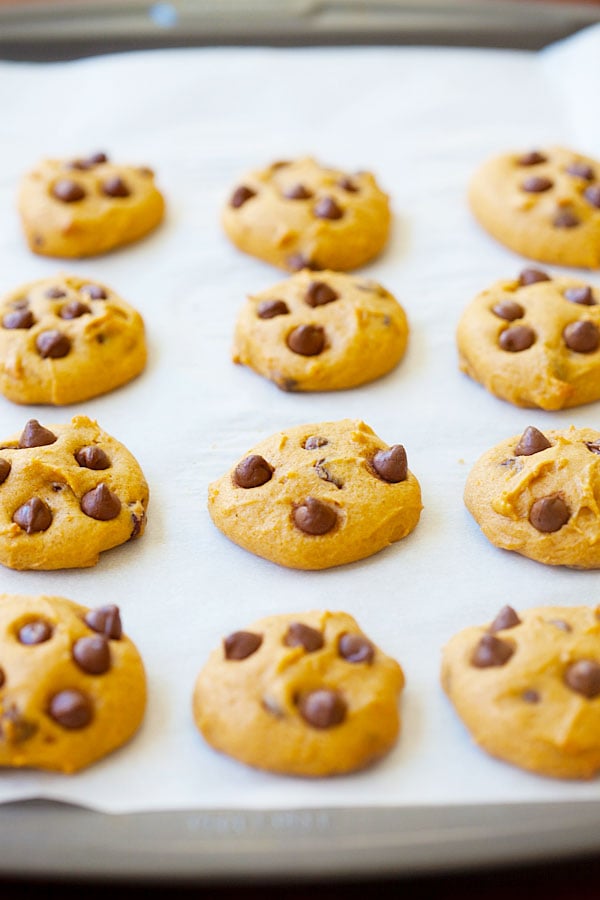 The next morning, my son asked for two more for his breakfast, before he went to school. In a few days, he finished all of these pumpkin chocolate chip cookies.
The sweet thing is that he doesn't even know that there are pumpkin inside the cookies. He has refused to eat any mushy food such as mashed potatoes, pumpkins, kabocha since he was two years old, so this is a victory!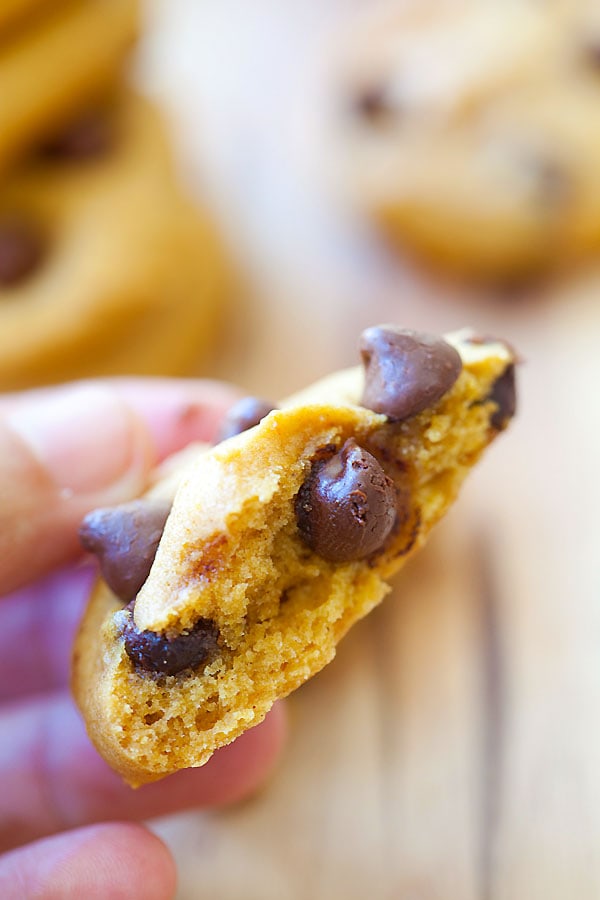 How Many Calories per Serving?
This recipe is only 129 calories per serving.
5 Secrets to 20 Min Dinners
Get tricks for quick & easy meals!
Yield: 20 people
Pumpkin Chocolate Chip Cookies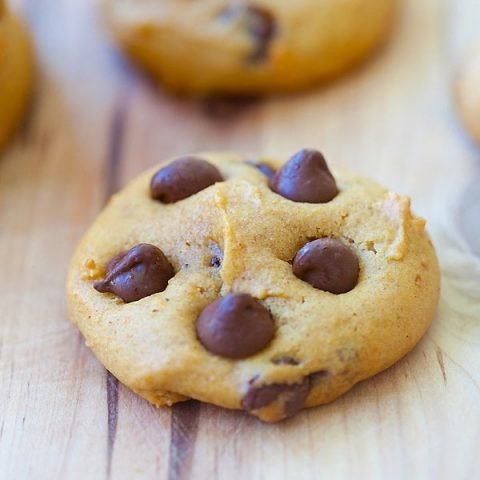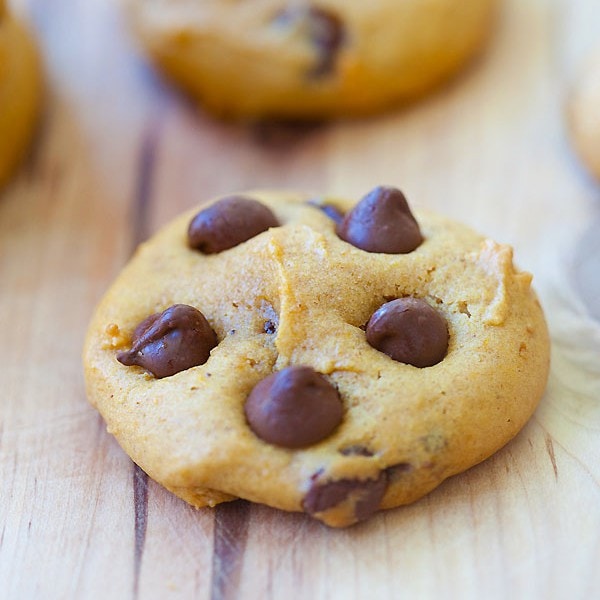 Pumpkin chocolate chip cookies that are chewy and soft, loaded with pumpkin and chocolate chips.
Ingredients
1/2 cup unsalted butter, melted
1/4 cup brown sugar
1/2 cup granulated sugar
1 teaspoon vanilla extract
6 tablespoons pumpkin puree
1 1/2 cups all-purpose flour
1/4 teaspoon salt
1/4 teaspoon baking powder
1/4 teaspoon baking soda
1 1/2 teaspoons ground cinnamon
1/4 teaspoon ground nutmeg
1/4 teaspoon ground cloves
1/4 teaspoon allspice
1/2 cup chocolate chips
Instructions
In a medium bowl, whisk the Butter, Brown sugar, Granulated sugar, Vanilla and Pumpkin until smooth. Set aside.
In a large bowl, toss together the Flour, Salt, Baking powder, Baking soda, Cinnamon, Nutmeg, Allspice, and clovers. Pour the wet ingredients into the dry ingredients and mix together with a rubber spatula. Fold in 1/2 cup Chocolate chips, cover the dough and chill for 30 minutes.
Preheat the oven to 350°F (176°C). Line two large baking sheets with parchment paper.
Take the dough out of the refrigerator and roll the dough into a balls, about 1 1/2 tablespoon each dough. Slightly flatten the dough balls and press a few more chocolate chips onto the tops. Bake for 8-10 minutes or until golden brown.
Nutrition Information
Yield
20
Serving Size
20 people
Amount Per Serving
Calories

129
Total Fat

5g
Saturated Fat

3g
Unsaturated Fat

0g
Cholesterol

12mg
Sodium

47mg
Carbohydrates

18g
Sugar

10g
Protein

1g