Pineapple Rolls (Nastar) - Amazing pastry filled with yummy pineapple jam, a must have for the Lunar Festival in Southeast Asia.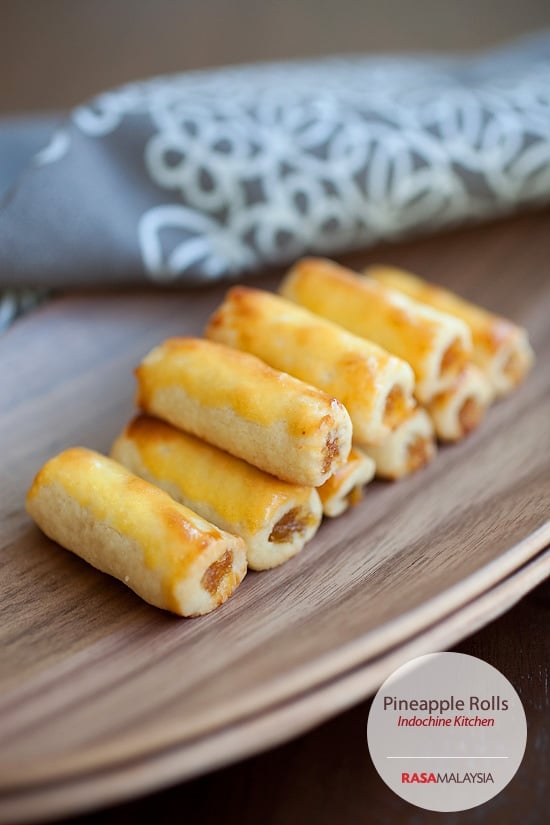 Chinese New Year falls on next Friday (January 31), which is practically less than two weeks away.
I am sure many of you who celebrate the festivities have been busy with baking, shopping for new clothes, shoes, and getting ready for the big celebration.
This year, we will be celebrating Chinese New Year—the year of horse—here in Southern California.
Despite the fact that there are many Asians where I live, there isn't a lot of festive moods around, unless I go shopping at Chinese food stores.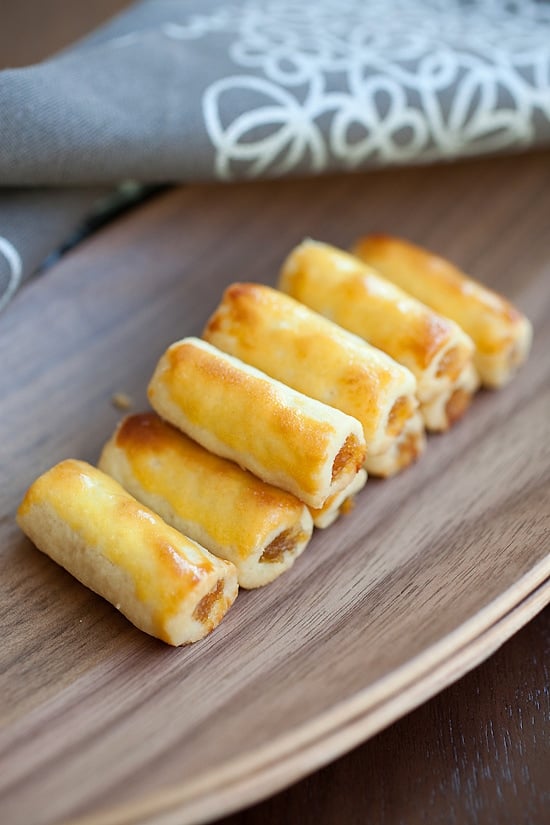 To embrace the happy and festive spirit of Chinese New Year, I have been baking up a storm in my kitchen, making pineapple tarts and other Chinese New Year goodies such as peanut cookies, mini spring rolls, etc.
Pineapple tart is my absolute favorite Chinese New Year cookies and every year I try new recipes, or continue to update and improve my pineapple tarts recipe.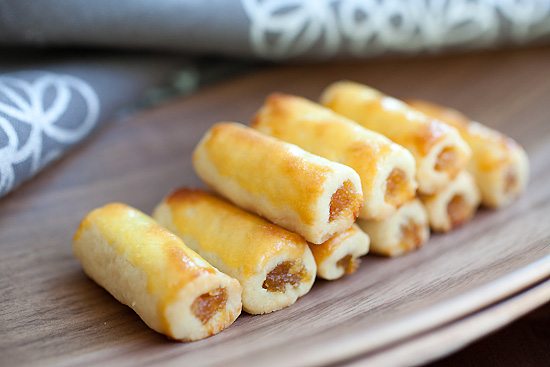 One of the recipes I have always wanted to try is my friend's Indochine Kitchen Pineapple Rolls recipe, or "nastar," in Indonesian/Malay language.
I visited Indochine Kitchen in Medan, Indonesia, a couple of years ago and she is just a wonderful, sweet, and kind lady.
I told her that I wanted to buy some of her pineapple rolls if she were to sell them.
However, being so far away from Indonesia, I reckon that I just had to make my own.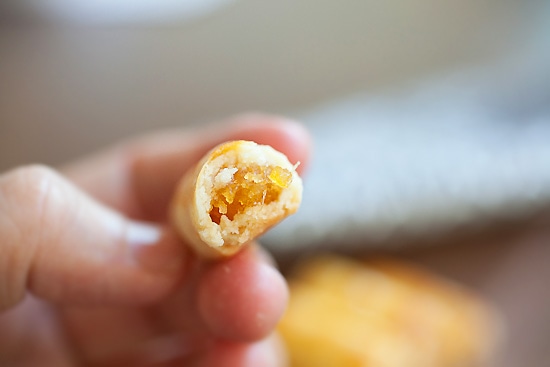 A few months ago, I experimented with her recipe with great success.
I can assure you that her recipe is probably the BEST recipe that I have ever tried.
Her creation is pure perfection.
A few days ago, I attempted it the second time and even my super picky toddler loved them.
Pineapple tarts comes in different shapes and forms; hers are pineapple rolls, which is dainty and absolutely pretty.
I have never seen pineapple rolls as beautiful as her creations.
Mine pale so much in comparison but they are utterly buttery, crumbly, and scrumptious.
I just couldn't stop eating them and in no time they were gone.
I am going to summarize the pineapple rolls recipe here but please go to Indochine Kitchen for her detailed step-by-step recipe plus picture guide.
How Many Calories per Serving?
This recipe is only 638 calories per serving.
For more great recipes like this, sign up for our newsletter. We'll send daily recipes you'll love!
Join
Sign up for our newsletter!
Pineapple Rolls (Nastar)
Pineapple Rolls - amazing pastry filled with pineapple jam, a must-have for Lunar New Year in Southeast Asia.
Ingredients
Pineapple Jam
4.5

lbs

pineapple

21

oz

sugar

3

cloves

5

cm

cinnamon stick
Pastry Dough
10

oz

all-purpose flour

1.5

oz

confectioners' sugar (powdered sugar)

1.5

oz

milk powder for baking

0.5

oz

corn starch

7

oz

unsalted butter, at room temperature

2

egg yolks
Egg Wash
3

egg yolks

1/4

teaspoon

condensed milk
Instructions
Using an electronic blender, blend the pineapple for about 10 seconds, or until smooth but still retain a slight texture. Transfer the pineapple to a pot (non-stick preferably).

Add the sugar, cloves, and cinnamon stick into a pot and cook the pineapple over medium to low heat for a few hours, stirring continuously, until the liquid in the pineapple evaporated and a jam forms and golden in color. (Using a non-stick pot will prevent the bottom from burning.) Turn off the heat, spread the jam and let cool. You can prepare the jam one day in advance and keep in the fridge.

Sift the flour, sugar, milk powder, and corn flour twice. Using a standmixer (or a hand mixer), cream the butter and sugar until well combined, light and fluffy. Add the egg yolk, one at a time, continue to beat well. Add the flour mixture into the bowl and beat over low speed using the paddle attachment, until everything is well combined.

Work with 50g (about 2 oz.) of pastry dough one at a time. Roll the dough between a plastic sheet to a thin layer (please refer to Indochine Kitchen for the step-by-step picture guide.) Pipe the pineapple jam on top of the dough. Roll the dough to cover up the jam completely.

Use a pair of scissors to cut the dough into 4cm (1.5 inch) long rolls, and arrange the pineapple rolls on a baking sheet lined with parchment paper.

At this point, you can preheat the oven to 150°C (300°F). Combine the Egg Wash ingredients together until well combined. Brush the top of the pineapple rolls with the egg wash mixture twice using small a pastry brush. Bake in the preheated oven until golden, about 15-20 minutes. Let cool and store the pineapple rolls in airtight containers.
Notes
You can use this recipe to make the pineapple tarts to the shapes you want, instead of the pineapple rolls in this recipe.
Nutrition

Nutrition Facts

Pineapple Rolls (Nastar)

Amount Per Serving (4 people)

Calories 638

Calories from Fat 450

% Daily Value*

Fat 50g77%

Cholesterol 361mg120%

Sodium 62mg3%

Carbohydrates 291g97%

Protein 16g32%

* Percent Daily Values are based on a 2000 calorie diet.

Notice: Nutrition is auto-calculated, using Spoonacular, for your convenience. Where relevant, we recommend using your own nutrition calculations.