Best-ever Pineapple Cookies or Pineapple Tarts - buttery, crumbly and melt-in-your-mouth pastry with pineapple filling, the best pineapple tarts ever.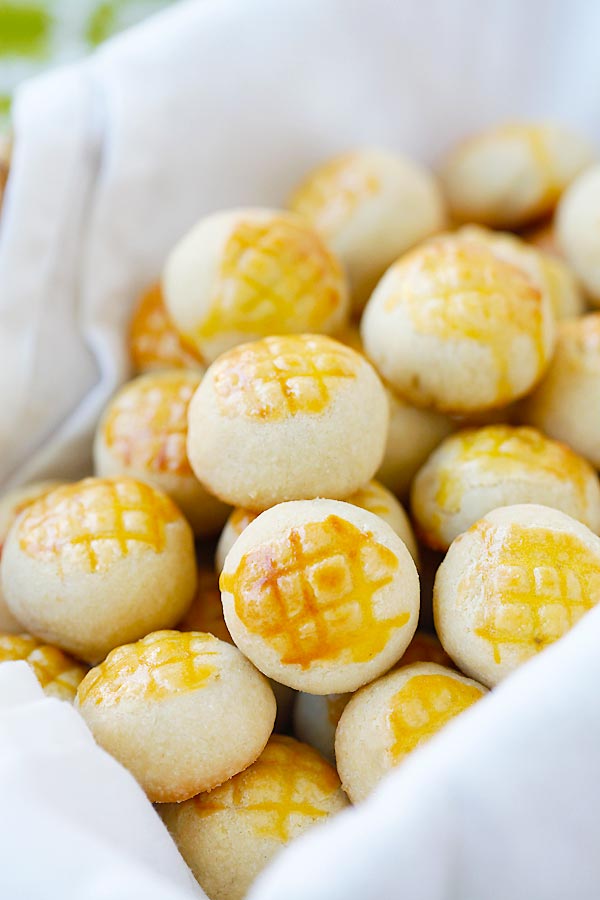 Every year before Chinese New Year, I would bake trays and trays of pineapple tarts, a must-have Chinese New Year cookies in Malaysia, my home country.
Just like Turkey to Thanksgiving, no Chinese New Year is complete without pineapple tarts.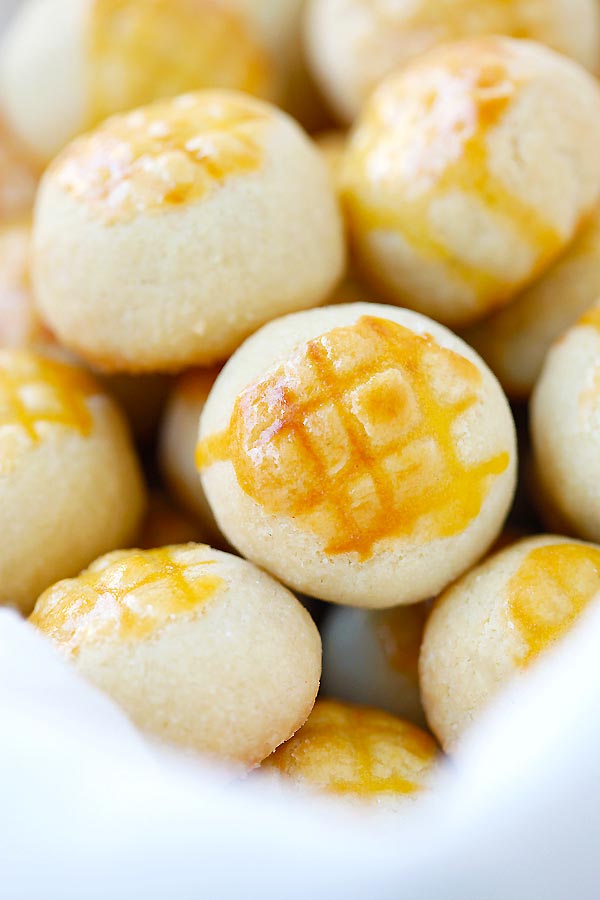 Called "Nastar" in local language, pineapple tarts are basically a cookie with a pineapple filling, in a buttery and crumbly pastry.
They are mostly referred as pineapple tarts in Malaysia and Singapore.
Some call them pineapple cakes (but they are not really cakes), pineapple shortcakes, pineapple cookies, or pineapple pastries. Regardless of its name, they are ABSOLUTELY delicious and the most AMAZING cookie ever.
The filling is from fresh and juicy pineapple, which is cooked and reduced to a golden-color pineapple jam filling. No words can describe just how awesome they taste, and I can't think of any, ANY, cookies that would top this.
Simple as that.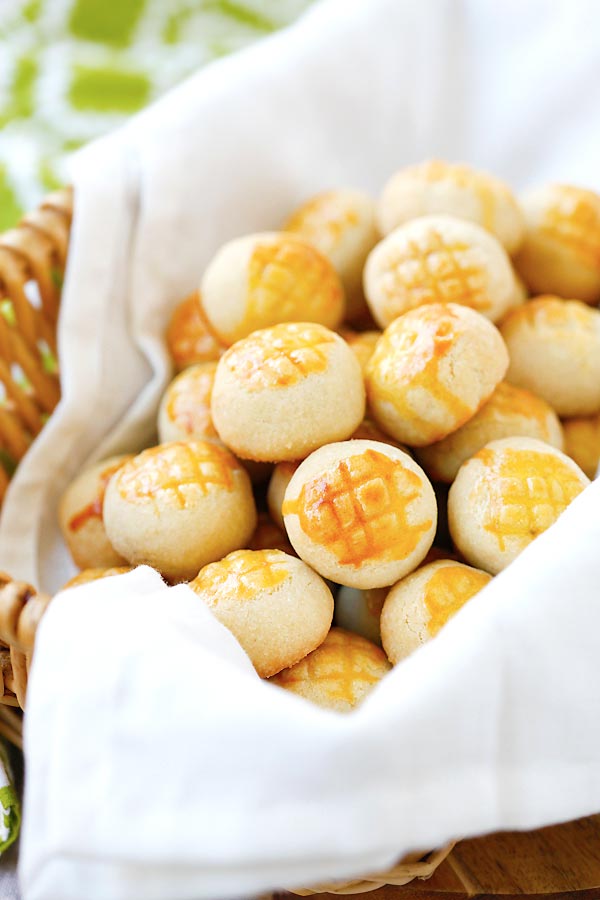 Now, I am not being biased as I have served these pineapple cookies to many friends from all over the world – Americans, Europeans, Persians, Chinese, Taiwanese, Koreans, Mexicans, Vietnamese, Indians, and everyone would agree that these dainty and beautiful cookies are basically out of this world.
Many came back to me and ask for more.
So, if you wanted to know what the best tasting cookies in the world taste like and introduce your culinary palate to something new, make these pineapple cookies. They will take some time, but you won't regret it.
I GUARANTEE you!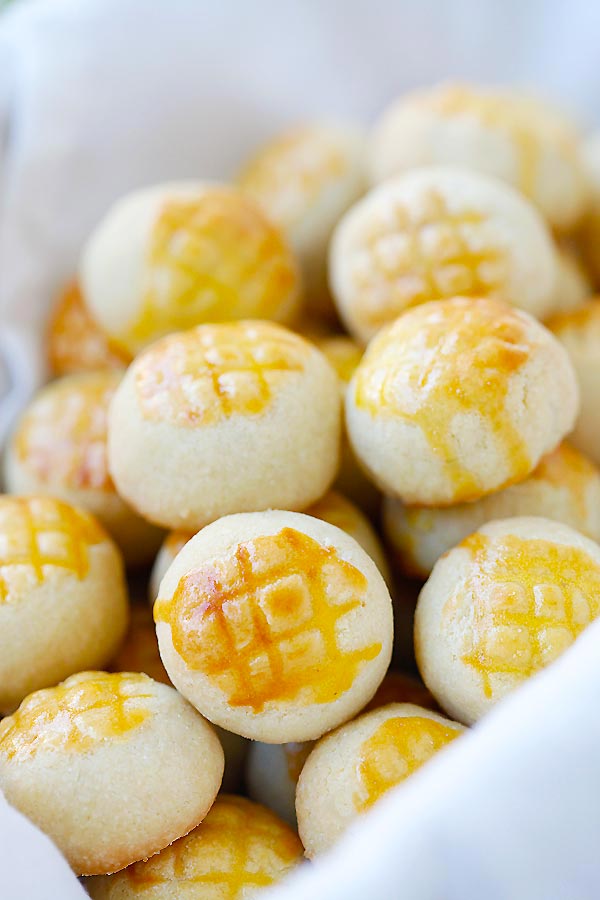 Over the years, I have tried many recipes, and they all become my favorites.
This year, I tried a new recipe from an amazing Malaysian food blogger Sonia (you can follow her on Instagram) at Nasi Lemak Lover, and I have to say that this recipe is currently my favorite recipe at the moment and Sonia is happy to share her recipe with Rasa Malaysia readers.
The pastry is made of four basic ingredients: flour, butter, egg yolk, and condensed milk.
This recipe yields utterly scrumptious and perfect pastry—super buttery, crumbly and addictive pineapple cookies that won't stick to your mouth and teeth…they are just unbelievably good!!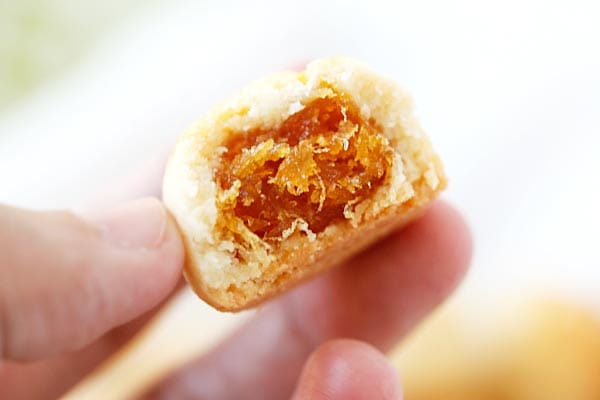 Other amazing pineapple tarts recipes can be found here on Rasa Malaysia.
Happy baking!
How Many Calories per Serving?
This recipe is only 441 calories per serving.
For more great recipes like this, sign up for our newsletter. We'll send daily recipes you'll love!
Join
Sign up for our newsletter!
Best-Ever Pineapple Cookies (Pineapple Tarts) Recipe
Best-ever pineapple cookies or pineapple tarts - buttery, crumbly and melt-in-your-mouth pastry with pineapple filling, the best pineapple tarts ever.
Ingredients
3

sticks

butter

(350 g /unsalted butter, at room temperature)

3 1/2

oz.

sweetened condensed milk

2

egg yolks

18

oz.

all-purpose flour or plain flour
Pineapple Filling:
16

lbs

whole pineapples

(2 whole / 3 1/2 kg or 5 lbs. (2 1/2 kg pineapple flesh))

1/2

tablespoon

cloves

((optional))

1 - 1 1/2

cups

sugar, or to taste

1

tablespoon

lemon juice
Egg Wash:
2

egg yolks

1/4

teaspoon

condensed milk

1/2

teaspoon

oil
Instructions
Cut the stalk off the pineapple and follow by the skin. Make sure all divits are removed. Slice the pineapple flesh into pieces and blend in a blender until they become puree. Add the pineapple puree and cloves to a non-stick pot and cook on medium heat, constantly stirring to avoid burning.

When the pineapple is almost dry, add the sugar and lemon juice, stir to combine well. Lower the heat to simmer and continue to stir until the pineapple filling turns golden in color and becomes very sticky. Transfer the pineapple filling out, remove the cloves and chill in the fridge for 30 minutes.

Cream the butter and condensed milk until light and fluffy. Add in the egg yolk one at a time, and beat until well combined. Mix in the flour slowly to form the pastry dough. The dough is ready when it no longer sticks to your hands.

Prepare the egg wash by mixing all the ingredients together in a small bowl.

Divide the pineapple filling and dough into 100 portions. Roll them both into balls. To wrap, use your palms to roll each dough and then flatten it.

Add a pineapple ball in the middle and fold the edges of the dough up to cover the filling.


Finish it off by rolling it into a round ball.


Place the pineapple cookie on a baking sheet lined with parchment paper. Using the back of a paring knife, cut the criss-cross shape on the cookie, and brush the top of the cookie with the egg wash, twice. Repeat the same until all ingredients are used up.


Bake in a preheated oven at 330°F (165°C) for about 20-22 minutes or until they turn golden brown. Transfer them out and cool on a wire crack before storing in an airtight container.

Notes
The pineapples filling is good for two batches of pineapple tarts. You can keep the pineapple filling in the fridge.
Nutrition

Nutrition Facts

Best-Ever Pineapple Cookies (Pineapple Tarts) Recipe

Amount Per Serving (12 people)

Calories 441

Calories from Fat 27

% Daily Value*

Fat 3g5%

Cholesterol 68mg23%

Sodium 18mg1%

Carbohydrates 99g33%

Protein 7g14%

* Percent Daily Values are based on a 2000 calorie diet.

Notice: Nutrition is auto-calculated, using Spoonacular, for your convenience. Where relevant, we recommend using your own nutrition calculations.