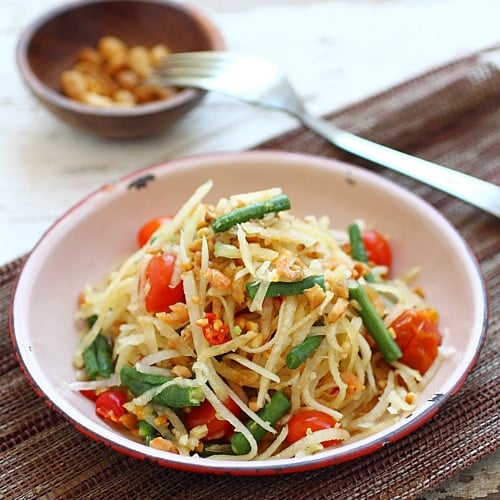 Green Papaya Salad
Thai green papaya salad – the best salad ever with shredded green papaya, long beans and tomatoes. So yummy
Ingredients:
1 clove garlic
1 or 2 red Thai bird's eye chilies
2 tablespoons dried shrimp
Thai palm sugar, to taste
1/4 cup roasted peanuts
6 oz green papaya strands
6 cherry tomatoes (I used grape tomatoes)
1/3 cup long green beans, cut into 1-inch lengths
Fresh lime juice to taste
Fish sauce, to taste
Method:
Pound the garlic and bird's eye chilies until they form a smooth paste.
Add the dried shrimp and pound until the pieces are broken up, but not completely pulverized.
Add the palm sugar (cut into small pieces), maybe 2-3 teaspoons at first. More more to taste later.
Add the peanuts and lightly pound until they are broken into tiny pieces, but not to the point where they form a thick paste.
Add the green beans and crush them with the mortar until they're splitting and lightly bruised.
Add the papaya and tomatoes and pound on them to bruise them. You want to crush the tomatoes so they release their juices and give their flavor and color.
Add a couple of teaspoons of fish sauce and a couple of teaspoons of lime juice to the mix.
Have in one hand a large spoon to help flip things over in and scrape down the sides of the mortar while your other hand pounds away with the pestle.
Keep pounding and flipping for a few seconds, add more fish sauce, lime juice, or palm sugar as needed.
Dish out and serve immediately.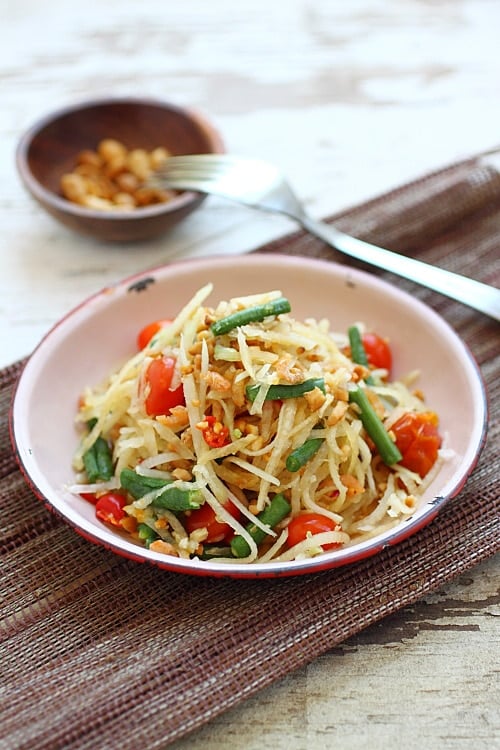 I know many of you must be wondering why I haven't posted new recipes for a while. Well, I had a careless kitchen accident a couple of months ago and I've been taking things slow, especially in the kitchen department. The truth is I've been working so hard on this blog, my cookbook (have you bought a copy yet?), being a full-time mom taking care of my baby, that my mind is constantly racing with 10,000 things at a time. The accident was an awakening call that I can only do so much, and that nothing matters if something were to happen to me. So, I apologize for the lack of original recipes as of late, which I hope to make it up to you with the many holiday giveaways that I've lined up for you.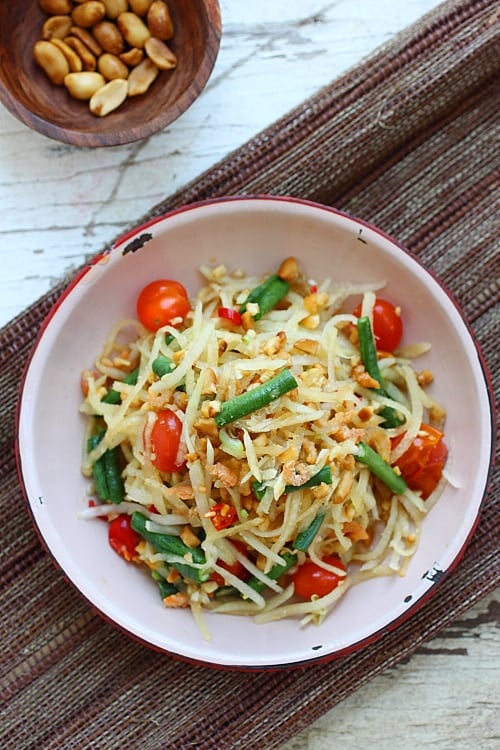 I had Thai Green Papaya Salad, or Som Tam during a family's trip to Hat Yai, a border town north of the peninsula of Malaysia. My late parents, my eldest sister, aunt, and friends hired a van that drove us there for cheap shopping and Thai food feasting. All my family members love Thai food, because we have some Thai heritage in our blood. My great grandmother was born and raised in Thailand and married to a Malaysian; my grandmother could speak fluent Thai. By the small seaside town of Songkhla (close to Hat Yai), I had the first authentic Thai green papaya salad, sold by an old lady with a mobile cart, equipped only with her mortar and pestle plus the ingredients. At the first bite, I fell immediately in love. Som Tam is the epitome of the perfect blends of hot, sour, salty, and sweet—the iconic tastes of Thai cuisine. It was utterly delicious, fiery, and addictive.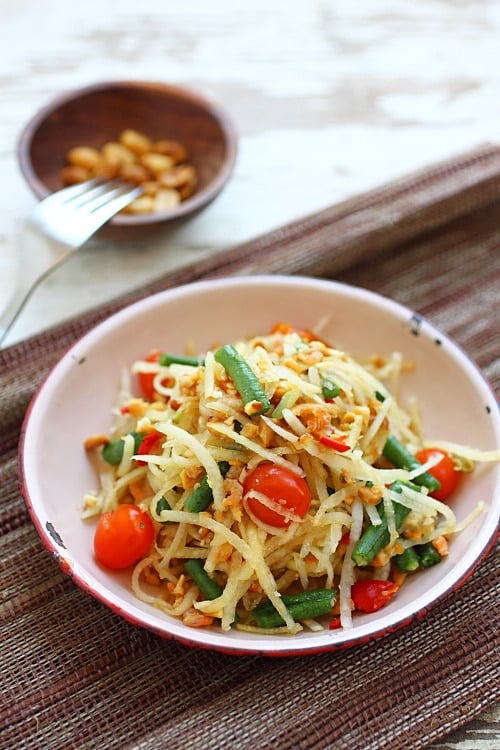 When it comes to making an authentic Thai green papaya salad (Som Tam), I turned to my friend's website at She Simmers. (She Simmers had previously shared her Thai pamelo salad recipe on Rasa Malaysia.) The only thing that I changed in her recipe is the use of grape tomatoes instead of cherry tomatoes because I had some leftover.
Enjoy this colorful and flavorful Thai green papaya salad.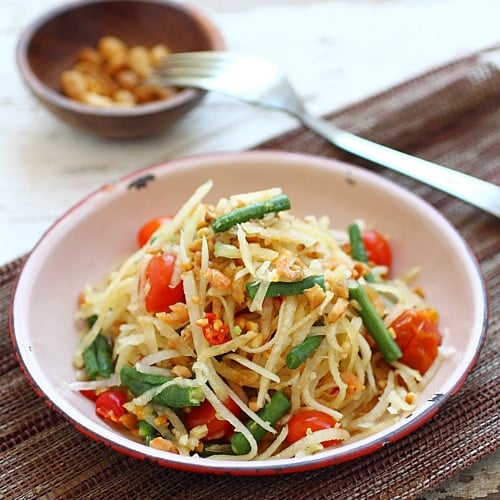 Rate This
Recipe Name
Average Rating

Based on 3 Review(s)