Hansar Samui, Koh Samui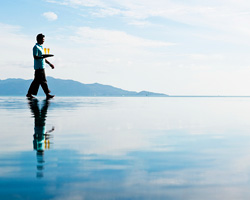 http://rasamalaysia.com/hansar-samui-koh-samui/
The last stop of my Thai sojourn was Koh Samui, a beautiful island off the east coast of Thailand which the whole world comes for a truly tropical vacation. Since I had developed such great liking and affiliation with Hansar Bangkok, the first leg of my sojourn, naturally I chose to stay at its sister property in Koh Samui, Hansar Samui. I mean, what could be more inviting than a luxury resort and spa situated so close to the airport (just 10 minutes away) that offers a world of island life at Koh Samui's up-market Bophut Bay? I practically alighted from the plane and was greeted by paradise in no time.
Just like what is promised, the Sea View Room we stayed in was simply spacious, tastefully decorated and generously stocked for a thoroughly relaxing and luxurious stay. The openness of the balcony gave me a limitless pleasure of private view of the endless stretch of sun-kissed sandy beach bordered by the wind-swept turquoise waters of Bophut Bay. At that moment, I fully understood and felt the true meaning of Hansar, which in ancient Sanskrit, means happiness and joy. My happiness and joy at Hansar did not stop at the room with a wonderful view. My breakfast also came with a view. While enjoying the sumptuous spread of breakfast, I also feasted my eyes and mind on the tranquil blue of the sea in the early Samui morning. What joy!
My dining experience in Hansar Samui has opened my eyes and proven me wrong that fine dining is not quite possible during a laid-back resort stay. In fact, Chef Stephen Jean Dion, the Executive Chef of Hansar Samui, has artfully crafted a unique dining experience that bewitched, captivated and humbled the gastronome in me.
Having the privilege to quietly enjoy the exquisite Chef's Table Extraordinaire (you can visit here for the full details of the menu) in the totally relaxing ambiance of the beachfront H Bistro Restaurant (it has been awarded as a 2011 & 2012 "Best Restaurant in Thailand" by the Tatler Magazine) was one of the best dining experiences I have had. Think of chilled Madagascar prawn and "Pink Tarbouriech" oyster Oscietra caviar with lemon cream for appetizer to Satin Grand Mariner Flavored Chocolate Mousse for dessert. What a treat! And of course sipping my passion mojito, the signature cocktail of Hansar Samui before my dinner perfected the whole epicurean journey.
To match its luxurious front, Hansar Samui is also being run with a heart, of gold. I was introduced by the resort's Director of Operation to Hansar Samui's organic veggie farm and aquaponic fish and veggie farm project. This project basically involves the use of the wasteland adjacent to the resort for eco-farming to produce healthy organic vegetables for the consumption of the guests and for the cooking lessons offered to the guests (imagine picking fresh, organic greens from the farm, and being served that too!). The produce is also sold and all proceeds go to the charity of the local community, including providing school bags for the local special needs school. I am very, very impressed by and ultimately proud of Hansar Samui's noble commitment to the environment and the community.
Staying at Hansar Samui has exposed me to the less commercial, more down-to-earth and 'real' Samui. A leisure walk to the nearby Fisherman's Village allowed me to understand the local people, the local life and culture better. It felt so great to have the opportunity to see the last piece of pristine real estate on this tropical island still unspoilt by the onslaught of mass tourism. Before I left Hansar Samui, I made it a point to have a total indulgence at its LUXSA Spa. I came out completely refreshed and revitalized, and ready to be back on the go.
Hence my Thai Sojourn was made entirely hassle free and enjoyable by Hansar. I began my Bangkok-Chiang Mai-Samui journey with and in great anticipation of happiness and joy, and I came back full to the brim of both. Kob khun kha.
HANSAR SAMUI
101/28 Moo1, Bophut
Koh Samui, Suratthani
Thailand 84320
Tel: +66 77 245511
Fax: +66 77 245995
Email: reservation@hansarsamui.com
Website: www.hansarsamui.com
H BISTRO
101/28 Moo1, Bophut
Koh Samui, Suratthani
Thailand 84320
Tel: +66 77 245511
Fax: +66 77 245995
Email: reservation@hansarsamui.com
Website: www.hansarsamui.com
Sign Up for Email Updates
Enter your email for new updates: recipes, giveaways, and more!