Cheesy Ham and Broccoli Quiche - the BEST homemade quiche you'll ever made, with cheesy egg custard loaded with ham and broccoli. So good!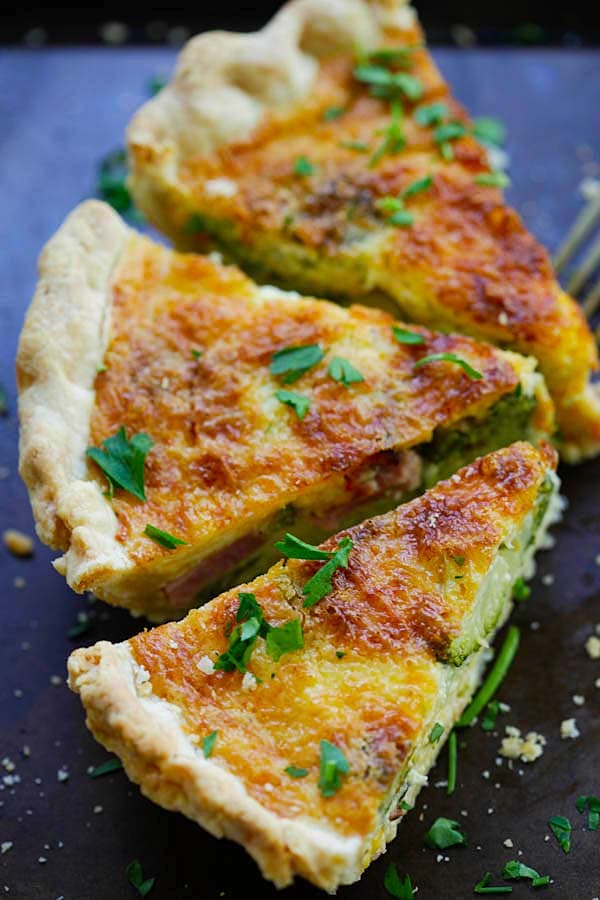 I first tasted quiche at a French bakery and fell instantly in love.
It's probably one of my favorite things to eat; I never miss out an opportunity to have quiche at restaurants that serve them.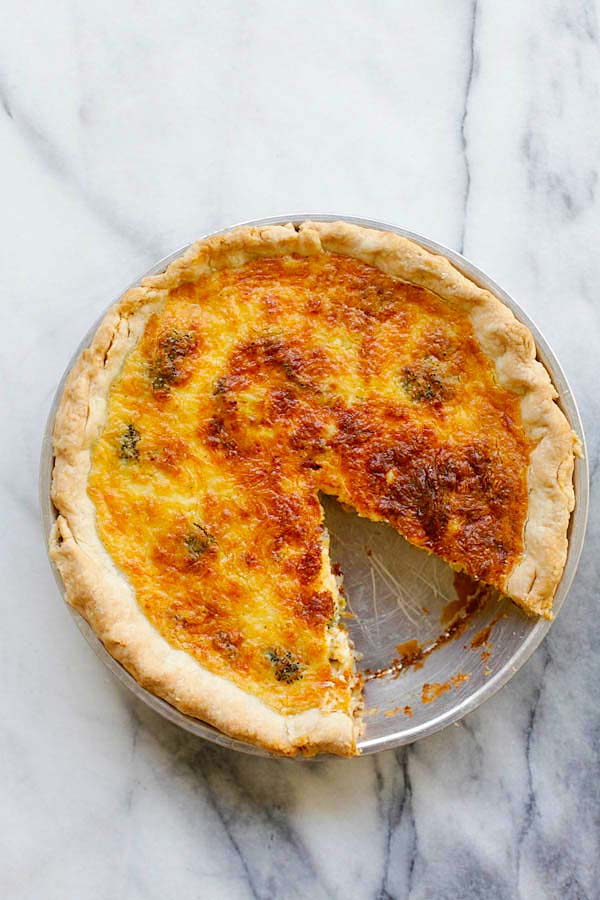 There is just something about the buttery and crumbly crust filled with savory egg custard, flavored with bacon, ham, spinach, etc.
I love quiche.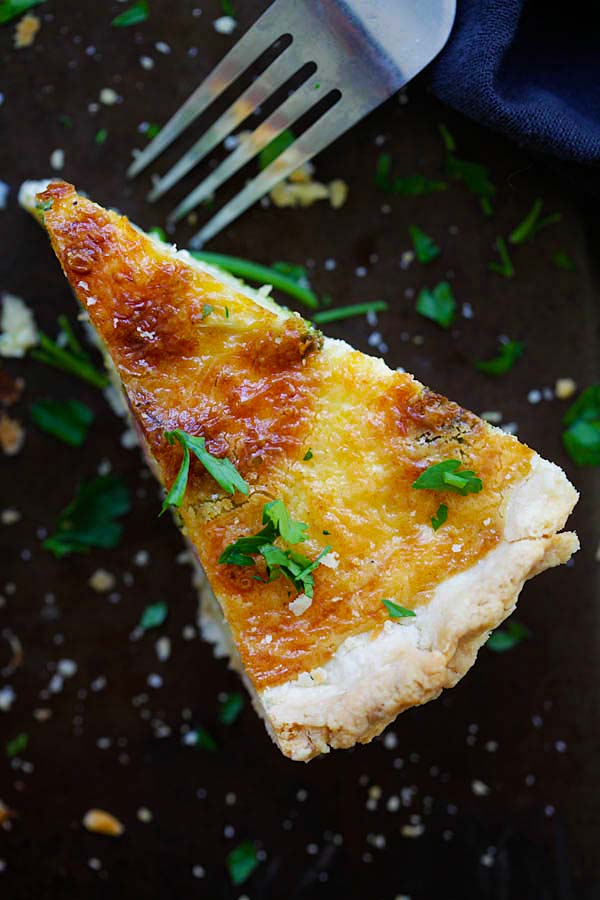 This homemade cheesy ham and broccoli quiche recipe makes the BEST quiche that I have ever tasted, and I am not even bluffing.
I have eaten plenty of great quiches, but this recipe is off-the-charts delicious.
Thanks to my amazing baking assistant Kendoll who combines the best crust recipe with the best filling recipe, and we have a knock-out recipe.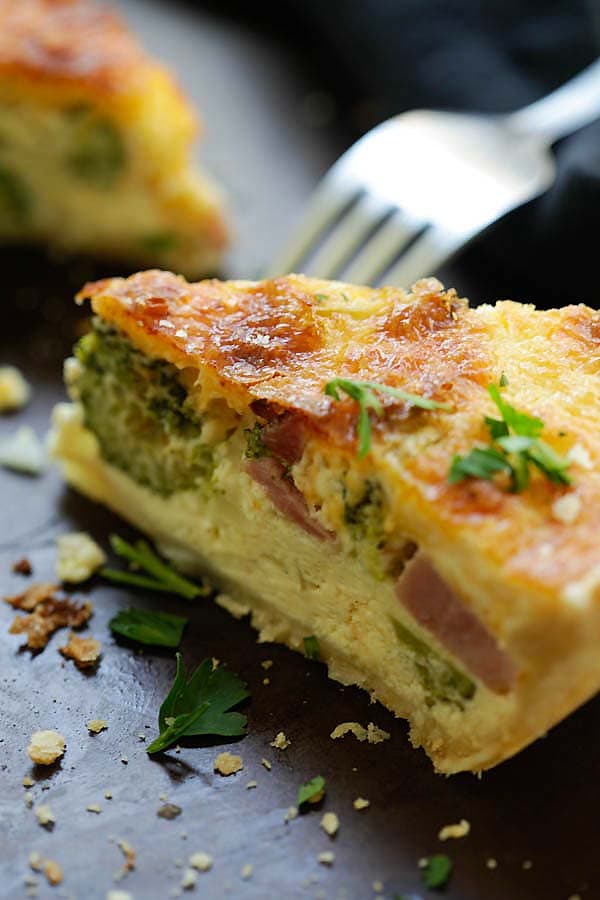 The secret ingredient in the recipe is the ham, a good quality ham.
It makes all the difference.
We got a very good ham and it imparts the smokey and savory flavors to the egg custard.
Add some fresh broccoli florets to the equation and you have a filling dish that is great for brunch, lunch or dinner.
How Many Calories per Serving?
This recipe is only 437 calories per serving.
What Dishes to Serve with This Recipe?
For a wholesome meal and easy weeknight dinner, I recommend the following recipes.
5 Secrets to 20 Min Dinners
Get tricks for quick & easy meals!
Yield: 4 people
Cheesy Ham and Broccoli Quiche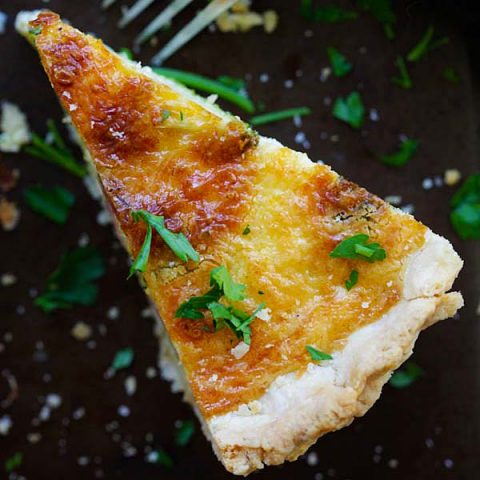 Cheesy Ham and Broccoli Quiche – the BEST homemade quiche you'll ever made, with cheesy egg custard loaded with ham and broccoli. So good.
Adapted from: Husbands that Cook and Pillsbury
Contributor: Kendoll Baldwin
Total Time
2 hours
15 minutes
Ingredients
For the Crust:
1 1/4 cups plus 2 tablespoons all-purpose flour
1/4 teaspoon salt
1 stick butter, chilled unsalted butter, cubed, 8 tablespoons
1/4 cup Greek yogurt
2 teaspoons lemon juice
1/4 cup ice water
For the Filling:
1/4 cup diced onion
1 cup broccoli florets
1 cup milk
4 large eggs, slightly beaten
1/4 teaspoon salt
1/4 teaspoon ground black pepper
1 cup cubed ham
2 cups shredded Cheddar cheese
1/4 cup grated Parmesan cheese
Instructions
For the Crust - whisk the flour and salt together in a large bowl. Add the chilled cubes of butter, and use your fingertips to break the butter in the flour until the largest pieces of butter are the size of peas. In a small bowl, whisk together the yogurt, lemon juice and ice water, then pour the mixture into the bowl with the flour. Stir gently to combine, adding a few teaspoons of flour if the dough is sticky, then gather into a ball, wrap in plastic, and refrigerate for at least 1 hour, or up to overnight.
When ready to bake, preheat oven to 400°F (207°C). Remove the dough from the fridge, remove the plastic, and roll it out on a floured surface until you have a sheet of dough about 1/8-inch thick. Place the crust in a 9-inch pie plate.
For the Filling - saute the diced onion with a little bit of oil on low heat. Set side. Blanch the broccoli florets in boiling water for 10 seconds. Drain and set aside.
In medium bowl, mix the milk, eggs, salt and pepper; set aside. Layer the ham, broccoli, Parmesan cheese, cheddar cheese and the sauteed onion in the crust-lined plate. Pour the egg mixture.
Bake the quiche for 45 minutes or until knife inserted in center comes out clean. Let stand 5 minutes; cut into wedges. Serve warm.
Nutrition Information
Yield
4
Serving Size
4 people
Amount Per Serving
Calories

437
Total Fat

49g
Saturated Fat

29g
Unsaturated Fat

0g
Cholesterol

308mg
Sodium

1214mg
Carbohydrates

37g
Fiber

1g
Sugar

5g
Protein

35g