Garlic Butter Sauteed Zucchini - easy and healthy zucchini recipe that takes only 8 mins from start to finish. Quick, fresh and delicious!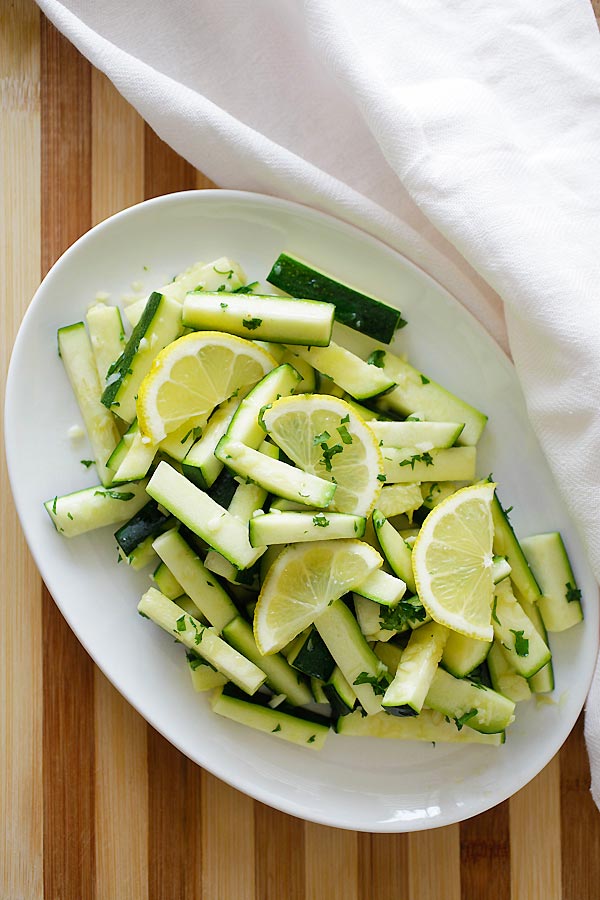 The Best Way to Cook Zucchini
Today, let's talk about zucchini. I absolutely love zucchini, especially when they are peak in season during spring and summer.
There is nothing not to love about zucchini, the flavors are refreshing and there are so many ways to make zucchini, making it my favorite summer squash.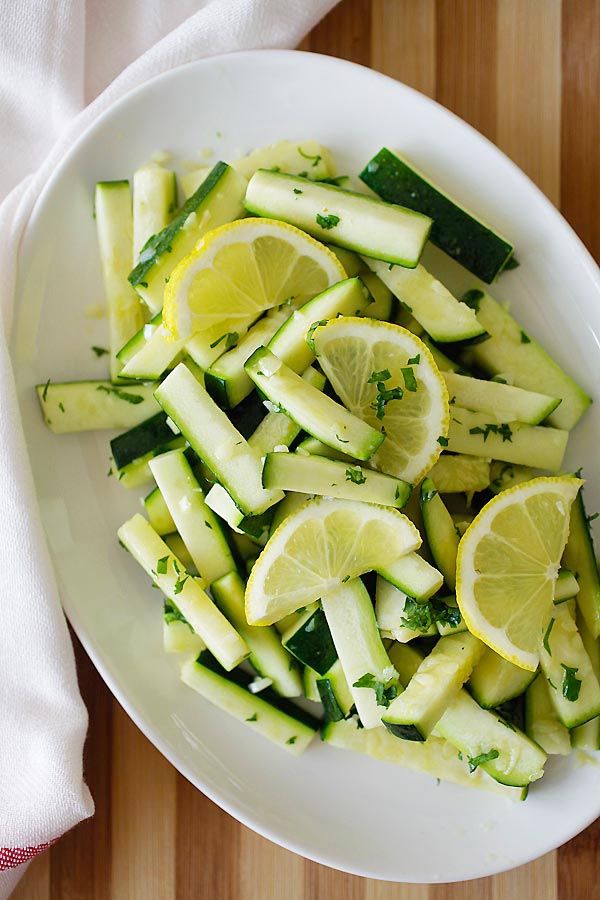 One of the best zucchini recipes is sauteed zucchini on the skillet, with simple ingredients:
Garlic
Butter
Fresh lemon juice
Salt and ground black pepper
Italian parsley
There is no grilling, no deep frying, no oven baking, just a simple saute on the stove top. This sauteed zucchini recipe is quick, easy, healthy. It takes 8 mins from prep to dinner table. It's that simple!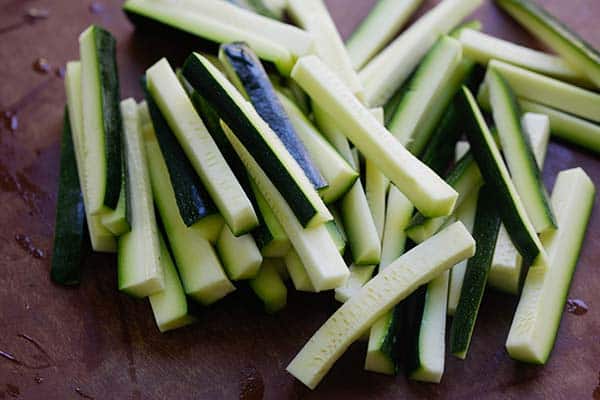 Cook's Tips
Cut the zucchini into strips or sticks, like zucchini fries. This will ensure the best texture after cooking. Check out the step-by-step guide on how to cut zucchini before saute.
Do not overcook zucchini. It should remain crisp after cooking and have a nice bite. It shouldn't be mushy and limpy.
Use medium heat to quickly cook for about 3 minutes.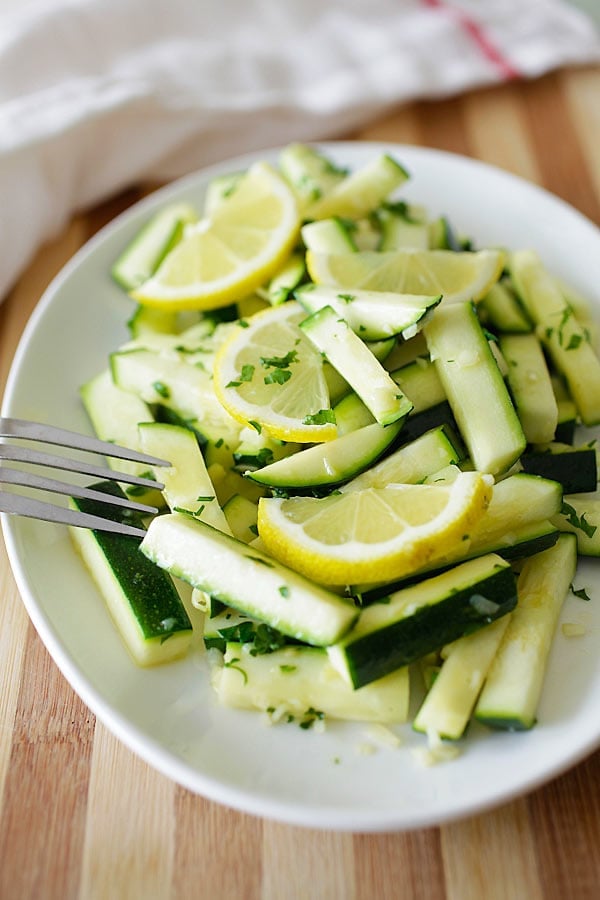 Other Recipes You Might Like
How Many Calories Per Serving?
Sauteed zucchini calories are 84 calories per serving. It's a healthy homemade recipe.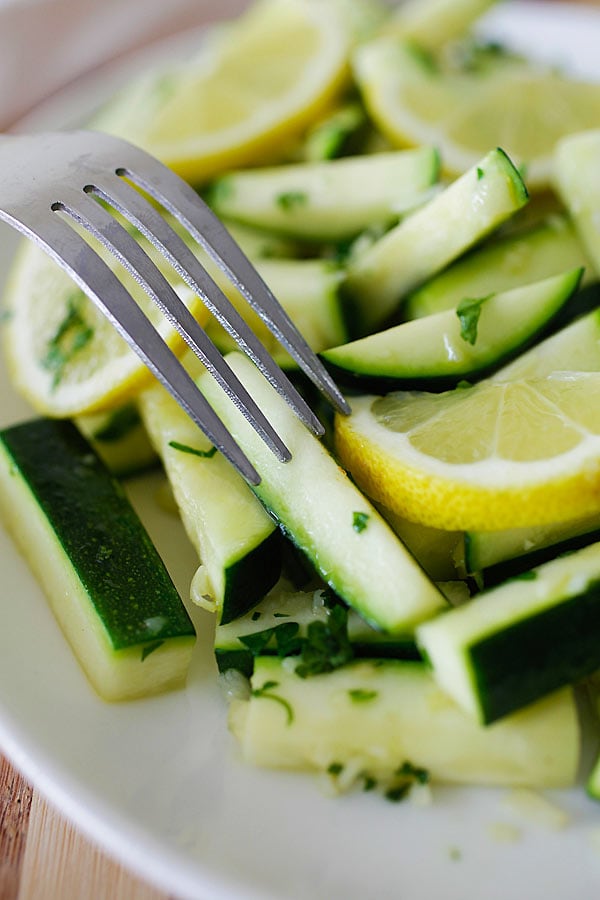 What Dishes to Serve with this Recipe?
This meal is best served with a main dish. For a wholesome meal and easy weeknight dinner, I recommend the following recipes.

Pairs well with: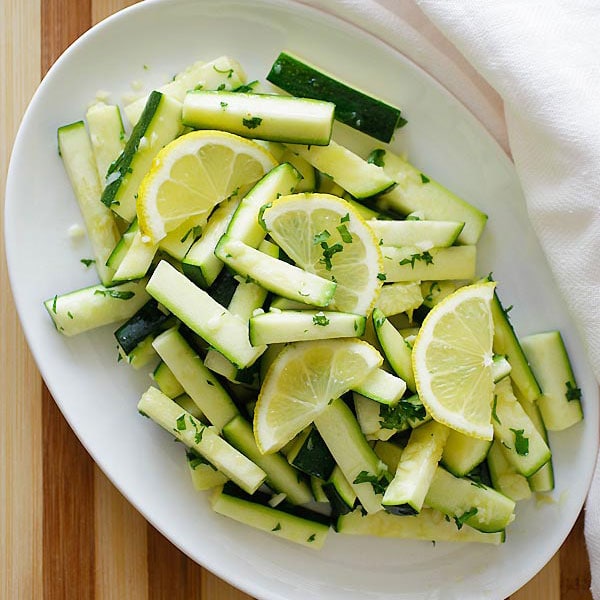 Garlic Butter Sauteed Zucchini Recipe
Garlic Butter Sauteed Zucchini - easy and healthy zucchini recipe that takes only 10 mins from starch to finish. Quick, fresh and delicious!
Ingredients
2

tablespoons

unsalted butter, melted

1

clove

garlic, finely minced

1

zucchini, about 8 oz, cut into strips

1

pinch

salt or to taste

3

dashes

ground black pepper

1

teaspoon

chopped Italian parsley

3

slices

lemon, cut into halves
Click Here for Conversion Tool
Directions
Heat up a skillet on medium heat. Add the melted butter and saute the garlic until slightly browned. Add the zucchini, stir a few times. Season with salt and black pepper. Lightly toss and saute for about 2 minutes but do not overcook the zucchini. Add the parsley and lemon. Stir for about 10 seconds, dish out and serve immediately.
Nutrition Facts
Garlic Butter Sauteed Zucchini Recipe
Amount Per Serving (3 people)
Calories 84
Calories from Fat 72
% Daily Value*
Fat 8g12%
Cholesterol 20mg7%
Sodium 85mg4%
Potassium 184mg5%
Carbohydrates 4g1%
Protein 1g2%
Vitamin A 365IU7%
Vitamin C 15.8mg19%
Calcium 15mg2%
Iron 0.3mg2%
* Percent Daily Values are based on a 2000 calorie diet.
Easy Weeknight New Recipes: