Pork Chops - one of the best pork chop recipes with garlic, butter, thyme on skillet. Juicy and tender pork chops dinner made in 20 mins for dinner tonight!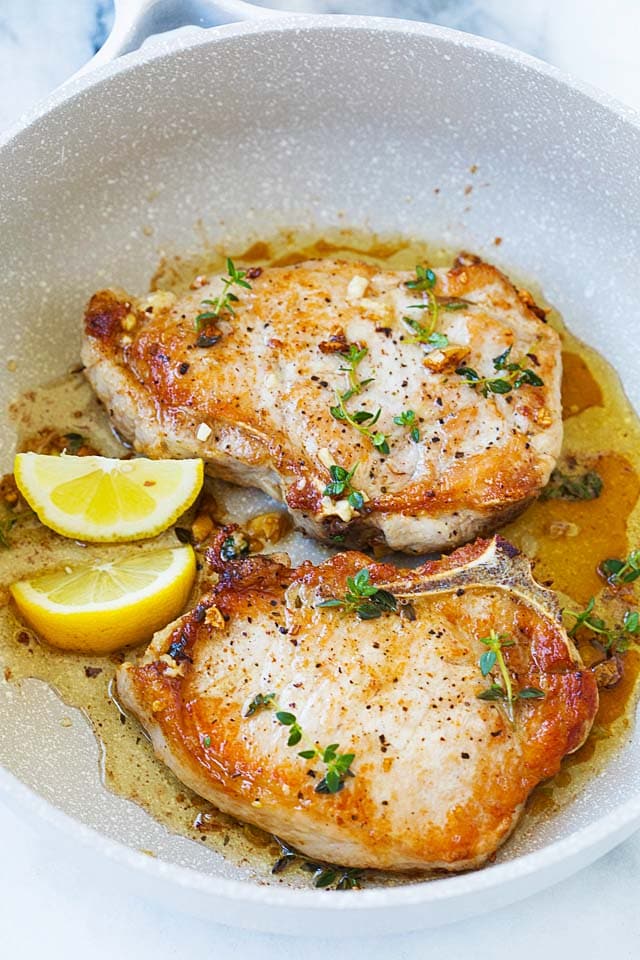 Pork Chop Recipes
I love all kinds of pork chops such as baked pork chops. This is one of the best pork chops recipes made on a skillet with garlic butter sauce, thyme, salt and pepper.
This main dish is a great dinner entree for busy weeknights and best with side dishes.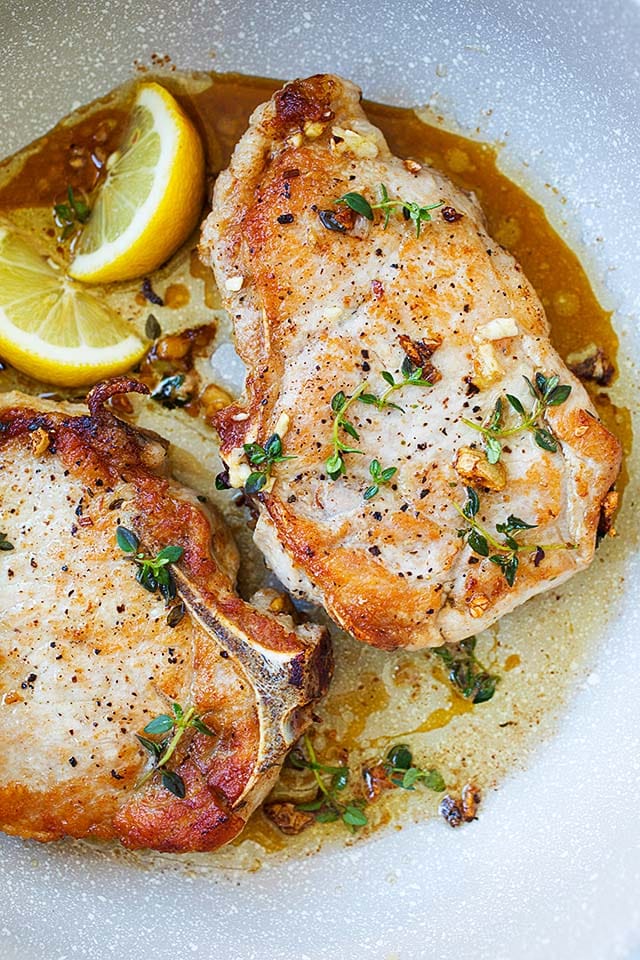 I used bone-in chops for this garlic butter pork chops recipe. You can also use boneless but the bone adds so much extra flavors.
This recipe calls for only a few simple ingredients. It's important to buy good quality pork chops for tender, juicy, moist and flavorful results.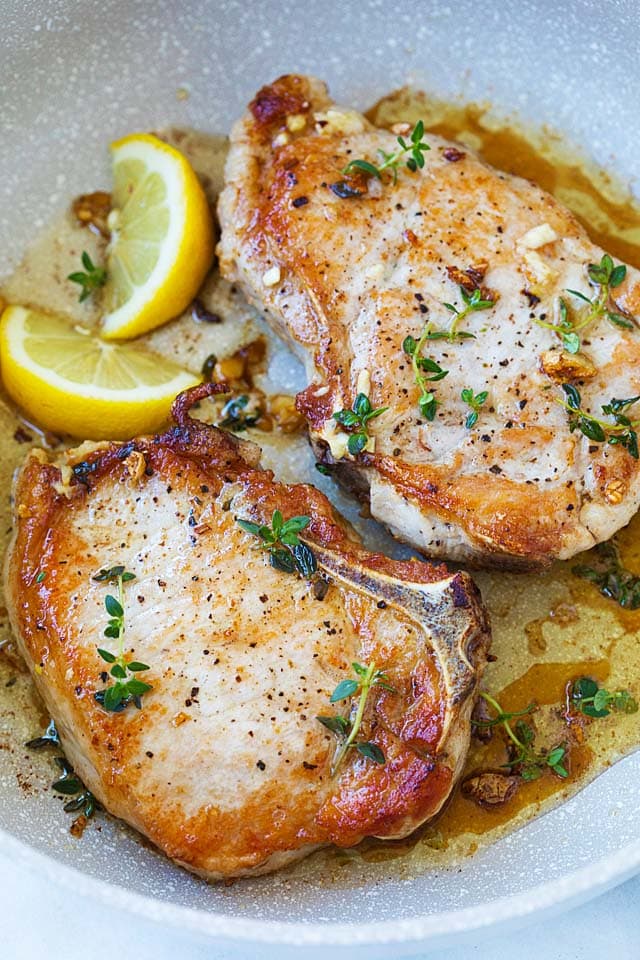 What are Pork Chops?
Pork chops are the most popular cut from the pork loin, which is the strip of meat that runs from the pig's hip to its shoulder.
Depending on the origins, they are called a variety of different names: loin, rib, sirloin, top loin and blade chops.
They are also marketed as Porterhouse pork chops, Ribeye pork chops and New York pork chops.
They are the easiest part of pork to cook and pair well with a variety of spices and ingredients. You can learn all about pork chops here.
Ingredients for Pork Chops
Unsalted butter.
Minced garlic.
Herb such as thyme or rosemary.
Salt and ground black pepper.
Lemon wedges.
Other Pork Chop Recipes You Might Like
Bone-in or Boneless?
I love bone-in pork rib chops or center cut as the fat and bone marrow infuse the dish with extra flavors, making the chops juicier. It's also cheaper in price.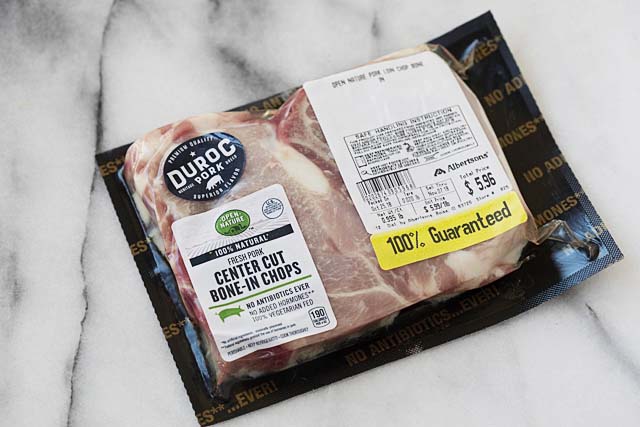 You may use boneless chops if you want leaner meat as the fat has been removed. The end result will be drier and less juicy.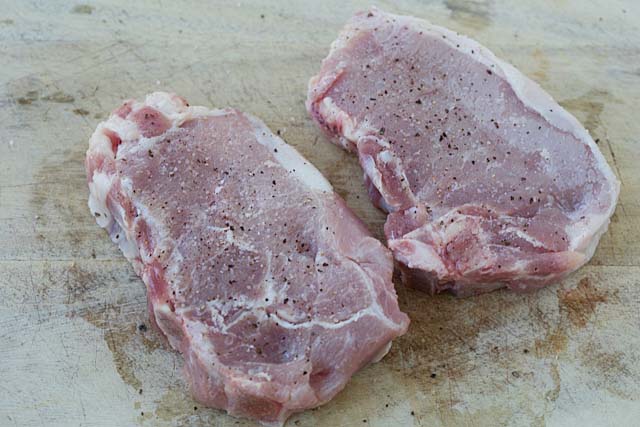 How to Cook Pork Chops?
To make pan fried pork chops, you can use a skillet and cook on the stove. It's an easy dinner that takes 15 minutes to make!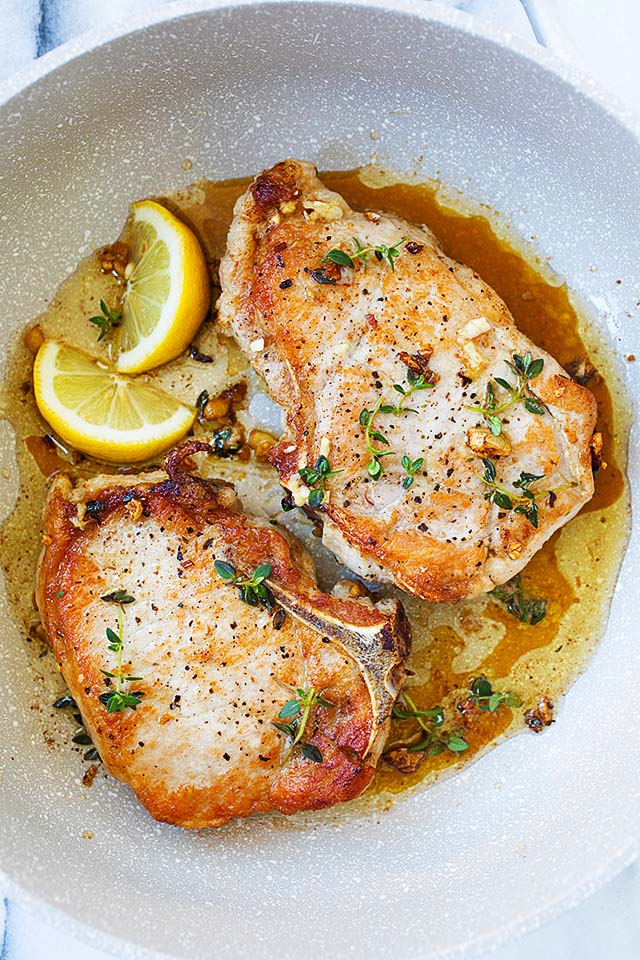 Start out by adding cooking oil and butter to a skillet and then pan-sear the pork until each side turns golden brown. Add the garlic, thyme, salt and black pepper for seasoning and dinner is done.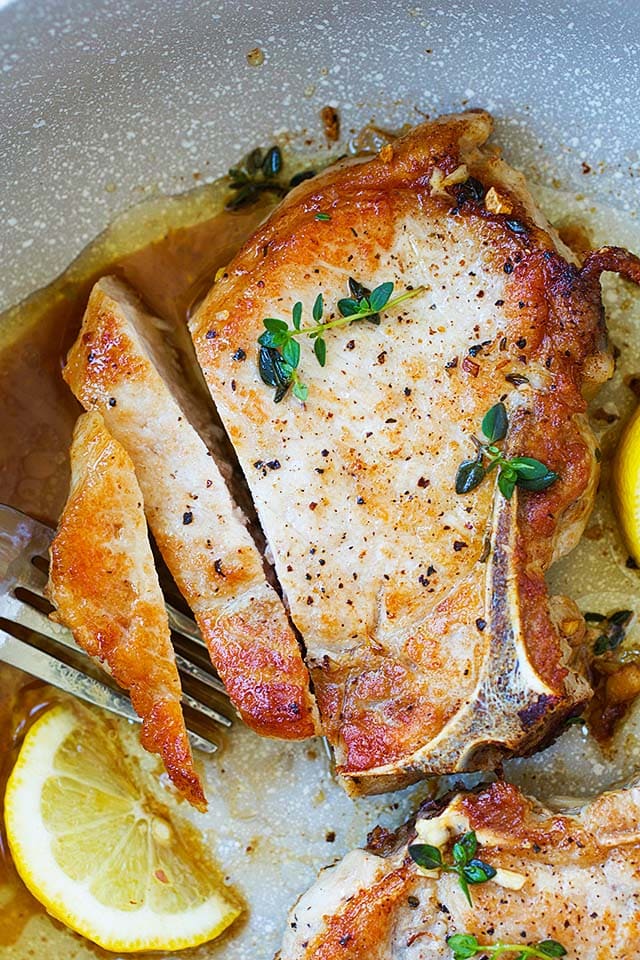 Cook's Tips
How long to cook pork chops? The length of cooking depends on the thickness of the chop, which is from 1/2 inch to 2 inches thick.
The internal temperature or the chop should be 145°F or 63°C when they are cooked.
The cooking time is the same for boneless and bone-in chops.
How Many Calories?
You don't have to worry about pork chop calories because it's low in calories and healthy. For this recipe, the calories are 322 calories per serving.
What tastes good with pork chops?
Side dishes goes well with pork, for examples:
For a healthy meal and easy weeknight dinner, I recommend the following recipes.
Pairs well with:
How to Make Pork Chops?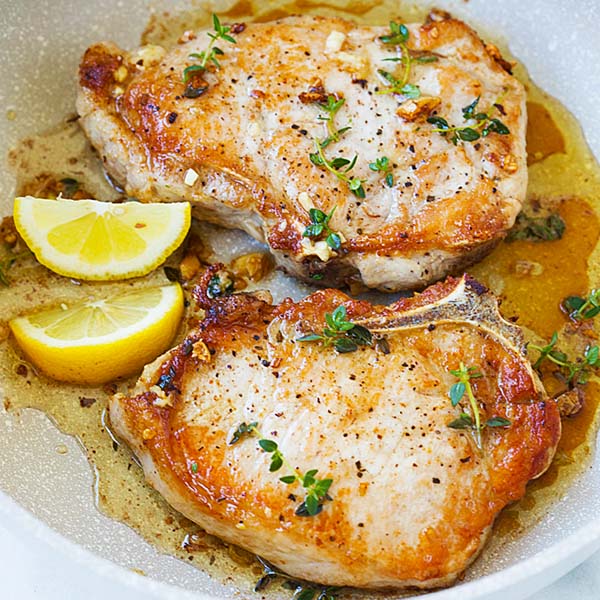 Garlic Butter Pork Chops Recipe
Garlic Butter Pork Chops - easy skillet pork chops seared with garlic butter & thyme. Juicy, tender and flavorful pork chops dinner is ready in 20 mins!
Ingredients
1

lb.

bone-in pork chops

coarse salt

ground black pepper

1

tablespoon

cooking oil

2

tablespoons

unsalted butter, melted

3

sprigs

thyme

4

cloves

garlic, minced

1

pinch

salt

lemon wedges
Click Here for Conversion Tool
Directions
Season both sides of the pork chops with salt and ground black pepper.

Heat up a skillet on medium-high heat. Add the cooking oil, melted butter and thyme. Pan sear and cook the pork chops for about 3 minutes on each side, or until the surface turns light golden brown.

Add the garlic to the skillet. Continue to flip the pork chops around and saute the garlic until light brown. Add a pinch of salt. Remove the pork chops from heat and serve immediately with lemon wedges.
Nutrition Facts
Garlic Butter Pork Chops Recipe
Amount Per Serving (2 people)
Calories 322
Calories from Fat 342
% Daily Value*
Fat 38g58%
Cholesterol 168mg56%
Sodium 121mg5%
Potassium 801mg23%
Carbohydrates 2g1%
Protein 47g94%
Vitamin A 420IU8%
Vitamin C 4.3mg5%
Calcium 60mg6%
Iron 1.8mg10%
* Percent Daily Values are based on a 2000 calorie diet.