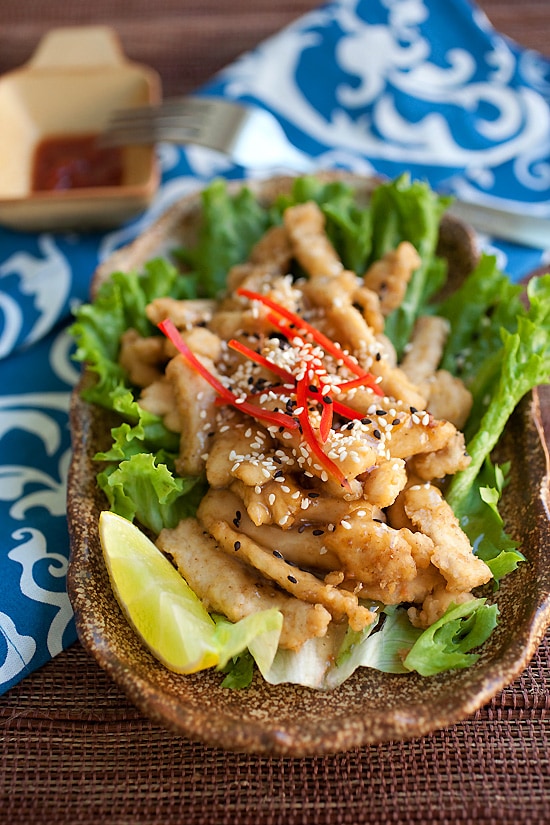 Honey Lemon Chicken
Honey Lemon Chicken – crispy chicken with the most AMAZING honey lemon sauce that is super delicious. Quick and easy recipe that anyone can make at home.
After I made the Honey Soy Chicken Wings, I have some leftover honey sitting in my fridge. As we are going on an extended vacation this coming weekend,  I am trying to use up all the remaining ingredients in the fridge before we leave. Honey is one of my favorite ingredients to use…a little bit of honey adds so much flavor and depth to simple dishes. Be it as a marinade such as Chinese char siu (BBQ pork), or as a sauce.
Honey Chicken and Lemon Chicken are two of the most popular Chinese chicken recipes on Rasa Malaysia. Well, not many people can resist small pieces of fried chicken doused in savory, sweet, appetizing, and absolutely delicious sauces made from honey and lemon juice. And that's why I am combining two of my favorite recipes into one dish: Honey Lemon Chicken, with the sweet taste from the honey, and the citrusy tang from the lemon juice. The end result is just finger-licking good and my intern and I finished the dish in no time.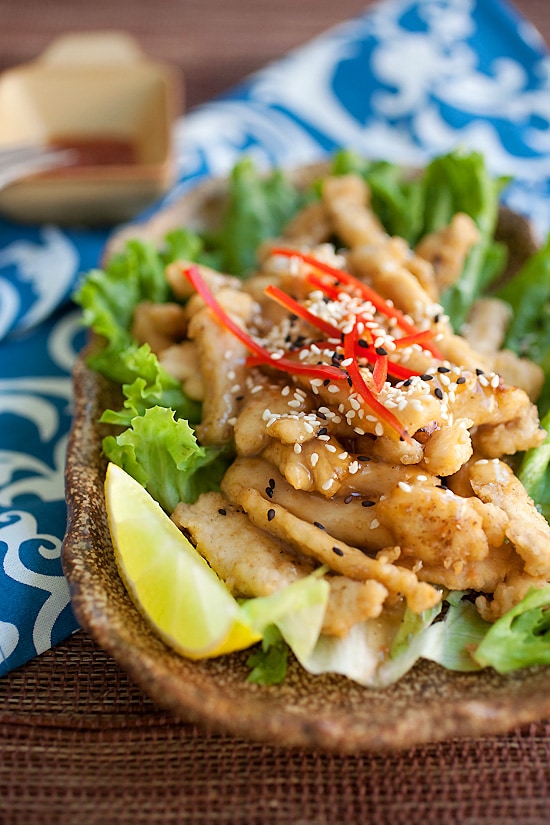 This Honey Lemon Chicken recipe is very simple to make. I know most people don't like deep-frying as it does get messy and there is a lot of oil used and mostly wasted after frying. If you do not have a deep-fryer, the easiest way to fry is actually shallow frying. You don't need a lot of oil for shallow fry, and it's not as messy if you are worried about splattering oil. If you shallow fry over medium heat, your chicken will be crispy, too, it just needs a little bit more patience than flash deep-frying with lots of oil and super high heat.
Anyway, with a dish such as this Honey Lemon Chicken, which is so tantalizing and yummy, you will want to fire up your wok or pan and attempt the recipe. Enjoy!