Honey Chicken - Popular takeout recipe with crispy, tender chicken in a sticky and sweet honey sauce that's even better homemade. Try it yourself today.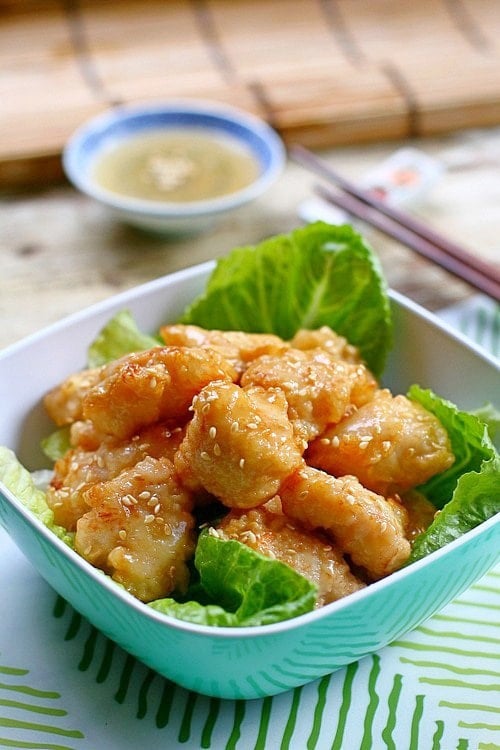 Chinese Honey Chicken
If you love this chicken, I am sure you love Chinese food, be it takeout or buffets.
Personally, I just can't get enough of crispy chicken fried on the stove top and covered in a sweet and savory honey sauce. It's finger licking good!
Most noteworthy, it makes the perfect addition to a wholesome meal.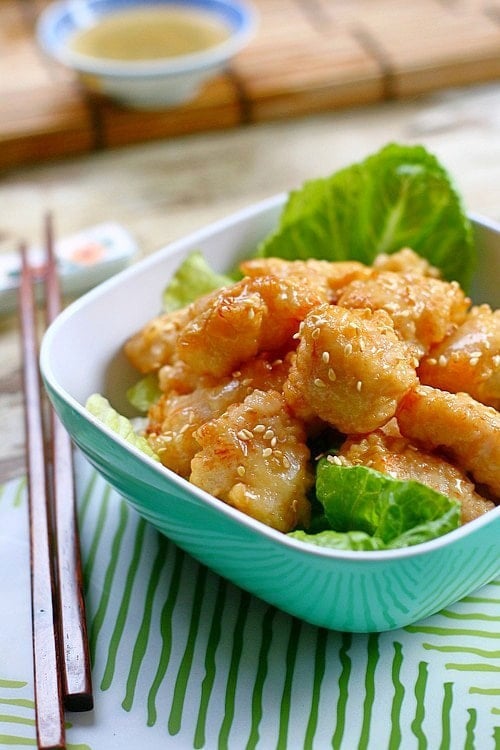 How to Make Honey Chicken
This homemade recipe is one of the easiest Chinese recipes to make at home. First of all, you will need a few key ingredients: chicken breast meat and honey, salt and apple cider vinegar for the honey glaze.
Above all, I have an amazing restaurant-quality batter recipe that makes the chicken super crispy and airy (non-greasy). After deep-frying, the chicken cubes will be mixed with the sauce and topped with sesame seeds.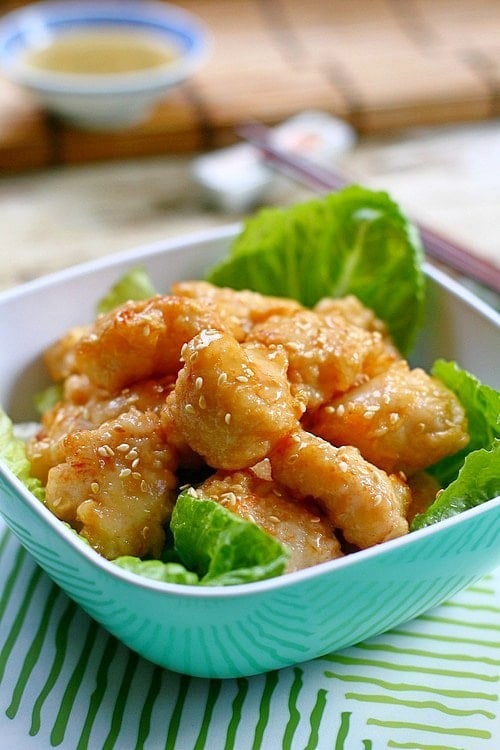 Other Recipes You Might Like
Chicken Dipped in Honey
My recipe is very versatile. You can make it like the pictures, having the crispy chicken already coated with the honey sauce. On the other hand, the recipe can even be made as an appetizer if you serve the chicken and honey sauce separately.
Also, the sauce can be made in advance and kept in the refrigerator. Therefore, you can double or triple the portions you make so you always have it handy. To serve, just pick up the chicken and dip into the honey dressing!
What Dishes to Serve with this Recipe?
This dish can be served as an appetizer or an entree.
For a wholesome meal and easy weeknight dinner, I recommend the following recipes.
Pairs well with: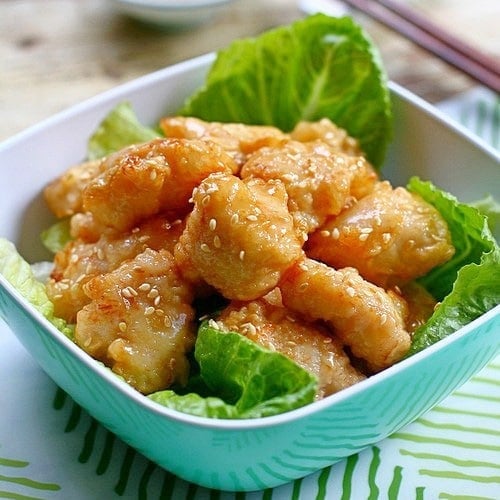 Honey Chicken Recipe
Super yummy Chinese honey chicken. Crispy chicken pieces coated with sweet and sticky honey sauce. To-die-for recipe that you can make at home.
Ingredients
Ingredients:
1

lb

boneless chicken breast, cut into 1-inch cubes

oil for deep-frying

2

cloves

garlic, sliced or lightly bruised

2

teaspoons

corn starch, mixed with 4 teaspoons of water, for sauce thickening

salt and sugar to taste

toasted sesame seeds to garnish
Frying Batter:
1

egg white

1/2

cup

all-purpose flour, sifted

1/4

cup

corn starch

1/2

teaspoon

baking powder

1/2

cup

water, ice cold

1

tablespoon

peanut oil or regular cooking oil

1/4

teaspoon

salt
Honey Sauce:
1/3

cup

pure honey

1

teaspoon

salt

1

teaspoon

Chinese cooking wine or dry sherry wine

1

teaspoon

apple cider vinegar

1/4-1/2

cup

water
Click Here for Conversion Tool
Directions
Marinate the chicken cubes with the Marinade for 5 minutes.

Make the Frying Batter. In a large bowl, lightly whisk the egg white, and mix in the rest of the Frying Batter ingredients. Batter should not be lumpy, nor too runny, but smooth. Place another bowl with ice cubes underneath the frying batter bowl. Drop in the chicken cubes, mix well until they are well coated. Let it sit for about 30 minutes to 1 hour in the refrigerator.

Prepare to make the Honey Garlic Sauce mixture. Mix all the sauce ingredients well and set aside.

Heat up a wok with deep-frying oil. Gently drop in the battered chicken cubes, one by one, making sure it is spread out to prevent sticking, overcrowding the wok, and not fried properly. Turn the heat down to medium-high, and continue to deep-fry until the color changes to golden brown and completely cooked. Dish out and drain on paper towels.

Reserve 3 tablespoons of deep-frying oil in the wok, and stir-fry the garlic until it is browned and the oil is fragrant. Dish out the garlic, and discard. Leave about 2-3 tablespoons of garlic oil in the wok.

Heat up the wok with the garlic oil from the previous step, gently pour in the Honey Garlic Sauce mixture, and bring to a light simmer, add in the cornstarch mixture to thicken the sauce, give it a quick stir and adjust salt/sugar/water to taste.

Here, you can either dish out some sauce for dipping later and just keep enough to coat the fried chicken cubes in the wok, OR, toss in the chicken and briefly stir well, making sure the chicken is well coated in the sauce, dish out and sprinkle some toasted sesame seeds and serve. Alternatively, you can also keep the sauce separate from the chicken, and dip as you eat. Serve Chinese Honey Chicken with a bowl of hot steamed Jasmine rice or serve as is, with extra toasted sesame seeds to garnish.
Nutrition Facts
Honey Chicken Recipe
Amount Per Serving (3 people)
Calories 373
Calories from Fat 69
% Daily Value*
Fat 7.7g12%
Cholesterol 130mg43%
Sodium 551mg24%
Carbohydrates 20.8g7%
Protein 54.4g109%
* Percent Daily Values are based on a 2000 calorie diet.