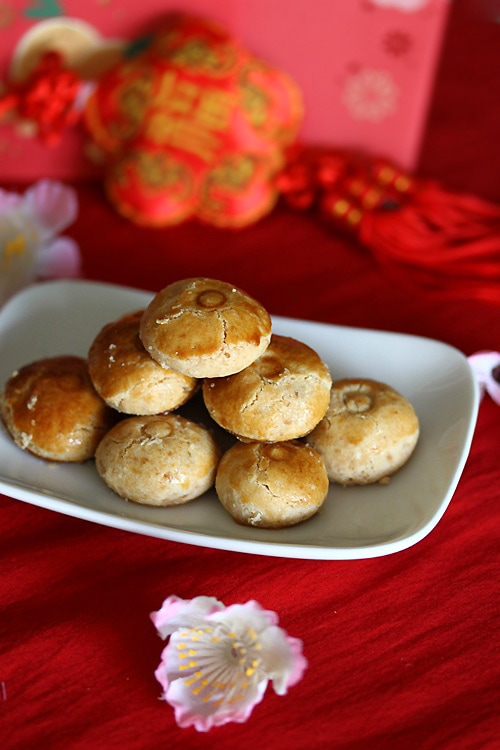 Peanut cookies are one of my favorite Chinese New Year cookies. I grew up helping my aunt making hundreds of them. Shaping them into round balls, slightly flattened them with the cap of toothpaste to form the circle pattern on top of the cookies before brushing the top with an egg wash. Peanut cookies are crumbly and absolutely addictive. Once I start eating, I just can't stop. Check out this peanut cookies recipe by my contributor Siew Loon. Don't forget to scroll down and check out other festive baking recipes for Lunar New Year.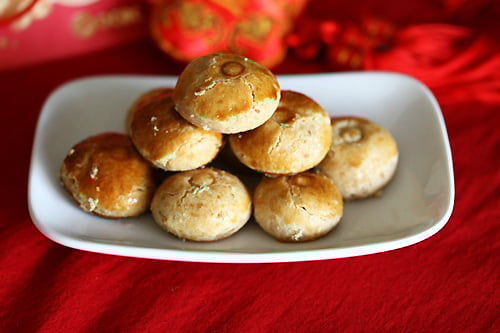 Happy 2012 to all the readers! Time flies and with just a wink of an eye, 2011 has ended. Lunar New Year is just 3 weeks away and I am sure all of us are looking forward to eat lots of good food, gatherings with the loved ones and "ang pow" (red packets). I have managed to squeeze in some time during the long holidays to bake some of my favorite cookies, including peanut cookies. It is kind of addictive and once you pop one into your mouth you will definitely come back for more.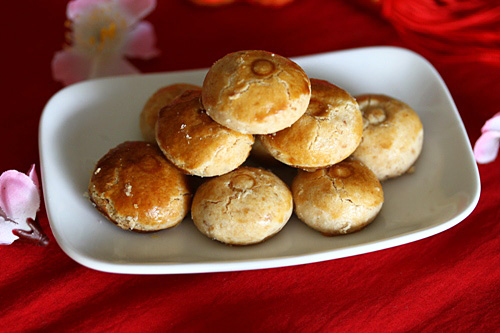 Peanut cookie is a traditional Chinese New Year cookies. I remember my mom making them every year during for Lunar New Year. It is mainly made of peanuts and blended with oil and flour. Peanut cookies are obviously not a very healthy snack but they are too good. As it is for the Lunar New Year celebration, just indulge and enjoy them with a cup of Chinese tea.
More Lunar New Year Baking Recipes:
| | |
| --- | --- |
| | |
| Pineapple Tarts | Pineapple Cookies |
| | |
| Cornflake Cookies | Kuih Bahulu |
| | |
| Kuih Bangkit | Pineapple Rolls (Nastar) |
.