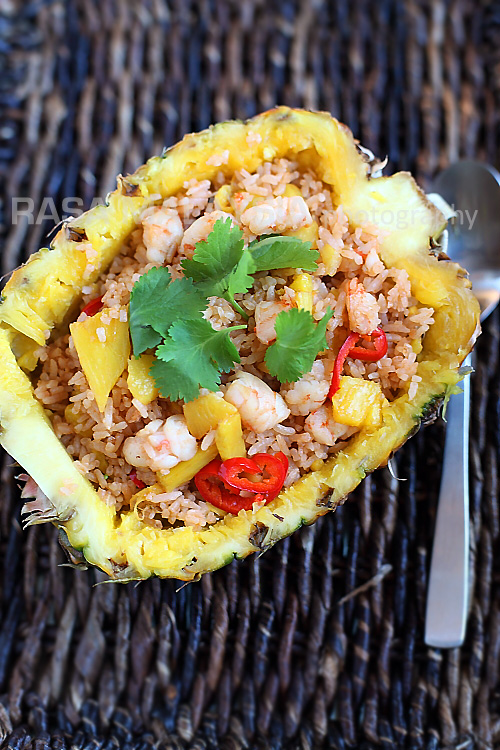 Pineapple Fried Rice Recipe
Ingredients:
8 oz. leftover and overnight rice
2 cloves garlic (finely chopped)
4 oz. fresh pineapple (cut into small pieces)
4 oz. shrimp (shelled and deveined, leave whole or cut into small pieces)
2 tablespoons cashew nuts (optional)
1 teaspoon shrimp paste
1 tablespoon fish sauce
1/2 tablespoon pineapple juice
1/4 teaspoon dark soy sauce (for coloring)
1 fresh red chili (seeded and cut into small pieces)
2 tablespoons oil
Cilantro leaves for garnishing
Method:
Heat up a wok and add cooking oil. Stir-fry garlic, red chili, and shrimp paste until aromatic. Add shrimp and stir-fry until half-cooked. Add rice, pineapple pieces, pineapple juice, and do a few quick stirs. Add fish sauce and dark soy sauce to blend well with rice. Stir-fry for another minute or so, dish out and serve immediately.
Cook's Note:
If you have cashew nuts, add them towards the end of the cooking process.