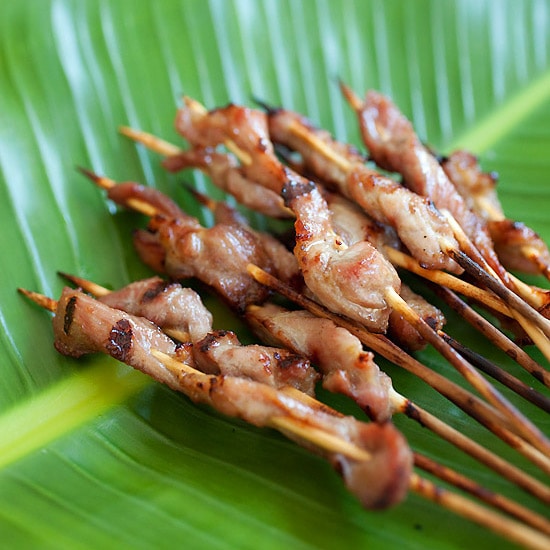 Pork Satay with Sweet Coconut Milk Glaze
Thai pork satay with sweet coconut milk glaze – easy and delicious pork satay marinated with Thai spices and coconut milk | rasamalaysia.com
Prep time:
Cook time:
Total Time:
Ingredients:
SPECIAL EQUIPMENT
6-inch wooden skewers, soaked in water for 30 minutes
MEAT
2 pounds boneless pork shoulder, sliced 1/4 inch thick and cut into 4-inch strips
MARINADE
14 ounce coconut milk
2 tablespoons fish sauce
2 tablespoons sugar
1 1/2 teaspoons curry powder
1 teaspoon salt
1 teaspoon ground white pepper
1/3 cup condensed milk
Method:
1. In a saucepan, combine all the Marinade and whisk over moderate heat until the sugar is dissolved. Pour the marinade into a large bowl and let cool completely.
2. Mix the pork in the marinade, cover with plastic wrap and refrigerate for 1 hour.
3. Fire up the grill. Skewer the pork and grill over moderately hight heat, turning until the pork is lightly charred and cooked through. Serve immediately.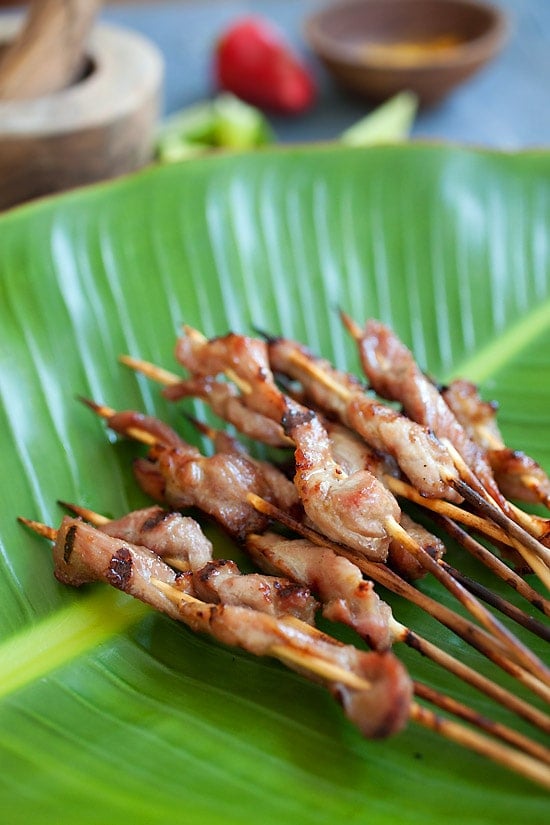 My summer recipes continue today with these pork satay with sweet coconut milk glaze. When it comes to satay, we often go for chicken satay, be it Malaysian chicken satay or beef satay, Thai chicken sate, or Indonesian satay. The truth is, pork is great as satay. Imagine sticks after sticks of porky goodness, glazed with sweet coconut milk glaze…the aroma, flavor, taste, and texture of these pork satay rival the best chicken satay you have tried.
If you go to Thailand, most of the satay you will find on the street are pork satay. They look just like the pictures I have above, thin strips of pork meat grilled to perfection, freshly displayed on the roadside carts or food stalls. These pork satay are grilled over charcoal fire right off the street, and hence the aroma beckons in the humid and warm air. It's so easy to go overboard with these satay because they are cheap, so buy a bundle of 10 sticks or 20 sticks, and you just munch away as you wander around the city. It's such a fun, and tasty experience.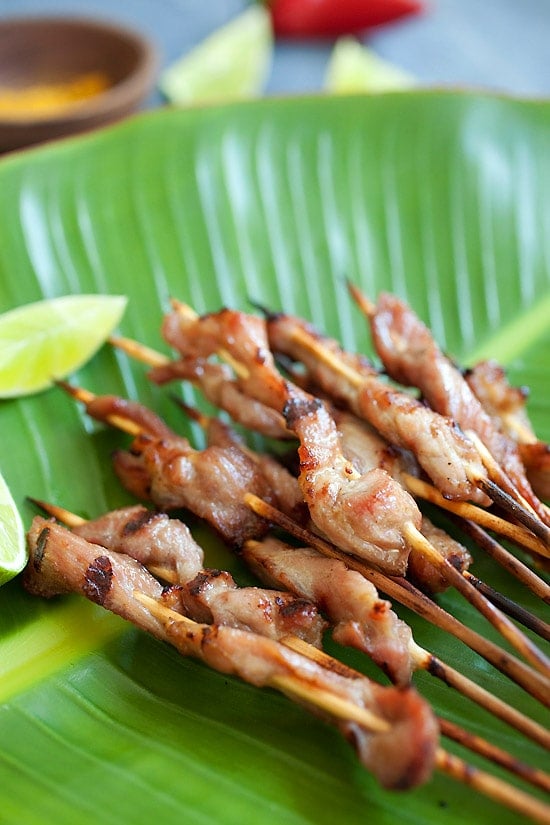 Anyway, this pork satay with sweet coconut milk glaze recipe is from the recent issue of Food & Wine magazine. The recipe was developed by the talented young chef Kris Yenbamroong of Night + Market in Hollywood, an acclaimed Thai restaurant which I had tried. This recipe yields quite many sticks of pork satay but I will assure you that they will be gone in no time if you serve them.
As July 4th is less than a week away, you might want to try out this special pork satay recipe this year!