Yong Tow Foo/Yong Tau Fu Recipe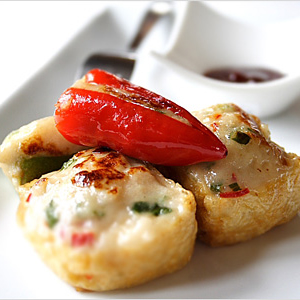 http://rasamalaysia.com/recipe-yong-tow-foo-stuffed-tofu-chili/
Yong Tow Foo/Yong Tau Fu Recipe
For the hungry eyes such as this, this, and this, please ogle your food porn. And while you are at it, wear a napkin around your neck. (Rumor has it that a certain uncle is contemplating a new career in tissue paper manufacturing, specially for Rasa Malaysia readers!)
For the budding cook and serious cooks such as that, that, and that, stay tuned for my secret recipe tomorrow.
Good night and have fun drooling browsing.
The secret ingredient of this delicious dish is Cha Ca Fish Meat Emulsion. Easily found at the frozen food section in Asian food stores, this fish paste tastes fresh and non-fishy.
While the Yong Tow Foo dishes served in Malaysia are usually drenched in a clear and soupy broth, I prefer my Yong Tow Foo steamed, lightly pan-fried and topped with yellow bean sauce. (This is, again, another homestyle recipe that I learned from my mother.)
So, without further ado, here is my recipe for Rasa Malaysia Yong Tow Foo or stuffed tofu, chili, and okra with fish paste.
Sign Up for Email Updates
Enter your email for new updates: recipes, giveaways, and more!