Teriyaki Chicken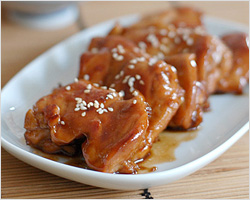 http://rasamalaysia.com/teriyaki-chicken-recipe/
(Check out the new Chicken Teriyaki Recipe)
Please welcome My Cooking Hut (please check out her curry laksa post) back as she guest posts yet another droolsome dish: Japanese teriyaki chicken and shares her teriyaki chicken recipe with us.
I believe I don't have to elaborate too much what Teriyaki Chicken is. This ever so popular Japanese dish is really well known is any part of the world. The word, teriyaki is a combination of two Japanese words "teri" and "yaki." Teri means luster and yaki means grill or broil.
Teriyaki sauce can be bought in a bottle at any supermarkets. The leading brand is probably Kikkoman that I know of. For me, I prefer to mix the sauce from scratch–it tastes better I reckon. It's not at all complicated to make teriyaki sauce. The main ingredients are mirin, sake, soya sauce, and sugar. Some recipes add grated ginger.
For Teriyaki chicken, I definitely think chicken thighs suit the most. I prefer chicken thighs over chicken breasts. I think the meat tends to be more succulent, firm and smooth. I chose to debone the chicken thighs so that it's less messy to eat. Teriyaki chicken is usually eaten with boiled rice or it could also be served over a bed of salad. Either way is great! It's really quick to make this dish–probably 20 minutes or so. You can also try out my chicken teriyaki recipe, which takes only4 ingredients to make the chicken teriyaki.
Click Images Below for Similar Recipes:
LOVE THE RECIPE & PHOTOS? PLEASE SHARE:
Sign Up for Email Updates
Enter your email for new updates: recipes, giveaways, and more!