Braised Pork Belly (Filipino Humba) - Pork belly coated in a sweet glaze of panocha and given flavor with soy sauce, salted black beans, and star anise.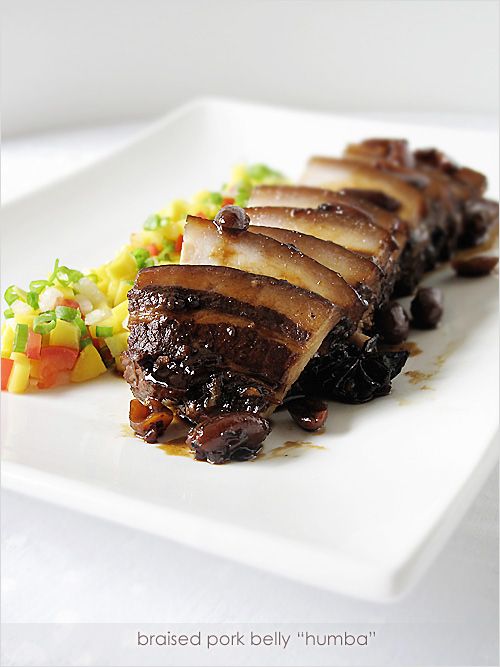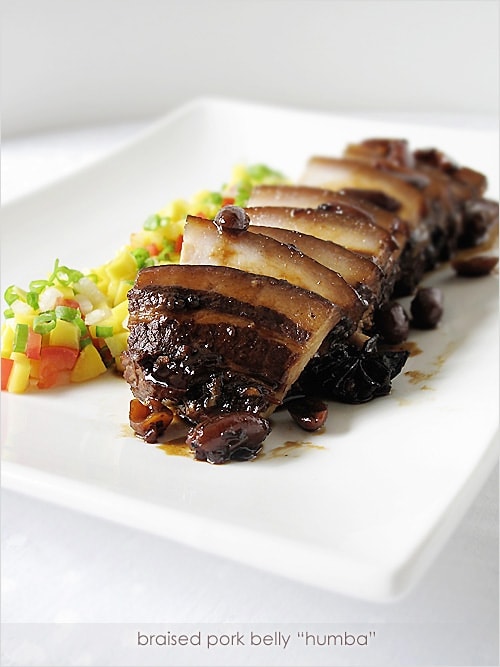 Greetings! I am currently in Beijing and will be in Asia for a few weeks, including a brief side trip back to Penang.
I will try to blog and share my experiences with you, but today, let's welcome guest blogger Franco from the Philippines at Table for Three, Please.
Franco and his wife recently joined my family's culinary tour in Penang and enjoyed it.
You can read their experiences here. Table for Three is a wonderful blog that offers a visual glimpse of Filipino cuisine (which many people wish to learn more) with well-articulated posts and a down-to-earth voice, which I admire and adore. Franco made braised pork belly or "Humba" for us. Dig in and enjoy!
Good food always travels.
Humba is an interesting dish. This slow braised pork belly is coated in a sweet glaze of panocha or palm sugar and given depth of flavor with the addition of soy sauce, salted black beans, and star anise.
Although this dish finds its local roots in the Eastern provinces of Samar and Leyte, just by casually perusing the ingredients listed below, it is clear that this "local" dish has origins beyond our own shores.
If you are willing to search further, it would seem that most Asian culinary cultures have a version of this dish of braised pork belly, sweetened by sugar and balanced by a savory counterpoint of soy sauce, rice wine or even fish sauce. The Chinese flavor their Dongpo Pork with Shaoxing wine.
The Vietnamese mix eggs with their Thit Heo Kho Trung. The Japanese savor their Buta No Kakuni with hint of sake. The list goes on.
Even within every Filipino household, the preparation of this simple Humba varies greatly.
Besides the usual addition and subtraction of ingredients, some recipes recommend the use of pig trotters instead of the more common pork belly.
Adding to complexity of this dish, other recipes even suggest adding mushrooms, banana blossoms, rice wine, hard-boiled eggs and even potatoes into the mix.I choose to keep things relatively simple–cooking a tried-and-true family recipe.
How Many Calories per Serving?
This recipe is only 182 calories per serving.
What Dishes to Serve with This Recipe?
For a wholesome meal and easy weeknight dinner, I recommend the following recipes.
For more great recipes like this, sign up for our newsletter. We'll send daily recipes you'll love!
Join
Sign up for our newsletter!
Braised Pork Belly (Filipino Humba)
Humba is an interesting dish. This slow braised pork belly is coated in a sweet glaze of panocha or palm sugar and given depth of flavor with the addition of soy sauce, salted black beans, and star anise.
Ingredients
5

cups

water

(or enough water to cover the pork belly)

3

lbs.

pork belly, trimmed of thicker layers of fat

6

cloves

garlic

(peeled and minced)

¾

cup

white vinegar

¼

cup

soy sauce

1

cup

palm sugar

2

tablespoons

salted back beans

1

teaspoon

ground black peppercorns

2

bay leaves

¼

cup

peanuts

(roasted with skins off)
Instructions
In a stockpot, place the water and pork belly. Bring the water to a rolling boil, leaving the pork to par-boil for at least 10 minutes. Take the pot off the heat and leave the belly in the water until cool. Remove the pork from the pot and place in the freezer to quickly chill. Reserve the boiling liquid or broth and place it in a refrigerator for later use.

In a large mixing bowl, combine all the other ingredients. Mix well until the palm sugar has completely dissolved. This mixture will serve as both marinade and braising liquid.

Once the pork belly has achieved a comfortably sliceable consistency, remove it from the freezer and cut the belly into three-inch squares. Place pork cubes in the marinade and keep in refrigerator overnight.

An hour or two before braising, remove both the marinating pork belly and the reserved broth. Scrape off the layer of fat that has formed above the broth.

In a heavy pot, place the pork belly, the marinade and broth over high heat. Once at a boil, reduce the heat to a gentle simmer and let it cook for at least two to three hours, or until tender. Watch the fatty layer of the belly. If it begins to jiggle as it braises, the pork is tender and is ready to serve. You can also use a more conventional technique, which is to poke the pork with a fork.

Once the pork is tender, remove the braised belly and set aside. Discard the bay leaves, turn up the heat under the braising liquid and reduce it to a slightly viscose-like sauce.
Notes
Like most braised meat, Humba makes great leftovers. Store the braised pork with the sauce in an airtight container in the freezer. To reheat, transfer to a heatproof serving dish and steam until warm through.
Serving this dish can be as simple as placing the braised pork in a bowl and pouring the reduced sauce over it–with bowls of steaming hot rice on hand. Or you could do it my way. I divide the pork belly into bite-size pieces, carefully pour the sauce (including the peanuts and black beans) over thin slices of pork and serve it with a side of ensalandang mangga or a simple chopped salad of mangoes, tomatoes and white onion–sharp sour flavors to contrast with the sweet fatty pork.
We may not be able to claim this dish as singularly our own. But our version, Humba, speaks to things that Pinoys love: our enjoyment of rich, vibrant and contrasting flavors, our obsession with all that is pork and our deep-seated passion for food that reminds us of home.
Nutrition

Nutrition Facts

Braised Pork Belly (Filipino Humba)

Amount Per Serving (4 people)

Calories 182

Calories from Fat 1665

% Daily Value*

Fat 185g285%

Cholesterol 244mg81%

Sodium 1001mg44%

Carbohydrates 41g14%

Protein 36g72%

* Percent Daily Values are based on a 2000 calorie diet.

Notice: Nutrition is auto-calculated, using Spoonacular, for your convenience. Where relevant, we recommend using your own nutrition calculations.