Asparagus Beef - Asparagus beef is a Chinese recipe made with asparagus and beef in yummy brown sauce. Easy asparagus recipe in 30 minutes!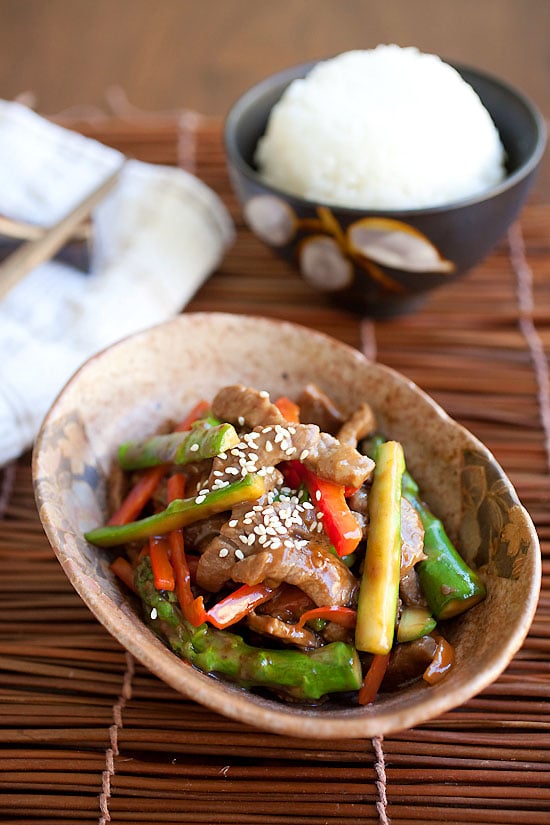 A few readers emailed me about Chinese asparagus beef recipe, one of the more popular beef recipes you can order at Chinese restaurants in the United States. Asparagus is a great vegetable to cook, especially with the protein of your choice, be it chicken, beef, or shrimp.
I love the idea of asparagus beef, in a savory sauce, with some red bell peppers, and hence this asparagus beef recipe that goes very well with steamed white or brown nice.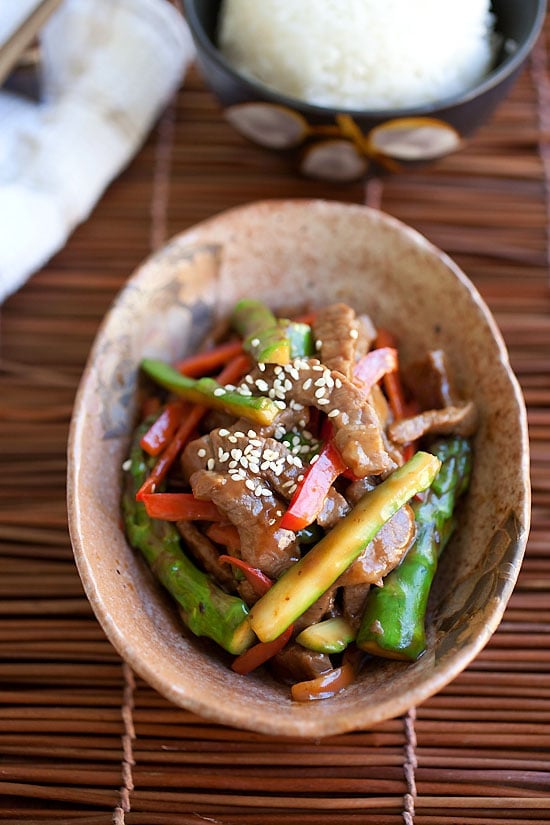 Other Recipes You Might Like
One of the common mistakes of Chinese stir-fry is the sauce—gloppy, gooey, and starchy brown sauce that makes the entire dish unappetizing. The best Chinese stir-fries should be light, with just the right amount of sauce coating the beef or chicken.
The beef should be sliced against the grain so they are tender when cooked, and the Chinese techniques of "velveting" and marinating the protein with some cornstarch makes the meat even more juicy and tender. I discussed all the techniques of Chinese stir-frying and cooking in my cookbook Easy Chinese Recipes.
If you are interested, you can get a copy at Amazon.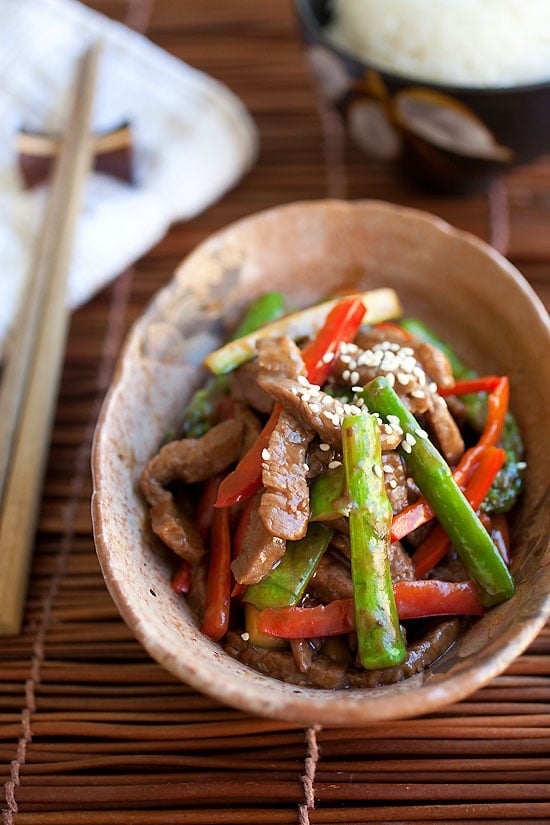 Anyway, another technique of making meat (beef or chicken) extra juicy and moist is to seal in the moisture content in the meat by flash frying the meat in really hot oil, or a quick stir-fry until they are half cooked.
I always use the second method, which is outlined in the recipe section.
Here is my asparagus beef recipe. If you don't eat beef, you can always make it with chicken or shrimp. Either way, it is a delicious dish that you and your family will enjoy.
Bon appetit!
How Many Calories per Serving?
This recipe is only 250 calories per serving.
What Dishes to Serve with This Recipe?
For a wholesome meal and easy weeknight dinner, I recommend the following recipes.
5 Secrets to 20 Min Dinners
Get tricks for quick & easy meals!
Yield: 4 people
Asparagus Beef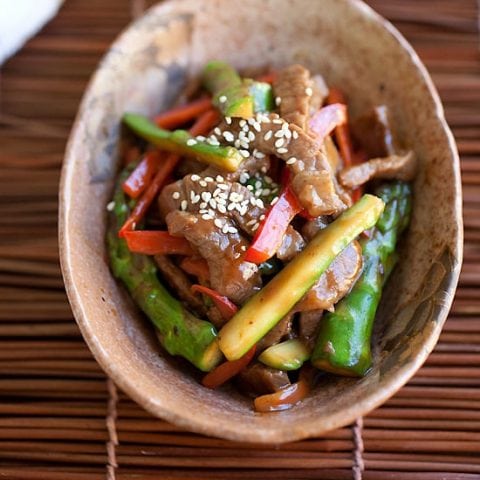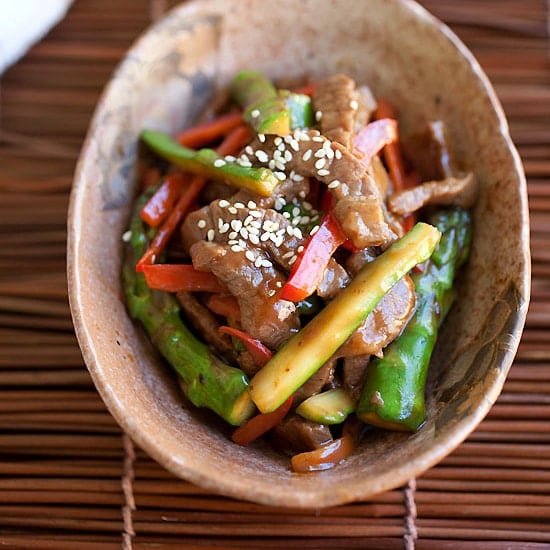 Asparagus beef is a Chinese recipe made with asparagus and beef in yummy brown sauce. This recipe takes 20 mins.
Ingredients
8 oz. (226 g) beef, cut into thin strips
2 tablespoons oil
1 clove garlic, minced
6 oz. (170 g) asparagus, cut into long strips
One small red bell pepper, cut into long strips
Marinade:
1/2 teaspoon sugar
1 teaspoon corn starch
3 dashes ground black pepper
1 teaspoon fish sauce or oyster sauce
2 tablespoons water
1 tablespoon soy sauce
Sauce:
1 tablespoon oyster sauce
1 tablespoon black/dark soy sauce for coloring purpose
1 teaspoon sugar
2 teaspoons shaoxing wine
2 tablespoons corn starch
1/2 cup water
1 pinch salt
Instructions
Marinate the beef with all ingredients in the Marinade, for 15 minutes.
Combine all the ingredients in the Sauce, stir and mix well, set aside.
Heat up a wok and add 1 tablespoon oil. When the oil is fully heated, add the beef and do a few quick stirs, until the surface turns opaque and slightly charred. Transfer out and set aside.
Clean the wok and add the remaining 1 tablespoon of oil. When the oil is fully heated, add the garlic and stir-fry until aromatic. Add the asparagus stir a few times before adding the beef back into the wok.
Add the Sauce and stir to combine well. Stir in the bell pepper and dish out to serve
Nutrition Information
Yield
4
Serving Size
4 people
Amount Per Serving
Calories

250
Total Fat

18g
Saturated Fat

10g
Unsaturated Fat

0g
Cholesterol

40mg
Sodium

795mg
Carbohydrates

9g
Fiber

1g
Sugar

3g
Protein

12g