Branzino is the Italian name for European Sea Bass. This is the best Branzino recipe uses fresh Branziso fish filet and Japanese seasonings, pan grilled and smoked. It's fine dining and Michelin-star restaurant quality!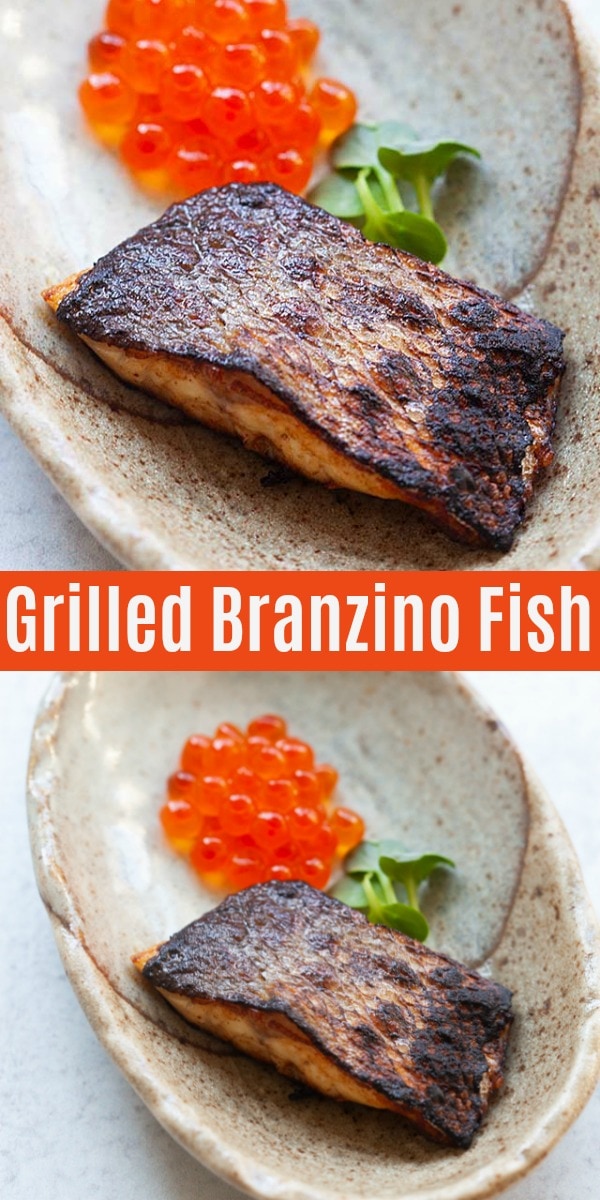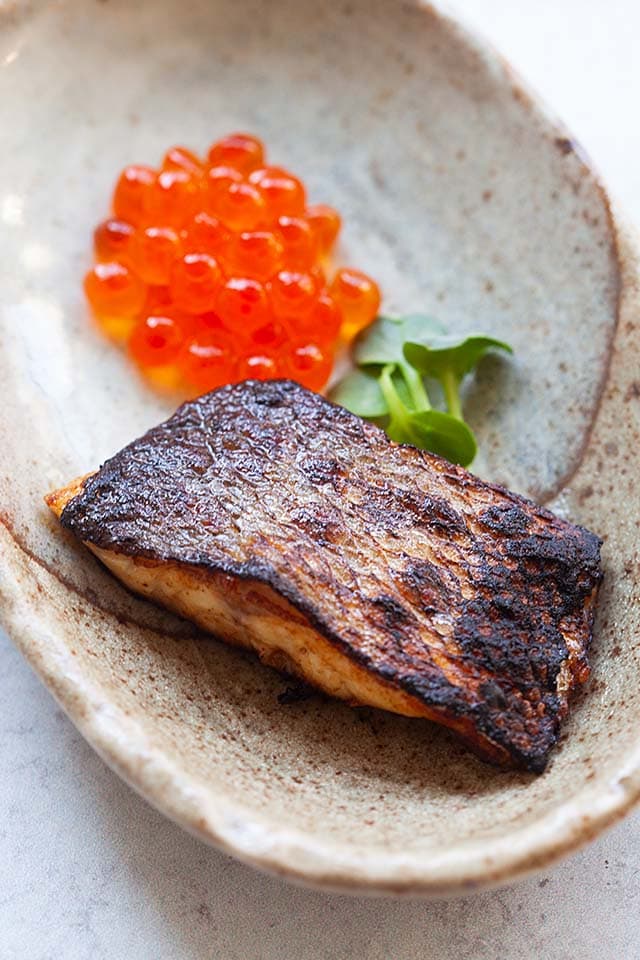 Branzino Fish
What is Branzino?
Branzino is an Italian word, also called European Sea Bass. The fish is native to the waters off the Mediterranean (western Europe).
It's one of the most popular fish in Italy and often served whole and roasted, with olive oil, lemon, capers, olive and parsley.
The fish has silver skin, lean and long, with a lot of scales. It weights from 1 – 3 lbs.
It has soft and tender white flesh after cooking and prized for its mild, delicate taste and flaky texture.
It's a fish commonly served in fine dining and fancy restaurants in Europe and United States.
To learn all about the fish, please check out the PDF by Sustainable Catch Seafood.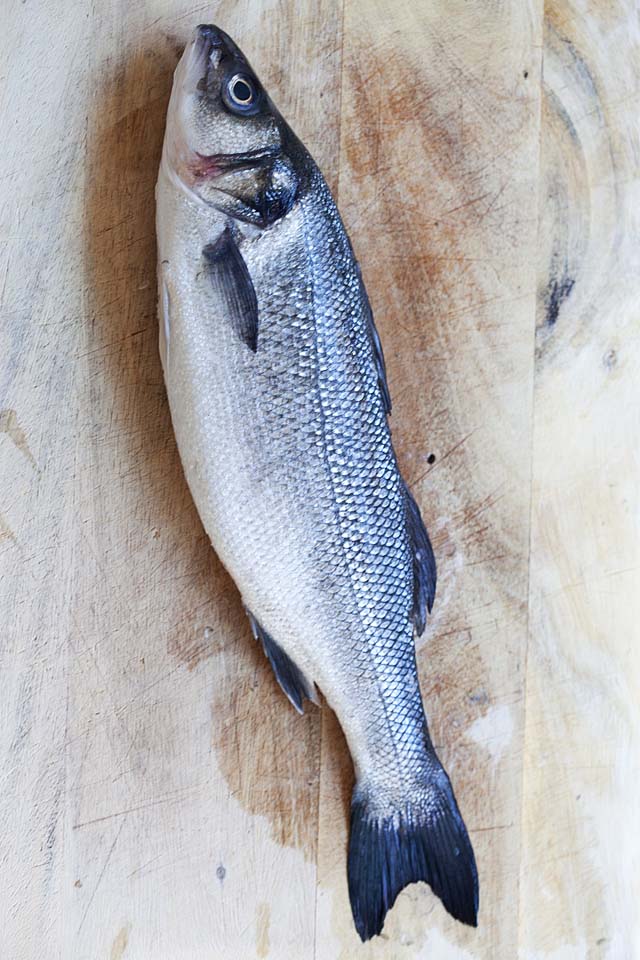 Other Fish Recipes You Might Like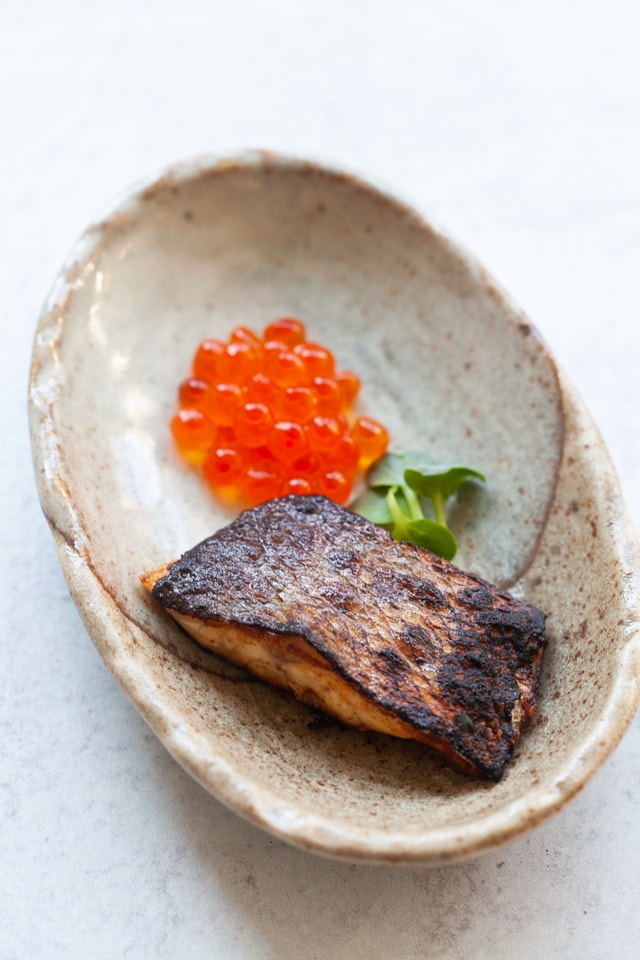 Branzino Recipe
This is a Japanese-inspired branzino recipe that you will find in Michelin-star restaurants.
In fact, I developed this recipe based on a recent dining experience at n/naka, a 2-star Michelin Japanese restaurant.
This recipe is absolutely amazing and I hope you get to try it if you can find Branzino at your fish market.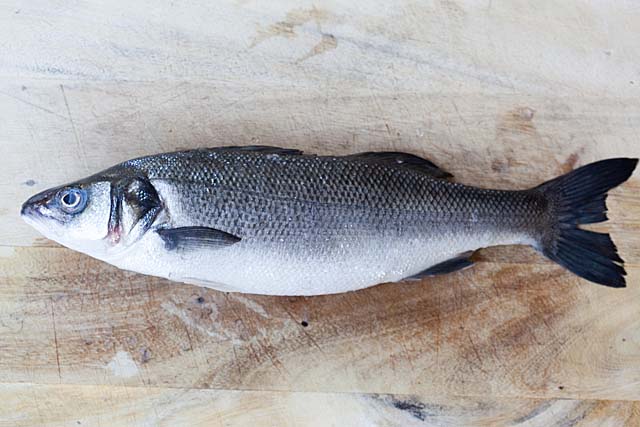 Whole Branzino Vs Branzino Filet
The fish can be prepared both ways, either whole or filet.
I like both; whole fish and fillet are equally delicious and tantalizing.
For many Americans, serving whole fish with its head, tail and fish bones are not common.
In this case, Branzino filet will be great for a variety of cooking methods: pan-searing, roasting or baking in oven.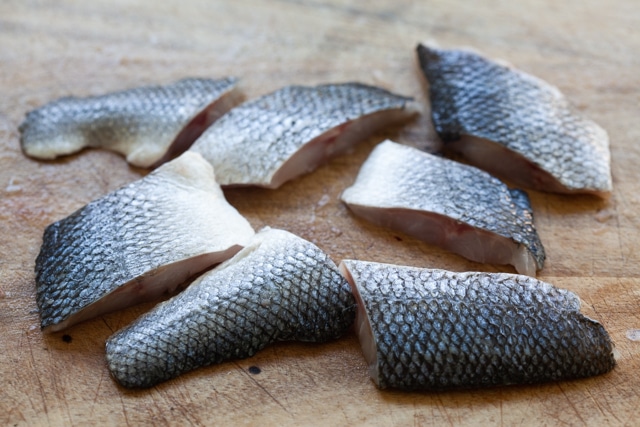 How to Clean Branzino?
It's very easy to prepare the whole fish. First, you start off by scaling the fish thoroughly.
I like using a Chef's knife to scrape off the scales. Make sure you scrape the scales in an upward motion to remove them. Make sure you don't scrape off the silver skin.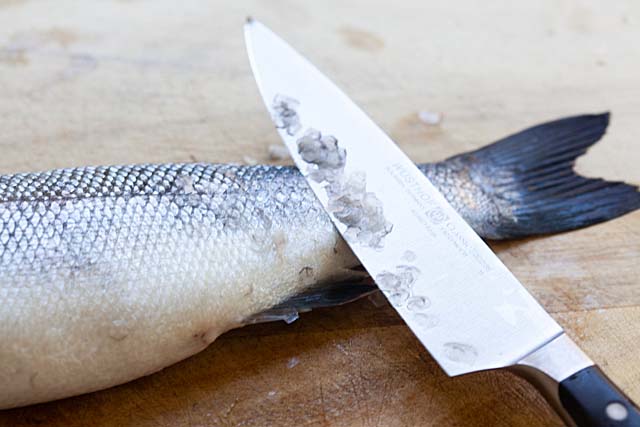 Next, you can remove the gills by hand.
To gut the fish, slice an opening along its belly, all the way from below the gill down to the bottom part of its belly.
The fish has a lot of fatty guts inside the stomach cavity. You may pull out the guts by using your hand.
You might need a pair of kitchen scissors to help cut off the guts.
After gutting the fish, rinse the inside and outside of the fish thoroughly with cold running water.
Pat dry with paper towels and the fish is now ready to be cooked whole or cut into Branzino filet.
Frequently Asked Questions
Can I Grill Branzino?
Yes, absolutely. One of the most popular ways to cook the fish is grilled Branzino whole.
Other than grilling, another cooking method is oven baked or roasted.
In fact, in the Mediterranean, the fish is best roasted whole with lemon, olives and parsley.
Is Branzino a Good Fish?
Yes, it's a great fish and especially popular in fine dining restaurants. It's also packed full of nutrition such as protein and vitamins.
How Many Calories per Serving?
This recipe is only 344 calories per serving.
What to Serve with This Recipe?
Serve this dish with other Japanese dishes. For a Japanese meal at home, I recommend the following recipes.

For more great recipes like this, sign up for our newsletter. We'll send daily recipes you'll love!
Join
Sign up for our newsletter!
Branzino Recipe
The best Branzino recipe uses fresh Branziso fish filet and Japanese seasonings, pan grilled and smoked. It's fine dining and Michelin-star restaurant quality!
Ingredients
1

lb.

whole Branzino fish

1

tablespoon

cooking oil
Instructions
How to Clean Branzino?
Rinse the fish with cold running water. Pat dry with paper towels. Lay the fish on a cutting board. Using a pair of Chef's knife, scrape off the scales using an upward motion Make sure both sides of the Branzino fish is properly scaled and cleaned off. Do not miss the sides of the fish.
How to Cut Whole Branzino to Branzino Filet?
Position the Chef's knife horizontal. Start at the tail and slice into the flesh. Make sure you get as close to the bone as possible, to get the most filet out of the whole fish. Slice in an upward motion and cut off the filet off the body. Repeat the same on the other side of the fish. Leave out the stomach and head section. Make sure you slice off as much flesh as possible.

Cut the Branzino filet into smaller bite-sized pieces.

In a container, mix together all the ingredients in Marinade. Stir to mix well. Transfer the Branzino filet into the Marinade, make sure both sides are nicely coated with the Marinade. Cover the container and let marinate in the fridge for 2 hours or best overnight.
How to Grill Branzino?
You can grill the fish filet with an outdoor grill or pan grill using a skillet. Heat up a skillet on medium heat with 1 tablespoon cooking oil. Transfer the fish filet with skin side down. Pan grill and cook the fish until the skin turns crispy, about 1 minute. Turn over gently and cook the other side until the fish filet is cooked through and slightly browned and charred.

Transfer the fish out gently and let cool on the plate. To smoke the fish, heat up a stovetop smoker with 1 tablespoon of wood chips, Place the fish let on on a sheet of aluminum foil and cover the lid.

Turn on medium-low heat and smoke for 5 minutes. Remove the smoker from heat and let the fish smoke for another 5 minutes.

Transfer the Branzino fish out and serve immediately with some micro greens and Japanese salmon roes (ikura).
Notes
This recipe is inspired by my dinner at n/naka, a two-star Michelin Japanese restaurant in Los Angeles.
If you can't find Branzino, you can use red snapper for this recipe.
I used Lee Kum Kee brand oyster sauce to marinate the fish.
Nutrition

Nutrition Facts

Branzino Recipe

Amount Per Serving (1 g)

Calories 344

Calories from Fat 108

% Daily Value*

Fat 12g18%

Cholesterol 109mg36%

Sodium 392mg17%

Carbohydrates 5g2%

Protein 49g98%

* Percent Daily Values are based on a 2000 calorie diet.

Notice: Nutrition is auto-calculated, using Spoonacular, for your convenience. Where relevant, we recommend using your own nutrition calculations.