Chicken Patties - juicy chicken patty recipe with teriyaki sauce. One of the best ground chicken recipes ever! So good and even the pickiest eaters love them.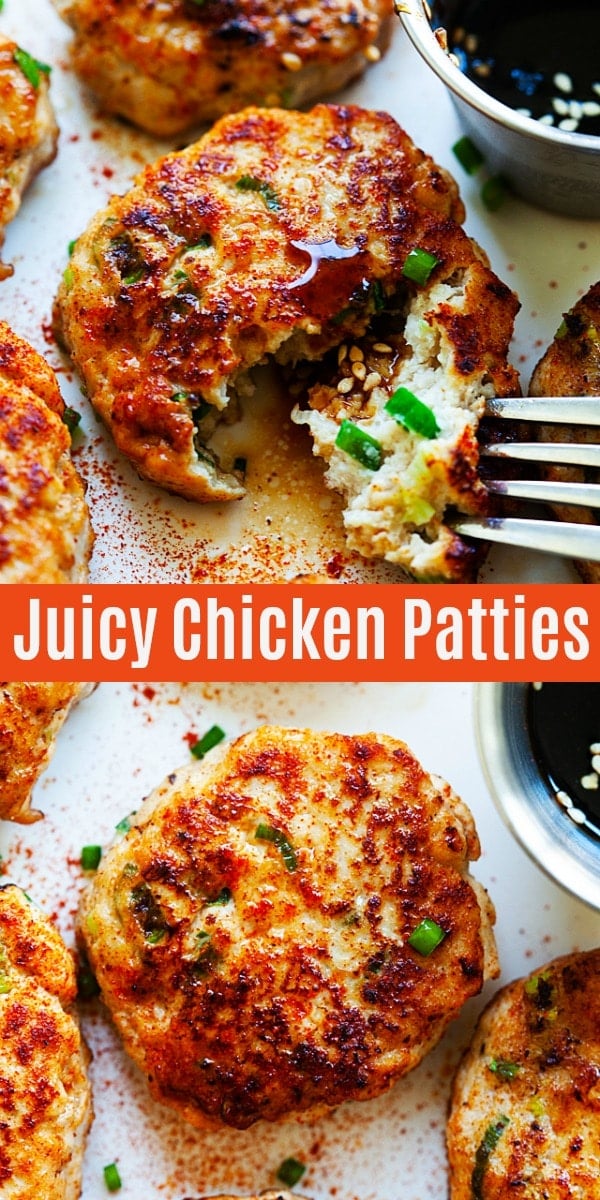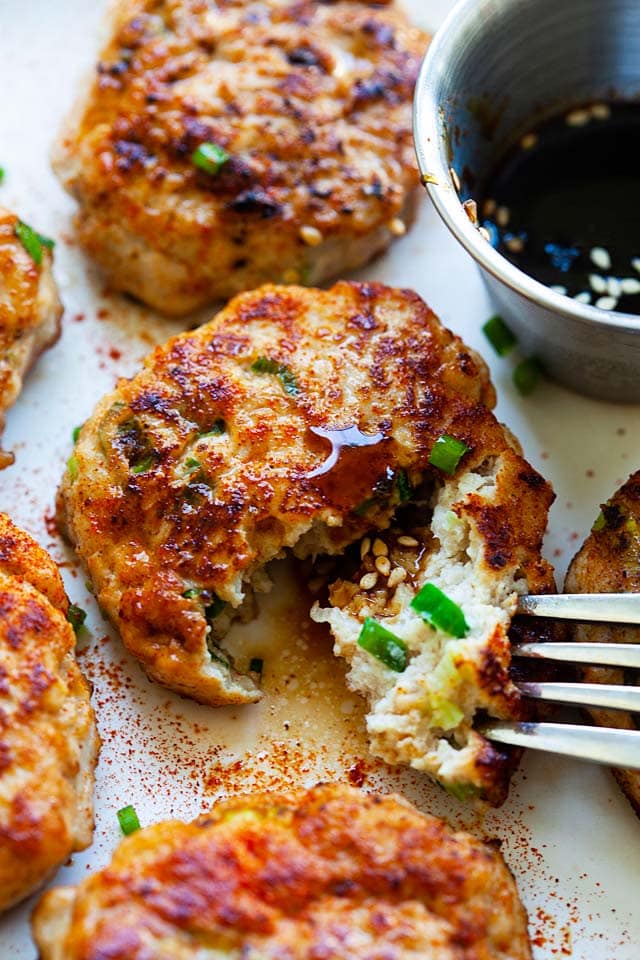 Chicken Patty Recipe
If you love ground chicken, you're going to love this extremely juicy, moist and healthy chicken patties recipe.
The chicken is well seasoned with just the perfect balance of flavors. It's so moist with the juice practically bursts in the mouth.
Serve them as is or best with a dipping sauce such as teriyaki sauce. These are the BEST chicken patties ever!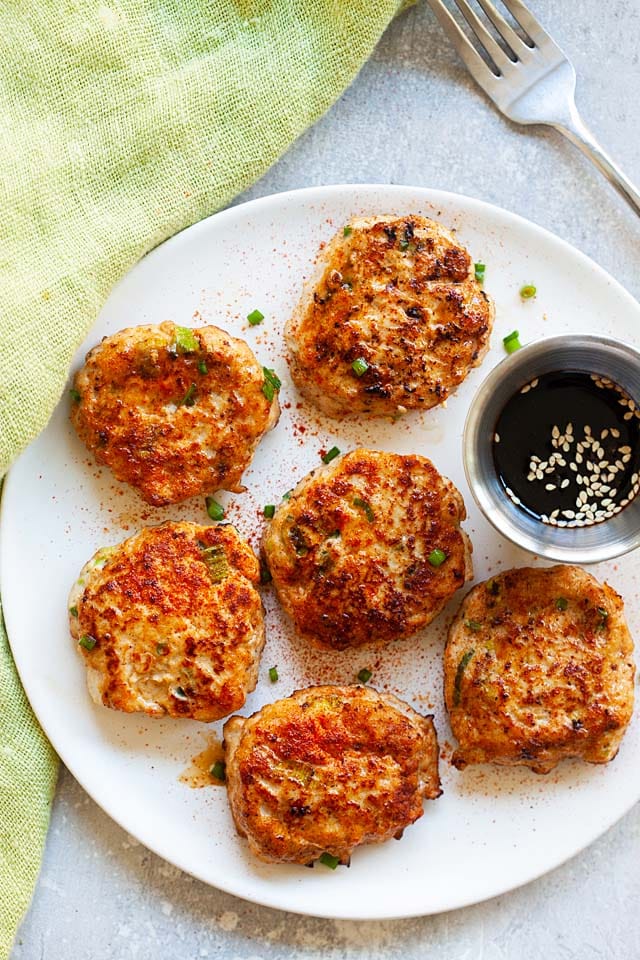 Other Ground Chicken Recipes You Might Like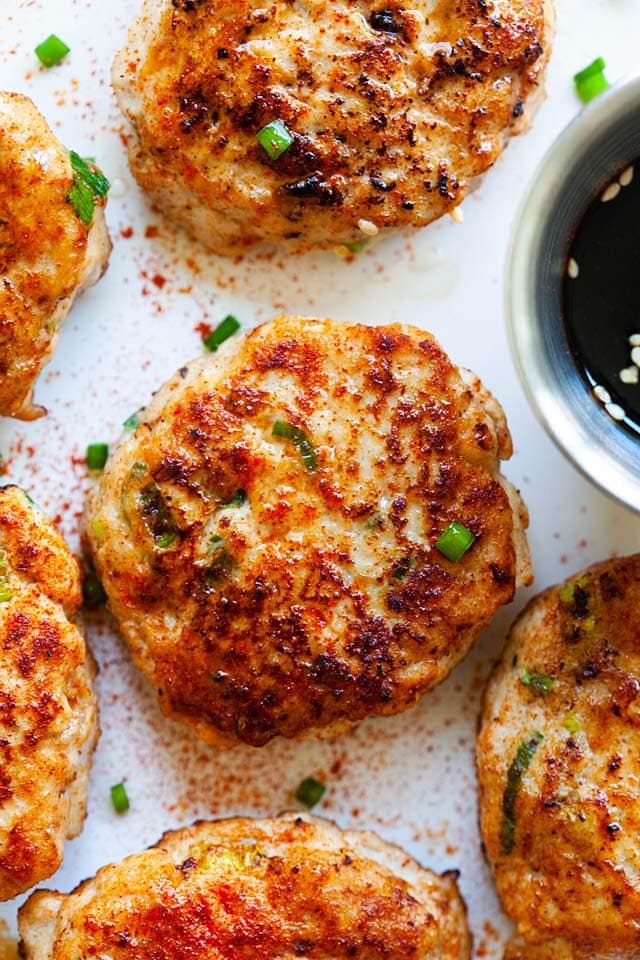 How to Make Chicken Patties?
Homemade chicken patties are extremely easy to make. They are made of the following ingredients:
Ground chicken, 90% lean with 10% fat.
Chopped scallions.
Cooking wine. I used Japanese Mirin or sweet rice wine.
Toasted sesame oil.
Cayenne pepper to make it slightly spicy.
Salt and pepper.
To make the patty mixture, just combine all the ingredients together. To shape the chicken patties, wet both hands with water.
Scoop up with an ice cream scoop and shape the ground chicken mixture into a ball, flatten with hands and pan-fry with a little bit of oil.
Cook's Tips
The best chicken patties should be juicy and moist. However, most store-bought patties such as Costco, Foster Farms are all breaded, dry and tasteless.
Follow my cooking tips, techniques and secrets below for the best ever homemade chicken patties.
DO NOT use breadcrumbs or panko in the ingredients. Breadcrumbs soak up the natural juice in the ground chicken, making the patty dry with a grainy texture. DO NOT coat the patties with breadcrumbs, too.
Shallow fry the patties on a skillet with just a little bit of cooking oil. DO NOT deep fry.
Add 1 tablespoon of cooking wine (you can use white wine or Japanese sweet rice wine "mirin") into the ground chicken mixture. This will ensure that the patties are bursting with juicy flavors.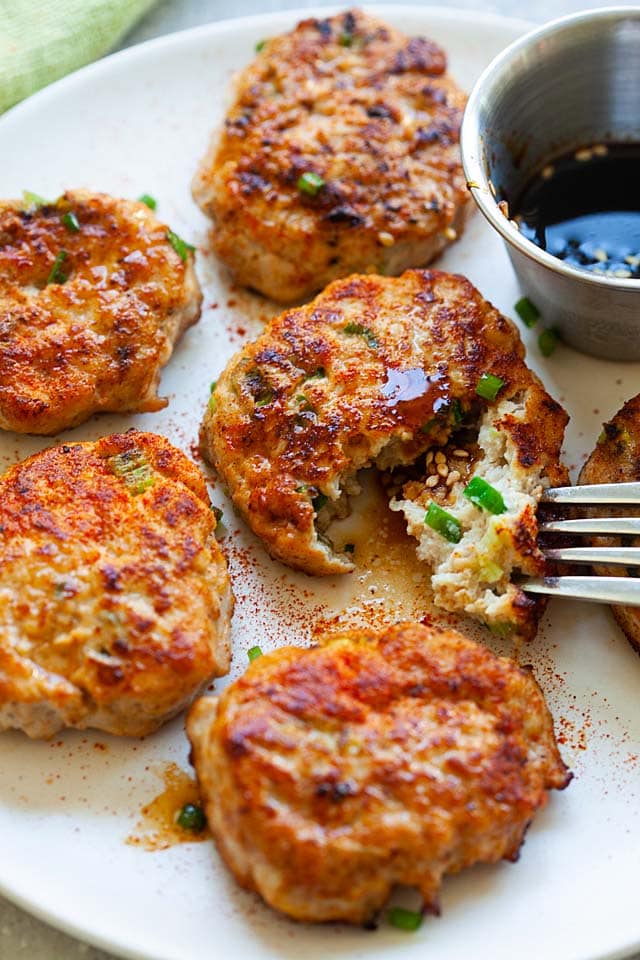 Frequently Asked Questions
Can I Bake Chicken Patty in Oven?
Yes, you can bake the patties in the oven. I recommend 425F for 8 minutes.
How to Serve Chicken Patties?
There are many ways to serve the patties. You can eat the patty as is or serve with a dipping sauce such as teriyaki sauce.
Another favorite way is to make them into chicken patty sandwich, with burger buns, mini slider buns or slices of bread.
Can I Freeze Raw Chicken Patties?
Yes, you sure can. After shaping them into patties, you can wrap them tightly with aluminum foil or plastic wrap.
Freeze in the refrigerator for up to a few weeks. To cook, thaw the patties at room temperature before cooking.
You can also freeze them after they are cooked. Just reheat in a microwave before serving.
Can I Use Other Protein?
Yes, you can. You can use ground turkey, beef or pork. Other great option is salmon to make salmon patties.
How Many Calories per Serving?
Each chicken patty is only 127 calories per serving. It's low calories and very healthy!
What to Serve with This Recipe?
Serve this dish with side dish such as a salad or vegetables. For a healthy meal and easy weeknight dinner, I recommend the following recipes.

5 Secrets to 20 Min Dinners
Get tricks for quick & easy meals!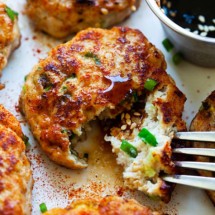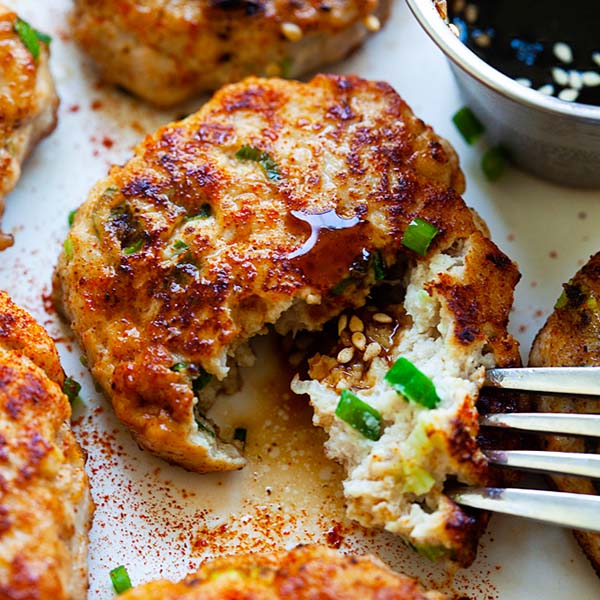 Chicken Patties
Chicken Patties - juicy chicken patty recipe with teriyaki sauce. One of the best ground chicken recipes ever! So good and even the pickiest eaters love them.
Ingredients
1

lb.

ground chicken, thaw to room temperature

1

egg

use only egg yolk

1

scallion

cut into rounds

1/4

teaspoon

salt

3

dashes

ground white or black pepper

3

dashes

cayenne pepper

1

tablespoon

Japanese mirin

sweet cooking wine, optional

1

teaspoon

toasted sesame oil

2

tablespoons

cooking oil
Teriyaki Sauce (Optional)
Click Here for Conversion Tool
Directions
Combine all the ingredients together. Stir to mix well.

To shape the ground chicken mixture into patties, wet both hands with water. Scoop up the chicken mixture, shape into a ball and flatten with your hands. Set aside.

Heat up a skillet on medium-low heat. Add the cooking oil. Transfer the chicken patties onto the skillet, pan fry for about 1-2 minutes on each side. Turn over and pan fry the other side for another 1-2 minutes. If the center is not cooked through, keep turning back and forth and continue to cook.

Combine all the ingredients of the Teriyaki Sauce in a sauce pan. On low heat, simmer and reduce it to a thicker consistency, about 10 minutes. Serve the chicken patties with teriyaki sauce, optional.
Recipe Video
Recipe Notes
If you double the recipe, you can use one egg, including the egg white.
Nutrition Facts
Chicken Patties
Amount Per Serving (1 g)
Calories 127
Calories from Fat 63
% Daily Value*
Fat 7g11%
Cholesterol 71mg24%
Sodium 167mg7%
Carbohydrates 5g2%
Protein 10g20%
* Percent Daily Values are based on a 2000 calorie diet.