Creamed Corn - easy and delicious Instant Pot Creamed Corn recipe that takes only 10 mins in the pressure cooker. Creamy, buttery and cheesy cream corn that you want to eat every day!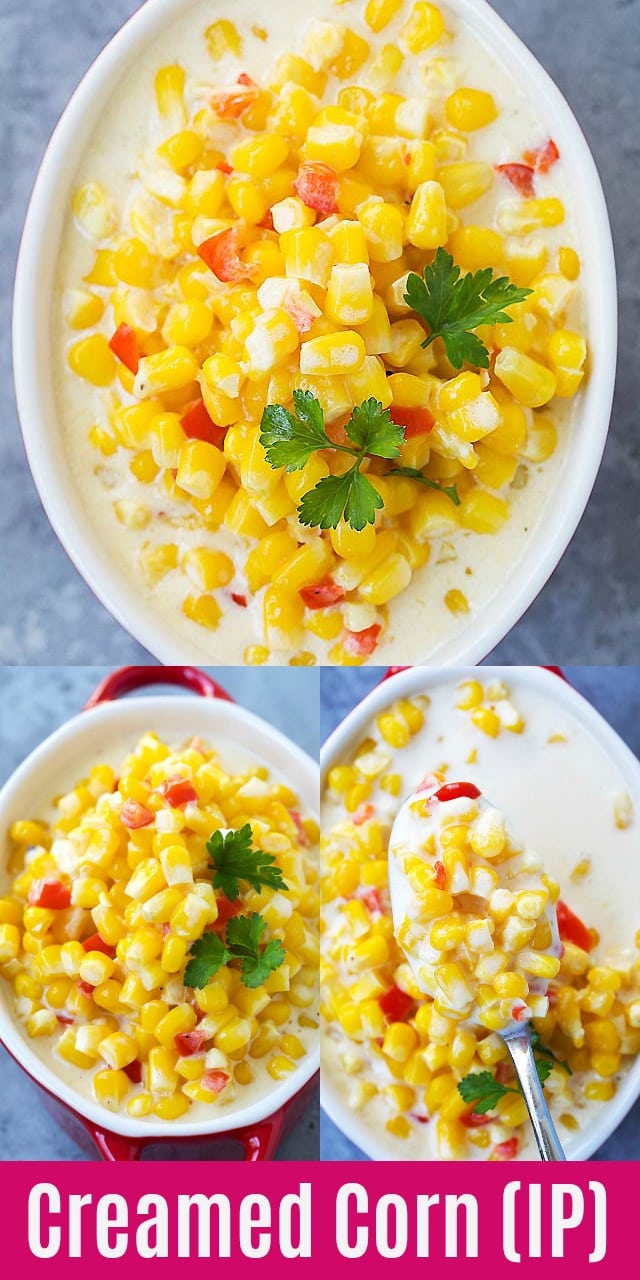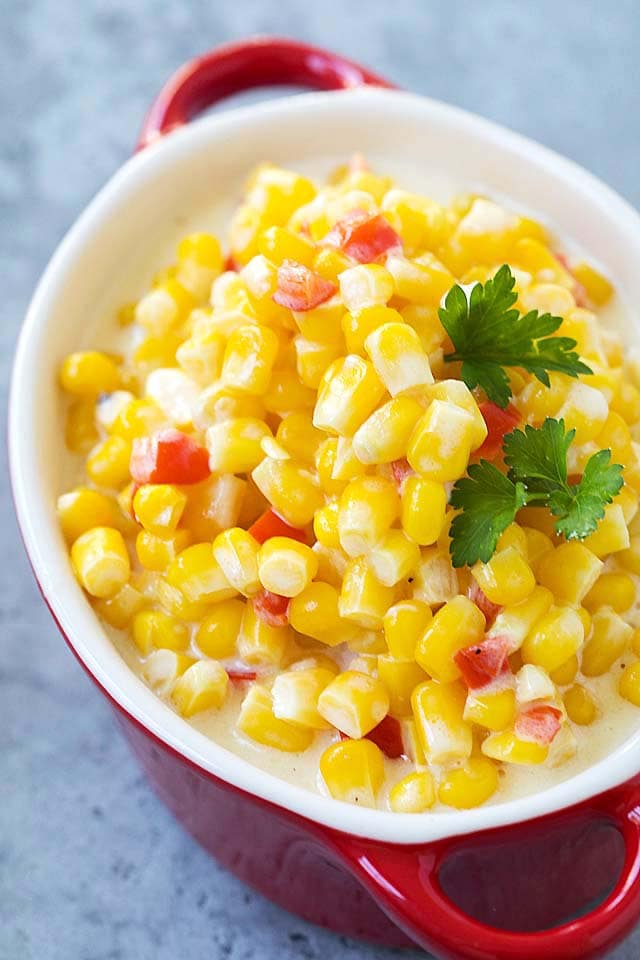 Creamed Corn
Creamed corn is a classic side dish that everyone loves and homemade is the best. With Thanksgiving just days away, I wanted to share this Instant Pot Creamed Corn recipe with you.
Thanksgiving can be very stressful if you are cooking, so use the Instant Pot to help save you time and multi-task.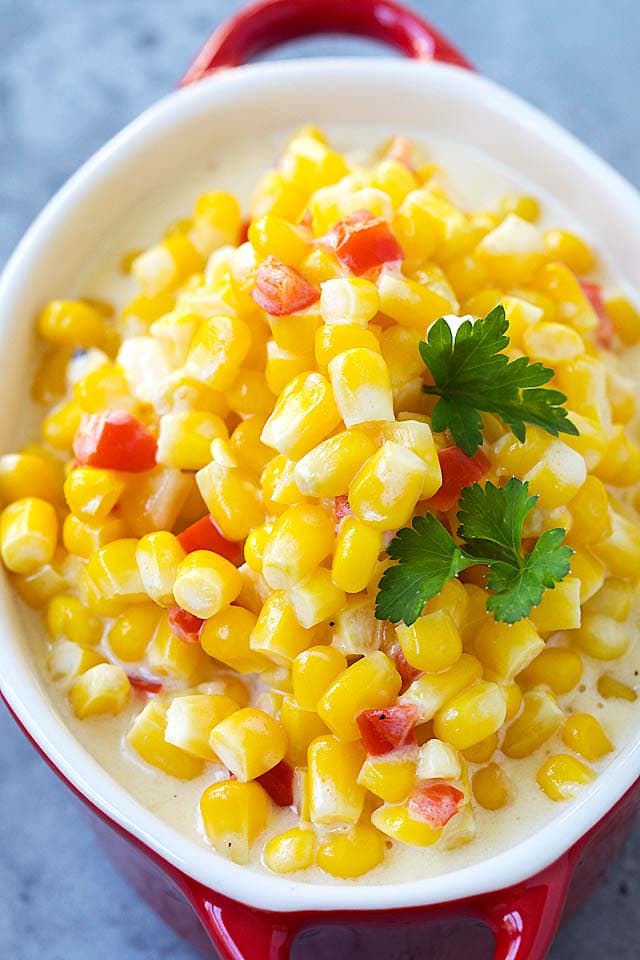 My recipe is absolutely delicious, creamy, buttery and cheesy. I love a bit of diced red bell peppers in my creamed corn, it adds a tint of southern flavor (and color) to the creamed corn.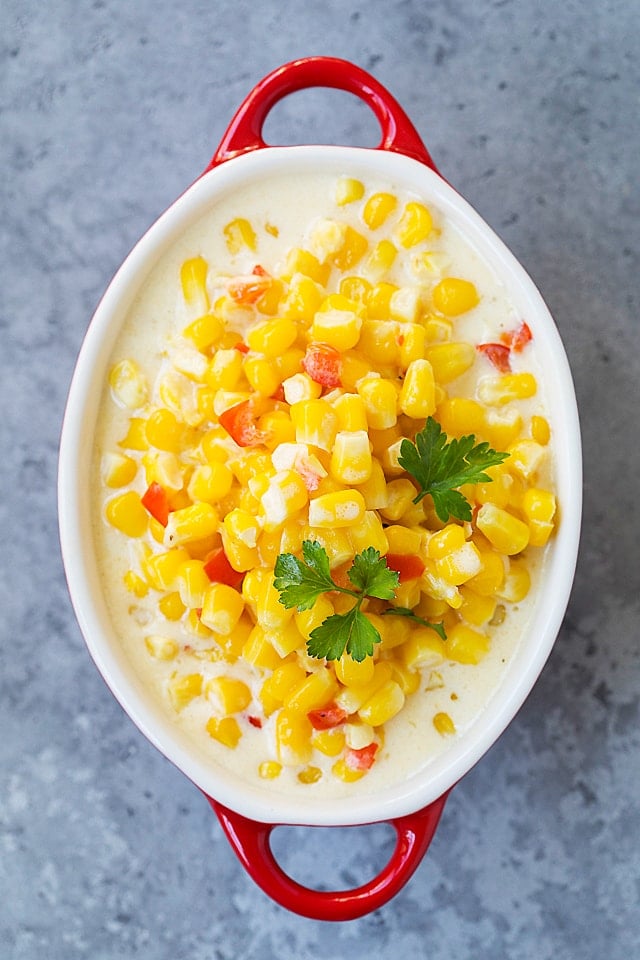 Other Recipes You Might Like
How to Make Creamed Corn
My recipe is very versatile, you can make it in a skillet on stove top, an Instant Pot, or a slow cooker. The cooking process is the same, with simple ingredients:
Frozen corn or fresh corn
Heavy whipping cream
Full milk
Diced red bell peppers
Butter
Parmesan cheese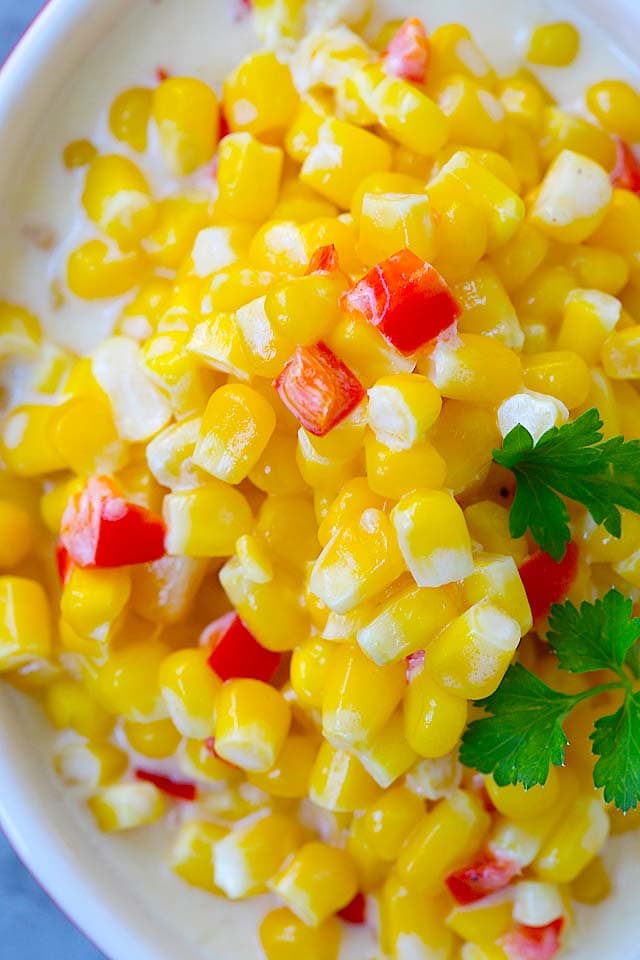 Frozen Corn Vs. Fresh Corn
For this creamed corn recipe, I used frozen corn as it's not fresh corn season now.
If you have fresh corn, by all means please use fresh corn as they taste amazingly sweet. Frozen corn works well, just need slightly longer cooking time.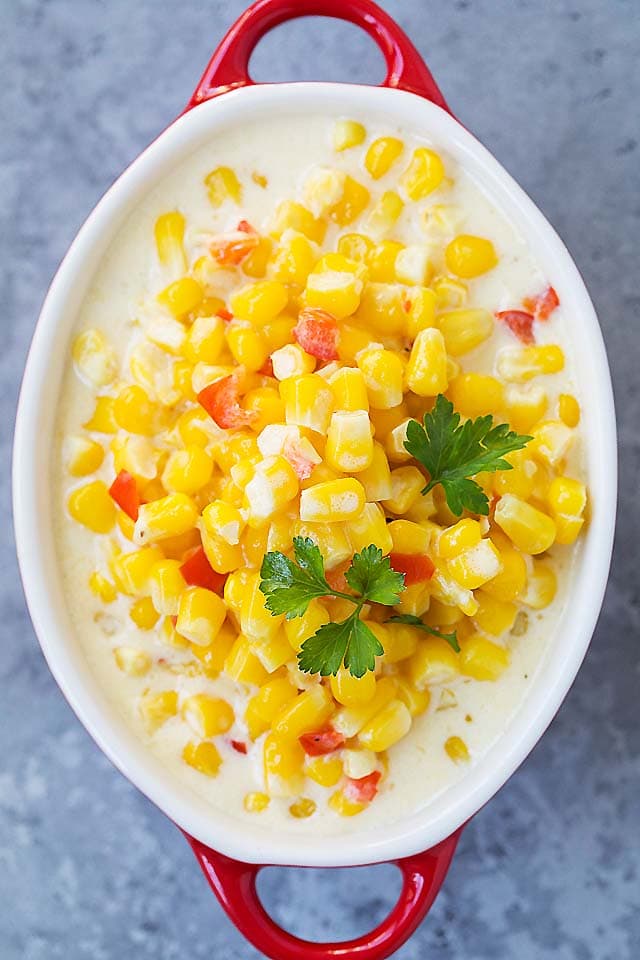 How to Make Creamed Corn from Fresh Corn?
Pull the husks and silks off the ear of corn with your hands. Remove the remaining silk by hand.
To cut corn off the cob, use a sharp paring knife. Start at the top and cut downward, cutting about two-thirds of the depth of the kernels.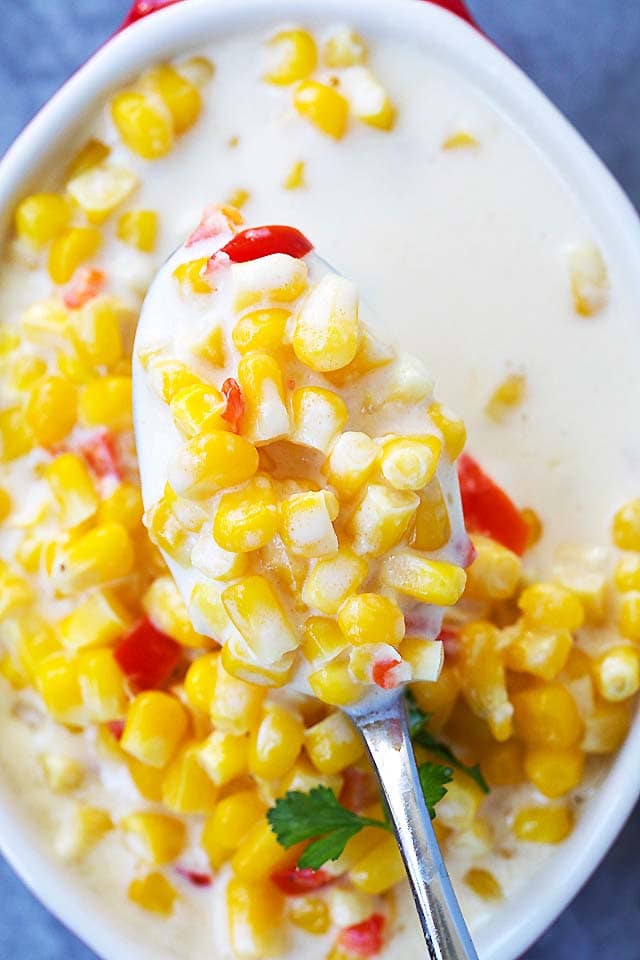 Many creamed corn recipes call for all-purpose flour and cream cheese. I personally don't ever use all-purpose flour other than baking. I don't think it belongs in cooking.
I used heavy whipping cream, full milk plus Parmesan cheese for the creamy flavor. Trust me, this creamed corn recipe is perfect and so good. You have to try it!
Want a new Instant Pot? Enter to win Instant Pot 6qt Pressure Cooker. Click here or the image below to win!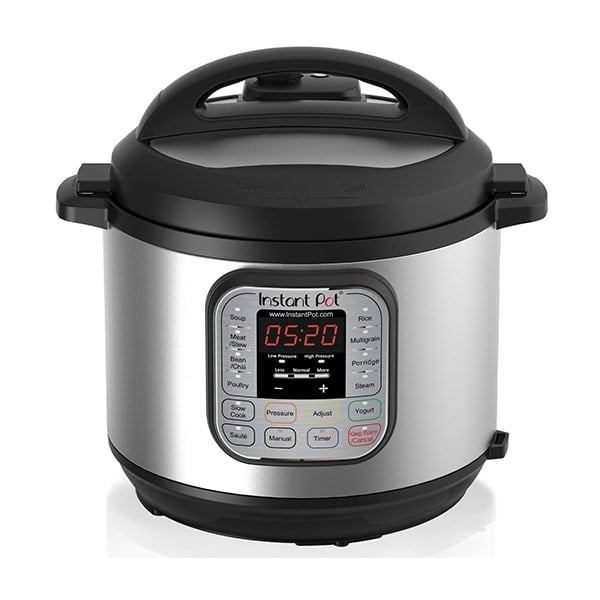 How Many Calories per Serving?
This recipe is only 363 calories per serving.
What Dishes to Serve with This Recipe?
For a wholesome meal and easy weeknight dinner, I recommend the following recipes.
5 Secrets to 20 Min Dinners
Get tricks for quick & easy meals!
Yield: 6 people
Creamed Corn (Instant Pot)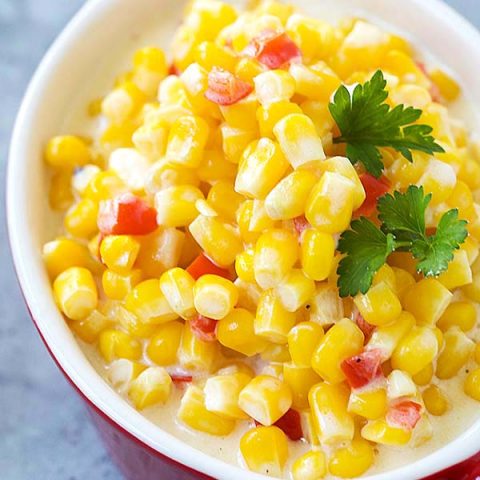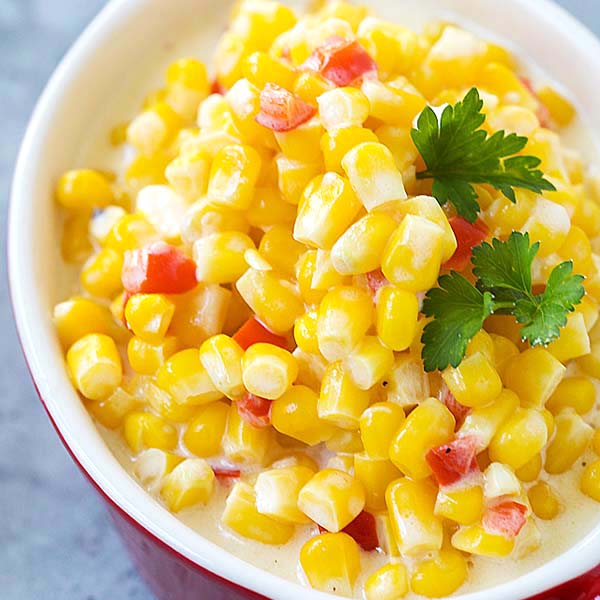 Creamed Corn - easy and delicious Instant Pot Creamed Corn recipe that takes only 10 mins in the pressure cooker. Creamy, buttery and cheesy cream corn that you want to eat every day!
Ingredients
4 tablespoons unsalted butter, room temperature
1/4 cup diced red bell peppers
1 lb. (0.4 kg) frozen sweet corn, thawed
1/2 cup full milk
1 cup heavy whipping cream
3/4 teaspoon salt
freshly ground black pepper
1/2 cup shredded Parmesan cheese
Italian parsley, for garnishing
Instructions
Turn on the Saute mode on your Instant Pot. As soon as the pot is heated, add the butter and heat until it's melted.
Add the diced red bell peppers and saute with the butter, until slightly softened. Add the frozen sweet corn. Stir to combine well

Add the milk, heavy whipping cream, salt and ground black pepper. Stir to combine well. Cover the Instant Pot with its lid and select Manual. Set to High pressure and cook for 10 minutes.

When it beeps, turn to Quick Release. When the valve drops, remove the lid carefully and switch to Saute mode. Add the Parmesan cheese, stir and cook for 2 minutes, or until the sauce thickens and becomes creamy. Transfer the creamed corn to a serving platter, garnish with parsley and serve immediately.

Notes
You can make this recipe in a slow cooker. Just follow the same process and cook for 3 hours on high heat.
You can also make the creamed corn on stove top using a skillet. Just follow the same method and simmer the creamed corn until the sauce reduces and becomes creamy.
Nutrition Information
Serving Size
6 people
Amount Per Serving
Calories

363
Total Fat

25g
Saturated Fat

15g
Cholesterol

80mg
Sodium

543mg
Carbohydrates

26g
Fiber

1g
Sugar

5g
Protein

12g