This Crispy Baked Sweet Potato recipe is the BEST sweet potato recipe ever! Thinly sliced and baked to crispy and buttery goodness. So delicious!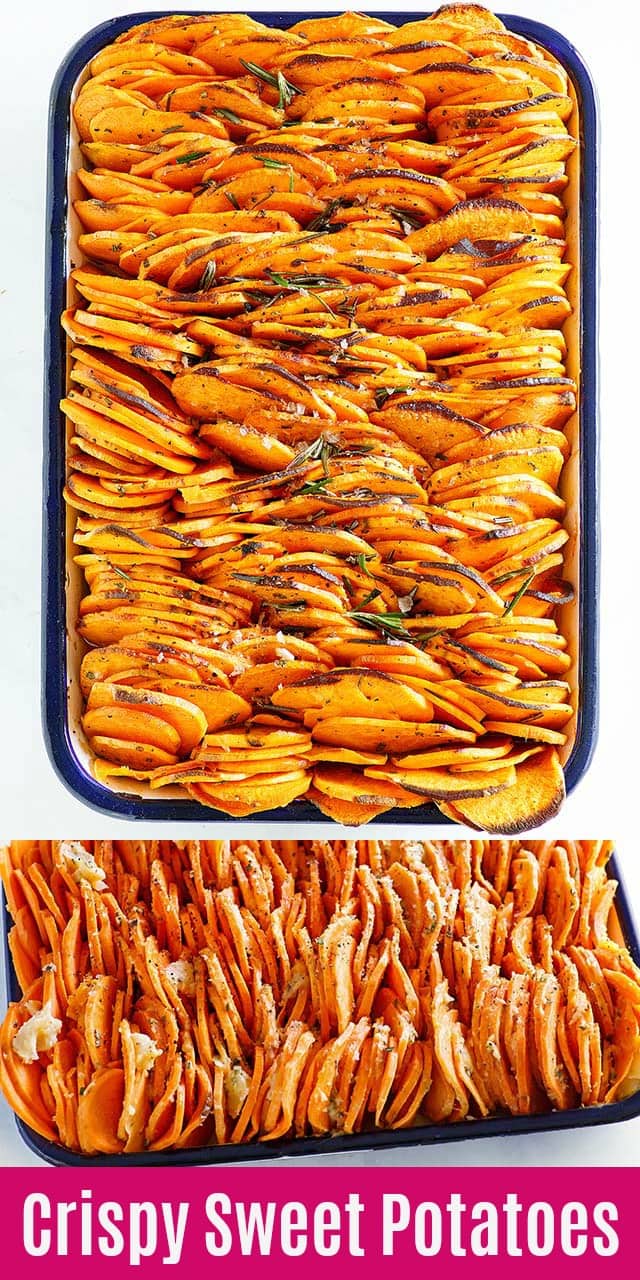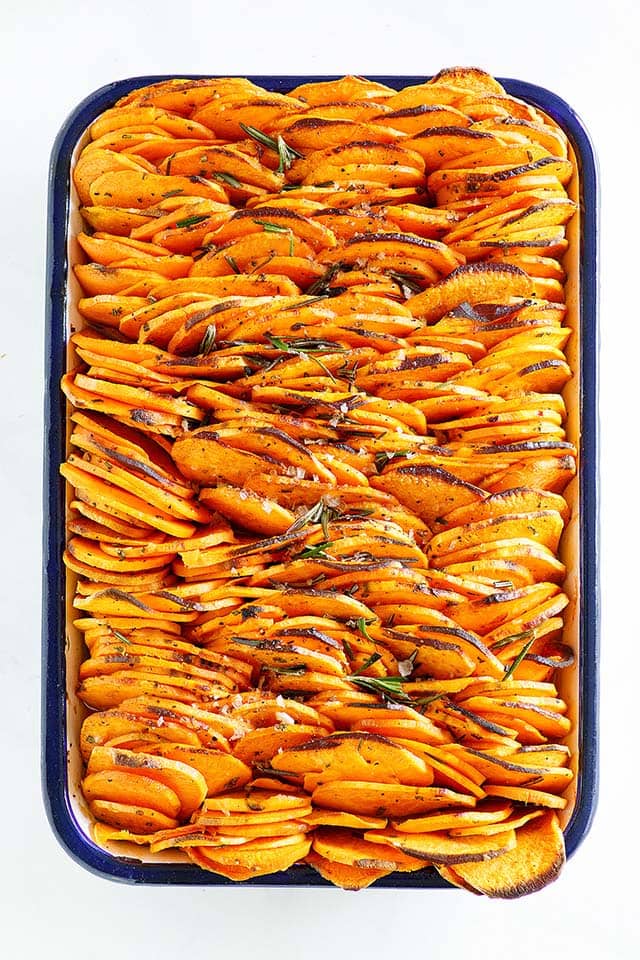 Baked Sweet Potato
One of the easiest ways to cook sweet potato is baked in the oven. Sweet potato recipes are baked or roasted as a whole; sometimes they are cut into wedges or pieces.
Today, I am sharing a very special recipe with you, inspired by the popular Crispy Leaf Potatoes I posted recently.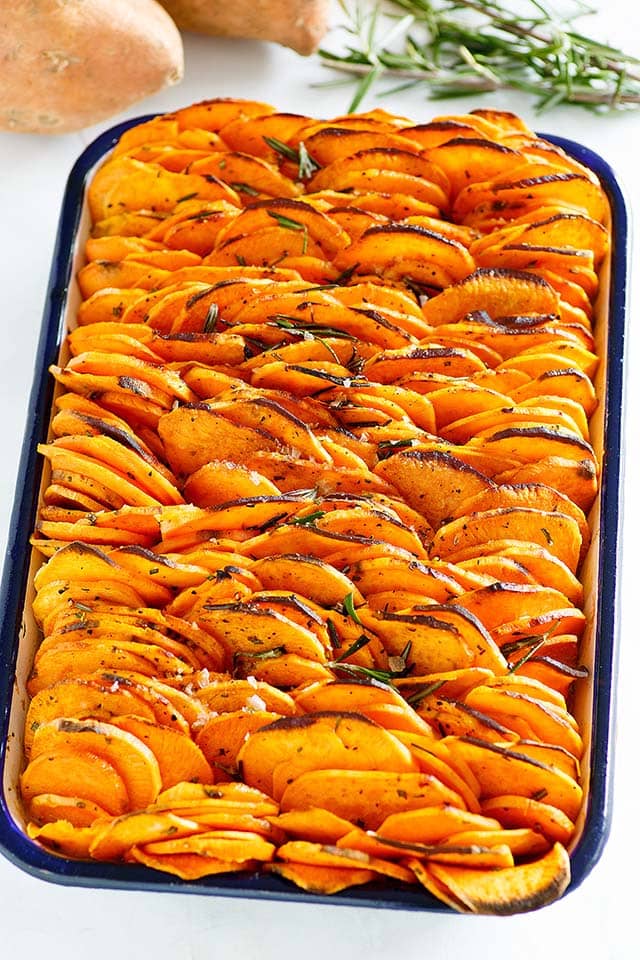 Other Recipes You Might Like
The Best Way to Bake Sweet Potatoes?
How to bake sweet potato? I recommend slicing them into chips, stack the slices tightly together and bake with butter, salt and herbs.
This baked sweet potato recipe is unlike any sweet potato recipes you have tasted before. You basically have crispy homemade chips, straight from your oven!
This recipe yields crispy, perfect and buttery sweet potatoes, perfect for Thanksgiving, holiday, or every day.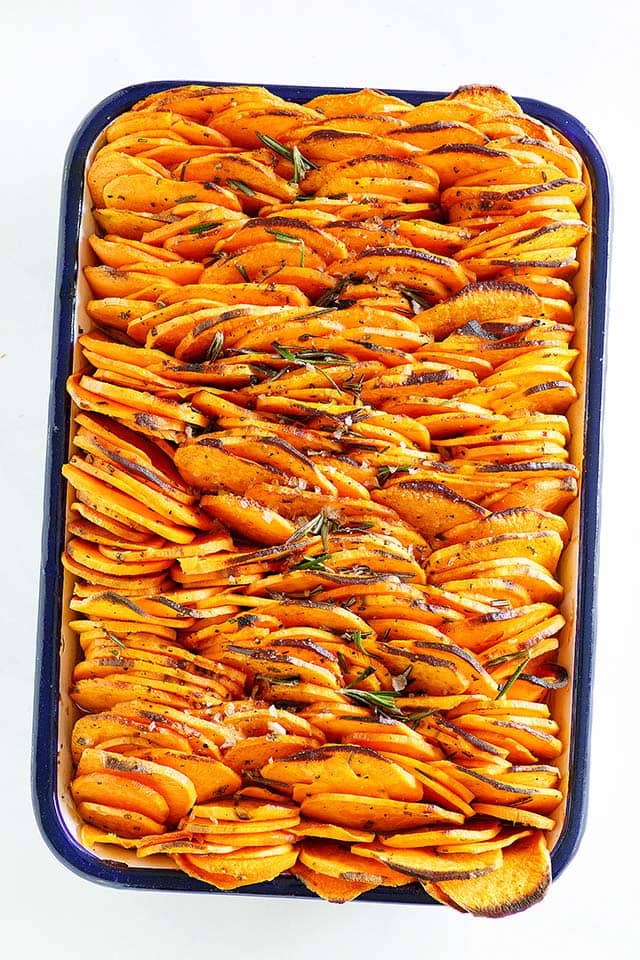 How Long Do You Bake Sweet Potatoes?
For this recipe, I set the oven temperature to 400F. Bake for the sweet potato slices for 60 minutes or until they are soft, cooked through and the edges turn crispy, just like the pictures here.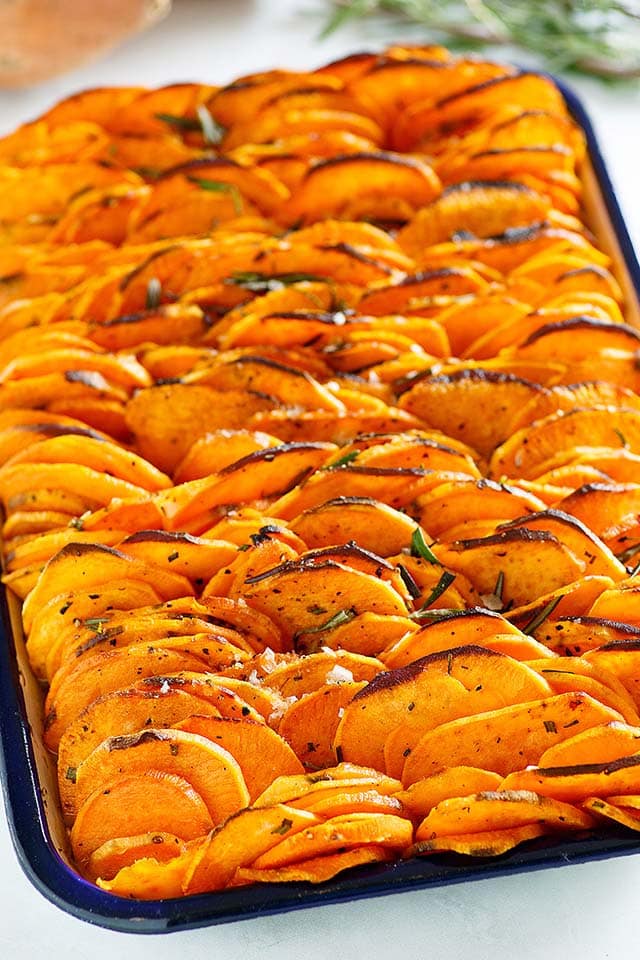 How to Slice Sweet Potatoes?
To slice the sweet potatoes into even pieces, it's best to use a Mandoline Slicer. I recommend OXO Handheld Mandoline Slicer, click here to buy on Amazon. You can also slice by hand using a sharp knife.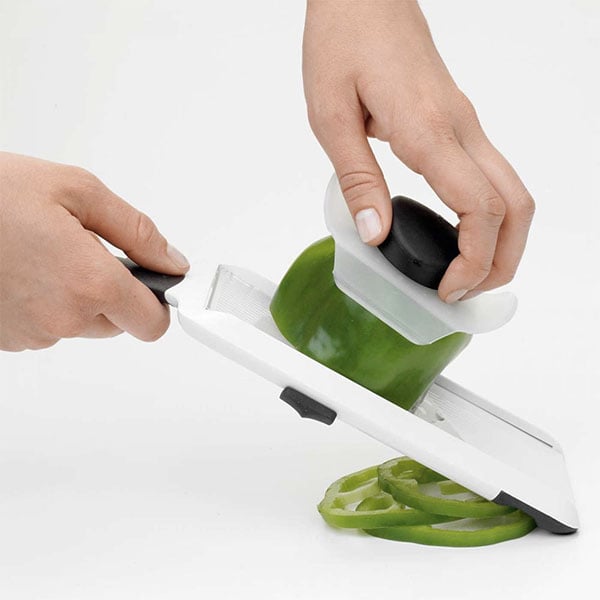 How Many Calories Per Serving?
This recipe is only 399 calories per serving.
What Dishes to Serve with this Recipe?
This meal is best served with a main dish or with side dishes. For a wholesome meal and easy weeknight dinner, I recommend the following recipes.

Pairs well with: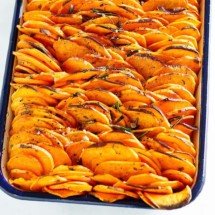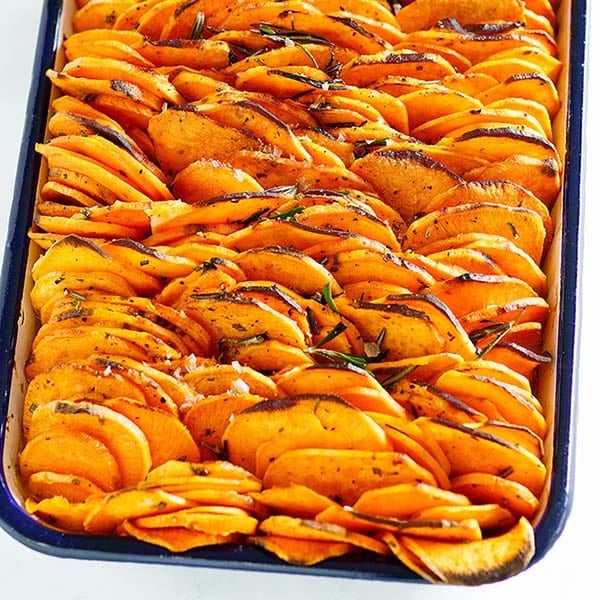 Crispy Baked Sweet Potatoes
This Crispy Baked Sweet Potatoes recipe is the BEST roasted sweet potatoes ever. They are thinly sliced and baked to crispy and buttery goodness. So delicious!
Ingredients
4

lbs.

sweet potatoes

6

oz.

unsalted butter, room temperature or melted

(1 1/2 sticks)

1 1/2

teaspoons

Maldon sea salt flakes (preferred) or salt

1/2

teaspoon

freshly ground black pepper

2

teaspoons

chopped rosemary or oregano
Click Here for Conversion Tool
Directions
Using a mandolin slicer, thinly slice the peeled potatoes. Pat dry the potatoes with paper towels.

Place the sliced sweet potatoes in a large bowl. Using your hands, toss with butter, salt, black pepper and chopped rosemary/oregano until fully coated.

Carefully place the sweet potatoes upright, from left to right, in a small baking tray. Do not pack in the sweet potatoes too tightly, as this impacts the crispiness.

Bake for an hour, or until the sweet potatoes are cooked and turn crispy. Serve immediately.
Recipe Notes
You may use 5 oz. of duck fat instead of butter.
Nutrition Facts
Crispy Baked Sweet Potatoes
Amount Per Serving (6 people)
Calories 399
Calories from Fat 207
% Daily Value*
Fat 23g35%
Cholesterol 60mg20%
Sodium 750mg33%
Potassium 1025mg29%
Carbohydrates 60g20%
Protein 5g10%
Vitamin A 43610IU872%
Vitamin C 7.3mg9%
Calcium 98mg10%
Iron 1.8mg10%
* Percent Daily Values are based on a 2000 calorie diet.