Steamed Mussels - the easiest mussels recipe ever, that takes only 20 minutes with simple ingredients. Serve with pasta for a restaurant quality dinner.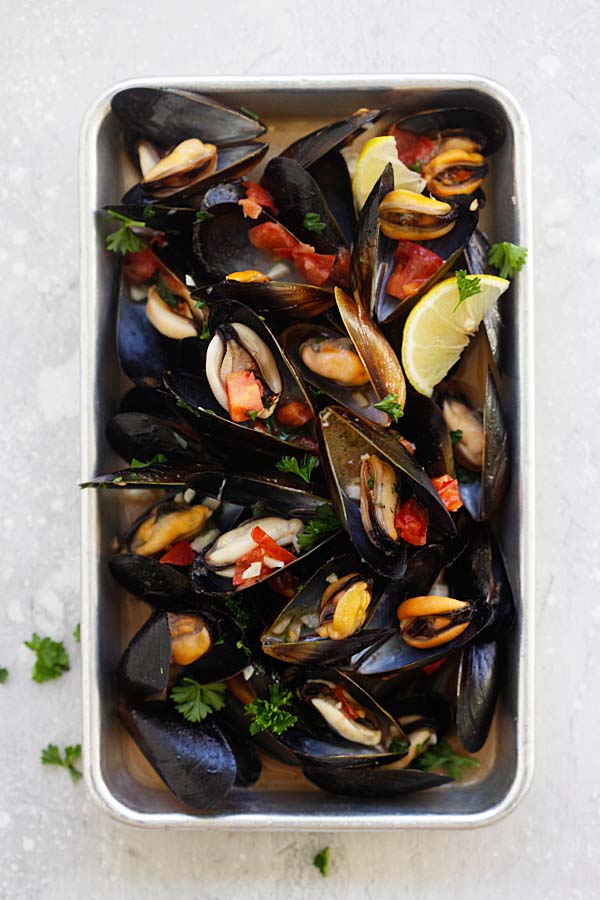 The Best Steamed Mussels
Every time I am in Paris, I would never pass up an opportunity to have my favorite steamed mussels pot, where loads of mussels are steamed with white wine, garlic, parsley, and served with French fries.
So, I went to Costco, bought a 5-lb pack of mussels and developed this easy steamed mussels recipe.
To make it into a complete meal, I just cooked some spaghetti, then ladled the mussels and sauce over it.
The end result is a restaurant quality dinner.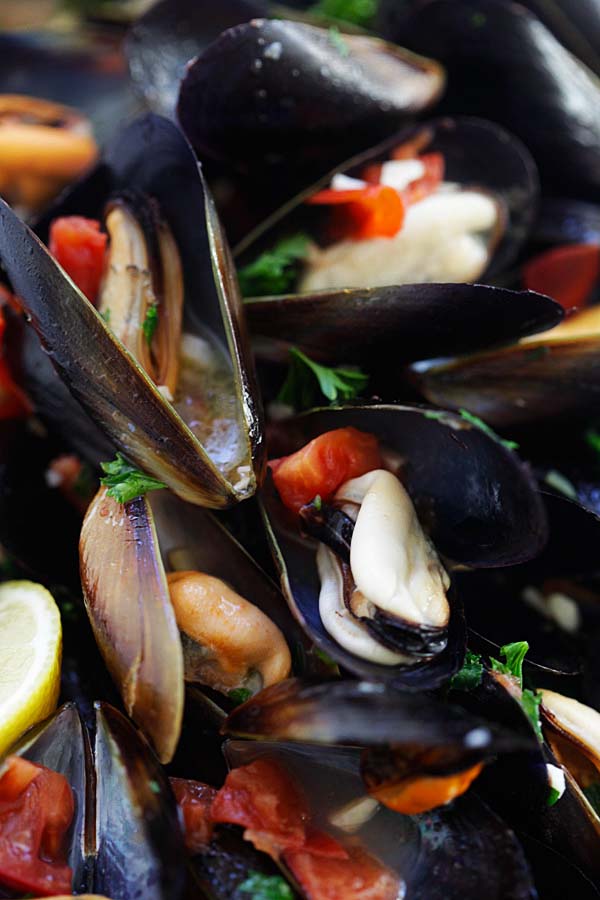 Other Recipes You Might Like
Ingredients for Mussels Recipe
Mussels
Olive oil
Garlic
White wine
Tomato
Lemon juice
Parsley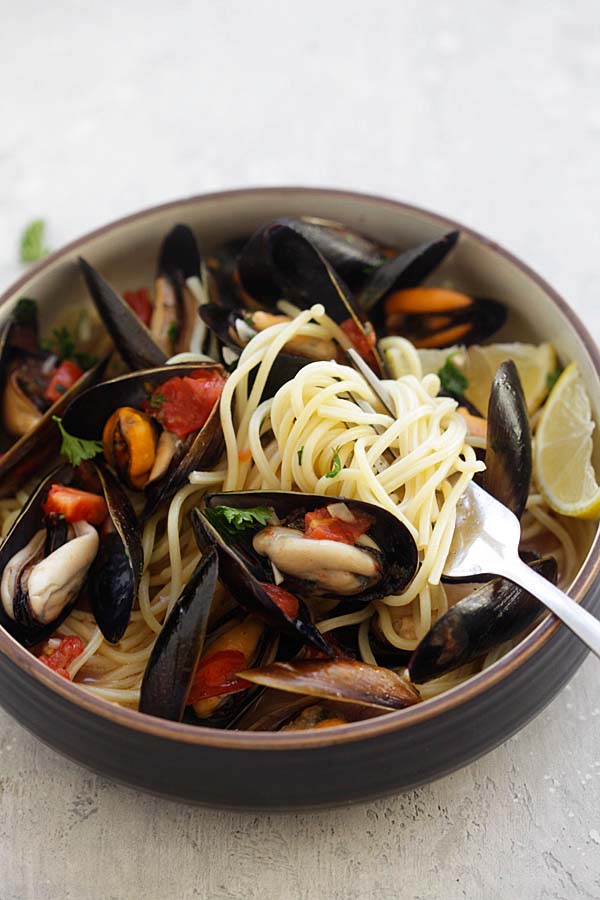 Frequently Asked Questions
How Do You Tell If Mussels Are Bad after Cooking?
If the mussels are open and don't close up when you tap them, then they have gone bad and should be discarded.
How Do You Clean Mussels before Steaming?
Run the mussels under water in the sink. Scrub off barnacles and take off the hairs.
How Many Calories?
This recipe has 172 calories per serving.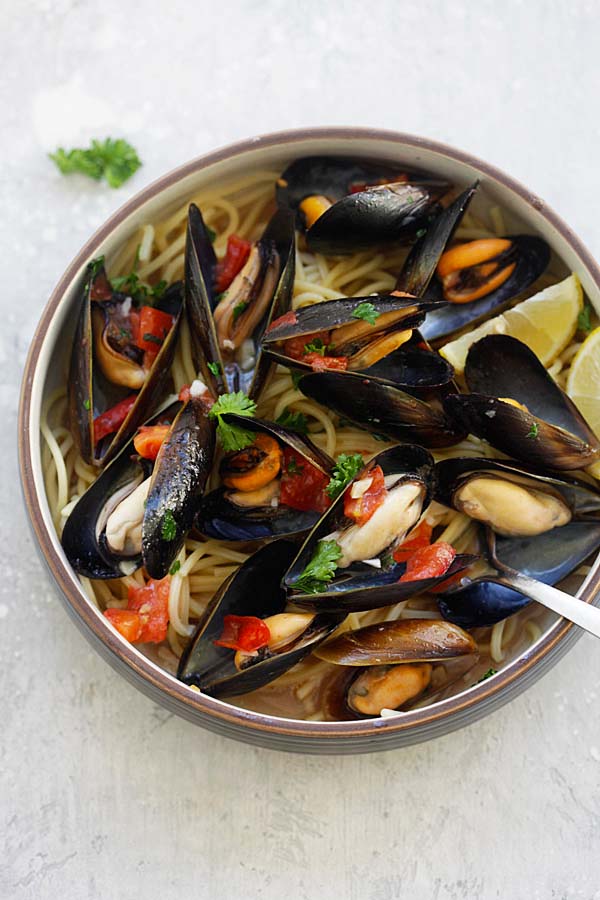 What Dishes to Serve with This Recipe?
This dish is best served over pasta. For a wholesome meal and easy weeknight dinner, I recommend the following recipes.
5 Secrets to 20 Min Dinners
Get tricks for quick & easy meals!
Yield: 4 people
Easy Steamed Mussels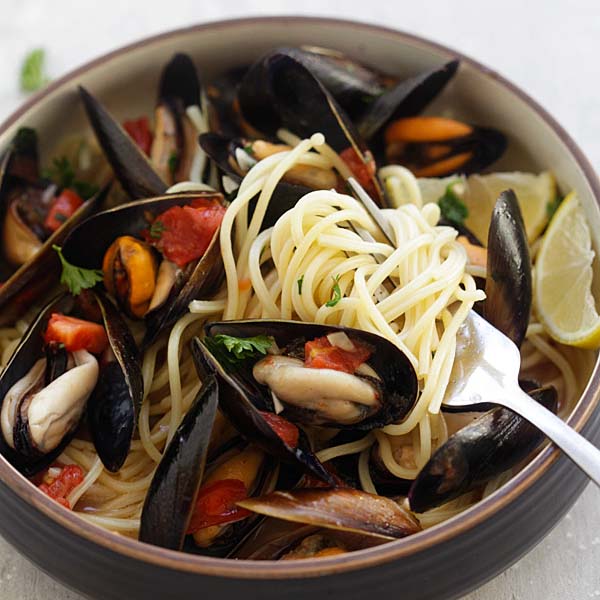 Steamed Mussels - easiest steamed mussels recipe ever, with simple ingredients and takes 20 mins. Serve with pasta for restaurant's quality dinner.
Ingredients
1 1/2 lbs. (0.6 kg) mussels
2 tablespoons olive oil
4 cloves garlic, minced
1/2 cup white wine
1 tomato, diced
1 tablespoon lemon juice
Salt to taste
2 tablespoons chopped parley, Italian parsley preferred
Instructions
Scrub and clean the mussels and remove the beards on the mussels by pulling them off. Drain and set aside.
Heat up a skillet on medium heat. Add the olive oil. Saute the garlic a few times before adding the mussels. Stir and toss the mussels. Add the white wine and diced tomato. Cover the skillet with its lid and steam for 1 minute or until all mussels are open.
Add the lemon juice, salt (to taste) and parsley. Stir to combine well. Serve hot.
Notes
I served the mussels with plain spaghetti. Just ladle the sauce and the mussels over for a complete meal.
Nutrition Information
Serving Size
4 people
Amount Per Serving
Calories

172
Total Fat

9g
Saturated Fat

1g
Cholesterol

24mg
Sodium

252mg
Carbohydrates

6g
Fiber

0g
Sugar

1g
Protein

10g