Garlic Knots using store-bought pizza dough and garlic butter. Tasty and easy garlic knots recipe that anyone can make at home as a side dish.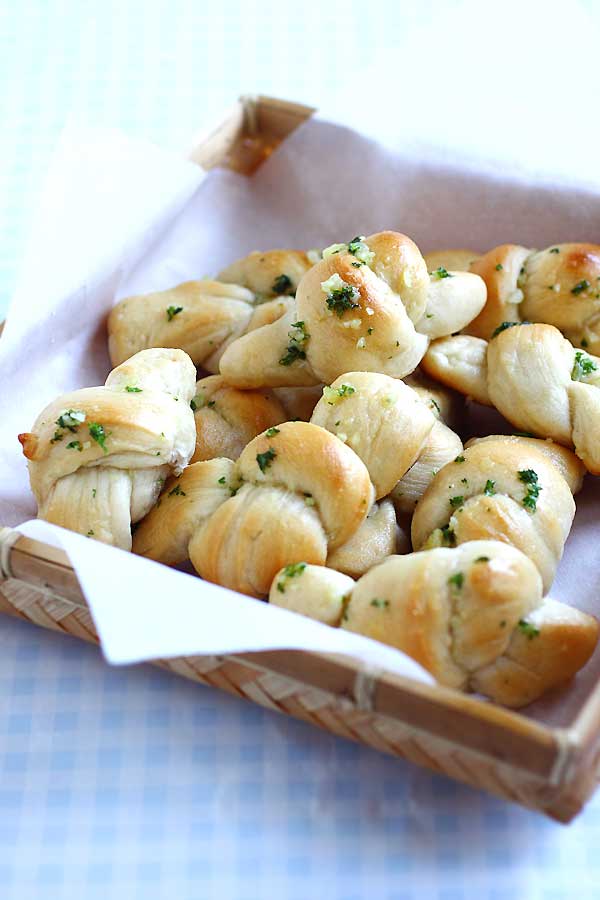 Garlic Knots
This is an easy and delicious pizza dough garlic knots bread recipe, it's so easy and fun to bake at home with the family!
When it comes to baking, I love recipes that are simple to make, preferably with store-bought ingredients. This homemade garlic knots recipe is exactly what I am looking for, using a pre-made frozen pizza dough that you can get at any grocery stores.
I have made these garlic knots three times and they were gone as soon as they were out of the oven. They are as addictive as Brazilian cheese bread. This recipe is going to teach you how to make them!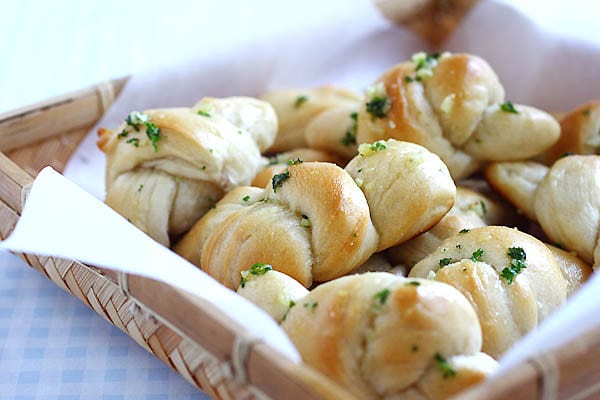 Other Recipes You Might Like
Ingredients for Garlic Knot
These pizza bread are made of the following ingredients:
Pizza dough
Butter
Olive oil
Garlic
Parsley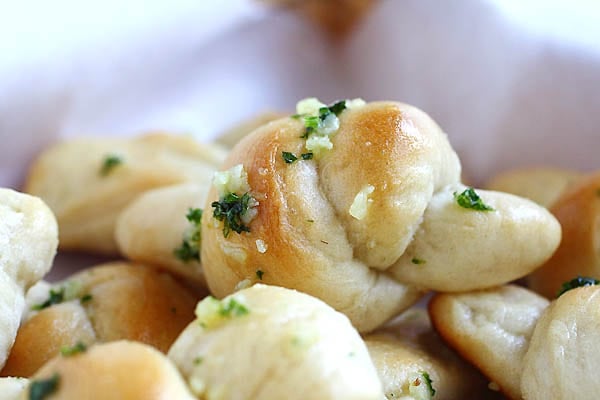 How to Tie Garlic Knots
Another thing that I love about this recipe is that it is fun making them, especially the tie-the-knot step.
To tie the knots, first you need to roll and stretch out the pizza dough (frozen pizza dough is stiff and not pliable after thawing) and divide them into 24 individual strips.
Roll each dough strip into a short rope and then wrap the dough around your fingers into a knot, tying the knot like you usually do. Brush the garlic butter mixture on the surface and bake them in the oven.
How Many Calories Per Serving?
Each knot is only 78 calories. Try this easy recipe. I am sure you will like them as much as I do.
What Dishes to Serve with this Recipe?
This meal is best served with a main dish. For a wholesome meal and easy weeknight dinner, I recommend the following recipes.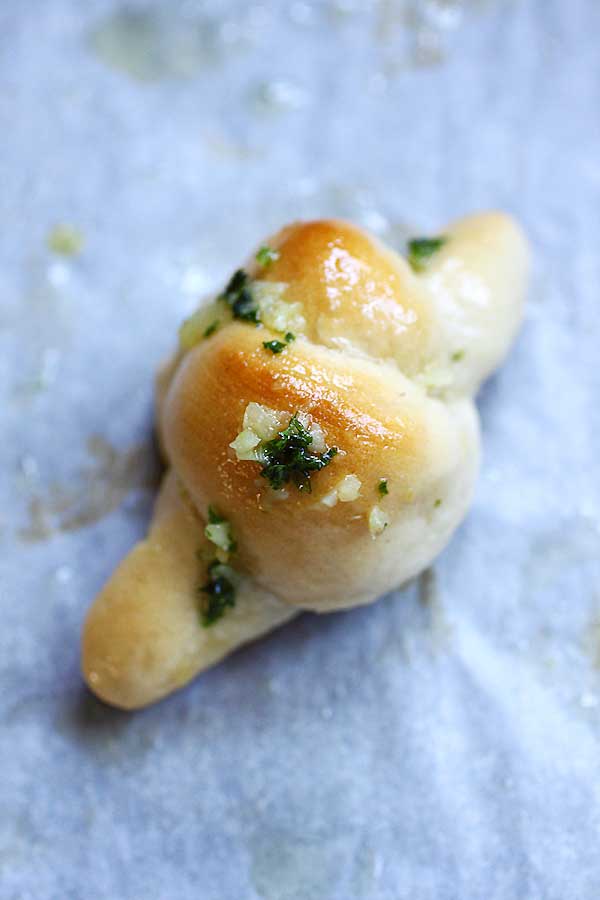 5 Secrets to 20 Min Dinners
Get tricks for quick & easy meals!
Yield: 24 garlic knots
Garlic Knots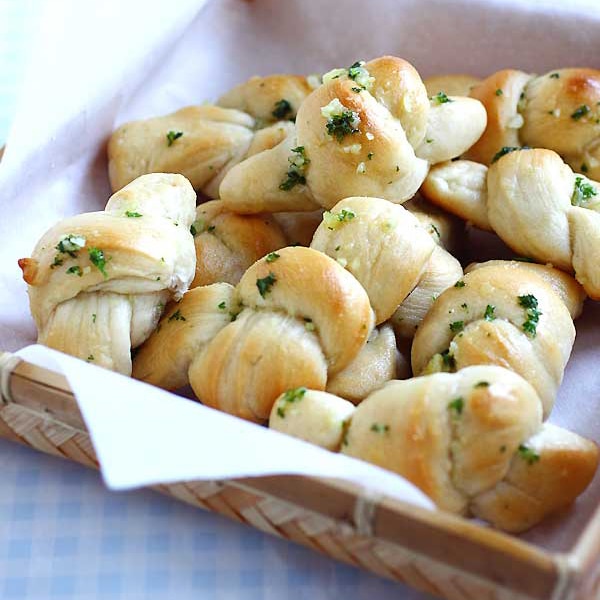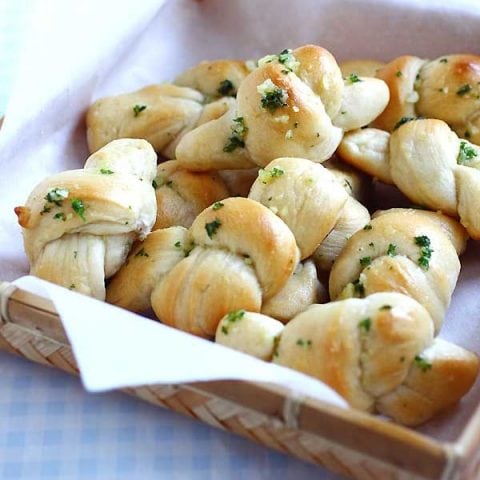 Garlic knots using a store-bought pizza dough and garlic butter. Tasty and easy garlic knots recipe that anyone can make at home as a side dish.
Ingredients
2 lbs. store-bought pizza dough, thawed at room temperature
all-purpose flour, for rolling out dough
1 tablespoon olive oil
3 tablespoons unsalted butter
2 cloves garlic, minced
1 tablespoon finely chopped Italian flat leaf parsley
salt
Instructions
Preheat oven to 350°F. Line baking sheets with parchment paper.
Divide the dough in half, keeping half covered under a kitchen towel. Roll out the other half on a lightly floured surface with a rolling pin, creating a 10-inch square. If the dough is very stiff, use your hands to stretch it.
Cut the 10-inch square in half with a sharp knife or pizza wheel to form two rectangles. Cut each rectangle into 12 strips (the cuts should be made so that the strips are shorter and thicker, rather than longer and thinner).
Tie each strip into a knot and then arrange the knots on the lined baking sheets. Cover them with a kitchen towel while you repeat the rolling, cutting and tying process with the second half of the dough.
Bake the knots for 5 minutes, then rotate the baking sheet and bake an additional 5 minutes or until golden brown and fully cooked.
While knots bake, grate the garlic cloves using a Microplane and combine with olive oil and butter in a small sauce pan over low heat. Cook just until butter has melted and mixture is warmed. Remove from heat and stir in chopped parsley.
Immediately after baking, brush the baked knots with the garlic mixture and sprinkle with kosher salt. Serve warm.
Nutrition Information
Serving Size
24 garlic knots
Amount Per Serving
Calories

78
Total Fat

3g
Saturated Fat

1g
Cholesterol

4mg
Sodium

180mg
Carbohydrates

18g
Fiber

1g
Sugar

2g
Protein

3g