Cheddar Garlic Knots - cheesy, buttery garlic knots that anyone can make at home as a side dish, takes only 20 minutes from prep to dinner table!!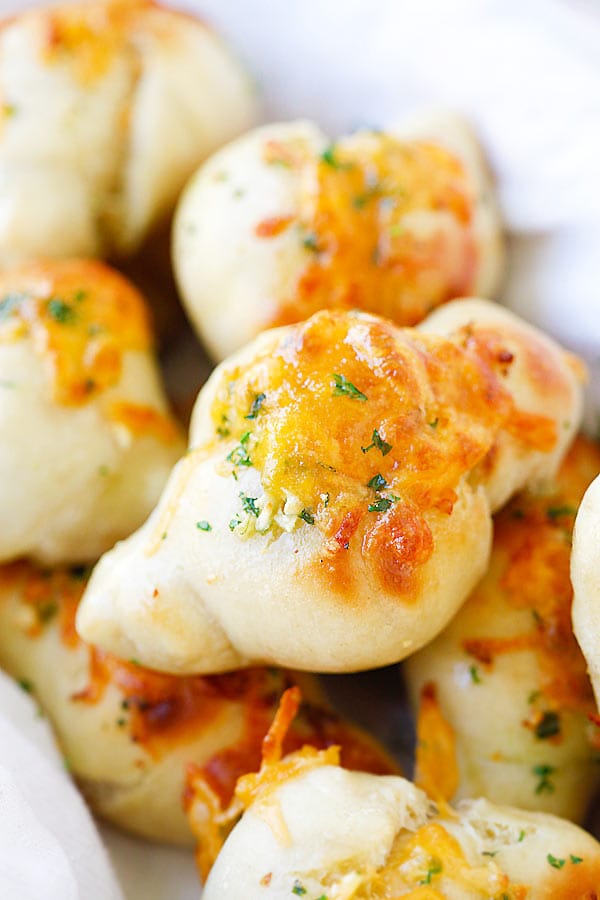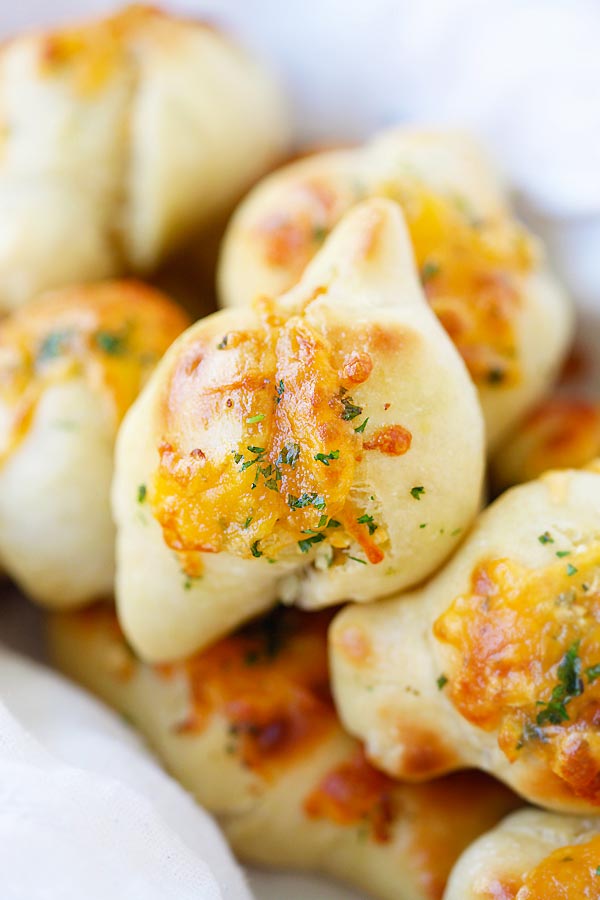 Ever since my son goes to pre-school, I have been baking at least once or twice a week.
Nothing fancy or sophisticated, just simple baking of garlic herb cheese bombs, cheesy crescent rolls, honey butter clover rolls, cheesy pull-apart bread, etc.
I love doing simple and quick baking that little G can bring to school for his snack.
I have some old recipes that I am revisiting, and I am adding them to my baking roaster.
One of them is garlic knots, a recipe that I learned years ago from my friend Just A Taste.
A few weeks ago, I had a chance to meet up with her and it reminded me that I have to redo the garlic knots recipe.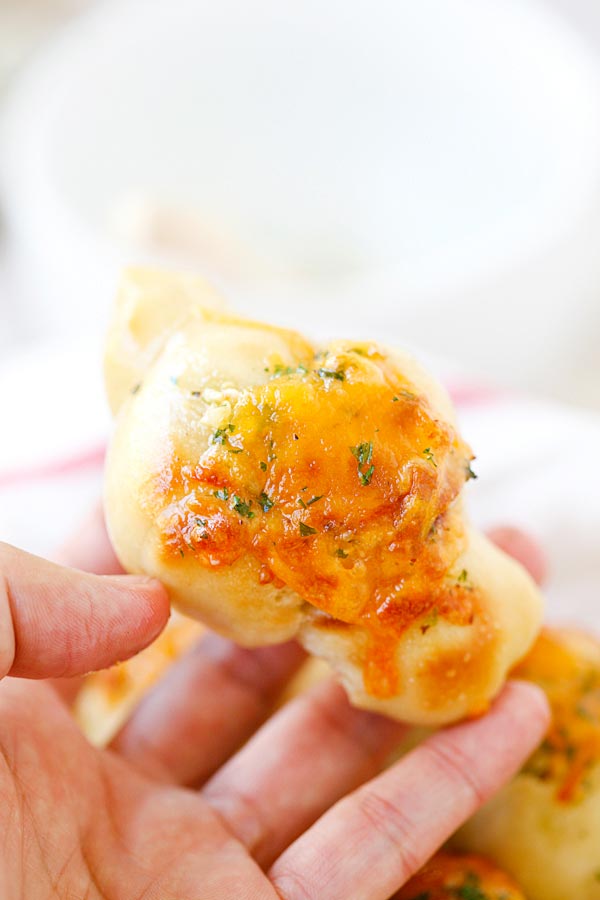 So here are cheddar garlic knots…they are the same garlicky and buttery goodness, but even better with the addition of grated cheddar cheese.
We all know how good it is when cheese melts and forms into a cheesy crust.
These cheddar garlic knots are really amazing I practically finished half of them before little G got home.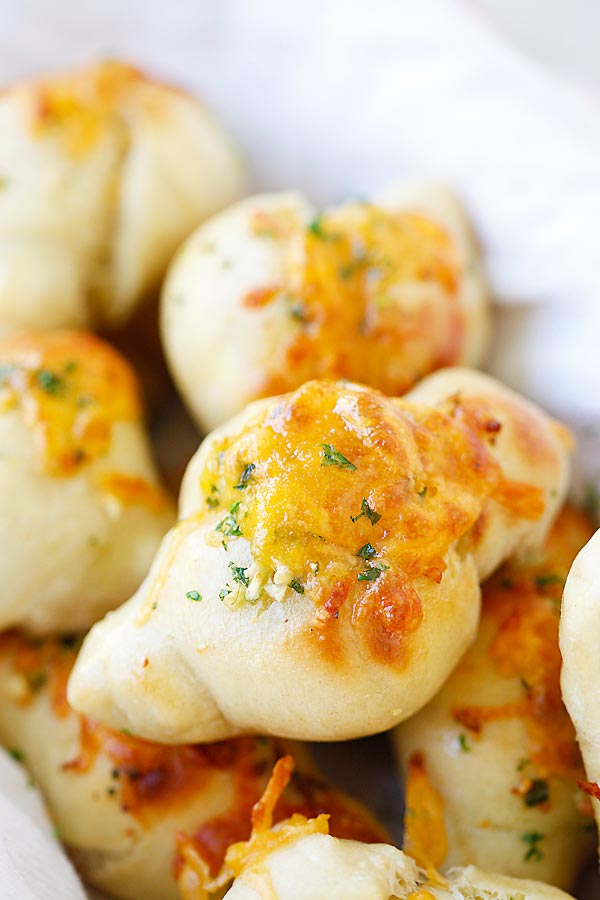 I did manage to save some for him and he absolutely loved it.
This cheddar garlic knots recipe is super easy to make as you can use a store-bought pizza dough to make it.
I got mine from Trader Joe's but you can get the frozen dough from food stores or even Walmart.
How Many Calories Per Serving?
This recipe is only 49 calories per serving.
5 Secrets to 20 Min Dinners
Get tricks for quick & easy meals!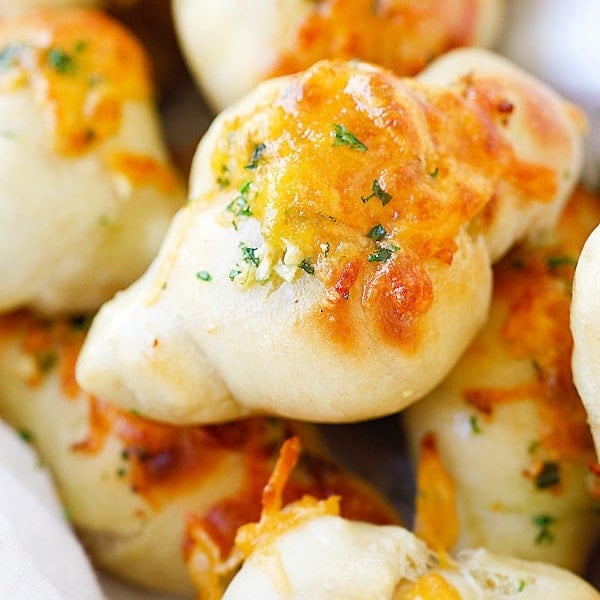 Cheddar Garlic Knots Recipe
Cheddar Garlic Knots – cheesy, buttery garlic knots that anyone can make at home as a side dish, takes only 20 minutes from prep to dinner table!!
Ingredients
1

lbs

store-bought pizza dough, thawed at room temperature

all-purpose flour, for dusting and rolling out dough

1

tablespoon

olive oil

3

tablespoons

unsalted butter

2

cloves

garlic, finely minced

salt

1

tablespoon

finely chopped Italian flat leaf parsley

1/3

cup

grated cheddar cheese
Click Here for Conversion Tool
Directions
Line baking sheets with parchment paper.

Roll out the dough on a lightly floured surface with a rolling pin, creating a 8-inch square. Stretch the dough with hand if it's too stiff. Cut the dough in half to form two rectangles, and cut into 12 strips as pictured below.

Tie each strip into a knot and then arrange the knots on the lined baking sheets.

Bake the knots for 5 minutes, then rotate the baking sheet and bake an additional 5 minutes or until golden brown and fully cooked.

Combine the olive oil, butter, garlic and salt in a small sauce pan over low heat. Cook until the butter has melted and the mixture is warmed. Remove from heat and stir in the chopped parsley.

Brush the baked knots with the garlic mixture and sprinkle some cheddar cheese on top of each knot. Bake for a few more minutes or until the cheese melted. Remove from the oven and serve immediately.
Nutrition Facts
Cheddar Garlic Knots Recipe
Amount Per Serving (12 people)
Calories 49
Calories from Fat 45
% Daily Value*
Fat 5g8%
Cholesterol 11mg4%
Sodium 20mg1%
Potassium 3mg0%
Carbohydrates 1g0%
Protein 1g2%
Vitamin A 145IU3%
Vitamin C 0.6mg1%
Calcium 24mg2%
* Percent Daily Values are based on a 2000 calorie diet.