Honey Sesame Chicken Skewers - Sticky, sweet, and savory chicken on skewers. So easy to make, and so delicious that you won't stop eating.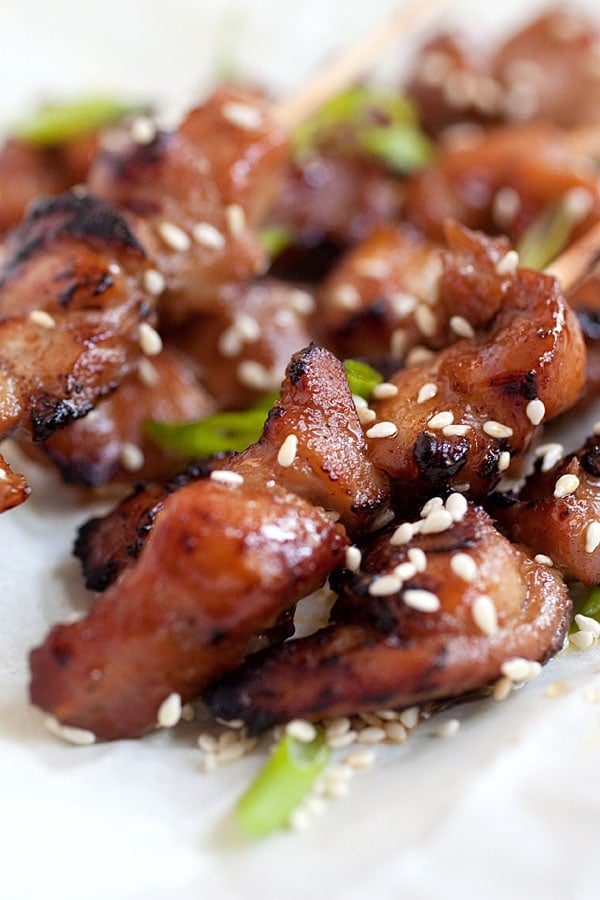 Best Honey Sesame Chicken Skewers
This honey sesame chicken skewers recipe is inspired by Fine Cooking magazine, one of the many food magazines I subscribed too. I was browsing through the summer recipes in the issue and a similar recipe caught my eye.
I decided to tweak the recipe quite a bit to make it easier with less ingredients, but no less delicious than the one on the magazine.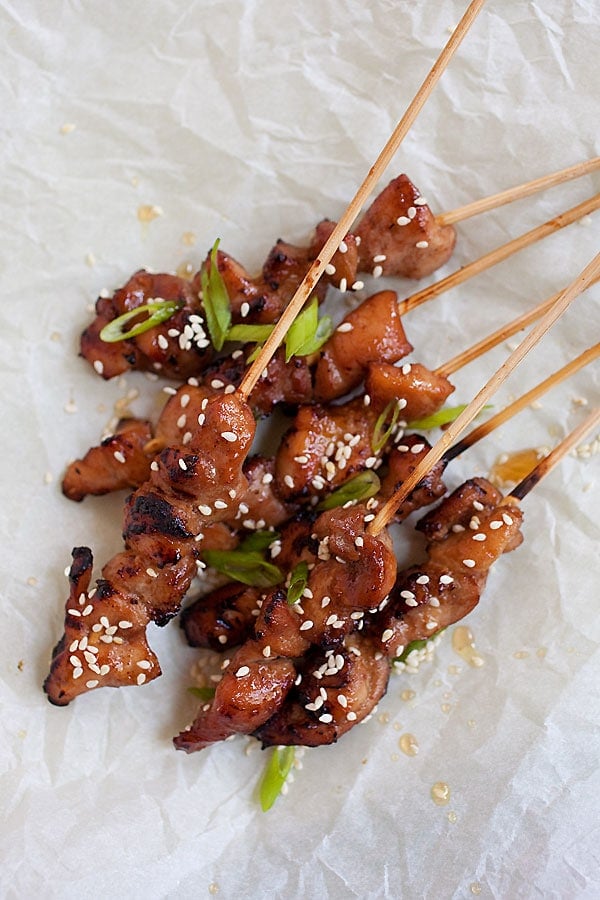 Other Recipes You Might Like
Chinese Chicken Skewers
When I was in the Midwest as a poor student, one of my indulgences was the Chinese buffet during the weekends. At many Chinese buffets I had tried, there was always a chicken skewer dish where the five-spice and soy sauce marinated chicken was threaded onto a bamboo stick and deep-fried to golden brown.
The humble looking chicken skewer was one of my favorites at Chinese buffet. Deeply flavorful, juicy, and eating food on-a-stick was so much fun, and delicious!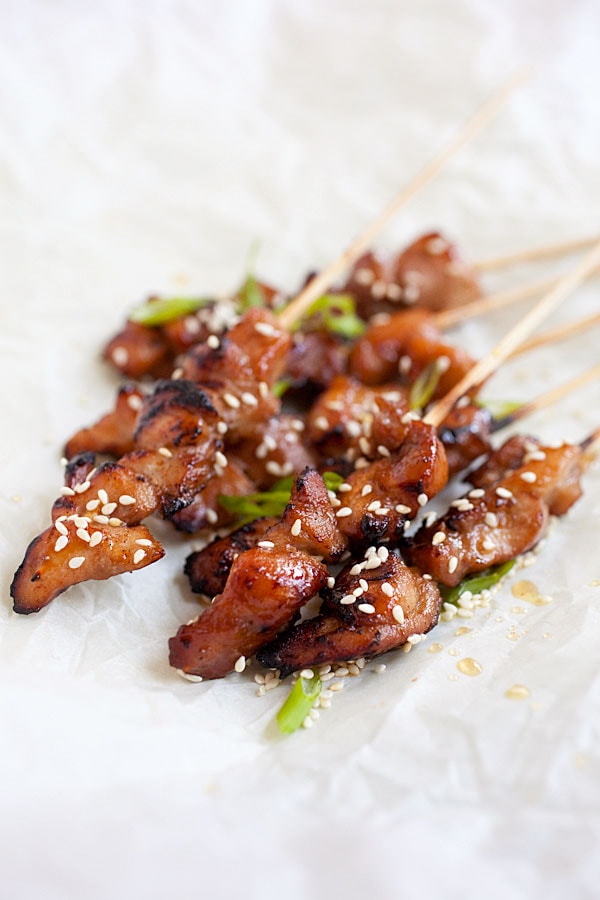 Finishing Touches
I tried to create this honey sesame chicken skewers recipe based on my taste memory, and it was pretty close. Instead of deep-frying, I chose to grill them over fire since it's summer now.
To jazz up the presentation, drizzle white sesame seeds on top of the chicken skewers, and add some sliced green onions. Enjoy!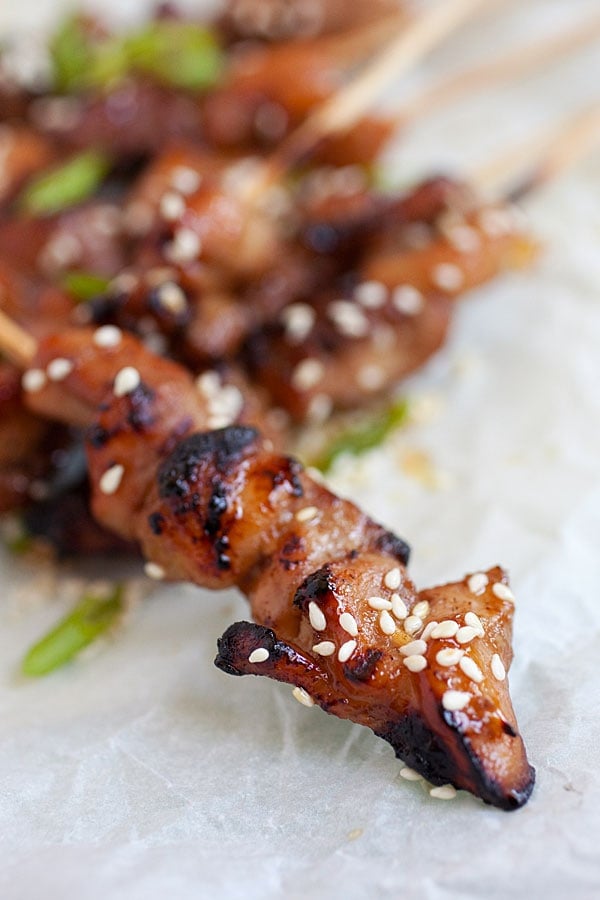 How Many Calories per Serving?
This recipe is only 186 calories per serving.
What Dishes to Serve with This Recipe?
For a wholesome meal and easy weeknight dinner, I recommend the following recipes.
5 Secrets to 20 Min Dinners
Get tricks for quick & easy meals!
Yield: 3 people
Honey Sesame Chicken Skewers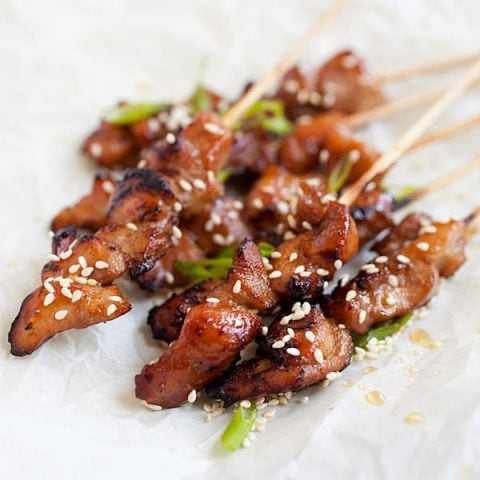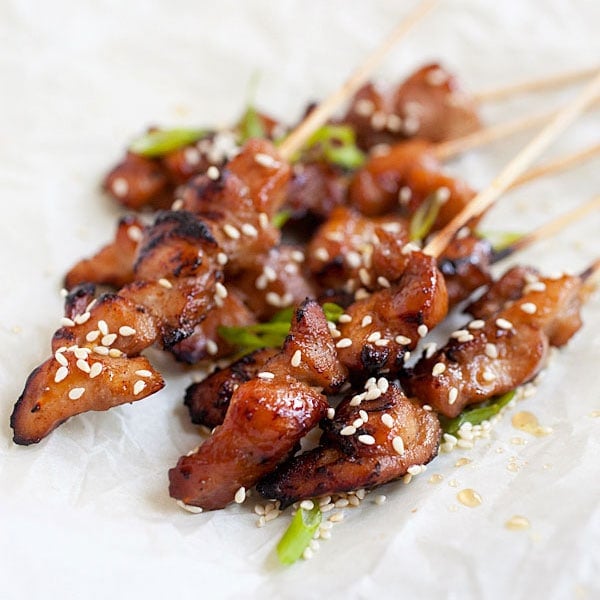 Honey Sesame Chicken Skewers - sticky sweet and savory chicken on skewers. So easy to make, so delicious that you won't stop eating.
Ingredients
8 oz. (226 g) chicken thigh and leg meat, dark meat, cut into small pieces
bamboo skewers
oil for brushing
white sesame seeds
scallion, sliced into small pieces
Marinade:
Instructions
Rinse the chicken and cut into small pieces. Pat dry with paper towels. Soak the bamboo skewers for 30 minutes before using.
Marinate the chicken with all the ingredients in the Marinade for 30 minutes. Make sure the Marinade nicely coat the chicken meat.
Thread 3-4 pieces of chicken onto the bamboo skewers. Set aside.
Heat up the grill and grill the chicken skewers on both sides, until nicely cooked and slightly charred. Brush some oil on both surfaces while grilling.
Top the honey sesame chicken skewers with sesame seeds and chopped scallions. Serve warm.
Nutrition Information
Serving Size
3 people
Amount Per Serving
Calories

186
Total Fat

13g
Saturated Fat

3g
Cholesterol

74mg
Sodium

225mg
Carbohydrates

4g
Fiber

1g
Sugar

3g
Protein

13g