How to Slice Hasselback Potatoes - learn the step-by-step picture guide on how to cut potatoes into hasselback potatoes with a secret kitchen tool and a sharp knife. This kitchen hack will save a lot of time!

Cutting Hasselback Potatoes
I have many roasted potatoes recipes on the site where I slice each potato thinly across its width, but not cutting all the way through.
Many readers have asked questions about how to cut and slice potatoes to become the beautiful hasselback potatoes. Here is my step-by-step picture guide how to do it proper.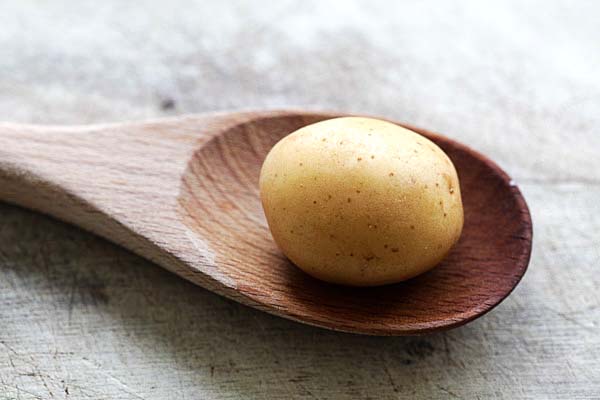 Use a Wood Ladle
Wood ladle is my secret tool in the kitchen whenever I make hasselback potatoes. It's the easiest and fail proof. First, rinse the potatoes, then pat dry with paper towels.
Place a potato onto the spoon of the ladle just like the picture below. I love baby potatoes when it comes to roasting potatoes, they are small and takes a shorter time to roast in the oven.
If you don't have a wood ladle, you may use a pair of chopsticks. Place a chopstick on each side of the potato and slice.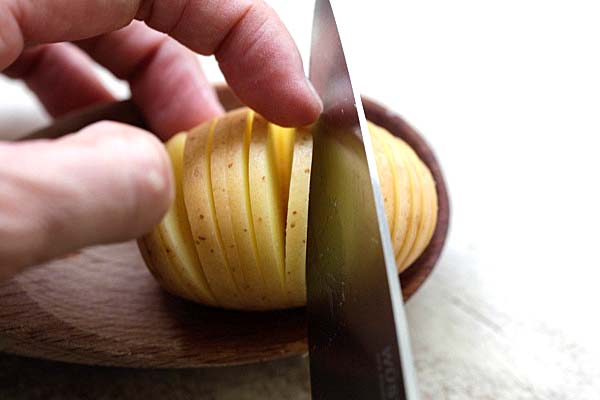 How to Slice Hasselback Potatoes
Using a sharp knife, slice the hasselback potatoes vertically, leaving the bottom part unsliced. The wooden ladle will prevent you from cutting it through. I like the slit to be about 2-3 mm apart.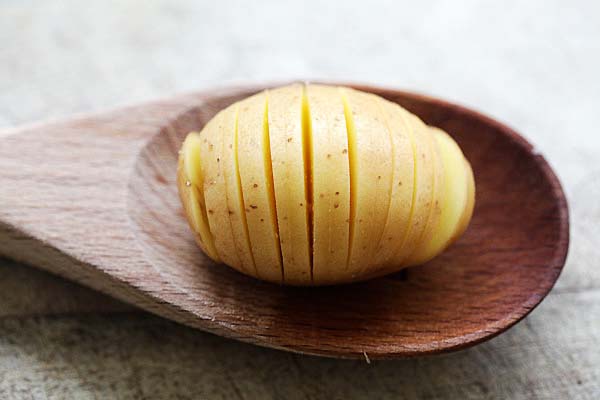 After you finish slicing the potatoes, I like to use my fingers to spread open each slit. This is an important step because the seasonings that you use, for example, butter, herb or garlic will be able to get inside each slit and the end result will be absolutely flavorful.
You may also use a small brush to brush your seasonings into each slit before roasting.
Hasselback Potatoes Recipes:
Here are some of the best recipes that you might like. Trust me, once you've tried hasselback potatoes, you can't go back to regular roasted potatoes!